WWE SummerSlam 2013 Predictions: Fan Favorites Who Will Come out on Top
Photo courtesy of WWE.com
Although nice guys often finish last, we are going to see several of them come out on top at SummerSlam.
While the majority of the matches on the card seem to favor the heels, it's rare to see a pay-per-view where only one side of the good vs. evil fight is victorious.
For the purposes of this list, "fan favorites" are limited strictly to the babyfaces as opposed to just the popular stars in general.
Even though someone like Brock Lesnar is no doubt a very popular star in the eyes of the WWE Universe, he is still someone the WWE itself would not describe as a fan favorite.
Which of these men will walk out of SummerSlam with their heads held high? Let's take a look.
Rob Van Dam Will Defeat Dean Ambrose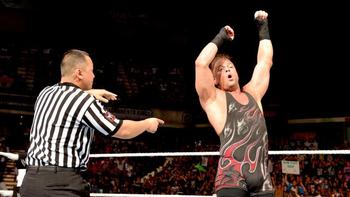 Photo courtesy of WWE.com
One of the easiest ways to start a pay-per-view off with a bang is to have a championship change hands on the pre-show.
Seeing as how this is the match booked as the kickoff for one of the four biggest events of the year, the likelihood of that happening goes up in response.
Since Rob Van Dam and Dean Ambrose are not yet in an intricate, deep feud with one another, some might feel as though this means the match is filler.
However, that fact could also help the argument that Ambrose will drop the belt.
After all, Ambrose originally won it from Kofi Kingston out of the blue and their feud developed following the title change.
Rob Van Dam is still coming off his return, wherein his popularity has yet to falter. This could be an asset that WWE wants to capitalize on, at least for the time being.
He is a seasoned veteran, meaning his win will not put Ambrose down as though he had lost to someone beneath him. Ambrose saves face because of that.
When you couple those factors in with the downgrade of a push that The Shield has received as of late and the possibility that WWE could be looking for a change to keep things fresh, there is a very good chance Van Dam leaves with the title.
Whether or not his title reign afterward is nothing but a transitional one is a different story for a different time.
Big Show and Mark Henry Will Defeat Seth Rollins and Roman Reigns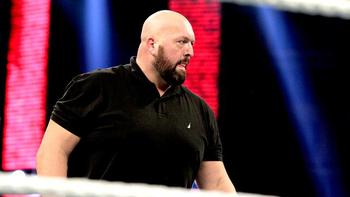 Will Big Show return with a big win? (Photo courtesy of WWE.com)
Similar to the situation between Dean Ambrose and Rob Van Dam, the other members of The Shield can fall victim to a mentality that it is time to switch things up.
Seth Rollins and Roman Reigns have held the titles for long enough that their reign has been justified.
This becomes all that much more justified if they drop the belts to the two biggest men in the company in terms of physical size.
Big Show and Mark Henry defeating The Shield will not cast Rollins and Reigns in a negative light as though they were suddenly being pinned by Hornswoggle or Vickie Guerrero.
With Night of Champions coming up after SummerSlam, WWE will be looking to cram as many big names onto the card as possible for its title matches.
Continuing the feud between these two teams almost predicates that the big men become the new champions and we see the rematch clause go into effect for the next pay-per-view.
There is a chance, however, that we could see some sort of "retain but lose" finish that comes about here to prolong the feud.
Perhaps The Shield retreat and get counted out. Maybe Dean Ambrose causes a disqualification.
If neither one of those options pans out, Rollins and Reigns might simply lose via pinfall or submission and Big Show and Henry could jump-start their new babyface runs by holding gold.
Cody Rhodes Will Defeat Damien Sandow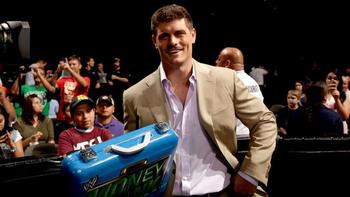 Photo courtesy of WWE.com
Damien Sandow has lost quite a bit as of late, and this will probably continue at SummerSlam.
It has become something of a tradition for WWE to book those who win the Money in the Bank briefcase to lose regularly afterward.
Whether this is an attempt to maximize putting over other stars in the process or an exercise in tearing someone down to build them back up is unknown.
What is known, however, is that this feud between Cody Rhodes and Sandow has been built around the story of rightful ownership.
Commentators frequently refer to Sandow as having stolen the opportunity from Rhodes when he was poised to win it and Rhodes has taken the stealing to a literal sense.
If this feud continues, Rhodes must prove that he deserved that spot by defeating Sandow in this match, setting up another match with consequences.
Fans have speculated since the Money in the Bank pay-per-view that WWE might book a match with the briefcase on the line and at Night of Champions, we could see that happen.
Several years ago, when there were more titles to be defended, the pay-per-view had more of a focus to it and felt special.
Nowadays, with only five active championships, the concept falls a little flat.
Despite it not being a championship itself, defending the Money in the Bank briefcase could fill that void and fit right in with the event's gimmick easily.
For that to happen, Rhodes will need to win this match and demand a shot at winning the contract from Sandow.
The John Cena vs. Daniel Bryan Situation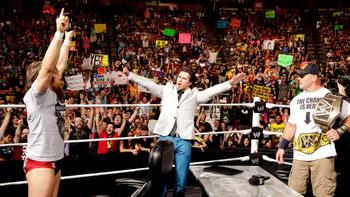 With a match like this, everybody wins (Photo courtesy of WWE.com)
To be blunt, it is pretty obvious why both John Cena and Daniel Bryan are on this list: They are both fan favorites.
When these two face off against each other, the crowd will more than likely side with Bryan over Cena, but that does not mean there will not still be a huge number of Cena fans rooting him on.
Unless someone turns heel before the finish or something is changed with the mechanics of the match, such as a third person being added, a fan favorite essentially has to win.
That does not mean that one of these two men will be leaving with the WWE Championship, however.
Current fan favorite Randy Orton could easily cash his Money in the Bank contract in at some point and leave with the title.
That in itself raises the potential of a heel turn, rendering his status as a babyface fan favorite gone, if you want to get bogged down in the semantics and mathematics of it all.
No matter what happens, part of the crowd is going to be happy that their fan favorite won and another section of the audience will be disappointed that their fan favorite lost.
While these are just four of the matches that will be on the card for SummerSlam, there are still five others that include fan favorites.
Do you think CM Punk, Natalya, Christian, Kane or Dolph Ziggler and Kaitlyn will also be added to this list?
On the contrary, do you think some of these babyfaces will lose instead?
Share your thoughts on this list and tell us your own predictions in the comments below.
Anthony Mango is the owner-operator of the wrestling website Smark Out Moment as well as the host of its YouTube podcast show Smack Talk. You can follow him on Facebook and elsewhere for more.
Keep Reading