New England Patriots 2013 Team Roster: Report Card Grades for Every Position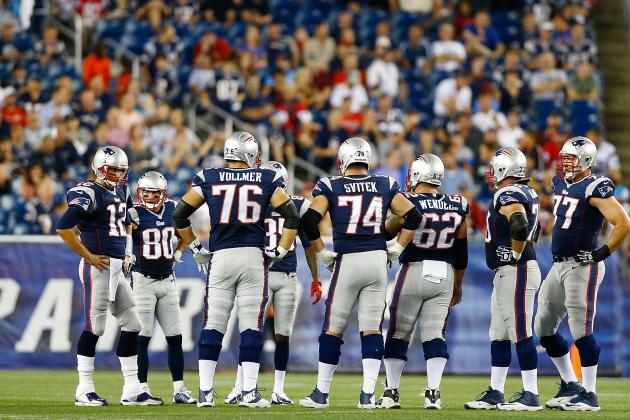 Jared Wickerham/Getty Images

The New England Patriots 2013 roster is set, and while there are sure to be changes along the way, the group of players the Pats want to go to war with is down to 53.
The Patriots roster features an interesting dichotomy. At some positions like quarterback, offensive line and on the defense in general, very little has changed. However, at other spots like wide receiver and tight end, it's an almost entirely new collection of faces.
Here's our breakdown grading each and every position for the 2013 New England Patriots.
Begin Slideshow

»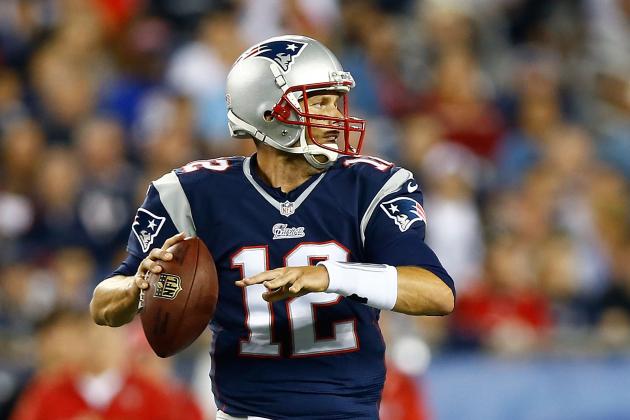 Jared Wickerham/Getty Images

| | | |
| --- | --- | --- |
| Depth | Player | |
| No. 1 | Tom Brady | |
| No. 2 | Ryan Mallett | |
Ryan Mallett showed some improvement in the final game of the preseason, perhaps a sign that it wouldn't be total disaster if Brady went down. Whether or not Mallett showed enough to get some trade attention next offseason remains to be seen.
Tom Brady looked as on top of his game as ever in the preseason. As long as he stays healthy, he should be in for another superlative season and once again give the Patriots elite quarterbacking.
Position Grade: A+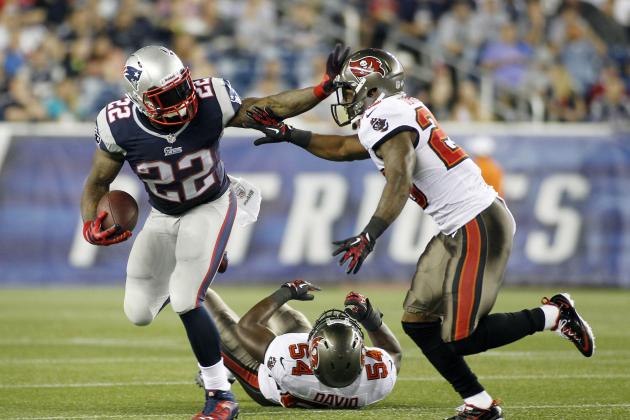 Stew Milne-USA TODAY Sports

| | |
| --- | --- |
| Depth | Player |
| No. 1 | Stevan Ridley |
| No. 2 | Shane Vereen |
| No. 3 | LeGarrette Blount |
| No. 4 | Brandon Bolden |
| No. 5 | Leon Washington |
| No. 6 | James Develin |
The running backs feature a number of players who all bring unique talents to the party, but it all starts with Stevan Ridley and Shane Vereen. Unless they are hurt or underperforming, none of the other backs should see extensive time outside of short yardage and standard spelling of Ridley/Vereen.
Develin is the surprise addition and could be dropped from the roster at any time should an attractive veteran become available. Still, Develin could help filling in for Gronk until he returns.
They have the potential to be an explosive group, though there are injury and consistency concerns. The talent level is undeniable; however, and each of the backs has unique talent.
Position Grade: A-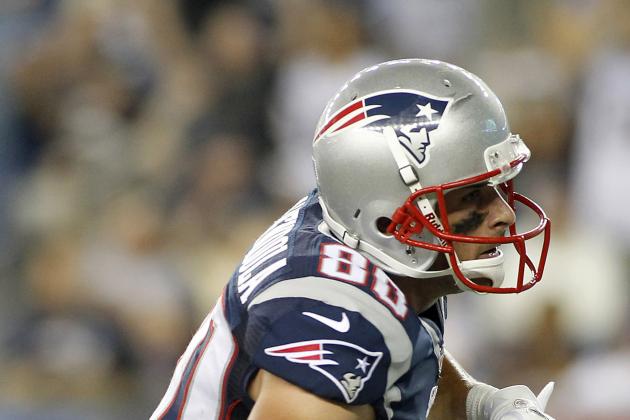 Stew Milne-USA TODAY Sports

Depth
Player
No. 1
Danny Amendola
No. 2
Kenbrell Thompkins
No. 3

Julian

Edelman
No. 4
Aaron Dobson
No. 5
Josh Boyce
No. 6
Matthew Slater
Outside of Randy Moss, the Patriots have never been flashy at the wide receiver position, and that's certainly the case this season with two free agents and three rookies comprising the group.
For all that was said about the Pats' struggle in finding and cultivating wide receivers, this group certainly has plenty of promise, as three rookies all figure to get significant snaps.
But for now, they remain an unproven group that could be one of the most interesting stories of the season.
Position Grade: B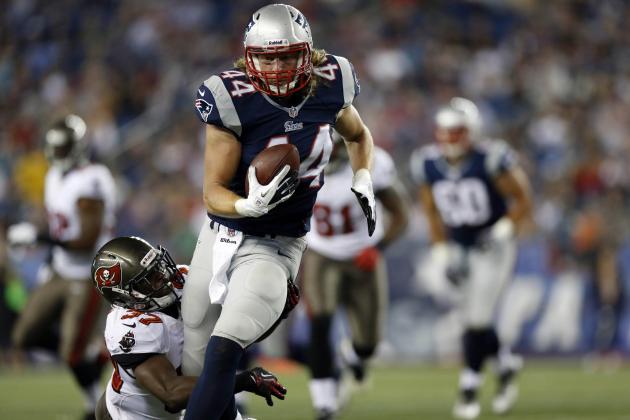 Greg M. Cooper-USA TODAY Sports

| | |
| --- | --- |
| Depth | Player |
| No. 1 | Rob Gronkowski |
| No. 2 | Michael Hoomanawanui |
| No. 3 | Zach Sudfeld |
No position is a tougher read at this point than tight end. If Rob Gronkowski returns and is his same old self, then he single-handedly makes this an "A" group. If his recovery is delayed, Michael Hoomnanwanui and Zach Sudfeld become key cogs in the offense, and that would drop this group to a "C."
But for now optimism reigns supreme. Gronk should be OK, Sudfeld looks legit, and with their collection of athletic tackles like Marcus Cannon and Will Svitek, they should be able to get by without a blocking tight end for a few games.
Position Grade: B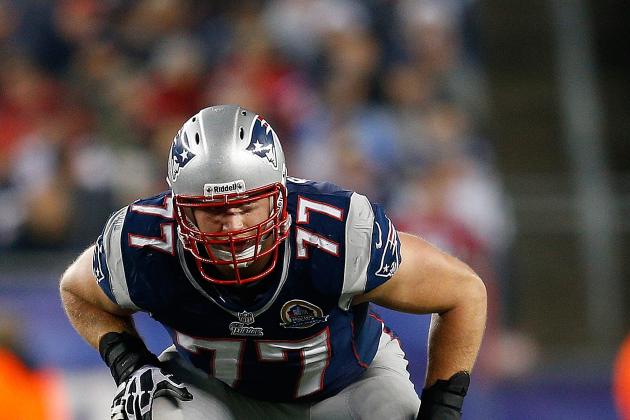 Jim Rogash/Getty Images

| | |
| --- | --- |
| Depth | Player |
| No. 1 | Nate Solder |
| No. 2 | Sebastian Vollmer |
| No. 3 | Marcus Cannon |
| No. 4 | Will Svitek |
Nate Solder and Sebastian Vollmer pose two of the most sizable and athletic tackle combinations in the NFL. Despite various injury issues, Vollmer missed just one game in 2012, and after offseason surgery he should be as healthy as he's ever been.
Solder enters his second year starting and should only build on what has been a promising start to the first-rounder's career. Svitek is a capable swing backup, and while Cannon can slide inside to guard, he'll likely continue in the third tackle role this season barring injuries in the interior.
Position Grade: A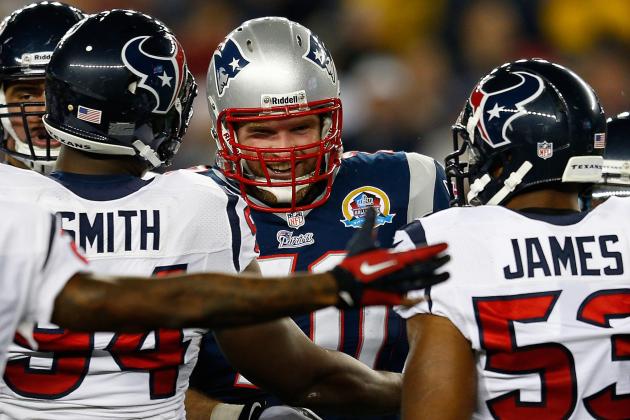 Jim Rogash/Getty Images

| | |
| --- | --- |
| Depth | Player |
| No. 1 | Logan Mankins |
| No. 2 | Dan Connolly |
| No. 3 | Josh Kline |
Logan Mankins should be back to elite guard status after playing on a torn ACL in 2011 and a just-repaired ACL in 2012. Dan Connolly played in the final two preseason games after being managed through the first three weeks of training camp.
Connolly has started the last two seasons and is a solid veteran with versatility to back up the center position as well. Kline sneaks on to also add depth along the interior.
It's a solid group, but injuries would force a lot of juggling.
Position Grade: B+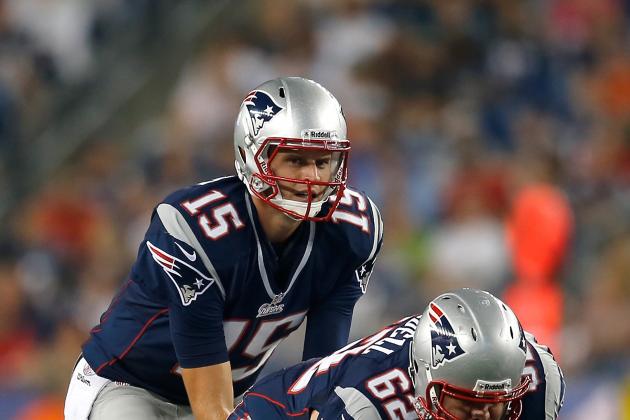 Jim Rogash/Getty Images

| | |
| --- | --- |
| Depth | Player |
| No. 1 | Ryan Wendell |
Ryan Wendell beat out Dan Koppen for the starting center spot in 2012 and ended up playing more offensive snaps than any other player in the NFL. His run-blocking was excellent, while he'll be looking for improvement in his pass-blocking.
He's a solid player who has earned Brady's trust. This year will be about proving how high his ceiling is.
Position Grade: B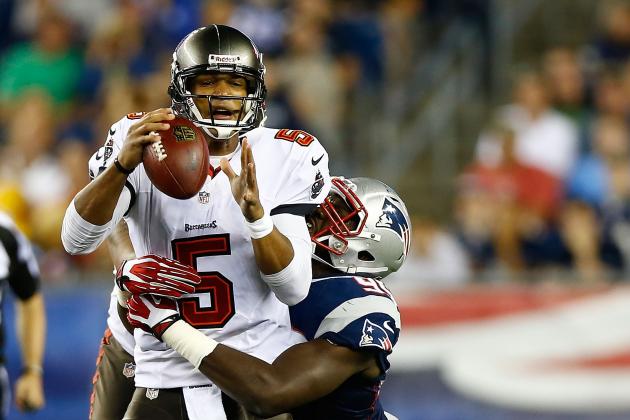 Jared Wickerham/Getty Images

| | |
| --- | --- |
| Depth | Player |
| No. 1 | Chandler Jones |
| No. 2 | Rob Ninkovich |
| No. 3 | Jake Bequette |
| No. 4 | Michael Buchanan |
The Patriots are a little top-heavy here at defensive end. Rob Ninkovich is a solid starter and was one of the few standouts in the preseason dismantling by the Lions. Chandler Jones looks primed for a breakout sophomore campaign. If these two three-down ends stay healthy and play like they should, they should be among the best one-two punches in the NFL.
But beyond them it gets a little dicey, as the Pats handed walking papers to far more veterans than anyone expected. Marcus Benard, Jermaine Cunningham and Justin Francis were all let go, leaving just second-year player Jake Bequette and rookie Michael Buchanan as the only backups.
Can Bequette or Buchanan be a reliable third end option in the base defense? Can they bring consistent pass rush in the sub-packages? Those are big questions, and ones that would get even bigger should Jones or Ninkovich go down.
Position Grade: A-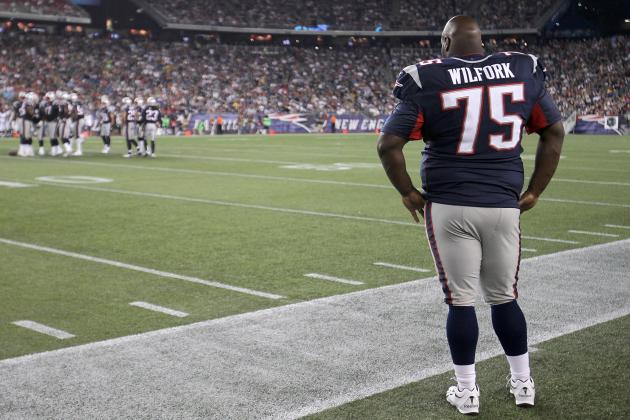 Jim Rogash/Getty Images

| | |
| --- | --- |
| Depth | Player |
| No. 1 | Vince Wilfork |
| No. 2 | Tommy Kelly |
| No. 3 | Joe Vellano |
This is another top-heavy position for the Pats, with Vince Wilfork and Tommy Kelly being the best defensive tackle combination they've had since Richard Seymour was traded away. Together, Wilfork and Kelly should only make each other better, and if they can stay healthy, they'll dominate.
But after them there's a big drop-off, more so than any other position on the Pats' roster. Joe Vellano was an undrafted rookie, and while he's shown some hold-your-ground ability, he's undersized.
Expect a veteran move in the next day at this position, with Vellano ending up on the practice squad.
Positional Grade: A-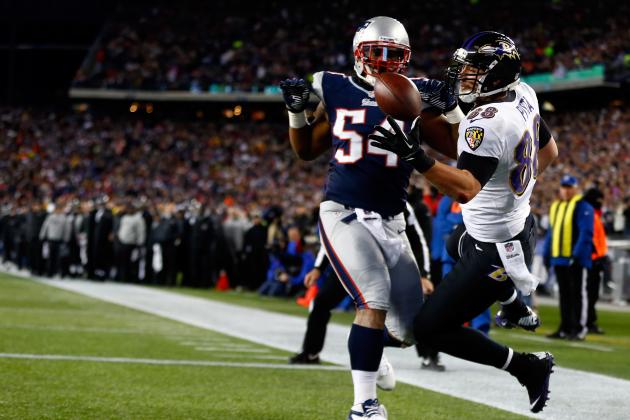 Jared Wickerham/Getty Images

| | |
| --- | --- |
| Depth | Player |
| No. 1 | Jerod Mayo |
| No. 2 | Dont'a Hightower |
| No. 3 | Jamie Collins |
Jerod Mayo headlines the outside linebacker group, and as defensive captain, he's the brains behind the Pats defense. He'll rarely come off the field.
In the last two drafts, the Pats have really surrounded Mayo with strength and speed in Hightower and Collins. These three might even be the Pats' future starting linebacker corps, with Hightower sliding to the middle. All are versatile but with different strengths.
Still, the young guns are unproven after Mayo, but the sky is the limit for this group.
Positional Grade: B+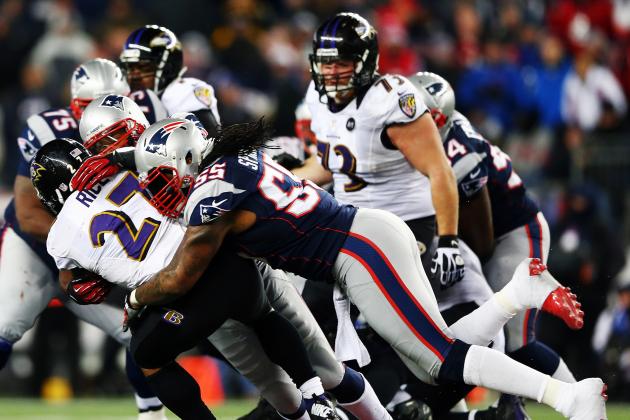 Elsa/Getty Images

| | |
| --- | --- |
| Depth | Player |
| No. 1 | Brandon Spikes |
| No. 2 | Dane Fletcher |
| No. 3 | Steve Beauharnais |
Brandon Spikes is arguably the best downhill inside linebacker in the game. He is an aggressive presence in the middle of the Pats defense who must be contended with by opponents. However, Spikes isn't at his best in space and coverage and has been attacked through the air by offenses. This is a contract year for him, and he'll have to prove he has the savvy to compensate for his lack of agility.
Dane Fletcher is back after missing 2012 with an ACL tear and looks as strong and fast as he did before the injury. He could be an interesting backup to Spikes, as his skill in coverage and sure tackling are some of his strengths.
Fletcher could see significant time in sub-packages.
Steve Beaharnais manned the middle for much of the preseason and looked like a solid football player. He'll play special teams and could see time on defense if injuries strike.
Positional Grade: B+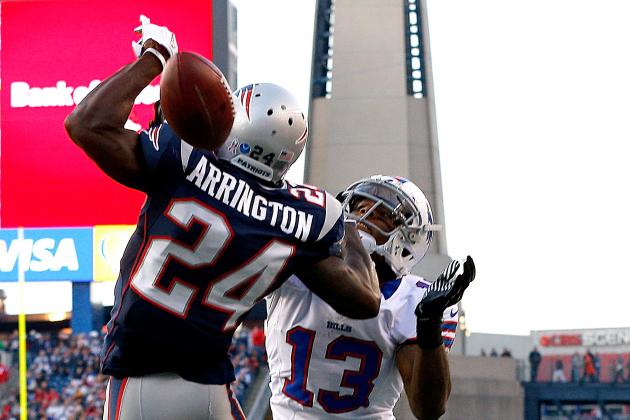 Jim Rogash/Getty Images

| | |
| --- | --- |
| Depth | Player |
| No. 1 | Aqib Talib |
| No. 2 | Kyle Arrington |
| No. 3 | Alfonzo Dennard |
| No. 4 | Logan Ryan |
| No. 5 | Marquice Cole |
The Pats' cornerbacks are possibly their best collection of players since the mid-2000s.
It all starts with Aqib Talib, whose ability to play man-to-man has a positive trickle-down effect on the rest of the defense. Arrington is at his best in the slot but is serviceable on the outside. The Pats just rewarded him with a four-year contract, and he's just coming into his prime.
Alfonzo Dennard might not be available for a few games due to suspension, but he was the Pats' most consistent corner in 2012. Rookie Logan Ryan showed promise in the preseason and can play both inside and outside.
Marquice Cole is a serviceable fourth option, though he was frequently exposed by the Ravens in last year's AFC Championship.
Positional Grade: A-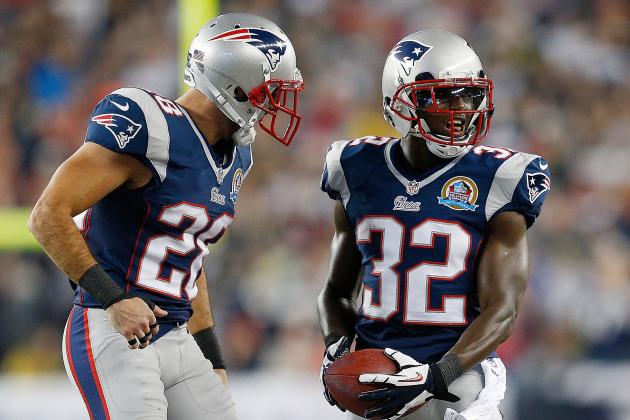 Jim Rogash/Getty Images

| | |
| --- | --- |
| Depth | Player |
| No. 1 | Devin McCourty |
| No. 2 | Steve Gregory |
| No. 3 | Duron Harmon |
| No. 4 | Tavon Wilson |
| No. 5 | Nate Ebner |
The safety position has been a revolving door ever since the late-2000s, when Rodney Harrison retired after giving the Pats the better part of six seasons despite injuries in 2005, 2006 and 2008 that limited all or most of his seasons.
Now Devin McCourty takes over as the backend general, and with a full offseason to focus on the position, he could be headed for big things. The question is who will starting next to him?
Will it be Steve Gregory, who was up and down in the first year with New England?
Then there are the youngsters, rookie Duron Harmon and second-year Tavon Wilson, who have both showed promise but lacked consistency.
Adrian Wilson was placed on IR, likely ending his career. It was respectful move by the Pats not to cut him.
There could be a lot of rotation at the position next to McCourty, and that uncertainty hurts.
Positional Grade: B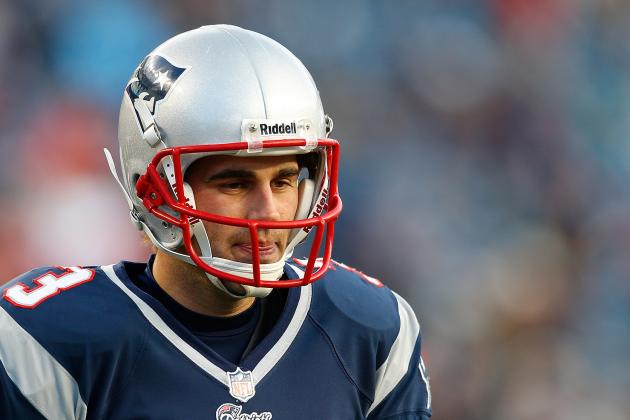 Jim Rogash/Getty Images

| | |
| --- | --- |
| Depth | Player |
| Kicker | Stephen Gostkowski |
| Punter | Ryan Allen |
| Long Snapper | Danny Aiken |
In one of the more shocking moves, incumbent Zoltan Mesko was dethroned by undrafted rookie Ryan Allen. Mesko got most of the late preseason snaps, but Allen now takes over, and that includes holding. Mesko was good, but Allen might be special.
Gostkowski has yet to face a playoff pressure kick, though most remember his miss against the Cardinals in Week 2 of 2012 that would've won the Pats the game.
There's some uncertainty here with the rookie and Gostkowski looking to bounce back after a down season.
Positional Grade: B