3 Players Who Won't Be Back with Chicago White Sox Next Season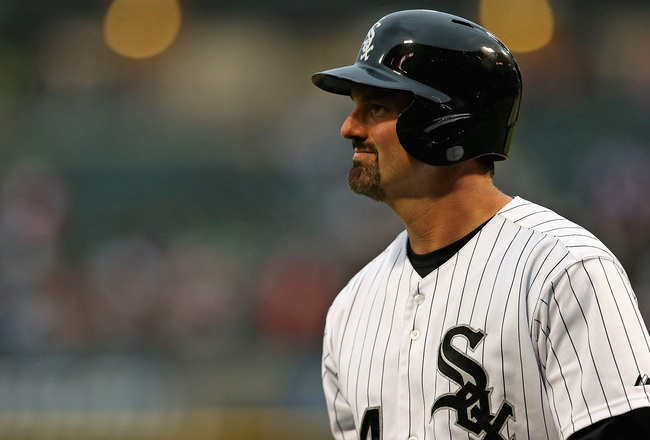 Paul Konerko will not be back next season.
Jonathan Daniel/Getty Images
It is no secret that the 2014 incarnation of the Chicago White Sox will look entirely different from the group that opened the 2013 season.
White Sox general manager Rick Hahn was quite aggressive before and after the non-waiver trade deadline, finding new residences for Matt Thornton, Jake Peavy, Jesse Crain and Alex Rios.
Following those moves, Hahn has a mere $48.25 million in salaries earmarked for next year, according to BaseballProspectus.com, and a lot of room to work with. That room becomes more expansive considering that there are at least three players who won't be back next season for various reasons.
One of them will retire, another traded and one will not be offered arbitration. It will be interesting to see how Hahn fills out the 25-man roster this offseason given the myriad directions he could go.
Let's take a look at the players who, in my opinion, will not be in a White Sox uniform when the 2014 season begins.
Alejandro De Aza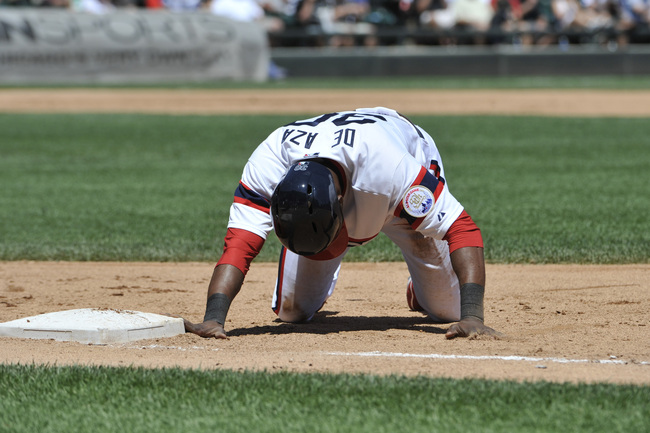 Alejandro De Aza has been quite poor on the bases this season.
David Banks/Getty Images
Alejandro De Aza is an enigma.
As evidenced by his 1.8 Wins Above Replacement (WAR), he does some things well, yet costs the White Sox time and again because of poor defense and terrible baserunning.
The latest example of his tendency to run the Sox into trouble occurred on Sunday against the Minnesota Twins. After hitting a double to lead off the inning, he inexplicably broke for third base on a ground ball off the bat of Gordon Beckham to his right. Throwing him out was as easy as a 35-foot toss to the shortstop's right.
Defensively, De Aza has committed six errors, which translates into a .988 fielding percentage and a -2.8 Ultimate Zone Rating (UZR), according to FanGraphs.com. His defense has been worse than the numbers, actually.
Even his hitting leaves fans wondering exactly what to make of the 29-year-old. He leads the White Sox in runs scored with 64, has a .338 batting average with runners in scoring position and is third on the team with a .755 On-Base Plus Slugging (OPS) Percentage, but strikes out 22.3 percent of the time and only has a .328 On-Base Percentage (OBP) entering play Tuesday.
The Sox will take the run-scoring and power numbers, but in an ideal baseball world, the first hitter in the lineup gets on base more often and strikes out considerably less.
In addition to everything else, De Aza is going to be too expensive in 2014. This season was the first in which he was eligible for arbitration and was awarded a one-year, $2.08 million contract. His salary figures to go up substantially if he were to be offered arbitration.
I would expect that De Aza, who is not scheduled to hit free agency until after the 2015 season, to be traded for some bullpen help during the offseason.
Did I mention he was an enigma? While I was researching his stats, De Aza hit a walk-off single in extra innings against the Detroit Tigers. Go figure.
Paul Konerko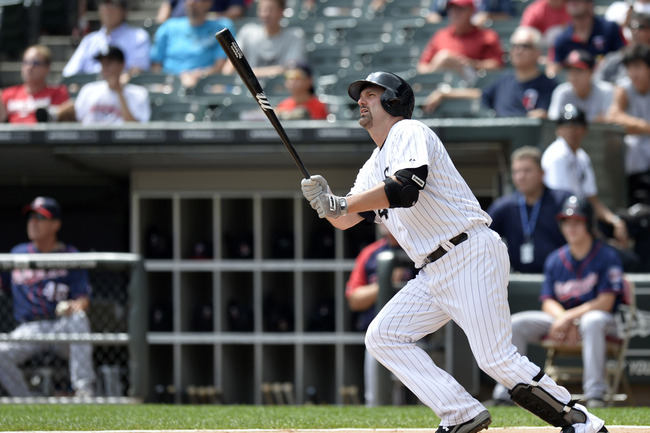 Paul Konerko
Brian Kersey/Getty Images
The unfortunate reality is that Paul Konerko will not be back in 2014.
White Sox general manager Rick Hahn indicated as much to Daryl van Schouwen of the Chicago Sun-Times while speaking on the the direction of the franchise on Monday:
In addition to shoring up the defense, we want to diversify our offensive attack. Given that we play in U.S. Cellular Field, power is always going to be an important component of any successful offense. But we also want to improve — among other things — our ability to get on base and to put pressure on the defense with athletic players who ideally can beat you with their bat as well as their legs.
By extension, that means Konerko is likely not in the plans for next season.
See, the White Sox are making a noticeable transition to younger, faster and less-expensive players. As such, it would appear that Konerko is the odd man out considering that he will be a free agent at the end of the season and Adam Dunn has another year remaining on his contract.
Now, there is always a chance that Konerko could sign a team-friendly contract and stay with the White Sox for one more campaign, but the likelihood of that is slim.
The Daily Herald's Scot Gregor posted in one of his blogs that he thinks Konerko will retire and rejoin the South Siders in a "few years."
I would have to concur. When this season ends, the last remaining player from the team that won the 2005 World Series will no longer wear a Sox uniform, and an era will come to a close.
Alexei Ramirez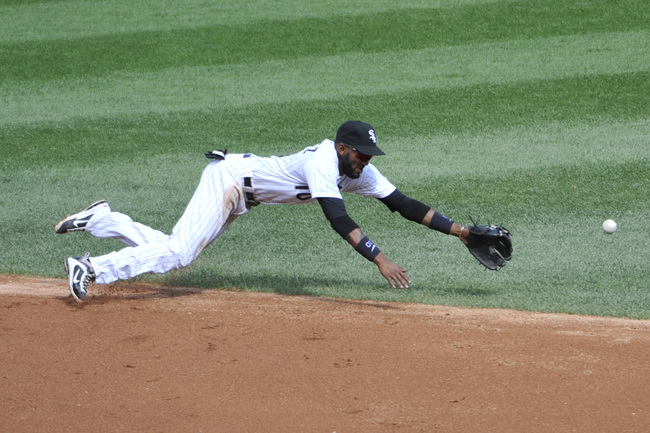 Alexei Ramirez should be with another team when spring training begins next year.
David Banks/Getty Images
Respectfully, it is time for Alexei Ramirez to move on.
That is not said because he already has 20 errors this season, including the three he committed on Tuesday night against the Tigers. Rather, he needs to go because he may never again have as much value as he will heading into this offseason.
Ramirez hit .288 and .279 in June and July, respectively. Over the course of those two months, he hit 16 doubles, collected 17 RBI and stole 13 bases. Further, his .285 average while hitting second is eight best in MLB from that spot in the lineup with at least 300 at-bats going into Tuesday.
Looking over their rosters, it would seem that teams like the Cincinnati Reds, Pittsburgh Pirates and Tampa Bay Rays all need a player with Ramirez's skill set.
He has two years left on his contract that will pay him a combined $19.5 million dollars with a team option for 2016, so Hahn has a decision to make. He can either receive a low-level minor leaguer in a player-for-player trade or send cash considerations along with Ramirez and get a larger return.
The White Sox have potential replacements already in their system.
Gordon Beckham would appear to be the most viable option, given the fact that shortstop was his primary position before he was drafted. Sure, there would be a bit of an acclimation period, but that is the purpose of spring training.
If Beckham does take over for Ramirez, Jeff Keppinger or the newly acquired Leury Garcia could slide into his former spot at second.
Carlos Sanchez and Marcus Semien are also options to replace Ramirez and would allow Beckham to remain at second.
Follow @MatthewSmithBR
Keep Reading

Chicago White Sox: Like this team?