PGA Championship 2013 Results: Biggest Winners and Losers from Day 2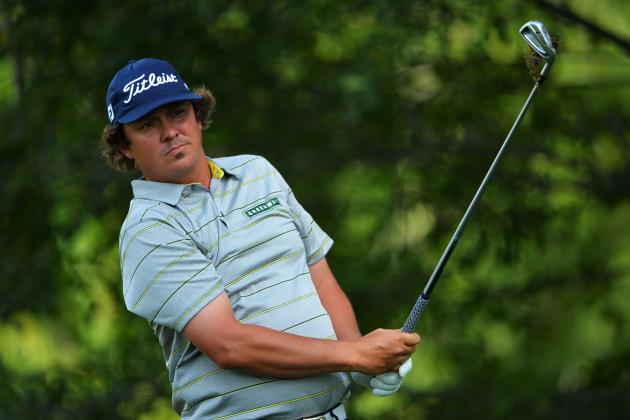 Stuart Franklin/Getty Images

If Oak Hill Country Club could have spoken on Friday it would have pleaded for leniency. Yet even then it wouldn't have been forthcoming during the second round of the 2013 PGA Championship.
Considering the amount of red numbers posted on the storied Donald Ross course and the historic rounds it allowed, there were plenty of winners to choose from on Friday and, by extension, far fewer losers of note to highlight.
A 64 was shot in the morning. An even better 63 followed in the afternoon. In between, some of the world's best golfers posted strong rounds en route to creating a star-studded leaderboard that will be fun to watch over the weekend.
It's odd then, that many of the second-round losers were golfers we expected to contend for the Wanamaker Trophy when the week began. The world's top two players are licking their wounds after 36 holes.
So too is a pair of Englishmen who came to New York desperately seeking a first major championship breakthrough.
Those stars are joined by a player whose caddie cost him an opportunity to make the cut and the very course that witnessed it all. It was indeed a crazy day in golf's final major of the season.
That said, Friday's winners are all poised to push toward raising that famed trophy on Sunday. The losers, well, they're wondering how things went so wrong on such a vulnerable Oak Hill on Day 2.
Begin Slideshow

»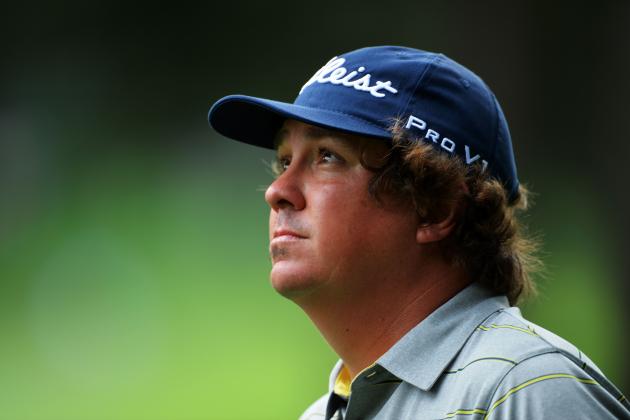 Stuart Franklin/Getty Images

Jason Dufner ensured Webb's Simpson's place atop the Oak Hill Country Club record books was short-lived. Really short-lived.
Mere hours after watching Simpson tie the course record with a 64, Dufner went out and bested it by one shot and in the process captured the 36-hole lead at nine-under.
Not only was Dufner's round of 63 historic at the famed course, he became just the 24th golfer to shoot that score in a major, joining the likes of Tiger Woods, Gary Player, Jack Nicklaus and Johnny Miller. He left a birdie putt short on the 18th hole that would have gotten him a historic 62.
The American got things going with an eagle from the fairway on the second hole and never stopped charging up the leaderboard until his effort landed him in the record books.
All told, the two-time PGA Tour winner made five birdies to go along with that eagle and avoided a single bogey on an ideal scoring day at Oak Hill.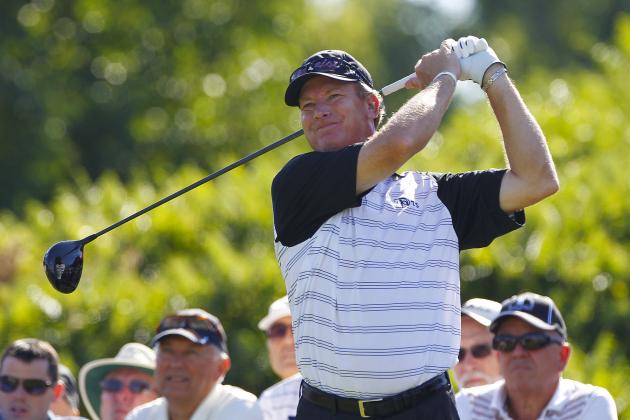 Hunter Martin/Getty Images

Woody Austin suffered a four-shot penalty early in his round on Friday for having one more than the allotted 14 clubs in his golf bag. As a result, he and his caddie are heading home for the weekend.
The miscue, which his caddie shares the blame for, wasn't discovered until after Austin played his first two holes. As a result, Austin swallowed a two-shot penalty for each hole, turning a par-bogey start into an ugly double-triple opening.
The inexcusable gaffe erased a solid opening round 69 and proved too difficult for the quirky golfer to overcome during the remainder of his second round.
Austin shot a five-over 75 to finish at four-over, a stroke shy of the cut. Without the penalty he would have been three shots inside it.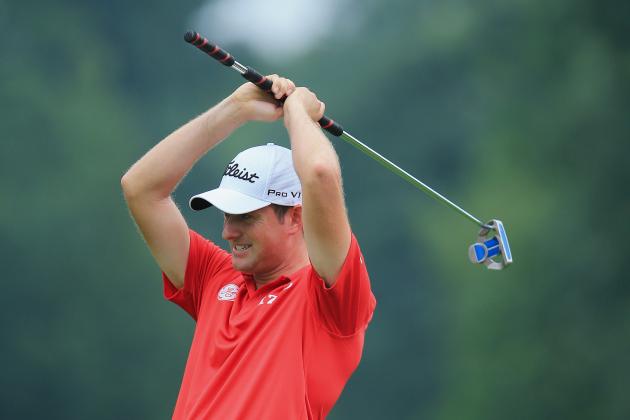 David Cannon/Getty Images

Webb Simpson not only shot the round of the day, he shot one of the best rounds ever at the storied course.
One day after limping to a two-over 72, the former U.S. Open champion fired a six-under 64 to tie the course record. Five hours later, however, Jason Dufner bested the effort with a 63.
That notwithstanding, the effort got Simpson got right back in the thick of things in the season's final major at four-under.
If not for a bogey on the par-four seventh, his 16th hole of the day, Simpson would have tied the record for the lowest score in a major championship with a 63. Instead, he'll have to be content with the 64 and his first-ever made cut in a PGA Championship.
After playing Oak Hill's back nine at three-under, Simpson caught fire on the front side. He went four-under in a stretch of five holes between the second and sixth holes to put his name in the course record book.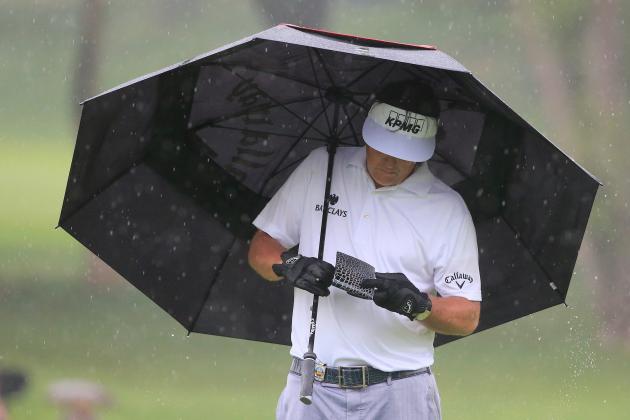 Sam Greenwood/Getty Images

Phil Mickelson knew it was there for the taking again on Friday. For the second straight day, however, he just didn't have the form to take advantage.
The 2013 British Open champion fired his second consecutive 71 and as a result has likely seen his chances of a second Wanamaker Trophy fade in the dust of streaking golfers.
Mickelson didn't have the drama of his first-round effort, but just couldn't get anything going with his irons or his putter. As a result, Lefty recorded only one birdie on a day of low scores by many of the game's elite.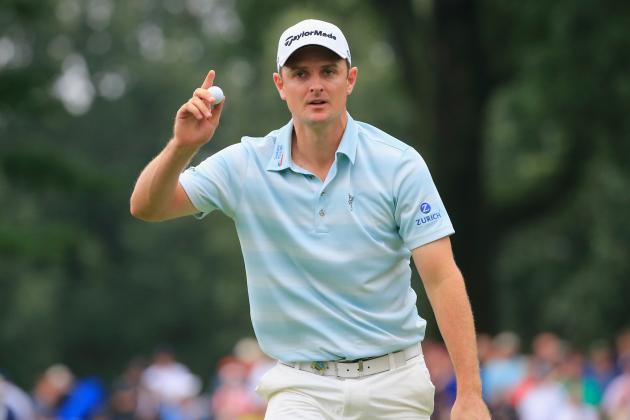 Sam Greenwood/Getty Images

Midway through his second round on Friday, Justin Rose turned around his struggling game and sprinted to a four-under 66 that has him right in the mix.
The 2013 U.S. Open winner made the turn Friday at two-over for his round and at even par for the PGA Championship, seven shots back of Adam Scott at the time.
The Englishman then proceeded to shoot a six-under 29 on Oak Hill's front nine that included three consecutive birdies at the outset and two more on the eighth and ninth to close out the impressive turnaround.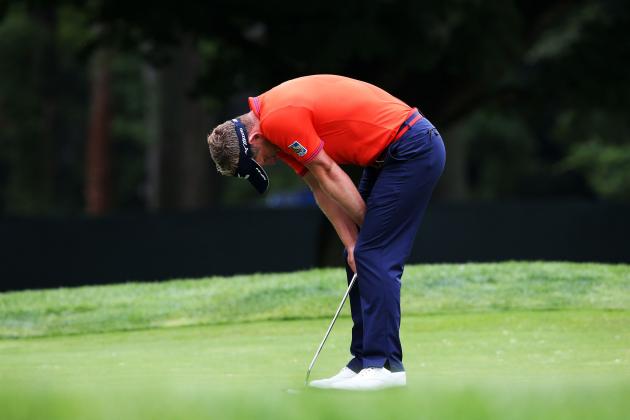 Rob Carr/Getty Images

This time around, Luke Donald waited until the second round to submarine his hopes of winning a first major championship at Oak Hill Country Club.
Donald, who shot a 71 on Thursday to remain somewhat in the mix, followed up with a sloppy four-over 74 to miss the cut for the second straight major.
The Englishman, largely considered one of the best players without a major title, bogeyed three of his first seven holes playing on the back nine and never fully recovered. He could only manage one birdie on his second nine compared to two bogeys and missed the cut by two shots.
The disappointing performance follows an awful showing at the Open Championship last month at Muirfield in which Donald opened with a nine-over 80.
At 35 years of age, Donald still have plenty of time left to claim that first major, but his recent performances in golf's biggest events don't inspire a lot of confidence.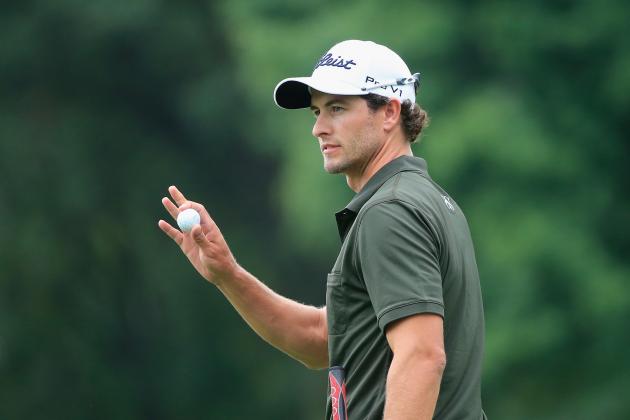 Sam Greenwood/Getty Images

It wasn't anything close to a course record, but Adam Scott didn't hurt himself a bit with his second-round 68.
Coming off an opening-round 65, Scott was once again on his game off the tee and from the fairway in keeping his place high above the leaderboard. In fact, had Scott's putter been in just a little better form he would have shot something close to that 65 to own the 36-hole lead.
Seeking his second major of the year, Scott waffled between seven- and eight-under all day and for the second straight round he avoided any real trouble to speak of.
The Australian is in great shape to become the first golfer since Padraig Harrington in 2008 to win two majors in the same season.
Stuart Franklin/Getty Images

Lee Westwood's day was disappointing both for what it was and what it could have been.
The Englishman struggled to a three-over 73 on a good scoring day, dropping him from just a stroke off the lead all the way down to one-under after 36 holes.
Early in his round, however, Westwood was continuing his fine play from Thursday's 66, making two early birdies to get to six-under. That all changed with a bogey on the long par-four 17th, his eighth hole of the day.
Following that miscue, Westwood played Oak Hill's front side in four-over par, including a double bogey on the par-four eighth.
Westwood has a lot of work to do and a bevy of players to pass if he is going to challenge for that first career major title this weekend.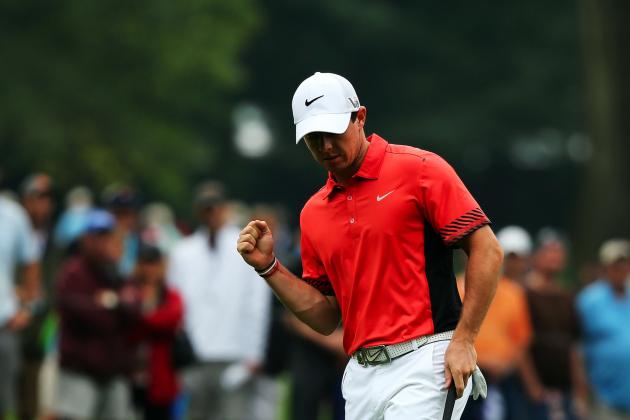 Rob Carr/Getty Images

Some 71s are simply better than others. Just ask Rory McIlroy.
Ten holes into his second round, Rory was slated for the far-less desirable side of this list and a second straight missed cut in a major.
Yet the former world No. 1 got his game together on the challenging front nine and as a result still has an outside chance to defend his 2012 PGA title.
Struggling to rediscover his game, McIlroy looked destined to miss the cut after dropping five shots to par through his first 10 holes. With four birdies on the way in, however, Rory managed a one-over 71 and is at even-par for the championship.
Though a great deal back from the leaders, McIlroy's ability to hold things together Friday is another sign his game may be rounding back into form and we can expect a better run in the majors next year than we've gotten in 2013.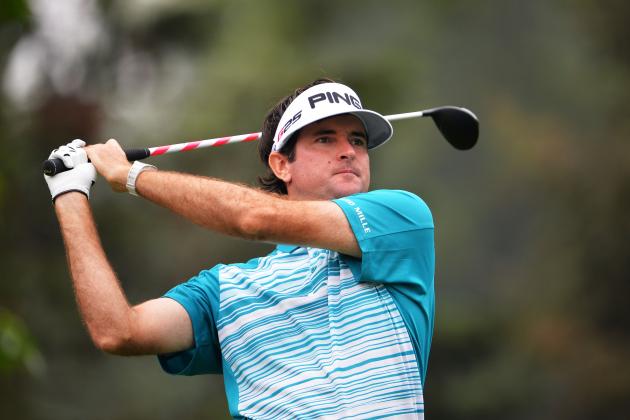 Stuart Franklin/Getty Images

Given how vulnerable Oak Hill was on Friday, Bubba Watson's four-over 74 is a head-scratcher—albeit not too much of one considering how he's played for the majority of 2013.
After beginning the second round in decent shape at level par, Watson struggled to get things going and missed the cut by a single stroke.
The long-hitting American bogeyed four holes on his opening nine against just one birdie and couldn't reel things back in on his second nine. Watson bogeyed the par-three No. 3—a miscue that ultimately led to an early exit as he parred in from there.
The disappointing second round ends a rather miserable performance in majors this year for Watson, who never really contended in any of the four. Adding to that misery, Bubba hasn't won a tournament since his dramatic triumph in the 2012 Masters.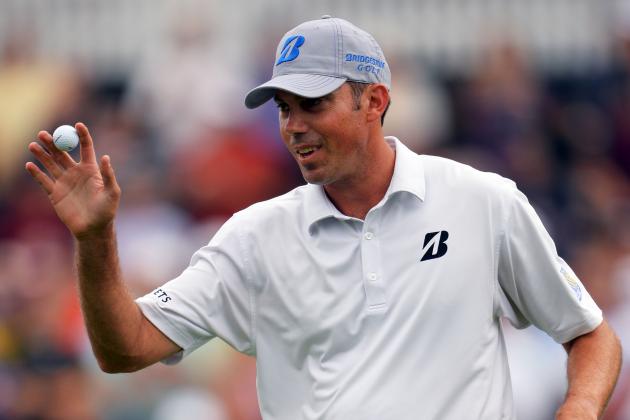 Stuart Franklin/Getty Images

Typically nothing Matt Kuchar does is spectacular, but more often than not it's very good. That was the case again on Day 2.
Trying to keep pace with the speeding Jason Dufner, Kuchar fired a workmanlike four-under 66. The popular American is at seven-under (two shots off Dufner's pace) and will tee off in the penultimate group in Saturday's third round.
If not for a bogey on the 18th, Kuchar would have been in the final pairing with Dufner, but that's just a small blip on what was an otherwise clean round. Seeking his first ever major, Kuchar suffered just that lone bogey and countered with four birdies, including three in a five-hole stretch on the back nine.
The outing was the perfect complement to his opening-round 67 and puts the steady golfer in strong position to join Adam Scott and Justin Rose, as first-time major winners this year.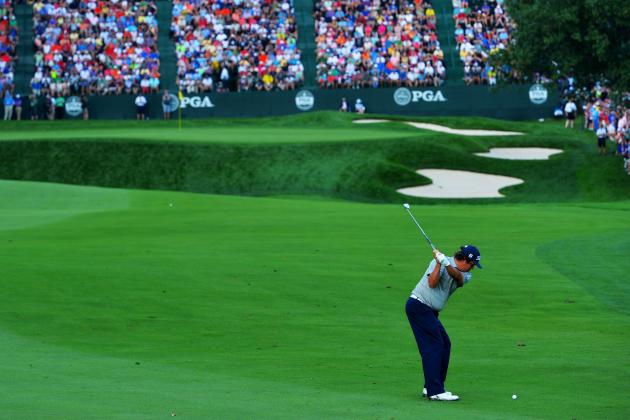 Stuart Franklin/Getty Images

One day after suffering a full-on assault from the world's best players, Oak Hill Country Club was hit with a second wave of low scores and historic performances that rendered it defenseless at times.
Prior to this week, the storied course had only allowed 10 scores under par over 72 holes of championship golf. In 2003, the last time it hosted the PGA Championship, the course permitted only three golfers to finish in red numbers.
That will not be the case this time around. After surrendering 35 sub-par rounds on Thursday, including two 65s, Oak Hill gave up the record scores to Dufner and Simpson.
In addition to those unbelievable rounds, the course saw another 33 players shoot under par and 27 players finish in red figures after 36 holes.
Donald Ross must be rolling over in his grave tonight.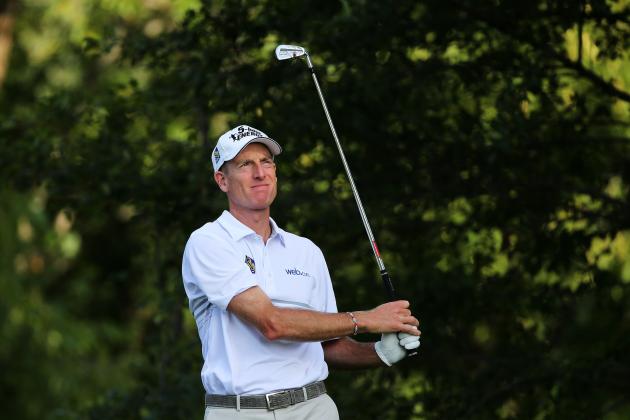 Rob Carr/Getty Images

While some lauded Jim Furyk for his five-under 65 on Thursday, many others wondered whether the American would still be around after Day 2.
Furyk gave his answer in the form of a solid two-under 68 that has him among a threesome of golfers at seven-under, just two back of the lead.
The former U.S. Open champion was his typical steady self, suffering only one bogey while registering two birdies to say in touch of the lead.
If not for the bogey on the 17th after an unusually wayward drive, Furyk would have had second place all to himself at the midway point of the year's final major.
On a day full of spectacular rounds, it's easy to overlook Furyk, but doing so would be a mistake.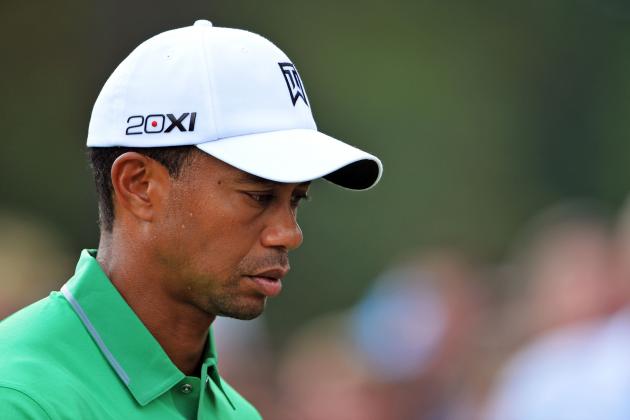 Stuart Franklin/Getty Images

With the leaders running away from him all day long, Tiger Woods couldn't do a thing to truly join the chase up the leaderboard.
Essentially treading water all day and unable to get his putter going, Tiger fired an even-par 70 and sits a full 10 shots back of Dufner heading into the weekend.
Like he did on Thursday, Tiger had opportunities to get his championship jump-started, but time and again missed make-able birdie putts just as he has in so many recent majors.
Woods never seemed comfortable, fighting his accuracy off the tee and pushing his irons at times from the fairways.
His four-birdie, four-bogey effort leaves him tied for 38th and unlikely to end his five-year major drought. The good news for Tiger from Friday: His even-par round was his best in six starts at Oak Hill.
Watch out for Saturday.