Formula 1: Who's Better for Red Bull, Kimi Raikkonen or Daniel Ricciardo?
Mark Thompson/Getty Images
"Nice shirt, Seb!"
Mark Webber's decision to leave Formula One at the end of the year has freed up a seat at Red Bull alongside Sebastian Vettel. Several names have been mentioned, but the battle to fill it appears to be down to two men—Kimi Raikkonen and Daniel Ricciardo.

Raikkonen appears to be the obvious choice. The 2007 World Champion is without question one of the best drivers on the grid, a man with a proven record in both qualifying and the race.

Ricciardo on the other hand is a relative newcomer. With just 41 race starts to his name and not much in the way of results, on paper he's the outsider.

But he came up through the Red Bull Junior Team programme, which has so far—Vettel aside—been a bit of a failure. Bumping him into the senior team might provide a morale boost for other youngsters coming up through the ranks.

Fans generally want to see Raikkonen get the seat. His talent deserves a car which is capable of winning championships, and it would certainly be interesting to see Vettel up against another top driver.

But is he really the best choice?
Begin Slideshow

»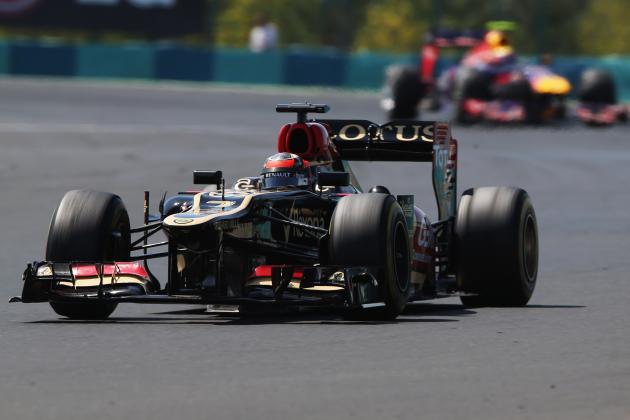 Mark Thompson/Getty Images

On the information we have available, this one isn't much of a contest.
Ricciardo isn't slow. He appears capable of giving a good account of himself in a top car, and with experience he's only going to get quicker. Being surrounded by top people at Red Bull should help him too.
But Raikkonen is one of the best drivers on the grid. Ricciardo isn't.
Raikkonen 1-0 Ricciardo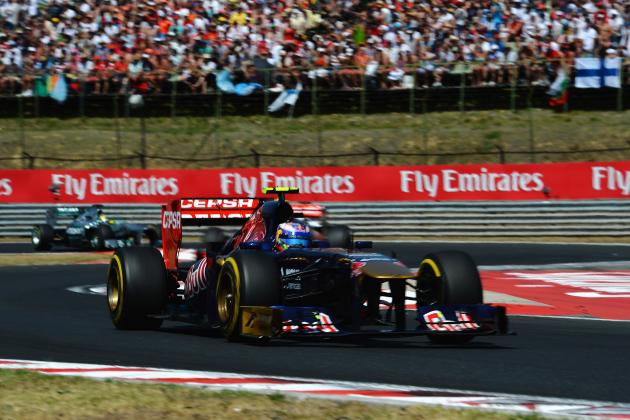 Lars Baron/Getty Images

There's no doubt that Sebastian Vettel is Red Bull's favourite son. He's one of the best drivers on the grid, and he's spent his entire F1 career with the team in one way or another.

One might expect the team trust him implicitly with their future success, so what sort of message does it send to him if the team bring in a driver like Raikkonen?

On the positive side, Raikkonen isn't a domineering character. He's not going to come in like (for example) Fernando Alonso would and stamp his authority all over the team.

But history has taught us that two top drivers in the same team rarely leads to a pleasant environment. Nigel Mansell and Nelson Piquet, Ayrton Senna and Alain Prost, Lewis Hamilton and Alonso.

Ricciardo? Unless everyone has been horribly misled, he isn't on the same level as Vettel and probably never will be. He'd come in, be delighted to be the clear second driver and everyone would be happy.
Raikkonen 1-1 Ricciardo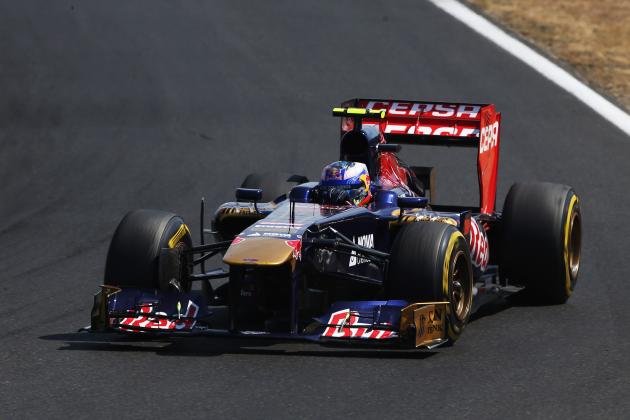 Mark Thompson/Getty Images

Raikkonen doesn't cost as much as he used to. When he drove for Ferrari between 2007 and 2009, he was on a staggering €38m ($50m) per year.

His basic salary with Lotus is reportedly a more modest €3m per year, but it's topped up substantially with performance-related bonuses. It's difficult to say exactly what he ends up with, but using others as a comparison, €10m seems reasonable.

Let's say that's what he'll get at Red Bull. Mark Webber gets the same.

According to the source, Ricciardo is on €400,000 a year at the moment. Sergio Perez, another young hopeful who's just moved into the big time (with McLaren) gets €1.5m.

That's a handy figure and probably not too far from what Red Bull would pay Ricciardo.

Maybe it's unimportant because Red Bull have a somewhat bottomless pit of money, but would any team say no to starting the year with an extra €8.5m?
Raikkonen 1-2 Ricciardo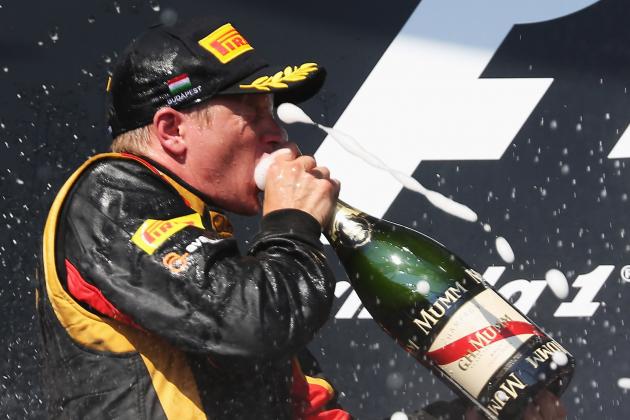 Mark Thompson/Getty Images

Once a team has designed its car, it needs to be developed constantly throughout the course of the season. Driver input is vital.

It's even more important next year because the regulation changes mean teams will have less idea of what works and what doesn't.

Raikkonen is vastly experienced, and has to take some credit for the success of Lotus since he arrived. He might not like doing non-driving work, but the few words he does utter will undoubtedly be worth hearing.

Ricciardo has started less than a quarter of the races his rival has, and he's only driven for one team.

It seems unlikely he could provide the same quality feedback Raikkonen could.
Raikkonen 2-2 Ricciardo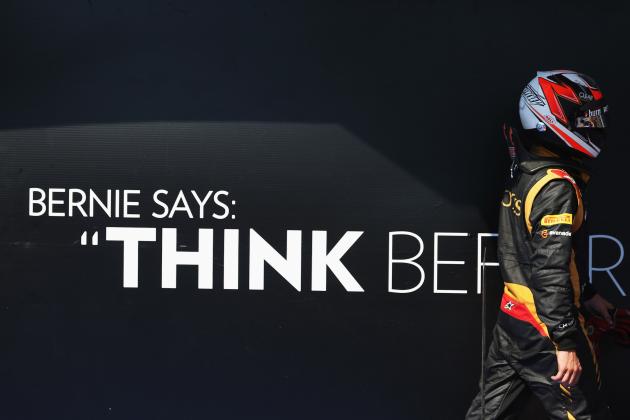 Mark Thompson/Getty Images
Thanks, Bernie.
It wouldn't be outlandish to say Vettel may want to move on some day. He has a contract until the end of 2015, but "F1" and "contract" don't go well in the same sentence unless you provide a punchline at the end.

Maybe he'll go at the end of 2014.

Raikkonen is 33 and coming towards the end of his career. No one can say how long he'll carry on, but 37 seems a popular age to retire (Mark Webber, David Coulthard, Jean Alesi and Michael Schumacher the first time out). So let's say he has four years left at the top.

If Vettel does depart for pastures new, Raikkonen could take over as team leader and stay there for three years.

Ricciardo is much younger at just 24, but unless he turns out to be better than anyone thought he's not fit to lead Red Bull if Vettel departs.

He is, however, a useful and capable second driver the team could retain in the interests of continuity. And he's perfect in the same role if Vettel doesn't go elsewhere.

The best choice here depends on what happens with Vettel, and no one (except perhaps the man himself and a few select others) know what that will be.

So half a point each.
Raikkonen 2.5-2.5 Ricciardo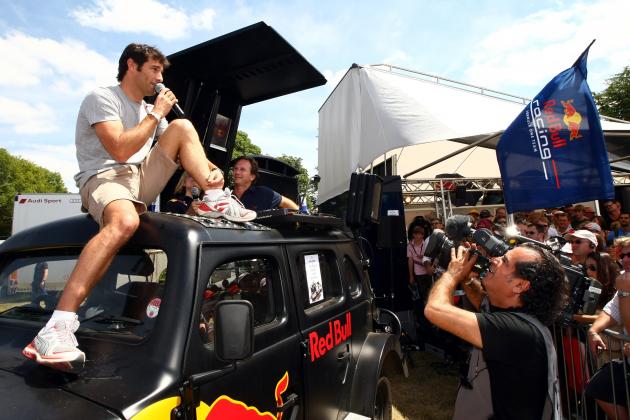 Andrew Hone/Getty Images

It wasn't designed to come out as a draw, but seemingly it did.

And it highlights that the decision is a very tough one. Raikkonen is undoubtedly the best choice from a purely racing perspective, but there's more to the sport than what happens on the track.

To me the two most important factors are the future and team harmony.

If the team trusts Vettel's ability (surely they do) and believe he'll stick around for at least a few more years, Ricciardo is the better choice.

But if the team think he might be departing soon, having a settled-in top driver like Raikkonen would be ideal.

Decisions, decisions.

As a fan, I'd take Raikkonen. In Red Bull's position, I'd go for Ricciardo. Who would you pick?