For the fifth time in the 2013 PGA Tour season, Tiger Woods is triumphant.
The world No. 1 carded an even-par 70 Sunday to win the 2013 WGC-Bridgestone Invitational in Akron, Ohio, by seven strokes with a 15-under par 265, fortifying his stranglehold on the Firestone Country Club's South Course. He had just two non-par scores on the relatively uneventful Sunday afternoon, choosing to play with a steady hand rather than with an overarching aggression.
Here is a hole-by-hole look at Tiger's Sunday scorecard.
| | | | | | | | | | | | |
| --- | --- | --- | --- | --- | --- | --- | --- | --- | --- | --- | --- |
| Hole | 1 | 2 | 3 | 4 | 5 | 6 | 7 | 8 | 9 | OUT | |
| Par | 4 | 5 | 4 | 4 | 3 | 4 | 3 | 4 | 4 | 35 | |
| Score | 4 | 5 | 4 | 4 | 3 | 4 | 3 | 4 | 4 | 35 | |
| | | | | | | | | | | | |
| Hole | 10 | 11 | 12 | 13 | 14 | 15 | 16 | 17 | 18 | IN | TOT |
| Par | 4 | 4 | 3 | 4 | 4 | 3 | 5 | 4 | 4 | 35 | 70 |
| Score | 3 | 4 | 3 | 4 | 5 | 3 | 5 | 4 | 4 | 35 | 70 |
PGATour.com
He is now 23-for-23 in events when leading by three strokes or more heading into Sunday. The win was Woods' 79th on the PGA Tour. According to ESPN Stats & Info, he's now just three behind Sam Snead for the all-time record:
Tiger Woods has won 79 PGA TOUR titles, 3 shy of Sam Snead's all-time record

— ESPN Stats & Info (@ESPNStatsInfo) August 4, 2013
Keegan Bradley and Henrik Stenson tied for second at eight under for the tournament. Bradley carded a three-under 67 to move up from seventh, while the Swede matched Woods' level-par play.
Starting his day with a seven-stroke lead thanks to an astounding 61 on Friday, Woods came out in his trademark red polo paired up with Stenson in the afternoon's final twosome. While there is much talk of the intimidation factor that comes with playing Woods on a Sunday, both men knew the "final pairing" was a mere formality. Armed with one of the biggest 54-hole advantages of his career, all Woods had to do was avoid disaster.
And that's exactly what he did. Beginning with the first hole, it was a day of par saves and conservatism from the world's best.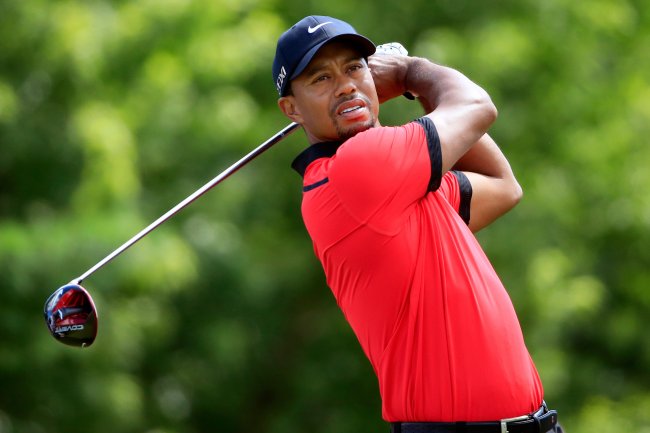 Sam Greenwood/Getty Images
With a crisp opening drive down the first fairway, Woods got his day off well on the opening tee. Though an errant second shot put him in a position for a tricky up and down, which he subsequently drilled within four feet of the hole for an easy par. While happy with the save, Sunday was the first time he hadn't birdied the first all week.
Such would be the story of the day.
Woods followed up his opening par on the first with another on the par-five second, another hole he had played three under through the first three rounds. A master the entire week with his putter, the short stick robbed him on a six-foot birdie putt. He then missed another decent birdie chance on the third, a sign that he very likely wouldn't go below par to cap off the event.
CBS Sports' Eye on Golf Twitter feed noted that this was par for the course (get it?) for Eldrick:
Here are Tiger Woods' first three holes today. Doing what he does with this kind of lead on a Sunday - pic.twitter.com/KYwLl6mvKi

— Eye on Golf (@EyeOnGolf) August 4, 2013
So it went—for the entire front nine. There were some starts, stops and even a few close calls for some non-par scores, but Woods went the entire front with nine straight pars. Heading into the 10th tee, even Golf Channel's Tiger Tracker was getting in on Woods' relatively loungy round:
Rips another tee shot at 10, another hole where he could make 4 straight birdies. Or, you know, a two-putt par from 25 ft.

— GC Tiger Tracker (@GCTigerTracker) August 4, 2013
But just when everyone seemed content with Tiger shooting 18 straight pars, he struck—perhaps just to show he still could. The 37-year-old golfer finally got off the schneid on the 10th, burying a seven-foot birdie putt to get to 16 under. He had been a marvel on the greens from inside 10 feet throughout the week, so this shouldn't have been a surprise.
However, after lipping out so many times on the front nine, Woods couldn't help but show a little tongue-in-cheek emotion after the shot. As noted by the PGA Tour's official Twitter feed, that birdie put Tiger nine strokes ahead of the field (as high as he got Sunday):
Tiger makes his first birdie of the day, rolling in a 7 1/2-footer at No. 10. After a Keegan bogey, it's a 9-shot lead. #PGATOUR

— PGA TOUR (@PGATOUR) August 4, 2013
Little did we know that would be Woods' only birdie of the day. Three more pars followed his triumph at the 10th, including another heartbreak on the green at No. 12. His putter had been excellent to him throughout the weekend, and was bound for a regression to the mean. Yet it was at least interesting to see Woods get frustrated despite holding the insurmountable lead.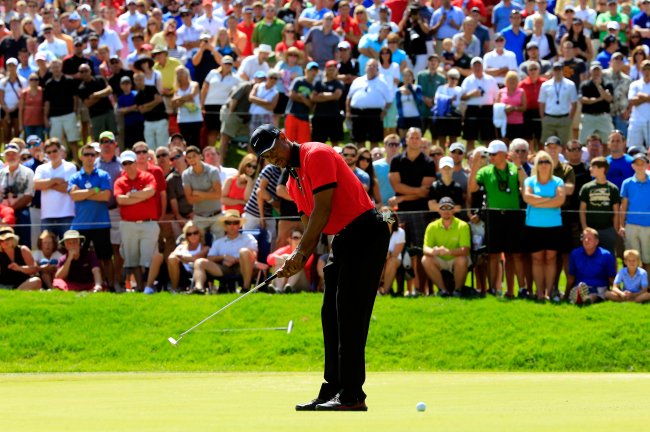 Sam Greenwood/Getty Images
That fermenting frustration grew greater on the 14th—Woods' second non-par of the afternoon. An errant tee shot left him in the rough with a difficult approach on the long par four. He then managed to get the ball about 40 feet out on the green, but he judged the speed on his first putt wrong, rolling the ball well past the hole and setting up a three-putt bogey.
Rusty Miller of The Associated Press pointed out we probably shouldn't be shedding any tears:
Tiger 3-jacks for bogey at 14. Don't cry for him, however, since he's still up by 8. Still no one making any kind of run at him.

— Rusty Miller (@RustyMillerAP) August 4, 2013
The melancholy was also sucked back out the air on the next hole, as Woods made it quite clear the par train would keep rolling. He hit an iron off the tee on the par-three 15th before again just missing a birdie putt. Two mostly uneventful pars followed, as only those who watched closely Saturday and Sunday noticed the symmetry between his tee shots on the 18th.
The win was Woods' 18th in a World Golf Championship—six times more than any other golfer in history. And as pointed out by ESPN Stats & Info, Woods winning by seven strokes is an awfully good sign for the PGA Championship.
The last time Tiger Woods won by more than 5 strokes in his last tournament going into a major, he carried the momentum into a major victory

— ESPN Stats & Info (@ESPNStatsInfo) August 4, 2013
Woods will look to win his first major since 2008 next week at Oak Hill Country Club in Rochester, N.Y. He's won the event four times, most recently in 2007.
Follow Tyler Conway on Twitter: