Why Iman Shumpert Is Key to New York Knicks Elevating Playoff Ceiling
Use your ← → (arrow) keys to browse more stories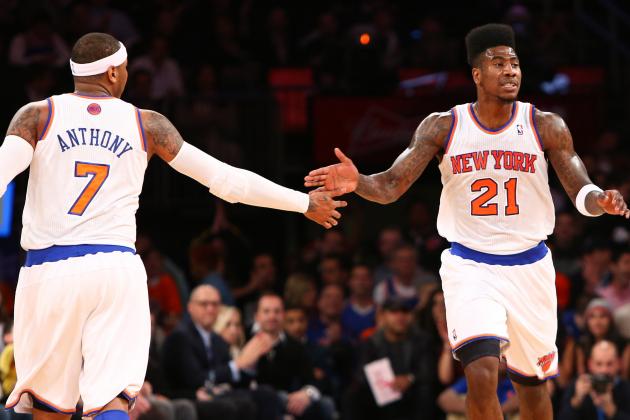 USA TODAY Sports
Iman Shumpert allows Carmelo Anthony to focus on offense.
For Iman Shumpert, the gap between what is and what could be is greater right now than for any other player on New York Knicks. Shump is the key to 2013-14—the X-factor, season swingman, difference-maker—and he's evolving into the most balanced two-way player on the team.
The measure of his growth on both sides of the court will be a good prediction of the Knicks' postseason success.
Could Iman Shumpert be the key that at last unlocks the door to the NBA Finals?
Who Else?
Carmelo Anthony will give what he always gives—he'll be shooting enough for a second shot at a scoring title.
Tyson Chandler, who's resting this summer, should be up to speed again on the inside, rebounding and clogging. He had an underrated season until the neck injury in March.
Nothing new with those two.
Amar'e Stoudemire and Andrea Bargnani, if they can stay healthy, will add some incremental offensive punch—maybe even 25-30 on average between them. Their defensive assignments, though, might just do the same.
If you were abreast of the Knicks' salary-cap and luxury-tax issues, then the Metta World Peace signing came as a "blockbuster" of sorts. World Peace brings physical play to the table and a latent outside shot, but he'll be 34.
Those three players help the Knicks at least keep pace (maybe) with ever-improving contenders in the Brooklyn Nets, Indiana Pacers and Chicago Bulls.
Raymond Felton and Pablo Prigioni can aptly move the offense along with an occasional sprinkle of opportunistic defense, but they won't be candidates for the Most Improved Player Award.
"Raw" rookie C.J. Leslie looks like he could pitch in on the glass—eventually. Tim Hardaway Jr. won't be contributing on either side of the ball anytime soon, either.
Iman Shumpert: The Difference-Maker?
A leap in Shumpert's game, especially on the offensive end, would put the Eastern Conference on notice. Everything else the Knicks throw out there is going to be expected. It's been seen.
A little of what Shumpert "could be" was flashed at the end of 2012-13. In the final six games of the season, he scored 18, seven, eight, 10, 14 and 18 points.
Over that same period, he averaged 3.3 assists—double his season average—and piled on 30 rebounds (two more a game than for the season).
He wasn't done.
During a five-game stretch in the playoffs against both the Boston Celtics and Pacers, Shumpert scored in double digits, had eight steals, averaged seven rebounds and then added 10 more rebounds in the next game.
Iman helped keep the Knicks in Game 6 against the Pacers, aggressively scoring 19 in the first three quarters before fouling out in the fourth. The game was tied after three.
How Many Points Will Iman Shumpert Average in 2013-14?
All the while he applied that now-patented, energetic, disruptive, in-your-face Shump D.
Those are difference-making numbers on this team.
Shumpert, 23, is the best young player currently on the roster with the most room for growth on both sides of the court, based on the potential he's flexed in his first two seasons and in that flurry above. Minus the rookies, Bargnani is the next youngest at age 27, and he's just trying to get back to form.
Shumpert fell off a bit in between, as he had occasionally done during the season, but he was returning from ACL surgery. He's just a third-year player, and has some maturing to do—though he's growing up fast.
The next step? Consistency. Imagine that play day in and day out through a whole season and into the playoffs. Getting the start at shooting guard is Shumpert's opportunity to become a consistent offensive force.
He already is a consistent defensive menace. Together with World Peace and Chandler, the Knicks could have one of the best defenses in the league.
All this frees up Anthony, too, to play nothing but the most opportunistic defense and even switch off to small forward on that side of the court, saving him from having to go up against bigger men.
That would help preserve Anthony for another 28-30 PPG season and an important postseason ahead—one that may determine what 'Melo does what his upcoming player option.
Iman Shumpert is important, indeed.