Top 10 Moments of Warren Sapp's Career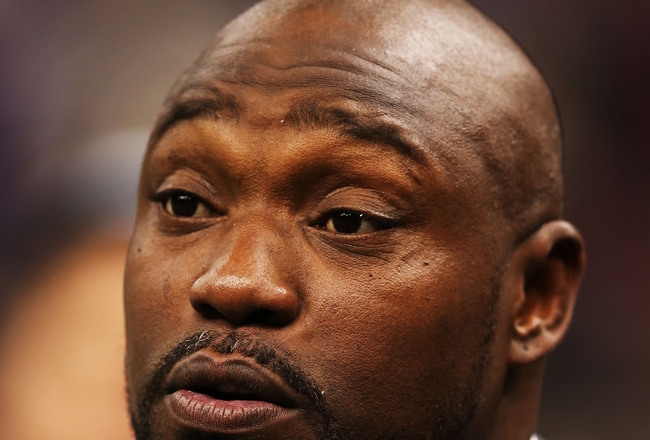 Christian Petersen/Getty Images
Former Tampa Bay Buccaneers and Oakland Raiders defensive tackle Warren Sapp will be one of three men inducted into the Pro Football Hall of Fame on Saturday, Aug. 3.
Sapp was regarded as one of the best defensive linemen of his era over the course of his career. Fans and media alike were also drawn to him for his personality, both on and off the field.
What were the highlights of his illustrious career? Here are 10 moments that stand out.
10. Jersey Retired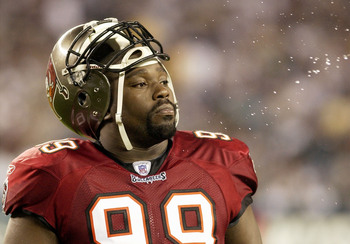 A. Messerschmidt/Getty Images
One of the more recent highlight moments in Warren Sapp's post-playing days was the announcement that the Buccaneers would retire his jersey, according to the Glazer family via the team website.
Sapp deserves the recognition for his contributions to the franchise, as he anchored the Tampa 2 defense and helped the franchise win a Super Bowl.
While it was a post-retirement moment, it was an honor for Sapp to have his success recognized by the franchise he was attached to the most over the course of his career.
9. Touchdown Catch in Blowout Win over Falcons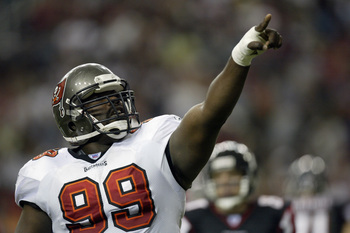 Craig Jones/Getty Images
Warren Sapp didn't receive many opportunities to score touchdowns on offense, but when he did, he ensured that he made a division rival pay.
Lined up as a tight end in the second quarter of a game against Atlanta in 2003, Sapp caught a six-yard pass from quarterback Brad Johnson in a 31-10 route over the Falcons.
As if that wasn't a celebration in itself, Sapp put his dance skills to the test by grooving to Beyonce's "Crazy in Love" while in the end zone. One shouldn't be surprised, as it was a classic Sapp moment.
8. Dominant Performance Against Green Bay Packers in Playoffs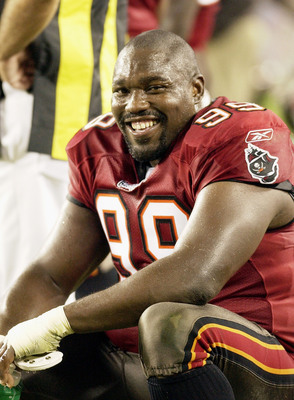 A. Messerschmidt/Getty Images
Warren Sapp earned a reputation as one of the better defensive linemen during his era due to the kind of performances he put on in the postseason, most notably in 1998 against the Green Bay Packers.
Sapp came to play that day for the Buccaneers' defense, which faced an uphill battle against Brett Favre and the Packers' offense.
Sapp recorded three sacks of Favre along with seven tackles and two forced fumbles. It was a classic example of how Sapp could easily change the course of a game by himself.
7. Signs with Oakland Raiders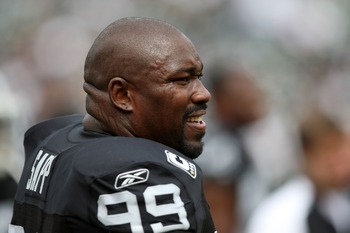 Jed Jacobsohn/Getty Images
When one thinks of Warren Sapp, he is typically remembered for his playing days with the Tampa Bay Buccaneers and bringing the franchise a Super Bowl.
Good things don't last forever, however, and that proved to be true with Sapp and his tenure with the Buccaneers.
After considering offers from other teams on the open market, including the Cincinnati Bengals, Sapp signed a seven-year, $36 million contract with the Oakland Raiders.
It not only ended an era in Tampa Bay, but also began the final chapter of Sapp's career with one of the league's historic franchises.
6. Named 1999 NFL Defensive Player of the Year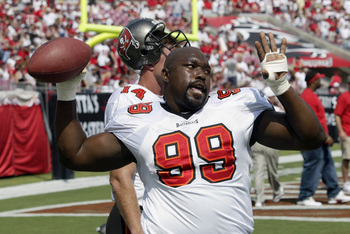 Craig Jones/Getty Images
Warren Sapp was a Super Bowl champion and a dominant defensive player. However, a notable moment in Sapp's career came when he was named the NFL Defensive Player of the Year in 1999.
At that time, the idea that a defensive tackle could win one of the more valuable individual awards in the league seemed unheard of.
But there was no doubt that Sapp deserved the recognition. His 12-and-a-half sacks and four forced fumbles were a display of his dominance at the position.
It was among the crowning achievement of Sapp's career.
5. Ejected for Unsportsmanlike Comments Against Jaguars
Donald Miralle/Getty Images
Warren Sapp was regarded for his performance on the field, but his antics on and off the field made him a polarizing player.
One example of such conduct was his ejection against the Jacksonville Jaguars as a member of the Oakland Raiders.
Sapp enjoyed trash-talking and making comments that got him in trouble over the years.
In this case, his talking got himself in rough waters with the NFL and officials, who were involved in this altercation.
4. Last Career NFL Sack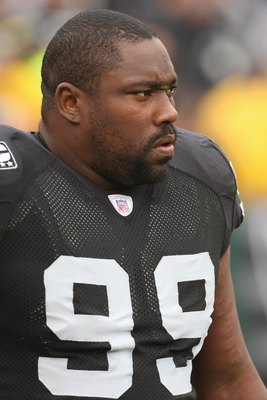 Stephen Dunn/Getty Images
Warren Sapp was known over the course of his Hall of Fame career for providing constant pressure on opposing quarterbacks.
His most memorable sack? The most likely nomination was the last sack of his NFL career against the Tennessee Titans.
While Sapp was near the end of his career, that didn't stop him from showing he could still penetrate the pocket when he sacked quarterback Vince Young in the backfield.
3. Selected by the Tampa Bay Buccaneers in the 1995 Draft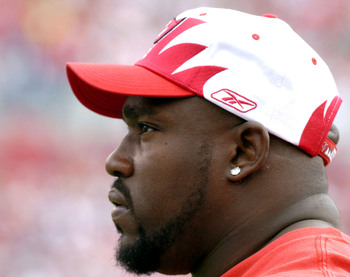 A. Messerschmidt/Getty Images
Warren Sapp had his dream of being drafted into the NFL become a reality in 1995.
He was selected with the 12th pick overall by the Buccaneers, the franchise where he spent the majority of his 13-year career in the NFL.
The moment he became a part of the NFL was an incredible experience in itself for him. The fact that he was able to build upon that and become one of the game's elite players was a testament to the hard work Sapp put in following his selection.
2. Becoming a Super Bowl Champion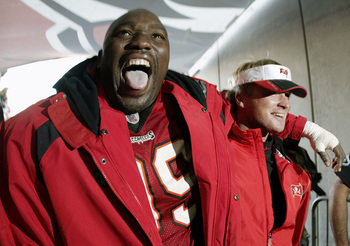 Craig Jones/Getty Images
The Tampa Bay Buccaneers were a franchise that was slowly built up by head coach Tony Dungy, though Dungy never managed to earn a championship during his tenure with the team.
Among those stars were Warren Sapp, who did not have a championship ring to go along with his impressive performance on the field under Dungy.
That quickly changed in 2002 when Jon Gruden took the reins of the franchise and generated a season run that ultimately captured the Buccaneers and Sapp a Super Bowl championship.
Given the perception that a player needs a Super Bowl championship in order to be considered among the league's greatest players, Sapp was able to accomplish that task after years of personal success.
1. Induction into Pro Football Hall of Fame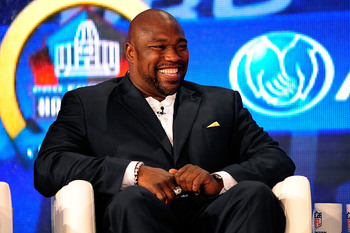 Stacy Revere/Getty Images
When the careers of NFL legends come to an end, it's difficult for many to move on from their careers and put years of memories behind them.
The ultimate crowning achievement is being both a Super Bowl champion and a member of the Pro Football Hall of Fame.
Warren Sapp has achieved both of those goals and will be recognized for his stellar play in Canton, Ohio, on Saturday, Aug. 3.
While he has moved on from his playing career, the opportunity to receive this entry into football's most elite club will be a lasting memory for Sapp, as he will reflect on an exciting journey through the National Football League.
Keep Reading

Tampa Bay Buccaneers: Like this team?