Early Observations from Dallas Cowboys Training Camp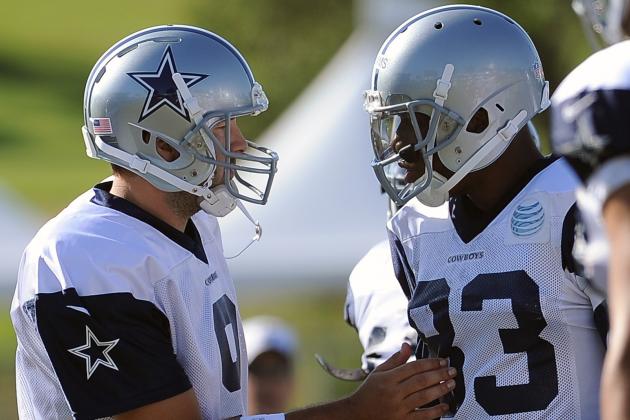 Jayne Kamin-Oncea-USA TODAY Spor

We are well into the second week of training camp for the Dallas Cowboys, but numerous questions still remain to be answered before the start of the 2013 regular season.
To this point, there's been a steady flow of both new elements and old, as the Cowboys attempt to avoid missing the postseason for a fourth consecutive year. This unfortunate development, if it comes to pass, would be a first for owner and general manager Jerry Jones.
Dallas has a total of five preseason games to play prior to hosting the New York Giants in the team's season opener on Sunday, September 8 in Arlington, Texas. Each of these games will determine the fate of newcomers to the franchise in addition to veterans that have been around for some time.
The following is a look at some of the top observations we have seen so far in Cowboys camp, with the first preseason game coming up this Sunday at Fawcett Stadium in Canton, Ohio. This has been a very competitive camp so far, and we can expect to see some surprises all the way to the very end.
This year's training camp is a more intriguing mix of old and new than Dallas fans have seen in quite some time, and the arrow should be pointing upwards for the Cowboys moving forward.
Read on to find out about some of the top storylines coming out of Oxnard so far.
All stats courtesy of ESPN.com
Begin Slideshow

»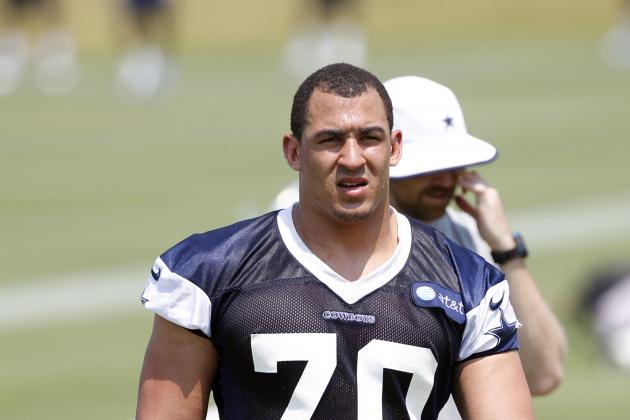 Layne Murdoch/Getty Images
Defensive lineman Tyrone Crawford
Without recapping the epidemic of injuries to the Dallas defense in 2012, let me just say that it passed beyond "unfortunate" on the way to "ridiculous." Injuries have cost players their job before, but it's not often that they cause a defensive coordinator to lose his job, as was the case for Rob Ryan.
As training camp opened this year, it took less than an hour for second-year veteran defensive lineman Tyrone Crawford to go down, and as reported by Calvin Watkins of ESPN Dallas, he is now out for the year with an Achilles injury.
To this point, Crawford's injury has been the most serious ailment in camp, but there's been a couple of others that the franchise would rather not be dealing with.
As reported by Brandon George of the Dallas Morning News, Anthony Spencer, who is transitioning from outside linebacker to defensive end this year, had his knee scoped last week and might not return to action before the regular-season opener against the New York Giants.
Defensive tackle Jay Ratliff, a near no-show in 2012 because of injury, suffered a hamstring pull during conditioning drills before camp, according to David Moore of the Dallas Morning News. It's completely uncertain when exactly Ratliff will return to action. I suspect his injury is probably not the end of the world, but for a guy on ice as thin as Ratliff is, Dallas really needs to see him on the field playing defensive tackle as opposed to lining up as the smallest 3-4 nose guard in the NFL.
The Cowboys look as though they can survive the unpredictable misfortunes that have already occurred. But Dallas can ill-afford any more injuries, especially ones on defense that take key players out of action for extended periods of time.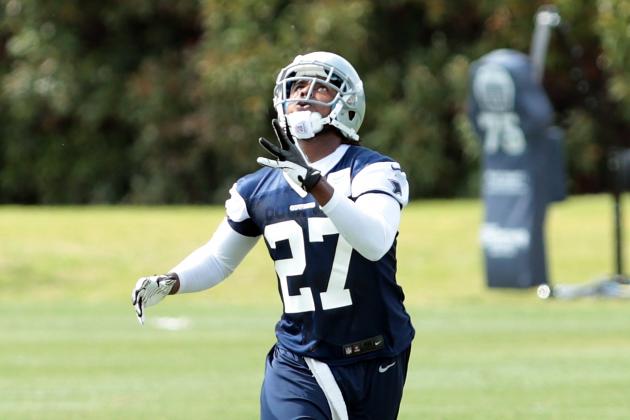 Rick Yeatts/Getty Images
Rookie defensive back J.J. Wilcox
Ever since Dallas went 13-3 in 2007, Jones has seemed to operate as though the Cowboys were an eminent contender for a Super Bowl championship.
You can't really blame him for that line of thinking, but we can probably offer some criticism as to why it took too long for Jones to realize that windows for success in the NFL are much smaller than they used to be, prior to free agency and the awful salary cap.
Championship teams need superstar players, but everyone in the league has those now. The difference between success and failure now hinges upon how teams draft players, especially beyond the first couple of rounds of the annual selection meeting in April.
Dallas has just one player remaining from drafts as recent as 2008 and 2009—reserve cornerback Orlando Scandrick, a fifth-round selection in 2008.
You have to do better than that, period.
Now, the Cowboys have what amounts to almost two offseason's worth of young talent to evaluate. Much of the 2012 class never saw action due to injuries or inexperience, and part of the group is being treated in the same manner as the rookie class of 2013.
This is a good problem to have, as it will help the Cowboys get a little younger and cheaper at some positions, while they also hope to get better as well.
Free agency has never bought a team a championship other than the 1994 World Champion San Francisco 49ers, and they only rented the league's top spot from the Cowboys for a year. The key is to build with youth, and that is why names like offensive guard Ronald Leary, safeties Matt Johnson and J.J. Wilcox, wide receiver Terrance Williams, defensive end Kyle Wilber and several others are so critical in camp this year.
Yes, the Cowboys roster will likely look much different than what it did a year ago, heading into a 2012 regular season that would offer a second straight 8-8 record.
If the Cowboys want to get back into the arena of contention, valuable youth must be discovered and utilized, unlike in seasons past when younger players only represented inexperienced depth that the franchise was reluctant to ever put on the field.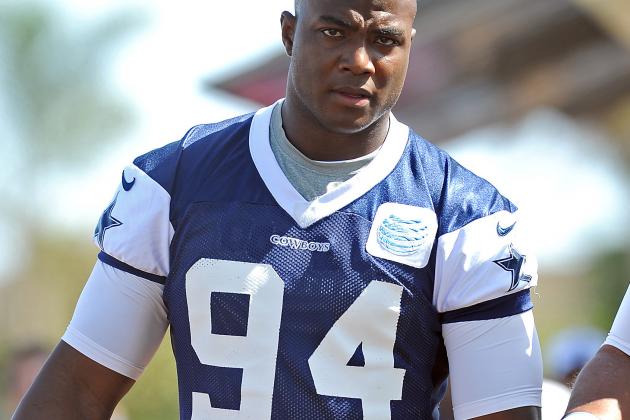 Jayne Kamin-Oncea-USA TODAY Spor
Defensive end DeMarcus Ware
As defensive coordinator Monte Kiffin gets his first look at what he has to work with while helping the team transition to his 4-3 alignment, he's got to like what he is seeing from defensive end DeMarcus Ware.
Historically an outside linebacker in Dallas' now-scrapped 3-4 debacle, a big question for the Cowboys is exactly how Ware will transition from his former position to the defensive line.
So far, so good.
Ware has been terrorizing left tackle Tyron Smith during the first week of camp. This is a great sign for Kiffin while perhaps being a bit of a concern for offensive coordinator Bill Callahan. Either way, the constant interaction between these two players can only represent a positive down the road.
About to turn 31 years old, Ware is supposed to be slowing down, an idea thought to be likely following last season's ''down year'' in which he only produced 11.5 sacks. Let's remember, though, that Ware wasn't healthy for much of last season, and his health right now is not a question.
Ware needs only four sacks to pass franchise leader Harvey Martin's record of 114, and it certainly looks like he'll likely become the new franchise leader sometime in September, if healthy.
There's no better news for the Dallas defense as it moves deeper into the preseason.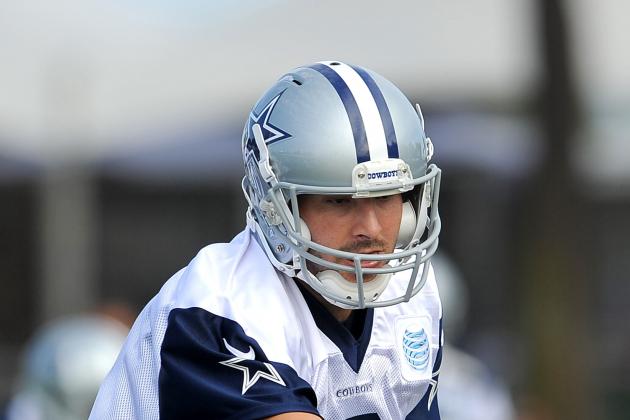 Jayne Kamin-Oncea-USA TODAY Spor
Starting quarterback Tony Romo
Following his landmark contract extension that he received in late March, it was stated by Jones that Romo would be more involved with the Cowboys offensive planning than ever before. While head coach Jason Garrett seemed late getting the memo—mainly because he was not the one to make this announcement—it's clear that the entire coaching staff is on board with this decision.
Romo missed all of Dallas' offseason activities following minor surgery on his back in May, but this hasn't hindered the veteran signal-caller from taking charge in Oxnard.
While Romo's leadership ability has always been a question within the organization, the 11-year veteran seems to be making that extra effort in directing the entire offensive side of the ball this year. This is great to see, especially given Garrett's apparent inability to do it and also due to Callahan's increased role as play-caller in 2013.
In fact, Romo has apparently indicated that he might want to coach in the NFL one day (h/t Michael David Smith of Pro Football Talk), perhaps an indicator that the undrafted quarterback from Eastern Illinois is more than willing to do anything possible to get Dallas back into the postseason.
Time will tell whether or not Romo's increased role within the franchise will pan out on the field, but so far, he's been everything he was expected to be. At the very least, according to David Moore of the Dallas Morning News, Jones has indicated that he's pleased with how Romo is responding.
It has probably been a more uncomfortable offseason for Garrett than anybody else. We could argue that former defensive coordinator Ryan, who was fired last January, might have had it worse. But he's now in New Orleans, and he wasn't even unemployed for that long.
Garrett is still in Dallas, watching as his reputation amongst fans and the media continues to erode. The addition of new defensive assistants Kiffin and Rod Marinelli, along with Callahan's increased responsibilities, might make Garrett seem like a dead man walking—even if, as reported by Jon Machota of the Dallas Morning News, Jones stated otherwise as camp opened over a week ago.
Garrett has never come across as much of an authority—within the coaching ranks anyway. His personality and demeanor have been exactly the same since he arrived in Dallas as a completely inexperienced offensive coordinator back in 2007.
But maybe this is changing now, and rightly so.
Garrett allowed SportsIllustrated.com to record a speech at the dawn of camp that might illustrate a slightly different approach heading into the 2013 regular season—not exactly expected for a guy who's not coaching for his job.
A remaining problem: Garrett likes to invite other authority figures to inspire his team, a trait I have never liked. If it's not former Washington Redskins head coach Joe Gibbs or former United States military personnel, it's New York Yankees manager Joe Girardi. It's a safe argument that each of these figures are more accomplished in their respective professions than Garrett, right?
Allow me to quote a former US military general from the WWII era: ''Nuts''.