New York Yankees Grades for Every Player in July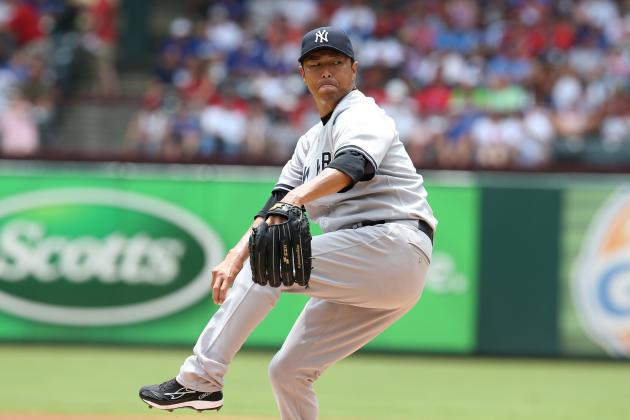 USA TODAY Sports
Hiroki Kuroda is becoming the Yankees' ace.
In an up and down month of July, the New York Yankees have failed to gain any ground in the ultra-competitive American League East.
New York started the month by winning six straight and nine of its first 12 games. However, the offense has stumbled lately, and the Yankees are just 13-12 for the month. In seven games, they have failed to score more than one run, including two shutouts.
As the trade deadline looms, the Yankees have acquired a coveted right-handed hitting outfielder in Alfonso Soriano. Plus, they have activated Derek Jeter and Jayson Nix from the disabled list, and the returns of Curtis Granderson and Alex Rodriguez (if he doesn't get suspended) are on the horizon.
Sitting at 55-51, the Yankees are 8.5 games out of the division and 3.5 games out of the wild card with the most important two months ahead. Still, with 56 games remaining, it's far too early to count the Yankees out, no matter how many hurdles they have to climb.
Some players are heating up, while others have succumbed to the length of a grueling season.
Begin Slideshow

»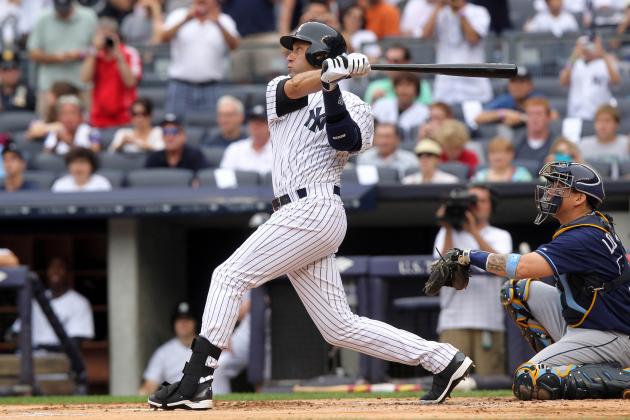 Brad Penner-USA TODAY Sports

Those position players with fewer than five games played this month get an incomplete grade. Additionally, starting pitcher David Phelps receives an incomplete after landing on the disabled list with a right forearm strain on July 5.
SS Derek Jeter
Recovering from a broken ankle suffered in last year's American League Championship Series, Derek Jeter returned to the lineup on July 11. An infield single on the first pitch he saw in 2013 was typical Jeter. However, he strained his quad later in the game and missed the following 12 games.
Then, Jeter hit a home run on the first pitch he saw against Matt Moore of the Tampa Bay Rays on July 28. For the season—and the month—Jeter is 3-for-12 with two RBIs and three runs scored, providing a much-needed spark in a faltering lineup.
However, he hasn't appeared in enough games to warrant a grade.
OF Alfonso Soriano
Acquired from the Cubs on July 26, Alfonso Soriano was back in the Bronx—or "home,"as he called it—and took his No. 12 straight off Vernon Wells' back.
Soriano was hitless in his first two games, but with Jeter back in the lineup, Soriano had a four-hit game that included his first home run since returning to New York.
He has four RBIs and three runs scored on 5-for-17 for the Bombers while possessing an .846 OPS.
Soriano was the power bat the Yankees needed in the middle of their lineup and will make the Yankees more dangerous offensively, but four games is too small a sample for a proper grade.
IF Jayson Nix
Utility infielder Jayson Nix suffered a hamstring injury on July 1 after going 1-for-5 with a double and two runs scored.
Initially listed day to day, Nix landed on the disabled list July 3 with a strained right hamstring. He missed the majority of the month and returned on July 30 against the Los Angeles Dodgers, going 0-for-3.
OF Melky Mesa
Called up on July 20, Melky Mesa has appeared in four games, starting three of them. He has a .333 average with two doubles and one RBI.
With Curtis Granderson rehabbing from a broken pinkie and close to rejoining the team, Mesa's appearances will be limited in the stretch run of the season.
SP David Phelps
After making a start on July 4, David Phelps hit the disabled list and is currently rehabbing in Double-A Trenton.
He threw 6.1 innings and received his sixth win of the season (6-5) while striking out five and surrendering four earned runs.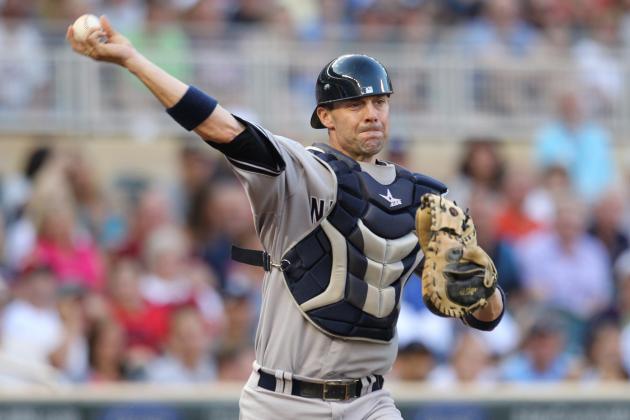 Brace Hemmelgarn-USA TODAY Sport

Chris Stewart
It has been a frustrating month for Chris Stewart, who has already played in more games this season than any in his career. He has seen his average dip from .259 to .226 in July as he has struggled at the plate the entire month.
In July, Stewart is hitting a dismal .148 with just two doubles and five RBIs in 20 games played. There's been virtually no offense from the catching position the entire season, and becoming a full-time starter for the first time in his career, it's not surprising to see Stewart hit a rough patch at the plate.
He's a career .221 hitter, so any type of contribution helps the Yankees. Still, Stewart is a defensive-minded catcher and has made some outstanding plays behind the plate this month.
He made a spectacular catch in the seats behind home plate against the Boston Red Sox and had the state of mind to throw out Daniel Nava trying to advance to second base.
Stewart threw out two base runners and surrendered one passed ball for the month, per BaseballReference.com.
Overall, it's been the worst month of the season for Stewart.
Grade: D+
Austin Romine
As a reserve catcher, Romine played just 10 games in July, which was by far his most efficient month as a major leaguer.
He hit a solid .333, raising his average from .145 to .198. Of his eight hits (in 24 at-bats), four were doubles, which is more than half of his season total. He has just 17 hits this season.
On July 25, in a 2-0 win against the Texas Rangers, Romine was 3-for-4 with two doubles and a run scored.
Behind the plate, Romine threw out two would-be base stealers and committed one error through July.
Despite not playing every day, Romine has shown significant improvement. He was horrendous at the plate during the first half of 2013 but has five hits in his last 10 at-bats.
Grade: C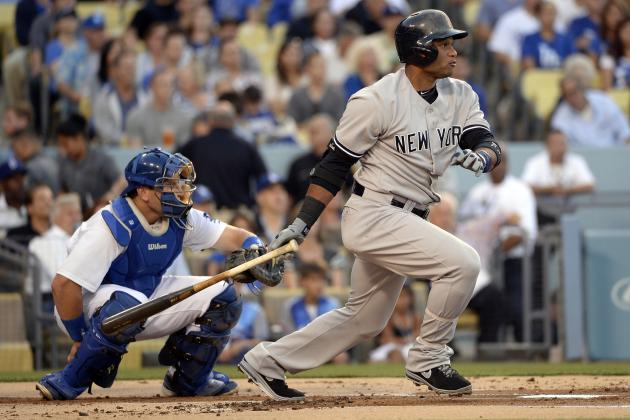 Richard Mackson-USA TODAY Sports

Lyle Overbay
Lyle Overbay has been a steady bat all season for manager Joe Girardi. He has 22 hits in July, hitting a solid .272 with five multi-hit games.
Overbay hit three of his 12 home runs in the month and drove in 11 runs. He connected on a grand slam off of Kansas City Royals pitcher Wade Davis in an 8-1 win on July 10.
It seems every time the Yankees need a big hit, it's Overbay who delivers. This was his best offensive month of the year.
In the field, Overbay committed just one error. It looks as if Overbay will be first baseman for the rest of the year, and it's a good time to start heating up.
Grade: B+
Robinson Cano
It's no surprise Robinson Cano had the best month for the Yankees. He hit .333 in July, clubbing four home runs and driving in a team-high 22 runs.
His 28 hits include seven multi-hit games and nine extra-base hits. He slugged .536 with an OPS of .967.
Cano committed one error appearing in all 25 games this month. He brought his average from .287 up to .297 and added a stolen base.
He makes everything look easy, though if he hustled on ground balls, he might have a few extra hits.
Grade: A
Eduardo Nunez
Eduardo Nunez—who can't keep his helmet on his head—returned from the 60-day disabled list on July 6 and was immediately placed in the starting lineup, appearing in 18 straight games.
He hit a respectable .258 with four of his 16 hits going for extra bases. He had five multi-hit games, including two games with three hits.
However, Nunez did commit three errors at shortstop. On one play, he airmailed Overbay at first on what appeared to be a routine throw.
It was a mediocre month for the 26-year-old infielder.
Grade: C
Brent Lillibridge
Making his Yankees debut on July 19, utility infielder Brent Lillibridge hit .185 through eight games. He has five hits, one stolen base, three RBIs and two scored runs.
On defense, he made an error that cost the Yankees four runs against a tough Rangers team, only to lead to his own heroics as he hit the go-ahead RBI single in the top of the ninth.
With Jeter and Nix back, cracking the lineup won't be easy during the remainder of the season.
Grade: D
David Adams
Before being optioned back to Triple-A Scranton/Wilkes Barre, David Adams played seven games to the tune of a .250 batting average in July. He recorded at least one hit in four of the seven games, with two RBIs, five strikeouts and three runs scored.
He didn't do enough to stay on the club, as he was optioned in favor of Nix.
Grade: D
Luis Cruz
With a sprained right knee, Cruz was the latest Yankee to be placed on the disabled list. Coming over from the Dodgers, Cruz appeared in 16 straight games, playing above-average defense on the left side of the diamond.
He sprained his knee running down a pop-up in shallow left field.
Cruz batted .182 with 10 hits and 13 strikeouts. He wasn't much of a presence on the bases, with a .224 on-base percentage and .424 OPS.
Grade: D
DH Travis Hafner
For never playing the field, Hafner has been struggling mightily to hit the ball. His power is virtually nonexistent, hitting zero home runs in July.
Hafner hit a putrid .143, slugging .196. He had eight total hits and struck out 18 times. As a designated hitter, two RBIs in an entire month is well below his production potential. Hafner was placed on the disabled list with a right shoulder injury.
Grade: F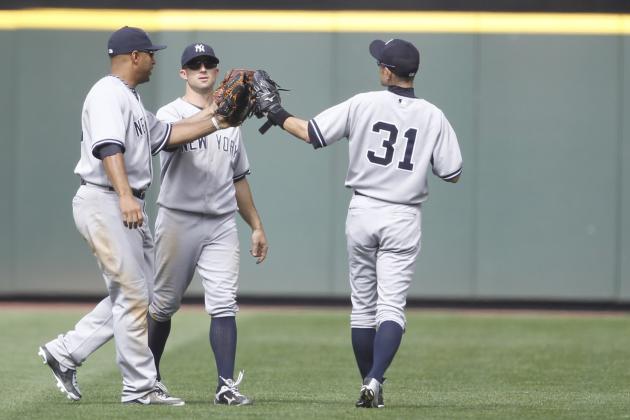 Joe Nicholson-USA TODAY Sports

Brett Gardner
After a scorching month of June, center fielder Brett Gardner cooled off in July. He totaled 20 hits—after 35 in June—and had just four extra-base hits.
Not a power hitter by any means, Gardner recorded six multi-hit games.
He's still striking out way too much, 17 more in July and 88 for the season, but his on-base percentage of .360 led to six stolen bases.
Grade: C+
Ichiro Suzuki
At age 39, Ichiro is still playing at a high level. He hit .304 in July, failing to record a hit in just five games. He had a .333 on-base percentage.
At the plate, Ichiro had 28 hits, one home run, one triple and four doubles. He had three games with three or more hits, including a 4-for-4 game against Tampa Bay on July 28.
Ichiro scored 11 runs and had a .736 OPS. He was second on the team with nine RBIs, behind Cano's 22 RBIs.
He tallied one outfield assist, throwing out Hanley Ramirez of the Dodgers from right field on July 30.
Grade: A-
Vernon Wells
After an ice-cold June, Vernon Wells hit .295 in July with three doubles and seven RBIs. Recording a .290 OPS in June, Wells' OPS for July is .710. He had five games with two hits, four of them resulting in wins.
He had two outfield assists, one from right field and one from left field, showing off his strong arm.
With an OBP of .366, this was Wells' best month since April, despite not hitting a single home run.
Grade: B+
Zoilo Almonte
Zoilo Almonte sprained his ankle on July 19, resulting in a stint on the disabled list. He had 13 hits in the month, but he saw his average drop from .303 to .236 in 15 games. He drove in four runs and scored five.
The team won all three games in which Almonte had more than one hit.
Grade: C-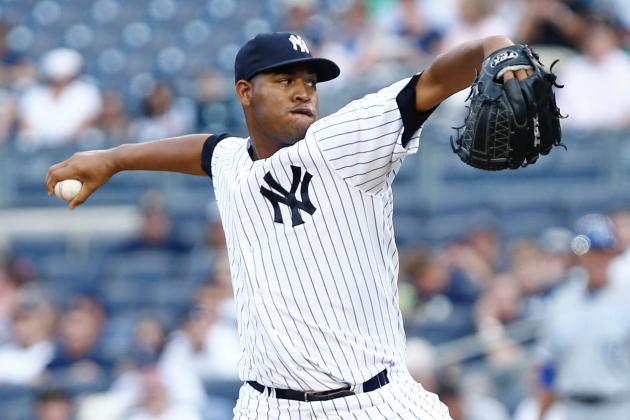 USA TODAY Sports

CC Sabathia
It's been a tough grind for ace CC Sabathia, who hasn't pitched up to par all season. In 30 innings through July, Sabathia gave up 40 hits, 22 earned runs and six home runs. He did strike out 31 batters, but his ERA for July was 6.60 with a 1-3 record.
In three straight starts, Sabathia has given up seven or more runs for the first time in his career.
For the ace of the staff, Sabathia has been absolutely horrible, and while he eats innings, his fastball is staying up and either getting too much of the plate or none of it. He walked 12 batters this month.
Grade: F
Hiroki Kuroda
Hiroki Kuroda has emerged as the ace of the Yankees rotation, posting a 0.69 ERA and 0.96 WHIP in 26 innings. He struck out 16 batters and allowed two earned runs on 20 hits for the month.
After taking a no-decision in a 2-1 loss to the Baltimore Orioles on July 7, Kuroda received a win in his next three starts to improve his record to 10-6. He lowered his season ERA from 2.95 to 2.51, good for second best in the American League.
Kuroda is one of the only reliable starters for the current Yankees.
Grade: A+
Andy Pettitte
It has been a disappointing year for the 41-year-old Andy Pettitte. He made six starts in July but increased his season ERA. He allowed at least two earned runs in every start, surrendering five home runs and striking out just 13 in 29.2 innings pitched. His ERA for the month was 4.85 with a WHIP of 1.48.
The one thing going Pettitte's way is he grinds out wins. He was 3-3 in July.
There's still time to right the ship, but Pettitte needs to figure it out soon.
Grade: D+
Ivan Nova
After being sent to Triple-A, Ivan Nova has come back with a vengeance. He went 2-2 in July, recording 29 strikeouts in 31 innings. He had a 2.03 ERA and 0.97 WHIP.
He went at least seven innings in all of his four starts, including a complete-game victory with 11 strikeouts versus Baltimore on July 5.
He gave up seven earned runs the entire month and lowered his ERA by more than one point, from 4.63 to 3.41.
Grade: A-
Phil Hughes
Making five starts, Phil Hughes has thrown 28 innings with a record of 1-2 in July. He's given up 28 hits and struck out 20 batters with an ERA of 3.86 and a 1.29 WHIP. His last two starts have been no-decisions, yet the Yankees came out on top.
He struck out a season-high 10 batters on July 13 versus Minnesota. Hughes brought his ERA down from 4.82 to 4.58.
Grade: C+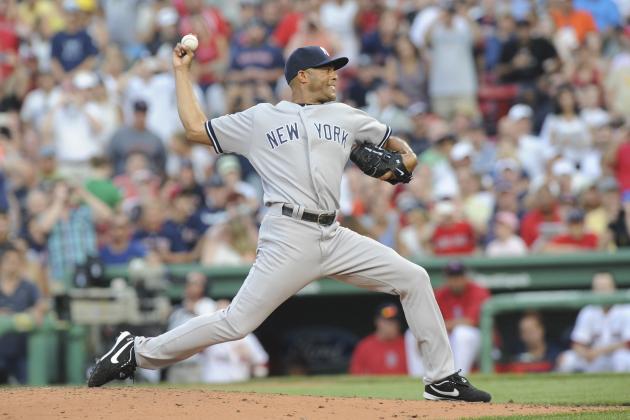 Bob DeChiara-USA TODAY Sports

Boone Logan
The lefty specialist Boone Logan made eight appearances in July, pitching 5.2 innings. He had an ERA of 3.18, striking out six batters. He achieved that by striking out the side in two separate games. Logan had a 1.16 WHIP.
Logan gave up a total of four hits and two home runs and was credited with a blown save against the Texas Rangers on July 23.
Grade: C-
Preston Claiborne
The 25-year-old Preston Claiborne threw 10.1 innings with a 3.48 ERA and one hold in July. He struck out eight, walked three and gave up nine hits.
Since July 12, Claiborne has thrown 7.1 innings, giving up just three hits and striking out seven. Aside from his first two appearances in the month, Claiborne has pitched great, but those performances will bring his grade down a mark.
Grade: C+
Adam Warren
Adam Warren appeared in five games, throwing 10.2 innings and allowing 11 hits. His ERA was 5.06 as he gave up six earned runs thanks to two home runs and six walks. He gave up a walk-off home run to Mike Napoli in a heartbreaking 8-7 loss to the Boston Red Sox.
Warren is having control problems and has struggled the past two months.
Grade: D-
Shawn Kelley
Shawn Kelley has been effective this season, pitching to a 0.93 ERA and 0.62 WHIP in July. He's thrown 9.2 total innings with 14 strikeouts and just one walk. Kelley has given up just five hits and recorded three holds.
The one blemish was giving up a walk-off bloop single to Mark Ellis of the Dodgers on July 30. In his outing against the Boston Red Sox on July 21, Kelley struck out five batters over two innings in one of his most impressive outings of the season.
Grade: B-
Joba Chamberlain had his best month of the season on the mound. He threw a total of six innings in seven appearances, owning a 1.50 ERA. He picked up his first two wins of the season, now 2-0.
He didn't allow a home run and gave up just one run on five hits in the month. In three separate outings, Chamberlain got three outs in under 10 pitches. He dropped his ERA from 6.05 to 4.97 through the month.
Grade: B
David Robertson
David Robertson has been lights out in July. He threw a total of 12 innings without allowing a single run, keeping his ERA at 0.00 and WHIP at 0.67 for the month.
He struck out 17 batters and walked one, giving up seven hits. His ultra-impressive month dropped his ERA from 2.59 to 1.83.
Robertson has been unhittable.
Grade: A+
Mariano Rivera
It's been another great month for the greatest closer of all time. His month was separated by a trip to the All-Star Game, where he received a standing ovation from the entire crowd and the players in both dugouts.
For the Yankees, he threw 9.1 innings with a 1.93 ERA and 0.96 WHIP. He struck out nine batters and forced 17 ground balls.
He went 1-1 in July with one blown save and seven converted saves.
Grade: A