Ferrari confirmed today that former Lotus technical director James Allison will join forces with the Prancing Horse later this year.
It's a clear statement of intent from Ferrari that they feel they need to add further strength in depth to tackle the might of Red Bull and Mercedes during the latter part of the season, but, more importantly, for the long term.
But the announcement surely has further reaching implications, notably in reassuring Fernando Alonso that he should stick with the Maranello based outfit in his quest to join Sebastian Vettel as a three-time world champion and not join forces with him at Red Bull. It emerged in the Budapest paddock over the weekend that Red Bull was considering Alonso as a potential teammate for Sebastian Vettel for the 2014 season and that a secret conversation took place between Alonso's manager and Red Bull boss Christian Horner.
James Allison starting at Ferrari on Sept 1 as chassis tech direc will likely help pacify a certain Spaniard today, bet the phone's been hot

— Martin Brundle (@MBrundleF1) July 29, 2013
Whilst Alonso is thought to be contractually tied to Ferrari until 2016, Horner indirectly admitted that he was looking at the Spaniard's availability.
Of course there have been quite a few drivers who have expressed an interest in the seat, as you can imagine. Is he available? I don't know. You ask him.

Any conversations between any of the parties are always going to remain confidential. Last week, there was speculation about Kimi. This week, it's about Fernando. We've started to get a clearer picture but then other options pop up. We have a great deal of interest in the seat and we just want to make sure we get it right.
Alonso distanced himself from Red Bull talks by insisting he was happy at Ferrari, whilst team boss Stefano Domenicali also assured his man was still under contract.
But the announcement of Allison seems to be a well timed move by Ferrari. Allison is one of the most highly rated designers in the F1 paddock, and he has helped propel Eric Boullier's former Renault outfit from podium hopefuls to race winners with Lotus, thanks also to a certain Kimi Raikkonen, another driver strongly linked to the second Red Bull seat.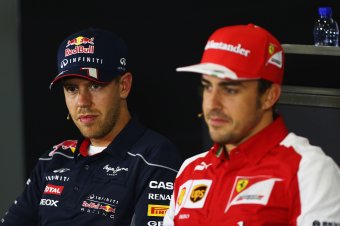 Clive Rose/Getty Images
And it still appears as though Raikkonen is still favourite for the role, especially if history is anything to go by. Horner has struggled to keep Vettel and Webber happy during what has been a fractuous relationship, and it seems unlikely that Red Bull would want another strong personality on the team and another driver who would clearly not want to settle for second best. Pairing Alonso with Lewis Hamilton at McLaren in 2007 is an example of what could happen again, and Vettel himself is clear whom he would rather team up with.
I'd prefer Kimi. I need to be careful now. Nothing against Fernando, I respect him a lot as a driver but I think I respect Kimi on track and off track because he's always been very straight with me and from that point of view it might be a bit easier.
Who is Sebastian Vettel's most likely team mate for 2014?
So the Allison announcement just may be enough to sway the balance in Domenicali's favour. We all know what brilliance in the technical direction of an F1 racing team can lead to. You need look no further than Red Bull for the answer.