One of the longest-running American triathlon events, Ironman Lake Placid is one of the most prestigious endurance challenges on the annual calendar.
This weekend, more than 2,500 athletes from 19 different countries will look to conquer the course and earn a qualifying bid to October's Ironman World Championship in Hawaii. Sunday's event, which will cover more than 140 miles in all, features 60 qualifying bids to this coming fall's championship in Kailua-Kona.
Therefore, competitors won't have to look far for motivation this weekend.
Here we'll get you set with everything you need to know for the 2013 Ironman Lake Placid.
When: Sunday, July 28
Where: Lake Placid, N.Y.
Start Time: 7 a.m. ET
Live Coverage: Ironman Live
*Information courtesy of Ironman.com.
Swim Course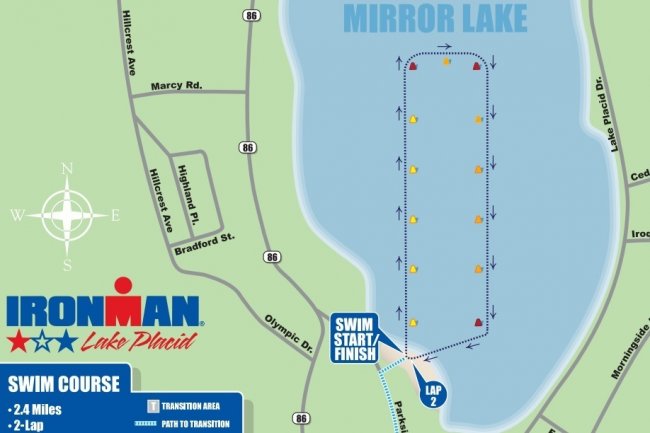 Competitors will begin with a grueling 2.4-mile swim through Mirror Lake. According to Ironman.com, the temperatures in the lake this time of year typically range from the high 60s to the low 70s.
With more than 2,500 athletes expected to be competing at Sunday's event, this stage will be the most chaotic of the three. Each athlete must swim two laps around the lake, exiting the water after their first lap before heading back in for the second loop.
By far the shortest of the three courses, the swimming stage typically takes the top male and female finishers roughly an hour to complete.
Bike Course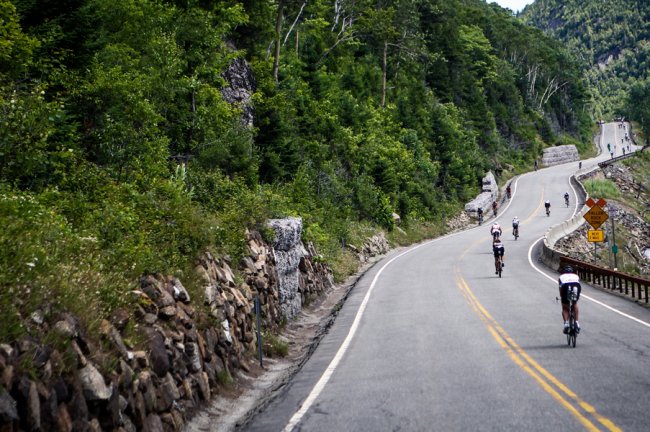 After covering more than two miles in the water, athletes will take to the bike for the second stage, a 112-mile bike ride that will feature a demanding climb through the Adirondack Mountains.
At this point, many of the top contenders will begin to distance themselves from the pack. Riders will complete two laps around the bike course before ditching their wheels for running shoes and finishing up on their feet.
The bike course is the longest of the three stages and often takes the top competitors up to five hours to finish.
Run Course
The final stage will see the competitors run two loops around Lake Placid, covering 26.2 miles in the process.
Athletes will finish their 140-plus-mile journey at the Olympic speed skating oval in downtown Lake Placid. Last year's men's winner, American Andy Potts, completed the marathon in just under three hours to clock in with a total time of 8:25:07.
The highest female finisher in 2012, Jessie Donavan finished the final stage in just over three hours to post an overall time of 9:47:39.
Potts and others will be looking to improve on those times this weekend.
Click here to view a full course breakdown courtesy of Ironman.com.
Follow Bleacher Report Featured Columnist Patrick Clarke on Twitter.