Paris Saint-Germain: 5 Reasons the Red and Blue Will Repeat as Ligue 1 Champions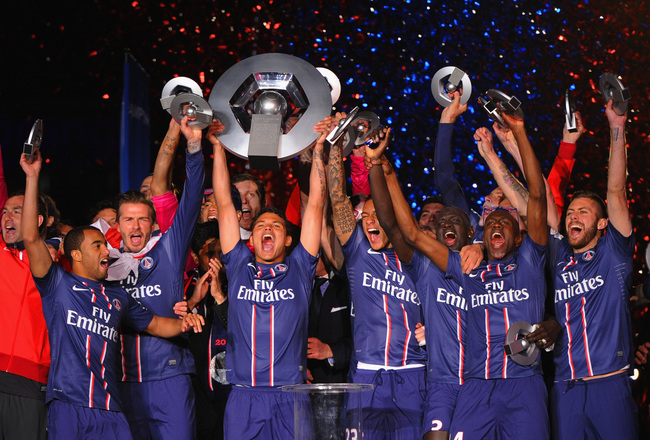 Michael Regan/Getty Images
Paris Saint Germain may be facing a season with a new manager—Laurent Blanc—and new competition—AS Monaco—but the Paris club remain clear favorites for the Ligue 1 title this year. Their summer signings and already deep squad leave no chance for any pretenders.
Read on to find out why!
They Now Have a Complete Strike Force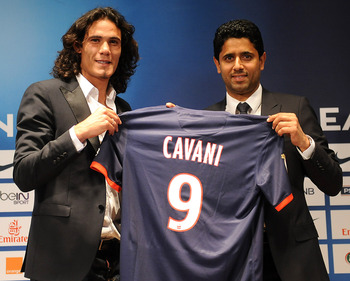 Antoine Antoniol/Getty Images
With the signing of their new No. 9, Edinson Cavani, PSG finally have nothing but pure world-class talent up front. He is absolutely clinical in front of goal, deadly with either foot, and excellent in the air. He is a pure goalscorer.
His presence on the squad also allows Zlatan Ibrahimovic to concentrate on a role he was born to play: deep lying forward.
With his height and ability on the ball, he is a perfect target for long balls and crosses. He can be called upon all game to control forward passes, hold the ball up and play that final lethal layoff to an onrushing attacker.
Last season, he spent much time looking to bring in Ezequiel Lavezzi and Lucas Moura. This season, it will be Cavani, which should lead to many more goals.

Cavani, Ibrahimovic, Lavezzi, Menez—a complete strike force.
Blaise Matuidi Will Continue to Shine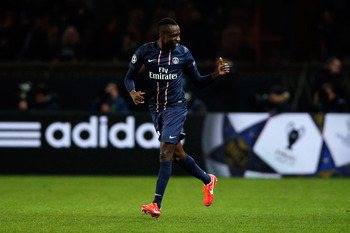 Dean Mouhtaropoulos/Getty Images
French International Blaise Matuidi is just about everything you want in a central midfielder these days and looks only to improve this coming season.
His WhoScored? average rating last season—7.38—was good enough for fourth in Ligue 1 and came on the back of a solid defensive contribution. He leads Ligue 1 in average interceptions among midfielders.
He can also be called upon as a utility midfielder, capable of playing centrally—either as an anchor or further forward—as well as out wide.
Matuidi is also keen on furthering his presence in the French National side—for many, there is no greater motivation.
Read more on Blaise Matuidi's game-shaping potential here.
Marquinhos Strengthens an Already Stout Defense
Giuseppe Bellini/Getty Images
At just 19 years old, new PSG signing Marquinhos managed to make himself a fixture in Roma's defense—no teenager in Italy logged as many minutes as the Brazilian.
During his 26 appearances last season, while Roma's overall defense was poor, Marquinhos' abilities shined, particularly his speed, ball-handling and clearing ability.
Last season—again at 19—Marquinhos averaged 7.3 tackles a game, a performance even with or better than other highly rated Italian center backs like Inter's Andrea Ranocchia and Napoli's Hugo Campagnaro.
Likely to rotate with 23-year-old Mamadou Sakho, Marquinhos adds depth in a key position in a way few other teams could afford, which is fantastic news for a team desperate to make its mark on the Champions League.
The 4-3-1-2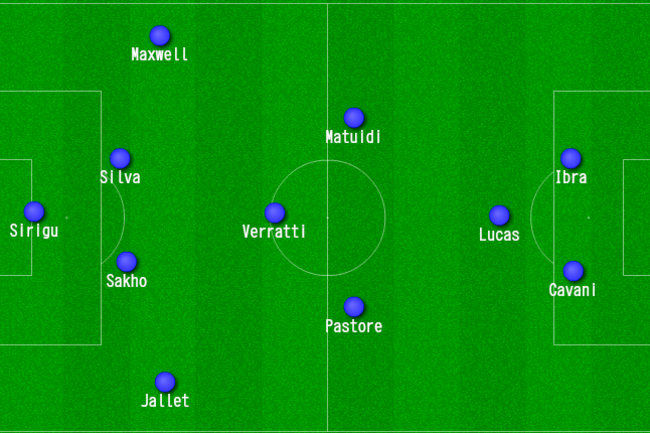 Outgoing manager Carlo Ancelotti eventually settled on a Brazilian-inspired 4-2-2-2, with attacking midfielders Javier Pastore and Lucas Moura playing much more centrally than is the norm. Fullbacks provide necessary width, but the formation occasionally seemed disjointed, without proper numbers in midfield.
This 4-3-1-2 fixes the midfield numbers issue. Once again the full-backs are called upon to provide width, while Javier Pastore is slotted deeper into central midfield. Not his preferred position, but he appeared there four times last season, notching one assist, so he's proven to be comfortable there.
Pastore also attempts a lot more long balls per match (2.9) than the more natural No. 10 on the squad, Brazilian Lucas Moura (0.8). He also averages more tackles (1.8) than any other PSG attacker. A deeper position ought to suit him just fine.
Finally, note this observation from Bleacher Report Featured Columnist Max Towle, taken during the recent pre-season friendly with Real Madrid:
5'- Some early possession for PSG in the opening stages. Javier Pastore drops back to get some touches of the ball.
Whether the formation changes officially or not, the team's offense already gravitates towards this model.
Manager Laurent Blanc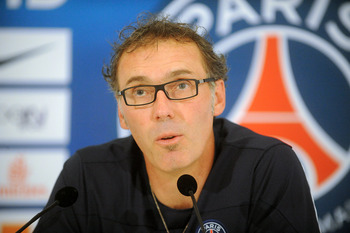 Antoine Antoniol/Getty Images
New manager Laurent Blanc is a fine choice for PSG for a number of reasons.
His 2008/09 title run with Bordeaux was an astounding feat, winning a Ligue 1-record 11 straight matches to snatch the trophy from Marseille by only three points in his second season with the club.
He is also not afraid of any egos, as evidenced by his decision as manager of the French National Team to suspend all 23 members of the 2010 World Cup squad for the immense disrespect they showed outgoing manager Raymond Domenech.
Finally, Blanc said:
When I first started as national team coach, I told the players a few of my principles: I like passing the ball around and I like to keep the ball. I like it when the ball is played out from the back – and I also like my teams to be efficient.
He is a manager who will bring a focus on attractive play to PSG. In this way, he is like Manchester City manager Manuel Pellegrini, coming into a team that sometimes looked more interested in retaining a lead than expanding it.

Conclusion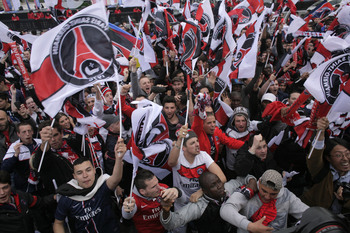 Matthieu Alexandre/Getty Images
So there you have it. For these reasons and many others, PSG look poised to retain their title.
Their squad—a well-rounded combination of stout defense, a midfield that blends technicality with power, an unbelievable strike force and a manager focused on attacking play—makes it highly unlikely that any other Ligue 1 team will measure up.
Ligue 1 fans, what do you think? What other major strengths do they have going for them? Are there major weaknesses that could lead to disappointment come the end of the season? Have your say in the comments!
Keep Reading