It's a quarterback's world, and the rest of us are just living in it.
Matt Ryan of the Atlanta Falcons became the latest NFL signal-caller to hit the jackpot on Thursday, as the numbers for the long-rumored contract extension for Matt Ryan came down.
Details on Matt Ryan's #Falcons deal: 5 year extension, $20.75M per year. Total is $103,750,000. $59M guaranteed. $63M in first 3 years

— Ian Rapoport (@RapSheet) July 25, 2013
That's a lot of cabbage, folks.
Ryan is the fifth starting quarterback to sign a new mega-deal since last season ended, a process that began last year with Joe Flacco of the Baltimore Ravens and extended to Aaron Rodgers of the Green Bay Packers, Tony Romo of the Dallas Cowboys and Matt Stafford of the Detroit Lions.
We won't even discuss Tom Brady's contract extension here. The five-year, $57 million extension that the Golden Boy signed back in February contains a nice chunk of guaranteed money (the real reason for the "discounted" deal), but comparatively speaking, it's no "mega-deal".
At least not compared to the deals signed by the "Fortunate Five".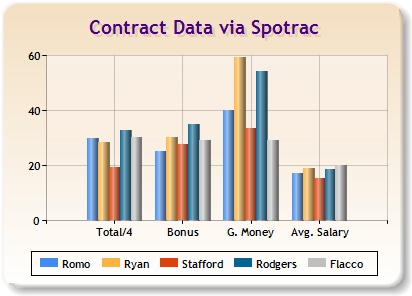 Ryan's deal comes in lower in total size than Romo's, Rogers' and Flacco's. Given that two of those players have Super Bowl wins and Rogers' deal is a year longer, that's hardly a suprise.
However, Ryan's signing bonus was higher than everyone's but Rogers', and the reported $59 million in guarantees tops the list, so "Matty Ice" didn't do too badly for himself.
As a matter of fact, the biggest surprises on that list have very little to do with Ryan. Stafford's annual salary of $15.3 million looks like a relative steal, and critics of Joe Flacco's deal should look twice at that $29 million in total guarantees before crowing about how Flacco is "overpaid."
It's not hard to see why the Falcons wanted to wrap Ryan up. The 28-year-old has topped 4,000 yards each of the past two seasons. Last year he guided the Falcons to the NFC's top seed while posting a career-high 32 touchdown passes, a passer rating of nearly 100, and leading the NFL in completion percentage.
It wasn't the first year that Ryan has had regular season success in Atlanta. In fact, he has the best career winning percentage of any of the players who recently inked huge deals.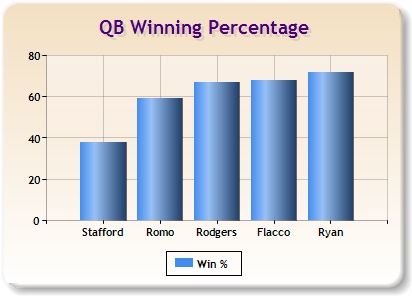 Last year, however, Ryan also finally got over hump, winning a playoff game for the first time while nearly taking the Falcons to the Super Bowl.
Granted, critics of the deal will point to Ryan's postseason record and say that he's overpaid. Just as they do with Romo. Or, they reverse it and say that Flacco is overpaid because his regular season numbers aren't elite.
Whatever. At the end of the day Matt Ryan is a franchise quarterback who is entering his prime. When it's time to sign those, you don't ask if a team should pay them. You just wonder how much it will be.
For the Falcons, it's quite a bit, but an amount commensurate with the other "elite" quarterbacks in the NFL. It's the price of doing business in the NFL, and a Falcons team with Super Bowl aspirations should be glad to have had the opportunity to pay it.
After all, it's a quarterback-driven league, and the Falcons just locked up one of the best in Matt Ryan.