Power Ranking Montreal Canadiens' Top 6 Forwards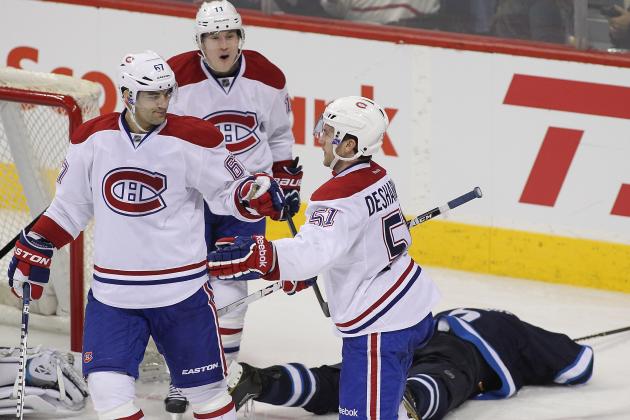 Marianne Helm/Getty Images
Montreal Canadiens Max Pacioretty (from left), Brendan Gallagher and David Desharnais celebrate a goal against the Winnipeg Jets.
Ranking the Montreal Canadiens' top six forwards is a challenge mainly because so many players qualify for consideration.
The term "top-six forward" is thrown around way too often, usually in reference to a player on a given team's top two lines. However, on a team such as the Habs, where third-line center Lars Eller actually outscored both second-liners (Brian Gionta and Rene Bourque) and first-liners (David Desharnais and Brendan Gallagher), the term kind of takes on an incredibly loose definition.
Think along the same lines as "No. 1 goaltender" with regard to the Calgary Flames, but, you know, without the uncontrollable giggling. Now, don't get me wrong: Habs fans should in fact be smiling, but just over how the team averaged three goals per game last season (scoring three goals that is, instead of letting in that many) as a result of that aforementioned depth.
If you look at Montreal's forwards, you'll notice no less than nine different players capable of filling a top-six role. They are of course Bourque, Daniel Briere, Desharnais, Eller, Alex Galchenyuk, Gallagher, Gionta, Max Pacioretty and Tomas Plekanec.
Here are the top six, in terms of quality, not necessarily ice time, power ranked for your reading pleasure from worst to first.
Begin Slideshow

»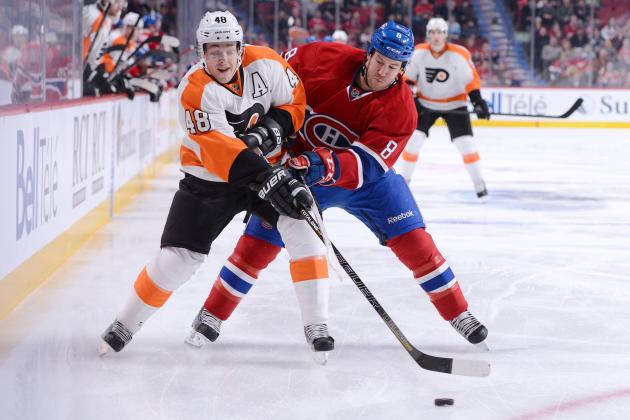 Richard Wolowicz/Getty Images
Former Philadelphia Flyer Daniel Briere (left) and Montreal Canadien Brandon Prust.
Montreal's major signing this summer, Daniel Briere, slips into sixth position on this list.
While it may be considered impressive to a certain extent and a nod to the team's overall depth that the Habs' big free-agent acquisition of this past summer is arguably just their sixth-best forward, it shouldn't be interpreted all that positively.
Briere will be 36 next October and is by all accounts seriously on the decline. His points-per-game production has decreased in each of the past two regular seasons. Injuries, most notably concussions sustained in each of those seasons, are by most accounts catching up to the diminutive forward, whose nose-for-the-net style is clearly taking a toll.
Nevertheless, one cannot deny Briere's body of work. He has scored 659 career points (847 games), a notable career high of 95 points one year (2006-07 with the Buffalo Sabres) and, perhaps most impressively, 109 points in 108 playoff games.
He is highly skilled, brings experience and leadership to the table and is poised to play significant minutes for the Habs, leading him to nab this sixth spot in part on the principle that he has the capability to be a game-breaker.
Whether or not that materializes on a consistent basis over the next two years remains to be seen. He certainly has a lot to prove, namely general manager Marc Bergevin's sanity when he signed him for $4 million per season. Bergevin can still come out of this looking like a genius, but it will take an unlikely, to say the least, huge year from Briere.
If this list were compiled on potential alone, Alex Galchenyuk would probably place much higher and even take first place. However, in the here and now, he is coming off a season in which he went scoreless in 18 straight games.
The fact that he was still able to finish with nine goals (15 over 82 games) and 27 points (46) speaks to that aforementioned potential. However, while he did have a great rookie season, tied for fifth in rookie scoring, it wasn't necessarily a great season overall.
Galchenyuk, barring anything unforeseen, is Montreal's first-line center of the future. He showed that in spurts time and again during his first season. If he can show more consistency as well, he may find himself in that role sooner rather than later (and more deserving of a higher spot on this specific list).
Claus Andersen/Getty Images
Montreal Canadien Lars Eller goes up against Toronto Maple Leaf Dion Phaneuf.
While Carey Price's struggles in net last year seemed to reignite uncertainty in the minds of many over whether or not getting rid of a proven big-game goalie in Jaroslav Halak was the right move, acquiring Lars Eller in the same deal has proven to be just that.
Playing on the team's unofficial third line, Eller still put up eight goals and 30 points in largely a defensive role. Needless to say, his development has jumped by leaps and bounds in two years, with just 17 points scored in 77 games in 2010-11 and 28 points in 79 games in 2011-2012.
His point total last year extrapolates to 53 over the course of an 82-game season, resulting from under 15 minutes of ice time per game no less.
While Eller may not have the same degree of potential as, say, Galchenyuk, he does still have a great deal.
He's just 24, and, assuming he'll be able to rebound from the concussion he sustained in the playoffs, he projects to be an above-average second-line center in the years to come.
The arguments over Halak and Price may never quite cease, but, considering the former's own struggles last year (.899 save percentage), the Halak-Eller debate seems to be pretty one-sided right about now.
While Brendan Gallagher is just 5'9" and 178 pounds, he doesn't truly epitomize the Montreal Canadiens despite the team's notorious lack of size.
Gallagher plays a gritty game instead of one based on skill alone, showing an inherent willingness to go to the net and take punishment in order to get rebounds and subsequently goals.
One would think he's a real masochist were it not for the undeniable fact he's being paid handsomely for his services (of course, one quick look online would reveal no shortage of actual masochists meeting very similar criteria). And, considering he was a nominee for the Calder Memorial Trophy, awarded to the league's top rookie, he will likely end up getting a huge raise when his entry-level contract runs out in 2015.
Gallagher may not have led rookies in any one category, but he did lead the Habs in goals with 15 (along with Max Pacioretty) and displayed arguably the most well-rounded game of all first-year players.
He also earned the confidence of head coach Michel Therrien in the process (enough to land him on the first line), meaning likely more responsibility for him this coming season and more of his trademark smile as well. Habs fans should be all smiles in turn.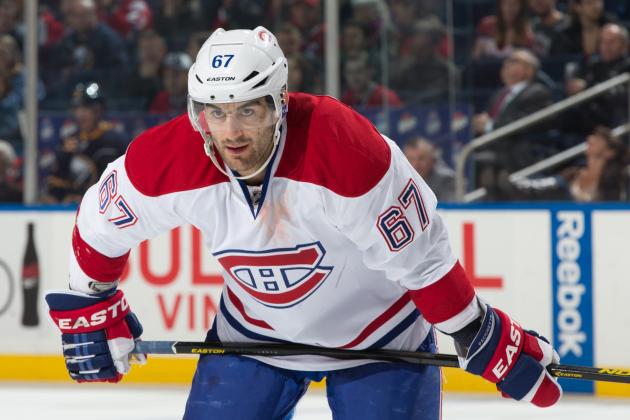 Rick Denham/Getty Images
Montreal Canadien Max Pacioretty
Many might believe that Pacioretty deserves the top spot on this list if for no other reason than him leading the team in scoring last year (39 points) and co-leading the team in goals (15). However, as impressive as those numbers are, his style of play could use some refining, namely him better using his 6'2", 219-pound frame.
That being said, Pacioretty is just 24 and is still developing as a power forward. His $4.5 million cap hit will likely become a steal by the time his deal runs out in 2019. Considering Zach Parise's 38 points and $7.5 million cap hit, it arguably already is.
Granted, Parise brings a lot of intangibles to the Minnesota Wild that Pacioretty does not to the Habs, namely Ryan Suter.
However, there's also Parise's diminishing offensive returns and knee injury that caused him to miss 65 games in 2010-11 (prior to signing his deal with Minny) and that may never enable him to get back to 100 percent.
While Pacioretty does admittedly have an injury history as well, he, by the same token, also has a history of speedy Wolverine-esque returns, missing just four games after an appendectomy and, well, just coming back at all from a broken neck.
Coincidentally, he even played for the University of Michigan Wolverines, making the moniker that much more incredibly apt if not for the reason that the comic book character is notorious for his brutish nature. If Pacioretty can just develop more of a mean streak, it would be to his and the Habs' long-term advantage.
He can, however, hold back on the Adamantium claws, though.
While Pacioretty led the team in scoring last season, Tomas Plekanec wasn't far behind (33 points) and plays a better all-around game.
Plekanec is actually used in all situations and actually led all forwards in average ice time (19 minutes, 12 seconds). Now, considering Gionta, a player who missed making this list, is second among forwards in that category (18:07), it's perhaps not the most important criterion to go by. However, further investigation does reveal just how important Plekanec is to the Habs.
Plekanec played an average of 2:06 shorthanded each game. No other forward who averaged more than even one minute on the penalty kill last season scored more than eight goals. Plekanec, meanwhile? He had 14, just one less than the team leaders in that category, Pacioretty and Gallagher.
On a team that may not have a legitimate superstar (P.K. Subban and his Norris Memorial Trophy aside), Plekanec has actually been as valuable as one, but at a fraction of the cost.
His offensive game could use some consistency, and he doesn't exactly strike fear in the hearts of opponents in the faceoff circle (or at all really), but he still remains one of the league's best-kept secrets, along with just how to pronounce his name (ple-KA-nets, for the record). Maybe that's in large part why he doesn't get the attention he so richly deserves.