Stock Up, Stock Down for Dodgers' Top 10 Prospects for Week 16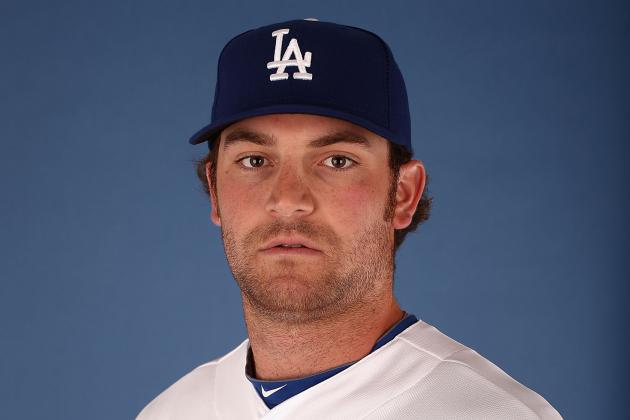 Christian Petersen/Getty Images

The second half of the big league season is underway, and the Dodgers picked up right where they left off with a sweep in D.C. against the Nationals. Part of the reason the team has been catapulting up the standings is a dominant bullpen performance, helped in large part by Jose Dominguez and Chris Withrow.
Both guys will find themselves on this list for at least a couple more weeks, but if my gut instinct is proved wrong and they stay a part of the bullpen, we'll have to shake things up a bit. Either way, Dominguez and Withrow are showing that they belong.
This list's most famous alumnus, Yasiel Puig, has struggled for the past couple weeks but is still making an impact on the big league club. At some point in 2013, will we see Puig's former Double-A outfield partner join the Dodgers? Joc Pederson continues to make himself a strong case.
With the trade deadline rapidly approaching, the Dodgers could swing a few moves to bolster the team for a stretch run. Pederson, among others, has been mentioned as a potential trading chip in various rumors. However, this writer hopes the main pieces stay intact.
Let's take a look at the Dodgers top 10 prospects, as compared to last week's rankings.
All stats courtesy of MiLB.com and current as of 7/21/2013.
Begin Slideshow

»
Season stats: 21 G, 19 GS, 3.33 ERA, 102.2 IP, 95 H, 43 R, 38 ER, 27 BB, 97 K
Last week's stats: 1 GS, 15.00 ERA, 3 IP, 6 H, 5 ER, 1 BB, 6 K
Stock: Down
Lee remains our No. 1-overall prospect, but the gap between him and Pederson is closing. Hopefully his rough start this past week isn't the start of a slump for Lee, because I've been thoroughly impressed with him this season.
His overall numbers are still very solid, with nearly a 4-1 strikeout-to-walk ratio. And while I didn't necessarily expect the ERA to stay below 3.00, if he can hang around the range he's in now, Lee will be a call-up candidate when rosters expand.
Season stats: 87 G, .286 BA, 14 HR, 38 RBI, 27 SB, .873 OPS
Last week's stats: 4 G, .071 BA, 0 HR, 1 RBI, 1 SB, .183 OPS
Stock: Down
Pederson didn't have a great start to his second half—only getting one hit in his first four games back. Even in a tough week, he still managed to swipe his 27th base of the year and prove his five-tool potential.
Pederson has now stolen 27 bases out of 31 attempts.
His power numbers continue to look good, but his average has been hovering just south of .300 for a couple weeks now. Nobody will complain about a speedy and talented outfield prospect hitting .286, but it is technically a drop-off.
His buddy Puig has set the bar high.
Season stats: 65 G, .300 BA, 8 HR, 48 RBI, 9 SB, .872 OPS
Last week's stats: 6 G, .280 BA, 0 HR, 5 RBI, 1 SB, .820 OPS
Stock: Even
I'll go easy on Seager this week. His batting average and OPS dipped slightly over the past six games, but he still knocked in five runs and swiped another base. I'm not sure how his 9-for-13 stolen-base line will transfer to the higher levels, but if he stays healthy, it could be a rarely used weapon.
Overall, we saw Seager stumble out of the gate, hit the DL and then take off when he returned. This is good news for the Dodgers, who hope that Seager can man an infield spot for the big league team a couple years down the road. If he hits anything like his big brother Kyle, the Dodgers have scored.
Season stats: 19 G, 15 GS, 2.81 ERA, 89.2 IP, 78 H, 30 R, 28 ER, 18 BB, 89 K
Last week's stats: N/A
Stock: Even
Stripling didn't pitch a single inning over the last week. The Dodgers have decided to limit the innings on his golden arm after his first full minor league season, in which he performed extremely well at both Single-A and Double-A.
For now, he's in the bullpen, and we'll see how long he sticks there.
Season stats: 24 G, 1.78 ERA, 25.1 IP, 25 H, 10 R, 5 ER, 12 BB, 32 K
Last week's stats: N/A
Stock: Even
Withrow isn't long for this list, even if it's just to allow new names into the fray. Though he's been used sparingly in the major league bullpen, Withrow has performed admirably. He seems to be gaining confidence with each appearance, which is a dangerous weapon to pair with a high-90's fastball.
Season stats: 30 G, 1 GS, 1.55 ERA, 40.2 IP, 30 H, 7 ER, 12 BB, 43 K
Last week's stats: 2 G, 0.00 ERA, 2 IP, 0 H, 0 ER, 0 BB, 2 K
Stock: Up
Since last week, Thomas has posted two scoreless, hitless appearances to improve his ridiculous season out of the bullpen. The lefty has to be earning himself strong consideration for a spot in the bullpen if anyone gets injured, or at the very least when the rosters expand.
The lefties in the Dodgers bullpen have been fantastic so far this year, and Thomas might be the next southpaw in line. At age 24, he's a little old for a Double-A reliever, but he's met every challenge thrown his way since being drafted in 2011.
It shouldn't be long until he breaks into the show.
Season stats: 21 G, 17 GS, 3.38 ERA, 101.1 IP, 88 H, 43 R, 38 ER, 38 BB, 81 K
Last week's stats: 1 GS, 3.00 ERA, 3 IP, 3 H, 1 ER, 4 BB, 4 K
Stock: Even
Reed continues a nice resurgence from his rough start this season and is working his way back up these ranks. The fact that his ERA is even in the vicinity of the low 3.00's is incredible. In his last start, he came back to Earth a little bit but still ended up with a decent line.
I'm sure Reed will focus on his control in the next start (more than every pitcher does in any start, that is), because that was what got him in big trouble early on in the year. Four walks in three innings isn't the end of the world, but it's something Reed needs to figure out for his next game—so we can be assured he isn't regressing.
Season stats: 22 G, 1.78 ERA, 25.1 IP, 9 H, 5 ER, 13 BB, 40 K
Last week's stats: N/A
Stock: Even
Dominguez, like Withrow, is getting more and more comfortable out of the big league bullpen. His triple-digit fastball and sharp breaking ball is starting to confound hitters, because he's learned to hit his spots consistently.
This kid has an extremely bright future, and I hope the Dodgers hang on to him.
Season stats: 11 GS, 2.65 ERA, 37.1 IP, 31 H, 11 ER, 14 BB, 43 K
Last week's stats: 2 GS, 2.25 ERA, 4 IP, 3 H, 1 ER, 1 BB, 4 K
Stock: Up
What more is there to say about the 16-year-old Urias? Though he only had two starts of two innings each over the last week, he only allowed one runner per inning. Plus, he countered that by striking out one batter per inning.
Over the short Single-A season so far, Urias has been fantastic. He has a 4-1 strikeout-to-walk ratio and has baffled most every hitter that he's met. I can't wait to watch what this latest gem from the Dodgers' international scouting department does as he matures.
Season stats: 87 G, .314 BA, 21 HR, 65 RBI, 11 SB, 1.007 OPS
Last week's stats: 6 G, .296 BA, 4 HR, 8 RBI, 2 SB, 1.195 OPS
Stock: Up
Schebler had a monster week—smashing four homers and driving in eight runs to bring his offensive totals to an even more eye-popping level. He's been on an absolute tear this season and is probably the least-known star in the Dodgers' minor league system.
The 22-year-old should be seeing a level higher than Single-A at some point this year, but the Dodgers are stacked in the outfield at every point in the farm system, so who knows when he'll get his shot. After the 2013 season wraps up, we'll know more about this slugger's future spot on the team.
The rankings look the same again, as none of the top 10 deserved to drop out, and none of last year's fringe contenders snagged themselves a spot. There is still a handful of guys who deserve consideration, and once Withrow and Dominguez exit the list, we'll see a couple of them move in. Here is the short list of players who might move into the top 10.
1. Yimi Garcia, RHP (Double-A)
Garcia remains one of the strongest candidates to break into the top 10. He's only had one appearance since last week, but he tossed two scoreless innings for Chattanooga.
2. Duke von Schamann, RHP (Double-A)
Lately, we've started to see the return of the good von Schamann. He has been a bit up and down in 2013 but has a ton of talent. In his last start, von Schamann went 5.2 innings and only allowed one run.
3. Onelki Garcia, LHP (Double-A)
The last time Garcia allowed an earned run out of the bullpen was June 25. Enough said.
4. Noel Cuevas, OF (Single-A+)
This season, Cuevas is hitting .294 with 10 homers, 47 RBI and an impressive 26 steals (though he has been caught 12 times). If he can harness those tools, he could be a big-time mover soon.
5. Carlos Frias, RHP (Single-A+)
Last week, this was 2013 first-round pick Chris Anderson's slot. He's been great, but I figured it was time to give Frias his due. The starter had a brilliant game last week, striking out 11 over seven innings against three hits, one run and one walk.
Don't forget to check in next week for another version of Dodgers Stock Up, Stock Down.