Stock Up, Stock Down for Dodgers' Top 10 Prospects for Week 15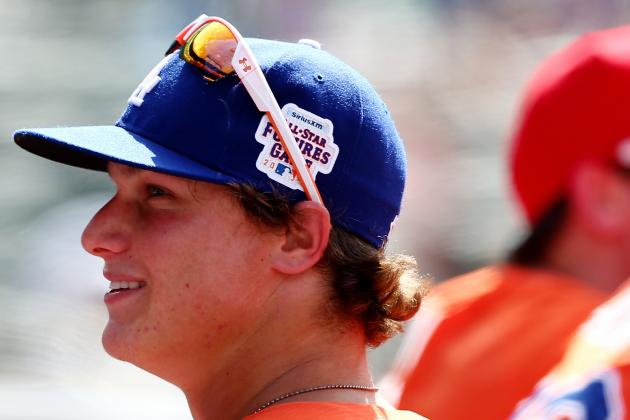 Elsa/Getty Images
Joc Pederson
The first half of the 2013 season has officially ended at all levels, and your Los Angeles Dodgers climbed all the way out of the depths of NL West purgatory to pull within 2.5 games of the division-leading Arizona Diamondbacks.
A large part of that resurgence can be traced back to Yasiel Puig, who graced the No. 1 spot on this ranking for quite a while before being made a permanent fixture of the big league outfield. And it's been a very good first half for a few of the other top prospects.
This list has morphed every week and given us a good look at the brightest spots of the farm system. With the Dodgers back in contention, some of those pieces could be moved before the end of the month, but that remains to be seen.
Before we go any further, let me say congratulations to Double-A outfield stud Joc Pederson on his 1-1 (with a walk) performance for the U.S. team in the Futures Game on Sunday. You'll see that name on this ranking, as well as a few other familiar faces.
Let's see how everyone stacks up, as compared to last week.
All stats courtesy of MiLB.com and current as of 7/14/2013.
Begin Slideshow

»
Season stats: 20 G, 18 GS, 2.98 ERA, 99.2 IP, 89 H, 38 R, 33 ER, 26 BB, 91 K
Last week's stats: 2 G, 1 GS, 3.60 ERA, 6 IP, 8 H, 5 R, 4 ER, 2 BB, 6 K
STOCK: DOWN
Zach Lee's final start of the first half didn't go as well as planned. He was hit pretty hard in a five-inning stint, bringing his total ERA back close to 3.00. Still, the Dodgers front office has to be very pleased with its prized pitching prospect in his third minor league season.
He's taken Chattanooga by storm in 2013, lowering last year's 4.25 ERA (in 13 starts in Double-A) over a full run so far. His strikeout-to-walk ratio speaks to his improved control, and the Dodgers must be thrilled with that progress. He should get a shot in Triple-A or even in a big league spot start very soon.
Season stats: 83 G, .296 BA, 14 HR, 38 RBI, 26 SB, .902 OPS
Last week's stats: 1 G, .000 BA, 0 HR, 0 RBI, 1 SB, .250 OPS
STOCK: EVEN
Pederson only played in one game last week and went 0-for-3 with a walk and a stolen base for Double-A Chattanooga. He's been a monster this year, giving himself a very legit shot at a 30-30 season. He is prone to cold streaks, but which 21-year-old athlete doesn't have slumps?
Like I mentioned in the intro slide, Pederson had a decent showing in two at-bats during the Futures Game on Sunday and may find himself either as a valuable trade chip in the second half of the year or a step away from promotion.
Season stats: 59 G, .302 BA, 8 HR, 43 RBI, 8 SB, .878 OPS
Last week's stats: 6 G, .300 BA, 0 HR, 3 RBI, 0 SB, .950 OPS
STOCK: EVEN
Corey Seager had a rough go of it at the very beginning of the season but has climbed all the way back to over .300 and has increased his power numbers as well. Seager is expected to be a middle-of-the-order star for the Dodgers eventually, and he's well on his way to fitting the bill.
I'd love to see Seager get a shot in Double-A if he stays hot after the All-Star break, just to face a higher level of pitching. With Juan Uribe's contract running out after this year, it would be great to get Seager on the fast track. He's still just 19, though, so we'll see how he adjusts.
Season stats: 19 G, 15 GS, 2.81 ERA, 89.2 IP, 78 H, 30 R, 28 ER, 18 BB, 89 K
Last week's stats: 2 G, 11.25 ERA, 3 IP, 7 H, 4 ER, 1 BB, 3 K
STOCK: DOWN
Honestly, I'm not sure if the rough week is even Ross Stripling's fault. The Dodgers, out of nowhere, decided to restrict Stripling's innings, so he's been moved to the bullpen for now. Limiting innings on a promising young arm makes sense, but switching gears from starter to reliever isn't the best way to do it.
I digress. Let's talk about Stripling's phenomenal 2013 season. Between Single-A and Double-A, Stripling has posted a sub-3.00 ERA and struck out about a batter per inning. He got even better after his promotion to Chattanooga, so we may be seeing this kid in The Show sooner rather than later.
Season stats: 24 G, 1.78 ERA, 25.1 IP, 25 H, 10 R, 5 ER, 12 BB, 32 K
Last week's stats: N/A
STOCK: EVEN
Chris Withrow remains in the big league bullpen for the time being, but I'm still not convinced he'll be up much longer. If my beliefs prove true, he'll be right back into the top of this ranking based on his overall numbers in the minor leagues this year.
There's a reason Withrow was promoted. He finally put together a dominant minor league season and earned his way to the Dodgers. He's been pretty good out of their pen and seems to get stronger with every outing.
Season stats: 28 G, 1 GS, 1.63 ERA, 10 SV, 38.2 IP, 30 H, 7 ER, 12 BB, 41 K
Last week's stats: 2 G, 4.50 ERA, 0 SV, 2 IP, 2 H, 1 ER, 3 BB, 2 K
STOCK: DOWN
Michael Thomas is the best-kept secret in the Dodgers' farm system. The lefty reliever has been absolutely lights-out both in Single-A and Double-A. He was the primary closer in Single-A before his promotion and has proven himself in those tough situations.
Though he had one rough outing last week, his numbers are still ridiculous. He rarely walks batters and has been keeping runners off base altogether for most of the year. The long first half caught up with him a bit recently, but a 1.63 ERA over two levels of minor league ball is still impressive, no matter how you cut it.
Season stats: 20 G, 16 GS, 3.39 ERA, 98.1 IP, 85 H, 42 R, 37 ER, 34 BB, 77 K
Last week's stats: 2 G, 4.50 ERA, 2 IP, 1 H, 1 ER, 2 BB, 3 K
STOCK: DOWN
Chris Reed only saw a couple innings of work in relief this week, which hopefully didn't ruin his flow. After a terrible start to the year, the former top-five prospect has really turned his season around and found a groove recently.
His overall numbers look very respectable now, with a 3.39 ERA and a better than 2-to-1 strikeout-to-walk ratio. If he can actually continue to rise, the Dodgers may give him a shot in Triple-A to see how he fares against borderline major league hitters.
Season stats: 22 G, 1.78 ERA, 25.1 IP, 9 H, 5 ER, 13 BB, 40 K
Last week's stats: N/A
STOCK: EVEN
Jose Dominguez is in the same boat as Withrow for me right now. If a reliever has to go down after the break, I'm assuming it will be one of those two. Dominguez has the higher potential, but Withrow seems to be a bit more polished so far. But it is a very small sample size.
His flame-throwing is sure fun to watch for now, and he's a very dangerous weapon in big spots for the big league team. If he can learn to harness his 83 mph slider to go with the triple-digit fastball, he will become a long-term cog in that group.
Season stats: 9 GS, 2.70 ERA, 33.1 IP, 28 H, 10 ER, 13 BB, 39 K
Last week's stats: 1 GS, 0.00 ERA, 1 IP, 0 H, 0 ER, 0 BB, 1 K
STOCK: EVEN
Another victim of the "let's just get him an inning" situation, Julio Urias only went one inning in his latest start but was perfect in that inning and racked up another strikeout. That put him at an exact 3-to-1 strikeout-to-walk ratio.
The 16-year-old phenom will likely be limited heavily in the second half, but he has been nothing short of incredible so far. The Dodgers' international scouting department deserves a huge amount of credit for what it's done with guys like Urias. Barring injury, it's struck gold.
Season stats: 81 G, .316 BA, 17 HR, 57 RBI, 9 SB, .997 OPS
Last week's stats: 7 G, .400 BA, 2 HR, 7 RBI, 1 SB, 1.083 OPS
STOCK: UP
If Michael Thomas is the best-kept pitching secret in the Dodgers' system, Scott Schebler has to be his offensive counterpart. His on-base plus slugging percentage is just under 1.000 through 81 games, and he has jacked up some huge power numbers.
This last week just added to the kid's big year, as he posted some large numbers across the board. In 2012, he was able to swipe 17 bags, so I'm interested to see if he can keep up the power output and tack on some speed numbers at the same time.
Believe it or not, the rankings saw zero movement from last week. That's a rare occurrence, but those 10 were all definitely deserving of a spot. Here is a short list of five guys who just missed making the cut but are fringe possibilities a week from now.
1. Yimi Garcia, RHP (Double-A)
Garcia tossed three more scoreless innings for Chattanooga last week, lowering his season ERA to 2.76. He also has 15 saves for the Lookouts. He has to be near the top of the list for promotion among minor league relievers.
2. Duke von Schamann, RHP (Double-A)
In two starts last week, von Schamann had two very different outcomes. He tossed a gem in his most recent start (one hit, one unearned run in four innings) but got shelled in the one before (eight hits and four earned in five innings). His overall season (10-3, 3.95 ERA, 28 BB, 79 K) is still worthy of consideration.
3. Onelki Garcia, LHP (Double-A)
Garcia lowered his ERA to 2.70 in three scoreless innings of relief this last week and might get another shot in the rotation soon. Even though he only allowed one hit in those innings, he also didn't even record a single strikeout.
4. Noel Cuevas, OF (Single-A+)
I really like the tools Cuevas has, but his 23 steals are a little less impressive when he's been caught 11 times. If he can rein in that speed and couple it with his power (eight homers, 43 RBI), Cuevas can become a dynamic prospect.
5. Chris Anderson, RHP (Single-A)
He had one of his worst starts of his young professional career this week, but it's not a problem. For Anderson, that means he still only allowed two earned runs and four hits in 4.2 innings. It's very early, but Anderson looks like the real deal.
Have a great All-Star break, fans! And don't forget to check in next week for another edition of Dodgers Stock Up, Stock Down.