Burning Questions for Denver Broncos Training Camp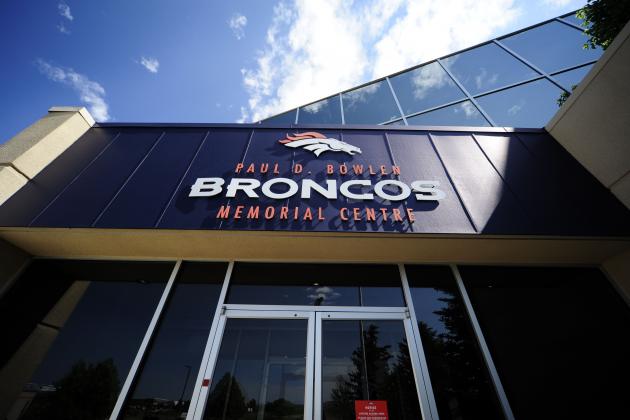 Ron Chenoy-USA TODAY Sports

The Denver Broncos ended the 2013 season on a sour note.
After falling to the Baltimore Ravens in the divisional round of the playoffs in January, the Broncos will return to camp on Thursday hungry to prove that they are the best team in the league.
They'll get a chance to prove just that in Week 1 against the defending Super Bowl champion Ravens on Sunday Night Football. But before we get too ahead of ourselves, the team has to get through training camp.
Here's a look at some of the biggest questions facing the Broncos as the team opens camp in Dove Valley.
Begin Slideshow

»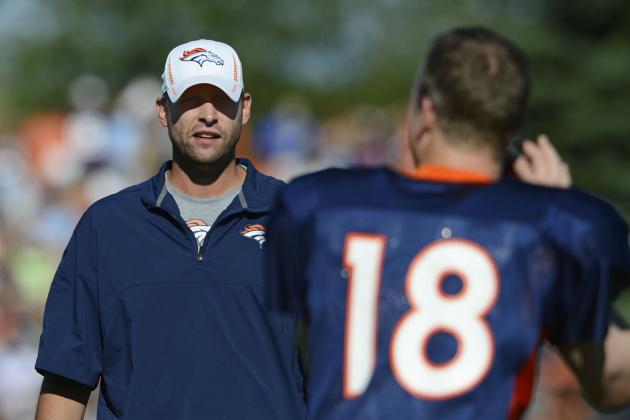 Ron Chenoy-USA TODAY Sports

When former offensive coordinator Mike McCoy left to become the next head coach of the San Diego Chargers, the Broncos turned to quarterbacks coach Adam Gase to take over the offense.
Now the team's OC, Gase plans on running a faster, more explosive offense in Denver.
"I'm not nervous about calling plays," Gase told The Denver Post in January. "You have one of the greatest quarterbacks of all time as your quarterback — I'm excited. I'm thrilled to be able to have that opportunity. We're looking to go pedal to the metal, and play as fast as possible and be aggressive."
Just how fast is the offense going to be?
Perhaps not quite as fast as you may think, as the team's no-huddle style does not necessarily correlate to a fast-paced offense (we're talking about the same Peyton Manning who likes to change the play five times at the line of scrimmage). But in not huddling and running a smooth offensive attack, the Broncos could become deadly on offense as defenses are unable to sub players in and out in between plays.
The Broncos offense may not be breathtakingly fast, but it's probably going to be effective.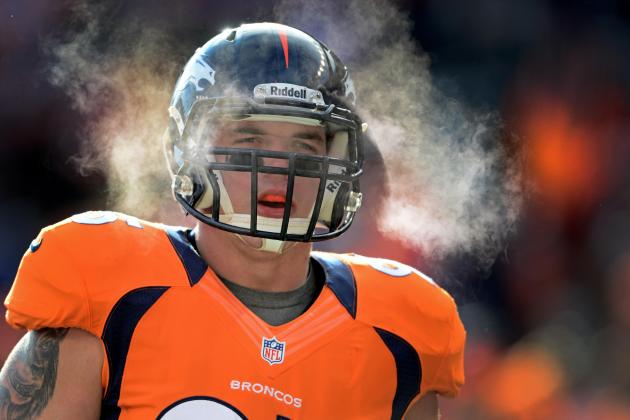 Mark J. Rebilas-USA TODAY Sports
Derek Wolfe
Last season, defensive end Elvis Dumervil recorded 11 sacks as the team's right defensive end.
With Dumervil now a member of the Baltimore Ravens, who will the team turn to to replace his production on the defensive line? There is no one-player answer.
The team will look to Robert Ayers to step up and for Derek Wolfe to show continued improvement in Year 2, hoping that the two can mask the void created by Dumervil's absence. Additional pressure will be created by rookie Quanterus Smith and free-agent signee Shaun Phillips.
The Broncos do not have any stars at defensive end, but they have enough depth to get along without Dumervil. Watch for Wolfe to emerge on the defensive line and for other players to step up in rotational roles.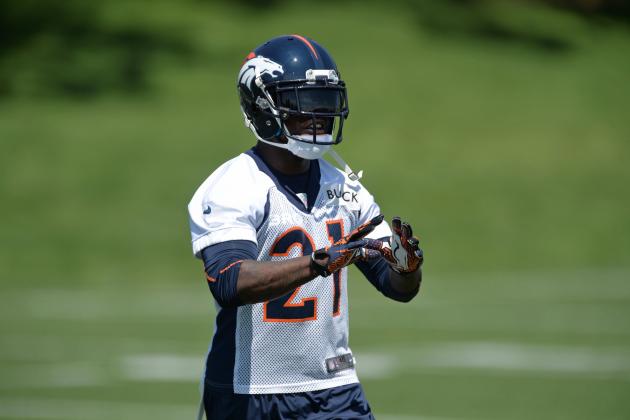 Ron Chenoy-USA TODAY Sports
Ronnie Hillman
As previously discussed here and here by yours truly, the Broncos will have quite the competition at running back this summer.
There's the veteran in Knowshon Moreno, the current starter in Ronnie Hillman and the rookie in Montee Ball. All three running backs bring different skill sets to the table, and all three will be fighting for one starting job.
Perhaps just as interesting as who will win the No. 1 job is how the remaining two RBs will fall on the depth chart. Who will be the No. 2 RB?
Such questions will be answered this summer.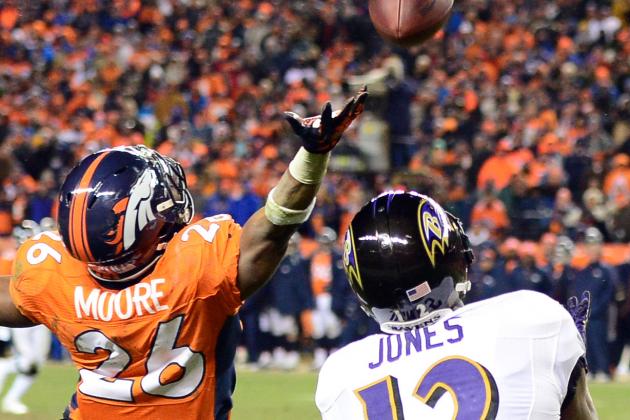 Mark J. Rebilas-USA TODAY Sports

You've seen the play a thousand times. You've heard everyone's opinion on it and Rahim Moore ten thousand times.
Or at least it has felt like it.
So, how will Moore respond? There were reports during minicamp that Rahim was not running with the first-team defense.
Of course, it was only June practices, but was it a sign that Moore has already fallen from the graces of the coaching staff? Or is the team perhaps trying to motivate him?

We may never know, but we'll find out how Rahim responds this summer.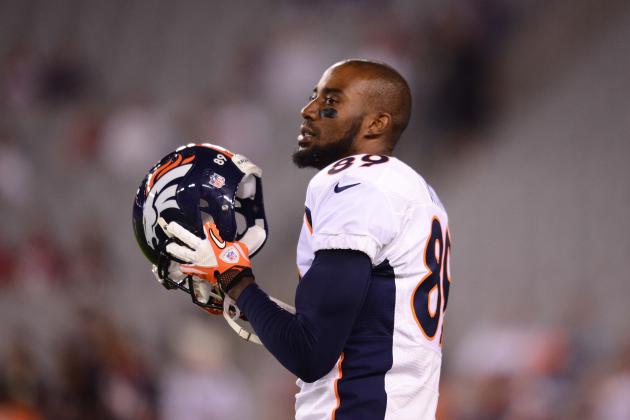 Mark J. Rebilas-USA TODAY Sports
Greg Orton
Name the Broncos' top three wide receivers!
Ready?

Go: Demaryius Thomas. Eric Decker. Wes Welker.
That was easy.
Now, how about the fourth receiver?

Ready?

Go—wait, there is no fourth receiver?
The Broncos have three Pro Bowl-caliber starting receivers, but behind them, everything is up in the air. Trindon Holliday figures to make the team based on special teams talent alone, and Tavarres King was just drafted in April, so he's probably not going anywhere.
That's five receiver spots, and the team will probably carry six. That leaves Greg Orton, Gerell Robinson, Andre Caldwell, Kemonte' Bateman and Quincy McDuffie to fight for one remaining spot (assuming the team does carry six receivers).
Who will make the cut, and who will emerge as the fourth wideout? We will soon find out.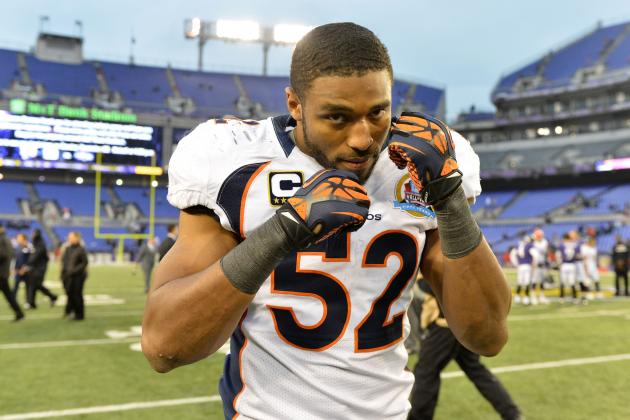 Ron Chenoy-USA TODAY Sports

Wesley Woodyard is a rising star. Now he wants to be paid like one.
It is unclear how much of a pay raise Woodyard is seeking, but according to The Denver Post's Mark Kiszla, he wants a "significant" increase to his $3.25 million 2013 base salary.
After recording over 100 tackles and multiple sacks and interceptions last season, Woodyard has every right to seek a contract extension, especially considering that the team can afford to give him one.
It remains to be seen if the Broncos will be willing to give Woodyard a contract extension. If they are going to, it will likely come before the start of training camp.
In the meantime, the team is probably more concerned with getting rookie defensive tackle Sylvester Williams locked up. But that's another story for another time.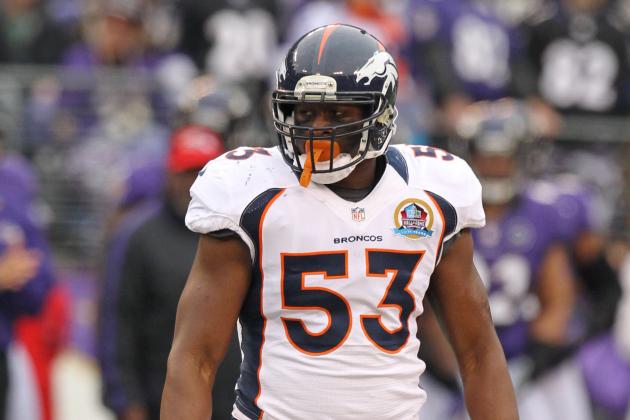 Mitch Stringer-USA TODAY Sports
Steven Johnson
Is Nate Irving the team's clear-cut starter at middle linebacker, or could Steven Johnson or Stewart Bradley upset him to win the gig?

That will be revealed this summer when the trio dukes it out in camp.
Bradley is a little more experienced and Johnson did play in several games last season, but Irving has the potential and build to run away with the job. Time will tell if he is able to emerge as the starter.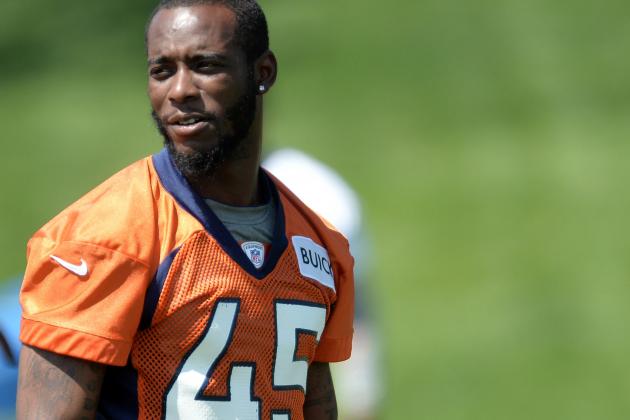 Ron Chenoy-USA TODAY Sports

Last offseason, the Broncos brought in Tracy Porter on a one-year, $4 million deal. It was a big investment, and it didn't pay off.
Porter suffered from seizure-like symptoms and spotty play and eventually lost his starting job to Chris Harris Jr. A year later, the Broncos brought in fellow cornerback Dominique Rodgers-Cromartie on a two-year, $10 million deal that will cost the team $5 million this season.
That's $1 million more than the team spent on Porter last season.
All of this is not to say that DRC is the next Porter (DRC has a lot more upside), but making him the sixth-highest paid player on the team in 2013 was a little risky.
Here's hoping that he lives up to that price tag and turns heads this summer.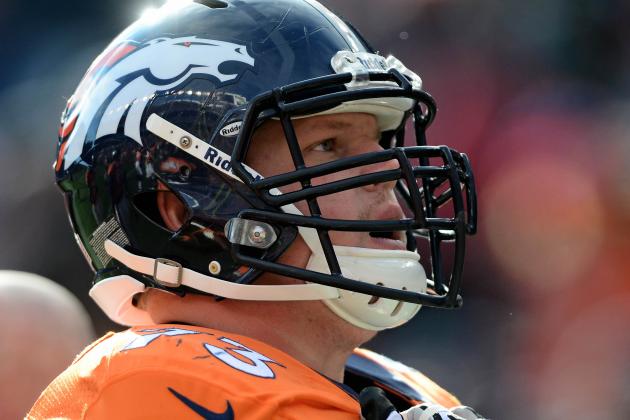 Mark J. Rebilas-USA TODAY Sports

Chris Kuper is not going to win a starting job away from either Louis Vasquez or Zane Beadles, and the team may not want to keep him around and pay him his $4.5 million 2013 salary.
So is it time to wish the veteran Kuper farewell and the best of luck?
Perhaps so. His chances of making the final roster appear to be slim.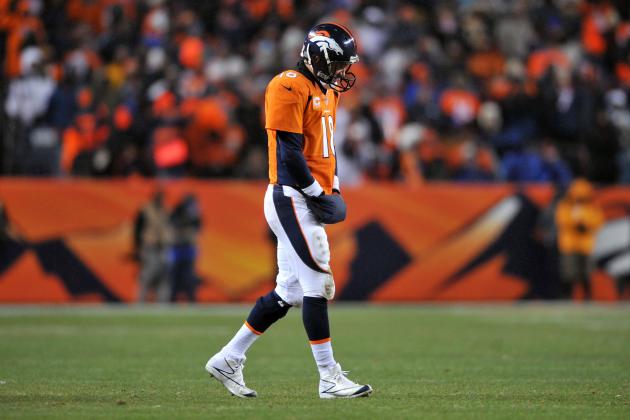 Dustin Bradford/Getty Images

We all know what Peyton Manning accomplished in the regular season last year.
But in the playoffs, he came up short, dropping to 9-11 all-time in the playoffs.
How far can he take the Broncos in 2013? Past the divisional? Past the championship? Can he win it all again?

He is capable of winning another Super Bowl, but will he? He may never get another chance as good as the one he will have with this team this season.
Don't blow it, Peyton.