9 Reasons LSU Will Finish with No. 1 2014 Recruiting Class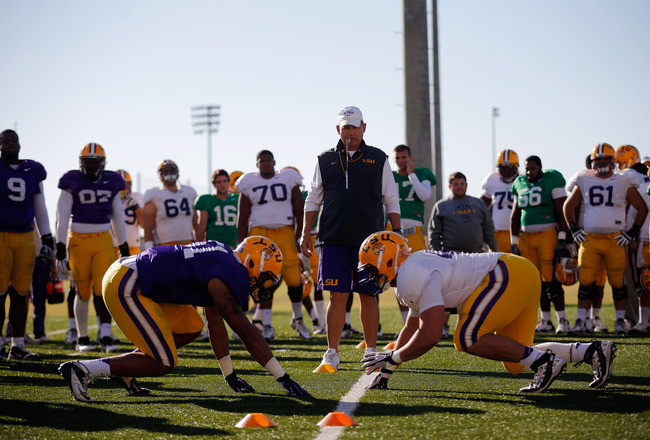 Chris Graythen/Getty Images
The LSU Tigers are one of the premier programs in the country. The program has a relaxed approach to how it does business, but the Tigers know how to turn up their intensity level during games.
They take a similar approach to recruiting. So as the 2014 cycle moves forward, LSU, whose class is ranked No. 12 by 247Sports, is poised to make a move to the top of the rankings come national signing day.
The program has a little-known secret weapon on its staff. Several elite prospects are seriously considering playing in Baton Rouge, and the Tigers' expected performance on the field this season could net them a few other recruiting upsets.
Player evaluations are based on review of tape at Scout.com, Rivals, 247Sports and ESPNU.
Expected to Sign Saeed Blacknall (WR)
Saeed Blacknall is a 6'3", 210-pound receiver with good speed. The New Jersey prospect has an imposing frame for a perimeter player, can slip away from press coverage and has the ability to get behind safeties to make big plays.
Blacknall, who scored 11 touchdowns as a junior, is expected to sign with LSU, according to the experts at 247Sports. Landing a prospect of Blacknall's caliber will be a strong boost to the Tigers' recruiting rankings.
Expected to Sign Clifton Garrett (LB)
LSU prides itself on playing excellent defense. The Tigers recruit players who are athletic, fast and agile. However, LSU also recruits front-seven defenders who are physical and tough.
Linebacker Clifton Garrett, who is from Illinois, is one of the hardest-hitting players in recent memory. The 6'2", 228-pounder punishes running backs with power and force. Garrett also has the short-area quickness, speed and tenacity to fit in well at LSU.
He also just so happens to be a 5-star prospect on 247Sports' Top247 board and is expected to sign with the Tigers, according to 247Sports.
Les Miles' Charm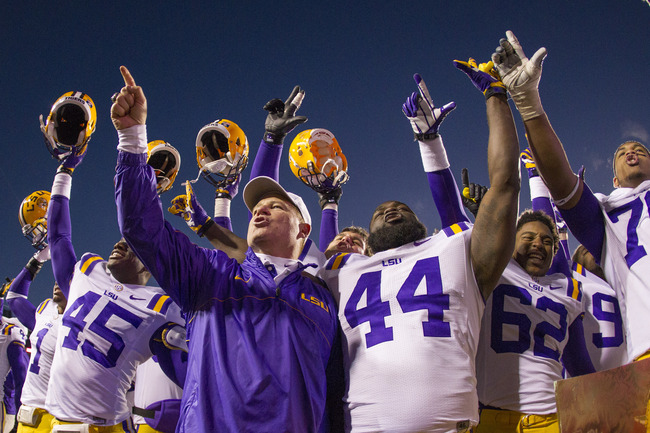 Wesley Hitt/Getty Images
Les Miles is one of the most personable head coaches in the country. Miles' press conferences are entertaining, and his personality is one of his best assets as a leader.
Miles has great wit and charm, which work well during in-home recruiting visits. He knows how to speak to a recruit's parents, assure them that he will take care of their son and always finds a way to develop a strong bond with a player.
With a proven track record as a great recruiter, there's no reason to think Miles' persona will not attract several more high-profile prospects in this recruiting cycle who will increase LSU's recruiting ranking.
Expected to Sign Laurence Jones (S)
Laurence Jones is an outstanding safety prospect who is one of the best players in America. He is not a recruit a school signs just to add depth. He has the skills to become a starter early in his career.
Jones, who is 6'2" and 200 pounds, looks like a linebacker at first glance. However, he displays outstanding movement, speed and ball skills at the safety position. Jones is not limited to just roaming around on top of the defense, as he also flashes the skills to cover slot receivers in man-to-man coverage.
A 5-star recruit in 247Sports' composite rankings, Jones is expected to sign with LSU, according to the majority of 247Sports analysts.
Frank Wilson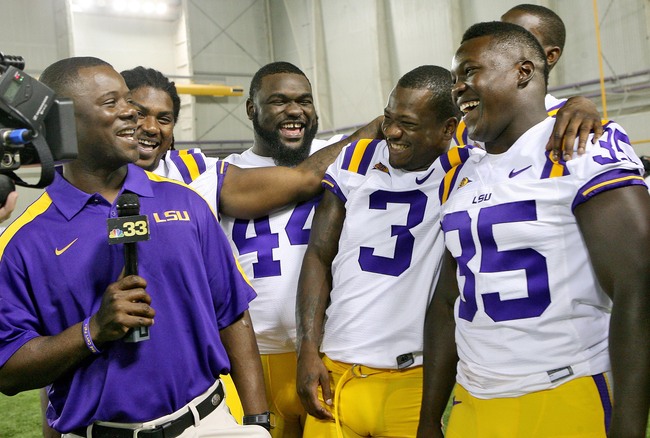 Crystal LoGiudice-USA TODAY Sports
Frank Wilson is LSU's running backs coach and a trusted offensive assistant for Les Miles. New offensive coordinator Cam Cameron will be impressed with how well Wilson integrates the Tigers' runners into his offense.
However, for as good as Wilson is as a running backs coach, his real value is s a recruiter. Wilson is LSU's recruiting coordinator—and one of the best in the business.
He has many connections on the recruiting trail, developing relationships with prospects, high school coaches and parents at an early stage. He is also relentless at selling the Tigers' program.
Miles' charming personality combined with Wilson's recruiting prowess will continue to attract elite talent in Baton Rouge.
Expected to Sign Tony Brown (CB)
Cornerbacks like Tony Brown do not grow on trees. LSU clearly understands this, as it had Pro Bowl cornerback Patrick Peterson on its roster a few seasons ago.
Brown, who is 6'0" and 188 pounds, is an excellent athlete. He can play press, off-man and zone coverage.
Brown is a physical cornerback with great size, hip flexibility and instincts. The Texan has good field vision, outstanding short-area quickness and the speed to cover a receiver deep.
Brown, who is a 5-star prospect per 247Sports, is expected to sign with LSU, according to 247Sports' experts.
Expected to Sign Leonard Fournette (RB)
Leonard Fournette is a special running back who is coveted by many programs. LSU did not sign a true running back prospect in its 2013 class, which will make more room for Fournette.
At 6'0.5" and 225 pounds, Fournette is a Louisiana native who is ready to play college football. Fournette shows good speed, quickness, power, instincts, elusiveness, vision and can also catch the football like a receiver.
He is one of the elite players in the 2014 class, and although Alabama is in the hunt, LSU is expected to land him, per many 247Sports analysts.
Landing Fournette could be the finishing touch on a No. 1 recruiting class for Les Miles.
Could Also Land Several Other Talented Recruits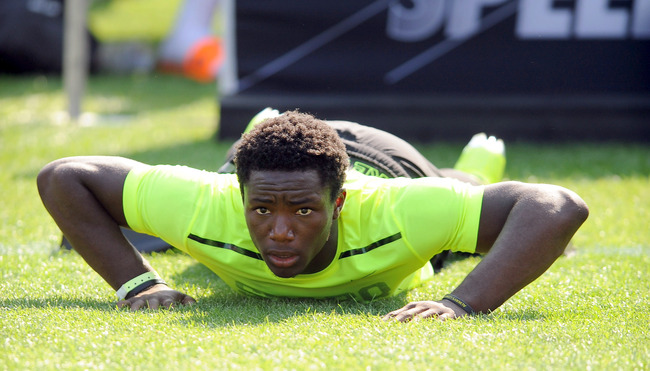 Steve Dykes-USA TODAY Sports
LSU is expected to sign several more elite prospects, along with several other talented but not as highly rated players.
According to their 247Sports profiles, LSU is in the hunt for such elite recruits as receiver Speedy Noil (pictured), defensive tackle Gerald Willis, offensive tackle Cameron Robinson, receiver Malachi Dupre and receiver Trey Quinn.
Perhaps the Tigers will not land them all, but signing two or three of them, along with all of the other prospects it is expected to sign, should give LSU the No. 1 class in the country.
Already No. 12 in 247Sports' Recruiting Rankings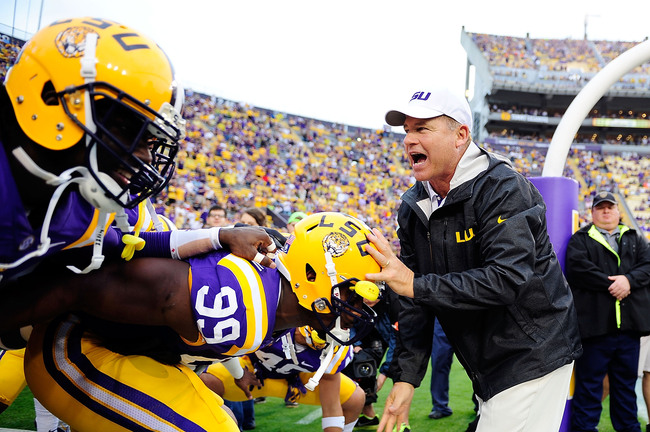 Stacy Revere/Getty Images
Along with already having a great class, the Tigers are in a great position, as they are expected to land several fantastic recruits who will elevate them in recruiting rankings.
LSU also is being considered by several other great recruits and will likely land a few surprises who will add more star power to its class.
When you combine the Tigers' expected forthcoming recruiting success with their No. 12 recruiting ranking, it is easy to see they are building a No. 1 class.
Edwin Weathersby is the College Football Recruiting Analyst for Bleacher Report. He has worked in scouting/player personnel departments for three professional football teams, including the New York Giants and Cleveland Browns.
Keep Reading

LSU Football: Like this team?