He played masterfully at the U.S. Open, just as he had done so many times before. In the end, it just wasn't Phil Mickelson's time. But Lefty wouldn't be denied his first British Open title this weekend at Muirfield.
A tournament in which the 43-year-old hasn't played particularly well in the past, Mickelson came roaring back on Sunday to notch a final-round 66 and effectively secure his first British Open title, via PGA Tour:
Phil Mickelson is your champion at #TheOpen, winning his first Claret Jug and fifth major championship. #PGATOUR >> t.co/730R9npApV

— PGA TOUR (@PGATOUR) July 21, 2013
Here is a look at the final leaderboard:
In a tournament punctuated by dry, speedy greens and poor putting, Mickelson brought his best game with the flat stick in one-putting 31 holes for the tournament.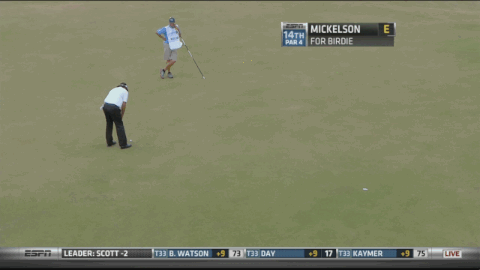 But Mickelson was fantastic from tee to green on Sunday, especially in his final three holes. Lefty parred the par-three 16th before giving way to back-to-back birdies to finish his round, per Callaway Golf:
ICYMI: Lefty buries a birdie putt on 18 to take a 3 shot lead @The_Open: https://t.co/5XLX4rEAsL

— Callaway Golf (@CallawayGolf) July 21, 2013
On 18, Mickelson hit an approach shot from the fairway that landed on the back-left portion of the green, just feet from a large bunker protecting the back of the putting surface. His ball hopped and spun back toward the pin, at which point Ian Poulter (plus-one) tweeted his admiration for Mickelson's performance:
I think Michelson has probably done enough. I gave it a good go. That's all you can do on a Sunday at the @The_Open. Thanks for the support.

— Ian Poulter (@IanJamesPoulter) July 21, 2013
Poulter entered the clubhouse at one over, and it looked like the 37-year-old had done enough to stave off a late surge from the field. The way Muirfield was playing, low scores just weren't all that common.
Poulter would be the first to admit that, first voicing his displeasure with pin placement and fast greens following his first round on Thursday:
Unfortunately the guys this afternoon will struggle with a few pin positions. 8th hole is a joke, 18th needs a windmill & clown face.

— Ian Poulter (@IanJamesPoulter) July 18, 2013
But Poulter pulled it together in the ensuing rounds to enter the day at five-over—a respectable score given Muirfield's difficulty and the absence of a true front-runner atop the leaderboard.
Poulter wasn't going to settle for a mediocre finish, though, and went on a tear Sunday with a tremendous putting display, as documented by the Open:
Eagle from @IanJamesPoulter on the 9th moves him to +3. Time to make a charge! #TheOpen

— The Open (@The_Open) July 21, 2013
He holes another one, this time from off the green!! @IanJamesPoulter picks up another shot!! #TheOpen

— The Open (@The_Open) July 21, 2013
I'm struggling to keep up.There are screams all around the course..@IanJamesPoulter seems to have his Ryder Cup putter in his hand. #TheOpen

— The Open (@The_Open) July 21, 2013
As well as Poulter played, he very well could have escaped with a victory if not for some tremendous late-round performances like Mickelson's.
Unfortunately for Lee Westwood, he wouldn't turn in one of those performances.
The 40-year-old Englishman may be the best current tour player to have never won a major, and one of his best chances to change that slipped away on Sunday.
Westwood entered the final round with the lead and watched it quickly dissipate with three bogeys on the front nine. As Mickelson was surging, Westwood was flailing, trying to hold onto a round that was slipping away.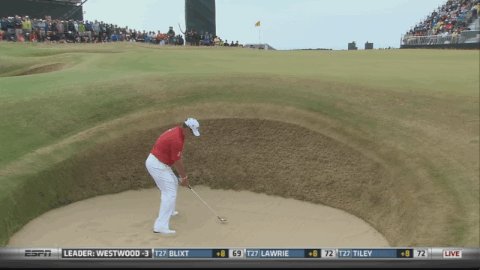 All doubt was erased on the 16th when Westwood let another shot escape him, per the Open 2013:
Lee Westwood lets another bogey onto his scorecard. He is now +1 for the tournament after his 70th hole of #TheOpen

— The Open 2013 (@TheOpenLive) July 21, 2013
As noted by ESPN Stats & Info, had Westwood won, he would have made history on multiple fronts:
If Lee Westwood wins today, Englishmen will have won the U.S. Open and Open Championship in the same year for the first time since 1909.

— ESPN Stats & Info (@ESPNStatsInfo) July 21, 2013
From 1954-2010, only two men 40 and older won the Open Championship. If Westwood, Cabrera or Mickelson win today, it will be 3 in a row.

— ESPN Stats & Info (@ESPNStatsInfo) July 21, 2013
While Westwood wasn't able to make that happen, Mickelson certainly did his part to continue a tremendous run of British Open golf by some of the older members of the PGA Tour.
Tiger's Drought Continues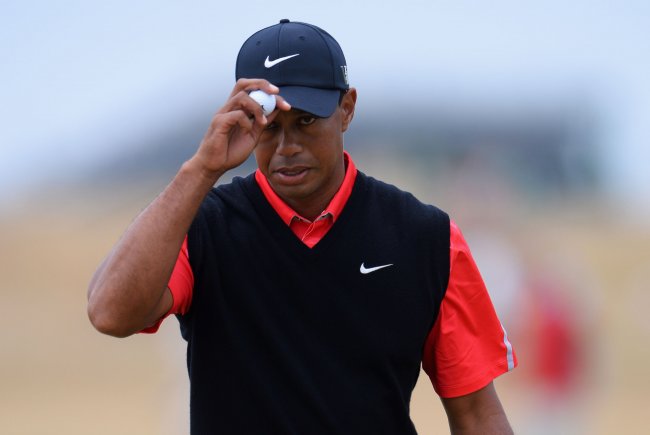 Stuart Franklin/Getty Images
World No. 1 Tiger Woods entered the British Open facing a five-plus-year major tournament title drought. He put himself in good position to end it on Sunday, but he faded from the very start.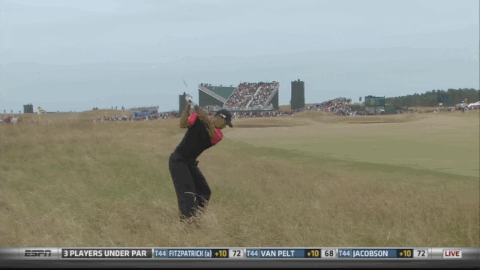 Things didn't start out well for Tiger. The 37-year-old dropped a few quality putts, but his iron play was a far cry from how well he was striking the ball through the first three rounds.
Per the Open, Woods started with three bogeys through six holes:
Another bogey for Tiger -- his 3rd in 6 holes. Phil makes birdie at No. 9 and is suddenly T-2 at Even. 3-shot lead for Westwood. #TheOpen

— PGA TOUR (@PGATOUR) July 21, 2013
Woods birdied No. 9 to get one back, but he went on to card three bogeys on the notoriously difficult back nine to drop to two-over by the end of his round to finish tied for sixth place.
Questions continue to swirl as to how Woods will ever find that dominating Sunday form in majors. As well as he has played this year (four tour wins), he hasn't been able to come up big in majors, finishing fourth at the Masters and 32nd at the U.S. Open.
Mahan and Westwood from Start to Finish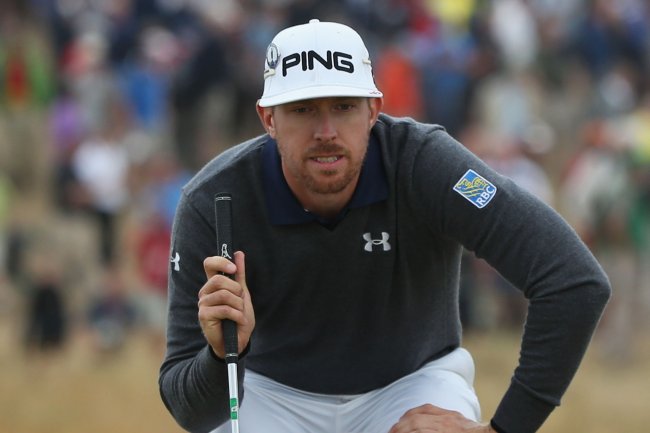 Andy Lyons/Getty Images
Westwood and Hunter Mahan entered Sunday atop the leaderboard, last to tee off on the final day at Muirfield.
But like Westwood, Mahan sputtered from start to finish. The 31-year-old carded six bogeys in his final round, the only highlight an eagle at the par-five ninth hole.
This PGA Tour tweet perfectly sums up the similarities between Mahan and Westwood in the final round of the Open Championship:
Neither Mahan nor Westwood can convert their birdie putts at No. 1. On the other side of the course, Poulter (+2) went eagle-birdie at 9&10.

— PGA TOUR (@PGATOUR) July 21, 2013
Both players were tremendous throughout the tournament, but neither could find his rhythm on Sunday. As a result, the door swung open for Mickelson as Mahan and Westwood faded back into the field.
Love for Lefty
When Mickelson wins, people enjoy golf just a little bit more.
The 43-year-old is a terrific ambassador to the sport, and his victory at Muirfield was just another impressive accomplishment to add to his resume, as the Chicago Tribune's Ed Sherman noted:
5 majors for Lefty. Won Masters, British and PGA. Quite a legacy.

— Ed Sherman (@Sherman_Report) July 21, 2013
Bob Harig of ESPN.com also pointed out that Mickelson joined some illustrious company with his win at the historic track:
How 'bout the list of winners at Muirfield: Player, Nicklaus, Trevino, Watson, Faldo, Els and now Lefty?? Incredible. #TheOpen

— Bob Harig (@BobHarig) July 21, 2013
Jason Sobel of the Golf Channel also chimed in, mentioning a conversation he had with Mickelson in reference to his play this year:
Phil Mickelson told me a few weeks ago, "I'm playing better than I have in a long time. In years." Didn't quite believe him. Now I do.

— Jason Sobel (@JasonSobelGC) July 21, 2013
There's certainly something to that. Mickelson is on a tremendous run of golf in recent months, and despite coming up short in heart-breaking fashion at Merion last month, he made up for it with what could be one of the best major tournament rounds of his career.