Burning Questions for New York Giants' Training Camp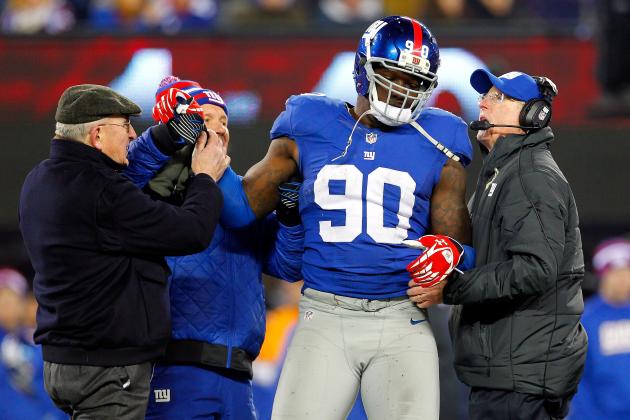 Rich Schultz/Getty Images
The health of Jason Pierre-Paul and other key Giants players is a concern for Tom Coughlin.
The New York Giants are coming off a 9-7 record in 2012 that wasn't good enough to qualify them for the playoffs. It is not surprising then that the team will enter training camp with plenty of questions.
The following slides will cover some of the hottest topics that Big Blue and its fanbase are pondering before the start of the preseason. Some will be addressed before Week 1, while others may take the entirety of 2013 to be answered.
Either way, in most cases the answers to these questions will go a long way towards determining the fate of the team in the upcoming season.
All stats are courtesy of Pro Football Focus
Begin Slideshow

»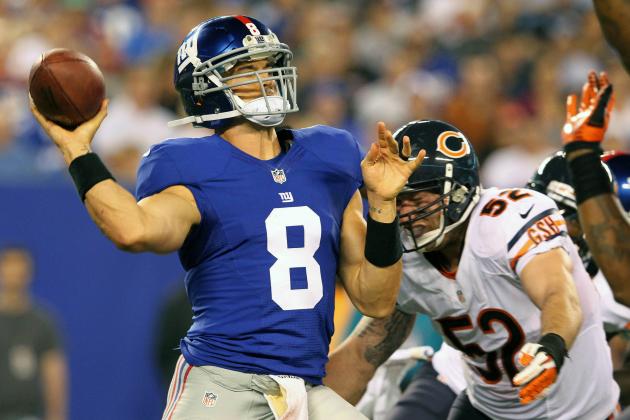 Brad Penner-USA TODAY Sports
David Carr's roster spot is in jeopardy due to the presence of rookie Ryan Nassib.
For four of the last five seasons, the Giants' quarterback equation has been simple: Eli Manning is the starter, David Carr is the backup and the latter won't play because the former never gets hurt.
Big Blue's selection of Ryan Nassib in the fourth round of April's draft suddenly ensures this equation won't add up. The rookie quarterback is virtually guaranteed to make the 53-man roster, given where he was picked and the fact that they traded up to get him.
New York can't even stash him on the practice squad, because then he is fair game for any team to sign. Since Nassib is a talented player who many predicted would be drafted in the first or second round, a team would certainly snatch him from the Giants in this scenario.
Therefore, if Big Blue wants to keep a veteran like Carr to backup Manning, they are going to have to roster three quarterbacks. By doing this, they are using a spot that is better served adding depth to the offensive line, defensive line or linebackers.
This decision probably won't have a huge impact on the Giants' season. If they cut Carr, they probably won't need to trust the rookie, because Manning never gets hurt. If they keep Carr, the lack of depth at another position will likely not be necessary.
Then again, injuries are commonplace in the NFL, so whichever way the Giants end up going could turn out to be significant.
The battle for this position will likely come down to three candidates.
The favorite remains David Diehl, much to the chagrin of Giants fans. He has a ton of experience with 10 years of service in the NFL. In addition, the coaching staff still believes in him.
The biggest advantage in his favor, though, is the fact that the two players who pose the biggest threat to take his job away are both unproven. Justin Pugh has never even played right tackle and would have to overcome history by being the first rookie to start Week 1 for the Giants since 2006.
James Brewer is the other candidate, and he only has 34 offensive snaps in his two-year career. Also, his lack of quickness and toughness won't help him protect Manning from edge pass-rushers.
Pugh may end up at right tackle later in the season, after he learns the intricacies of the position in practice. Expect Diehl, though, to win the job out of camp and start against the Dallas Cowboys on Sept. 8.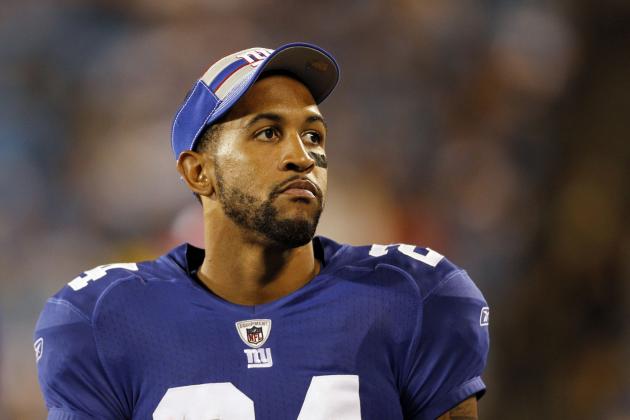 USA TODAY Sports
Despite three ACL tears, Terrell Thomas still has hopes of continuing his NFL career.
One of the more overlooked aspects of sports is the hardship an athlete has to go through when they suffer a significant injury.
In most cases, rehab takes many months with no guarantee he'll be able to return to their previous form. A good portion of the rehab usually occurs while the athlete's team is still playing, which only makes the process more discouraging.
Now imagine having to endure this scenario three times in seven years, including twice in a span of 12 months, and you'll know what it feels like to be Terrell Thomas. The 28-year-old is trying to do something no other NFL defensive back has ever done: successfully return from three ACL tears.
Unfortunately, the chances of him accomplishing this feat are slim. Even if he is able to make it through training camp healthy, he has to prove he can still be an NFL-caliber cornerback. Given the amount of cutting and change of direction the position requires, it is highly unlikely that he'll be able to stay with most wide receivers.
Safety would probably be a better spot for him, but competition then becomes an issue for Thomas. While the Giants really only have four cornerbacks worthy of an NFL roster, they could have as many as six safeties who fit the bill. He may end up being serviceable at safety but simply not make the team because the other players are better.
It would be a great story if Thomas were able to overcome the odds and resume his NFL career. Too much has to go right, however, for it to be considered realistic.
When you have a 6'4" tight end on your roster who can run the 40-yard dash in 4.51 seconds and jump well over three feet in the air, you definitely want to get him on the field.
It looks like 2013 will be the season the Giants unleash Adrien Robinson on the NFL.
The talented yet raw second-year player is starting to figure it out, according to tight ends coach Mike Pope, speaking to Ed Valentine at Big Blue View:
Adrien Robinson appears to have gone into the Land of the Believers … The quarterback is starting to find him. He is hard to miss – he is the tallest tree in the forest out there. So he is a good target. But we are more than mildly pleased with the progress that he has made from an assignment standpoint.
Brandon Myers figures to get most of the snaps at tight end, and Bear Pascoe will certainly be involved as well. Expect Robinson, though, to get a decent amount of playing time. Given his size and athletic ability, he may become a red-zone target for Eli Manning as the season progresses.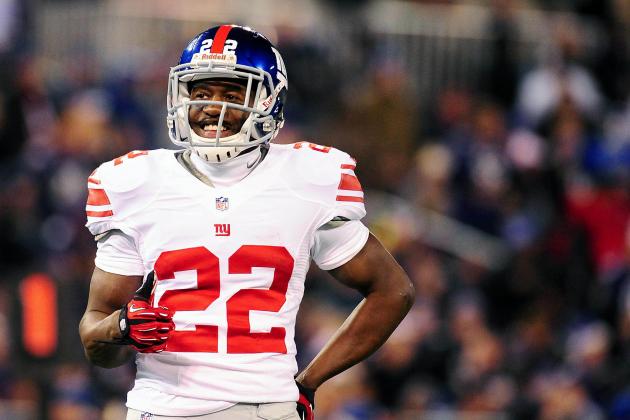 Evan Habeeb-USA TODAY Sports
David Wilson is happy he'll have a larger role in the offense in 2013, but is he up to the task?
If you're someone who looks at the glass half-full, then the Giants backfield duo of David Wilson and Andre Brown are intriguing. While Wilson provides speed and the threat to score from anywhere on the field, Brown is adept at moving the pile and converting goal-line opportunities into touchdowns.
A more negative assessment would point out that despite the obvious strengths of both players, Wilson and Brown only have 156 carries combined on their NFL resume.
In addition, Brown has suffered two significant injuries already in his career. He broke his leg in November of last year to abruptly end his season and lost his 2009 rookie campaign to a ruptured Achilles tendon in training camp.
Big Blue's running game begins and ends with these two players. The only other options on the roster are Ryan Torain, Da'Rel Scott and rookie Michael Cox. Maybe there is a surprising performance hiding in that trio, but it is certainly not likely.
If Wilson can handle the rigors of getting 15-20 carries a game, he will probably be a productive player with a high yards-per-carry average.
Brown, however, is an enigma. Before he can be trusted, he has to prove he can receive 150-200 carries in a season, many of which will be between the tackles, without getting hurt.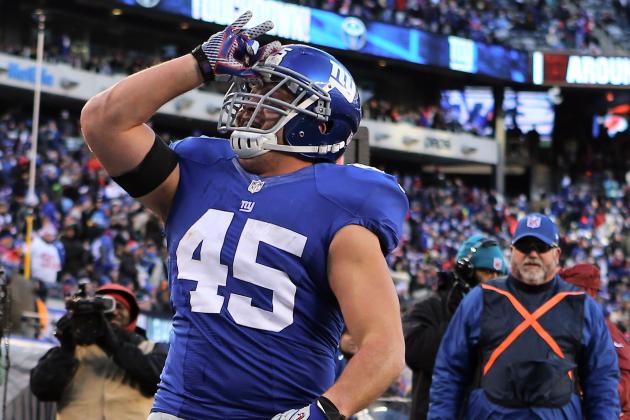 Elsa/Getty Images
Henry Hynoski is an underrated but key member of the Giants' offense.
Since the end of the 2012 season, the Giants have seen six starters go under the knife.
This includes 60-percent of last year's starting offensive line, arguably the team's best wide receiver in Hakeem Nicks, the undisputed top defensive player in Jason Pierre-Paul and Henry Hynoski, who is the only true fullback on the roster.
Both JPP and Hynocerous underwent surgery late in the offseason, making their return by Week 1 of the regular season uncertain.
If you really want to be picky, add Andre Brown to this list. He had surgery to realign the fractured bone in his left leg shortly after suffering the injury against the Green Bay Packers on Nov. 25.
How these players respond to surgery and whether they are 100-percent by the time the season starts might be the biggest question facing the Giants in training camp. The situation could turn out great, as guys like Snee, Pierre-Paul and Nicks could finally be healthy after playing hobbled for much of 2012.
On the other hand, if these players get off to a slow start because they weren't able to partake in normal offseason activities to prepare for the regular season, it could be disastrous. This is especially true with Pierre-Paul, whose issue concerns his back, a very fickle part of the body.
Prince Amukamara has had an uneven start to his NFL career. A lot was expected of the third-year player when the Giants selected him 19th overall in the 2011 draft. Unfortunately, after two seasons he has only made a name for himself through injuries and a lack of impact plays.
The 24-year-old has missed 12 of a possible 32 regular-season games and has a meager two interceptions and 10 pass defenses in the 20 games he has played in.
Amukamara's confidence, however, has not been phased by his struggles. In a conversation with Paul Schwartz of the New York Post following minicamp in mid-June, the cornerback disclosed his goals for the upcoming season:
I want to be the No. 1 corner on this team. I feel like right now Corey (Webster) is and my goal is to always just try to beat him out, and I think as soon as I establish myself as the No. 1 corner then hopefully become the No. 1 corner in the whole league.

I know that's going to take work but I mean, guys that came out of my drafting class are doing great, Patrick Peterson and Richard Sherman, those are the guys I kind of compare myself to. I'm just trying to exceed all of them, I guess.
He probably could have just said he wants to get better and stay healthy. Talking about being the best cornerback in the NFL is just going to put unneeded pressure on Amukamara.
The truth is that he is not even close to being the league's top cornerback. There is nothing glaringly bad about his game, but he also isn't exceptionally good at anything either. He has a tendency to get beat on inside routes, his press technique can be sloppy, allowing receivers a free release at times, and he is nonchalant when playing off a receiver.
The best thing you can say about him at this point is that he is a solid tackler, especially on short routes and screen passes.
Amukamara certainly has the talent to be elite. He is big cornerback with good speed and fluid hip movement. He just needs to become more aggressive and fine-tune his game.
We'll see if 2013 is the year he does it.
Jason O. Watson-USA TODAY Sports
Mark Herzlich could be a pleasant surprise for Big Blue in 2013 if he can regain the form he showed during his first three years at Boston College.
The Giants haven't had a starting-caliber middle linebacker since Antonio Pierce was released after the 2009 season. Sure, Chase Blackburn manned the role for the better part of the last two seasons, but he was merely used out of necessity because he was the best option available.
For 2013, New York is hoping that Mark Herzlich not only starts but plays like a starter as well.
The third-year player ran with the first team defense throughout offseason workouts. Entering training camp, the middle linebacker role appears to be his to lose against Dan Connor.
After his first three seasons at Boston College, Herzlich was arguably the best linebacker in the country and a virtual certainty to be picked in the top 10 of the NFL draft. Sadly, he was stricken with Ewing's sarcoma, a form of bone cancer, before his senior season.
While he fortunately overcame the disease to continue his football career and make the NFL, he has never been the same player.
He was playing faster, however, in OTAs and minicamp. If he can get back to even 90 percent of the player he was before the cancer diagnosis, the Giants will finally have an impact player at middle linebacker.
Herzlich's performance in training camp is a must-watch to see if he can build off his strong spring.
To say that Rueben Randle has been praised for his work this offseason would be an understatement. Tom Coughlin, Kevin Gilbride and Eli Manning have all shared kind words about the second-year wide receiver based on his performance in OTAs and minicamp.
Whether Randle continues his strong play in training camp will be interesting to watch. The 22-year-old has the talent and skill set to be a No. 1 wide receiver. If he can demonstrate in 2013 that he'll reach this ceiling, Big Blue's passing game will be prolific.
It would also give the Giants some leverage in their negotiations with Hakeem Nicks, who is scheduled to be an unrestricted free agent after the season.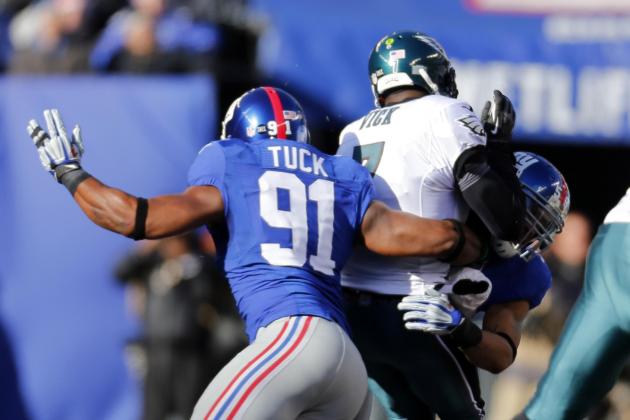 Jim O'Connor-USA TODAY Sports
Justin Tuck has been inconsistent pressuring the quarterback over the last two seasons.
Osi Umenyiora is gone, and Pierre-Paul may take some time to round into form after his offseason back surgery. Mathias Kiwanuka will slide down from linebacker to help but hasn't played on the defensive line exclusively since 2009. The other option is rookie Damontre Moore, but to expect him to make an impact right away is unrealistic.
In short, the defensive end position is in a bit of flux. A return to form by Justin Tuck, however, would make things seem a lot more stable.
Tuck has only 57 tackles, nine sacks and one forced fumble combined in his last two seasons. He has also missed four games due to injury during this span. From 2007-10, the eight-year veteran averaged 48.5 tackles, nearly 10 sacks and 3.5 forced fumbles per season. He also didn't miss a single game.
Credit the 30-year-old for trying to once again become the player he was a few years ago. This offseason, he visited motivational speaker Tony Robbins in an attempt to figure out what has gone wrong with his play.
Tuck is entering a contract year, so motivation doesn't figure to be an issue. Hopefully for Big Blue, Tuck has simply been in a funk since 2010. The alternative is that his skills have eroded, which can't be fixed by Robbins or the allure of money.
If you want more, follow Tamer's tweets @TamerC_BR