Burning Questions for Oakland Raiders' Training Camp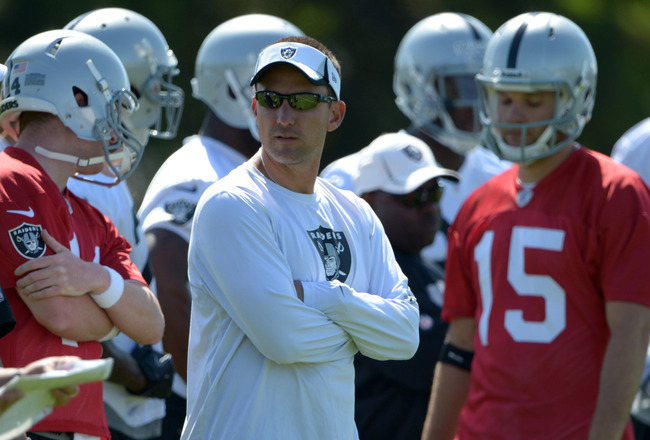 USA TODAY Sports
Continuing their organizational rebuild, the 2013 season should be one of improvement for the Oakland Raiders.
As is the case with any team, a number of burning questions present throughout the offseason will find answers during training camp.
While most of these center around who will emerge victorious in various roster competitions, some deal with the coaching staff and its schemes.
Here are ten burning questions for the Oakland Raiders' 2013 training camp.
Who Will Win the Quarterback Competition?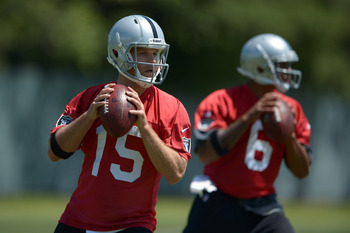 USA TODAY Sports
The Raiders' quarterback competition will be the prime focus of their training camp, and for good reason.
The early favorite is Matt Flynn, and it is likely his job to lose. At the same time, we can't rule out Terrelle Pryor or Tyler Wilson.
Pryor's athletic ability piques the interest of many, and while he may have some work to do as a passer, his ability to escape pressure and make plays with his legs can be extremely valuable to an offense.
Wilson may be a rookie, but his experience, toughness and leadership really stand out from his impressive career at Arkansas.
While this position battle does have a clear-cut leader in Flynn, the lack of long-term financial commitment to him makes the competition relatively wide open.
Can the Running Game Bounce Back?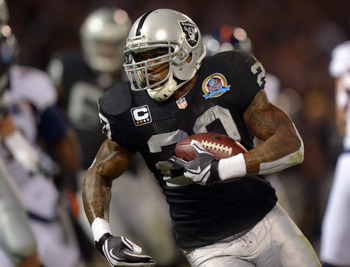 USA TODAY Sports
It is no secret that the running game was a huge disappointment in 2012, much of which can be attributed to the zone-blocking scheme that Greg Knapp brought with him as offensive coordinator.
The system has been successful around the league, but if it wasn't already clear before, there is now little doubt as to how poor of a fit it is for the Raiders' offensive personnel.
With Greg Olson now hired as offensive coordinator and Tony Sparano as the assistant head coach/offensive line coach, the Raiders will go back to a man/gap-blocking scheme similar to the one run under Hue Jackson in 2010 and 2011.
Not only does this system provide a better fit for Darren McFadden, it also suits the offensive line and fullback Marcel Reece as lead blockers.
If the system change allows for the running game to get close to where it was under Hue Jackson, and Darren McFadden can stay healthy, there is no reason the run cannot carry this offense to success in 2013.
Will a No. 1 Wide Receiver Step Up?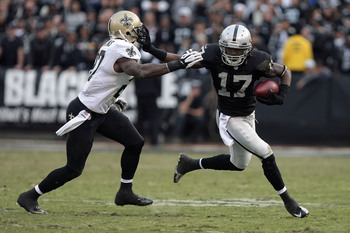 Kelley L Cox-USA TODAY Sports
For several seasons now, the Raiders' wide receiver position has been one that has featured far more questions than answers.
After the free-agent departure of Darrius Heyward-Bey, the group has lost some talent but may not be in as bad of a spot as many assume.
If the offensive scheme change is built around the strengths of its players, third-year wide receiver Denarius Moore has an opportunity to establish himself as the Raiders' No. 1 target.
For Moore to be most effective, as he was under Hue Jackson's offense, he needs to be utilized primarily as a vertical threat downfield.
In his rookie season, Moore averaged an impressive 18.7 yards per catch while only averaging 14.5 yards under Greg Knapp in 2012.
If Olson makes a point of featuring Denarius Moore similar to the way he was in his rookie season, Moore should easily have the best statistical season of any Raiders' wide receiver in 2013.
Which Young Tight End Will Emerge?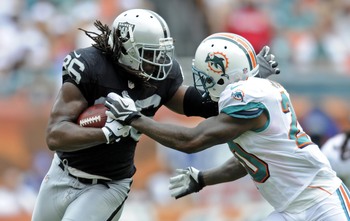 Steve Mitchell-USA TODAY Sports
When the Raiders lost Brandon Myers to free agency this offseason, they lost one of their most productive pass-catchers from the 2012 season.
Of course, the popular argument is that his statistics were inflated in "garbage time" of losing efforts, but it is a notable loss nonetheless.
Now the Raiders' tight end group is extremely unproven; they need someone to step up and take hold of the starting job in a big way.
The athletic David Ausberry will be the early favorite to take over for the departed Myers, but he will be challenged throughout camp by rookie draft selections Nick Kasa and Mychal Rivera.
Each player has significant upside as a pass-catcher, and the argument could be made for each as the Raiders' tight end of the future. This will be one of the most interesting position battles to watch in training camp.
How Will the Raiders Generate a Pass Rush?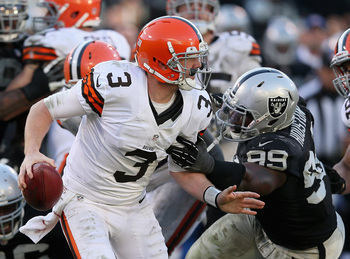 Ezra Shaw/Getty Images
Heading into this offseason, many expected that the Raiders' prime focus would be to upgrade their pass rush through the draft, free agency, or even both.
While they may not have done so with any big names, their pass rush should be improved for a variety of reasons.
First and foremost, that improvement should come as a result of some significant upgrades in the secondary. The extra time provided in coverage, if even just one second, is crucial in allowing the pass-rushers to get to the quarterback.
Up front, there are a number of players capable of taking advantage of that pass-rush opportunity.
Heading into this season healthy should put Andre Carter in a much better spot than last year, and Lamarr Houston continues to develop his game as a pass-rusher as well.
Third-round draft pick Sio Moore will see the majority of his snaps at linebacker, but he also has the ability to put his hand in the ground as a nickel defensive end and get after the quarterback.
Another name to keep an eye on is seventh-round draft pick David Bass. Bass was an extremely productive pass-rusher at Missouri Western, with the speed and quickness to achieve edge-rush success in the NFL quite quickly.
How Multiple Will the Defense Be?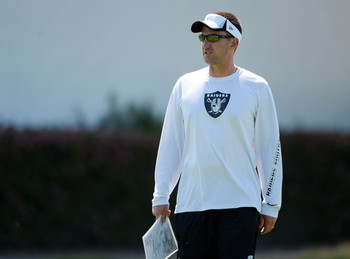 USA TODAY Sports
Dennis Allen has long talked about the need to be multiple in the looks his defense gives an offense.
Now, with several additions in the front seven, the Raiders have the capability to employ significantly more formations and sub-packages in hopes of doing just that.
In training camp and throughout the preseason, we should get a good idea of just how much the Raiders plan on varying up their defensive formations, possibly even moving toward a 3-4 base front in future years.
These multiple looks will allow the Raiders to send blitzers from a number of different areas on the field, thus helping the pass rush improve in the process.
Can Bobby April Fix the Special Teams?
USA TODAY Sports
The Raiders' special teams struggled in both the return and coverage units throughout the 2012 season.
Getting back a healthy Jacoby Ford as well as signing veteran kick-returner Josh Cribbs should help the return teams, but it is about much more than just one player here and there.
Bobby April has long been one of the most respected special teams coaches in the NFL, and it will be his job to get the most out of this unit.
Many overlook the fact that special teams is one third of the game. If April can have some success with what should be an improved group talent-wise, special teams will do more than most think in improving this Raiders team.
Who Will Punt?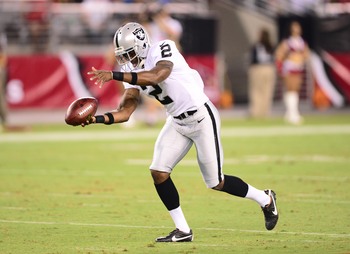 Mark J. Rebilas-USA TODAY Sports
On the surface, a punter competition doesn't seem like the most exciting thing, but this one should be interesting to watch throughout camp.
Last season, knowing that Shane Lechler likely would not return in 2013, the Raiders essentially stashed young Marquette King on injured reserve so that he could take over the job this year.
While he certainly has the kind of leg power that Lechler did, King will need to develop the necessary consistency to reach his full potential.
Should the Raiders decide that King is not consistent enough, they would likely go with veteran free-agent acquisition, Chris Kluwe, instead.
At the same time, they would have to weigh the risk of another team signing King.
Can the Raiders Sign Key Players Long-Term?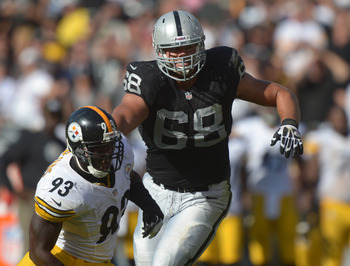 Kirby Lee-USA TODAY Sports
Due to the roster overhaul that has taken place since Reggie McKenzie's hiring, the Raiders will have a significant amount of salary cap space at their disposal for the 2014 season and beyond.
While much of that will be used to bring in some outside free agents, it should first and foremost be directed towards working out extensions for some key players who will see their contracts expire after this season.
This list includes Darren McFadden, Jared Veldheer, Lamarr Houston, Marcel Reece, Jacoby Ford and Sebastian Janikowski to name a few.
While the Raiders may wait until this season is over before starting contract negotiations with these players, working out extensions now, well before they hit the free agent market, would be a good idea.
Will the Front Office Remain Patient?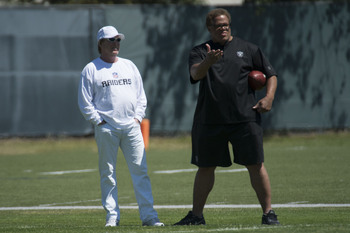 Kyle Terada-USA TODAY Sports
While this is a question not likely to be answered in training camp, it is one that will surround this team until they finally get back to playoff contention.
Amid a complete organizational rebuild, it is important to stick to the long-term plan and not deviate because the results don't come right away.
As accustomed as this franchise became to coaching changes in the past decade, even if the Raiders struggle again this year, changing coaches would not be the answer.
Just as general manager Reggie McKenzie needs time to lay the foundation, so too does Dennis Allen and the rest of his coaching staff.
One of the biggest problems for the Raiders during the run of difficult seasons was the lack of continuity.
Now, no matter the result of this rebuilding season, the front office needs to remain patient and maintain that continuity currently in place.
Keep Reading

Oakland Raiders: Like this team?