Full Training Camp Roster Breakdown for Denver Broncos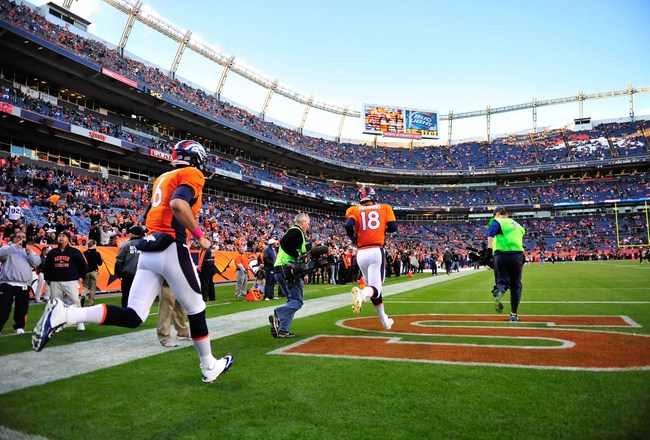 Byron Hetzler-USA TODAY Sports
Heading into the 2013 NFL season—and training camp—the Denver Broncos are feeling the pressure to go far this fall. Really far.
After going 13-3 last season and barely losing to the Baltimore Ravens—the eventual Super Bowl champions—in the divisional round of the playoffs, the Broncos will return to the practice field with high expectations.
Anything less than an AFC Championship appearance would be a disappointment.
As Shutdown Corner pointed out on Twitter, the New England Patriots are vulnerable, quarterback Peyton Manning's window is closing and the AFC West is easily conquerable. If the Broncos can't make a huge run under those circumstances, they may not get another chance.
But before the season rolls around, there's camp.
Today, we'll look at the Broncos' 90-man roster as camp quickly approaches. Analysis will be given on what each player needs to do to make the final roster, and their jersey numbers will be listed in parenthese.
Quarterbacks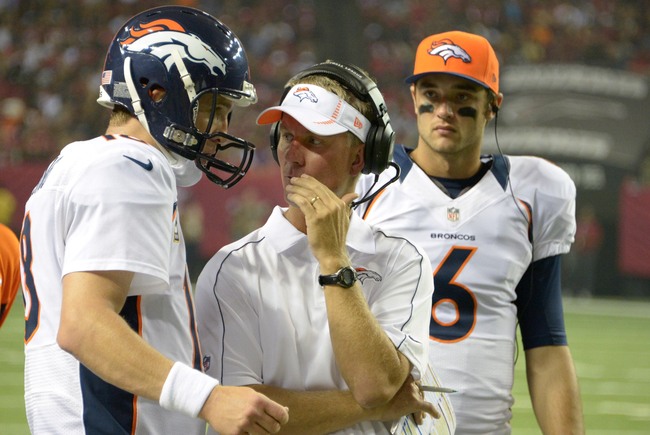 Kirby Lee-USA TODAY Sports
Peyton Manning (No. 18)

Peyton Manning is coming off of an historic season in which he was the runner-up to win the league MVP award after throwing for 4,659 yards and 37 touchdowns in his first year in Denver. Going into his second with the team, Manning is expected to only get better after becoming more comfortable with the offense throughout last season and this summer.
Obviously, Peyton is safe.
Brock Osweiler (No. 17)

Brock Osweiler received great reviews during minicamp earlier in the offseason and is well on his way to being groomed into eventually becoming Peyton's replacement sometime down the road.
Osweiler is also safe, but he can solidify his position as the clear-cut No. 2 quarterback with a solid training camp.
Zac Dysert (No. 2)
The Broncos are not guaranteed to keep three quarterbacks, but if they do, Zac Dysert already has a slight edge over Ryan Katz simply because he was drafted (in the seventh round) by the team in April.
With a strong camp, Dysert can convince the Broncos to keep him around as the third QB—perhaps even on the practice squad, if that's what it takes.


Ryan Katz (No. 8)
Katz may end up just being a camp arm after signing with the team as an undrafted free agent earlier in the year. But if he can outperform Dysert, he'll at least make the practice squad.
Running Backs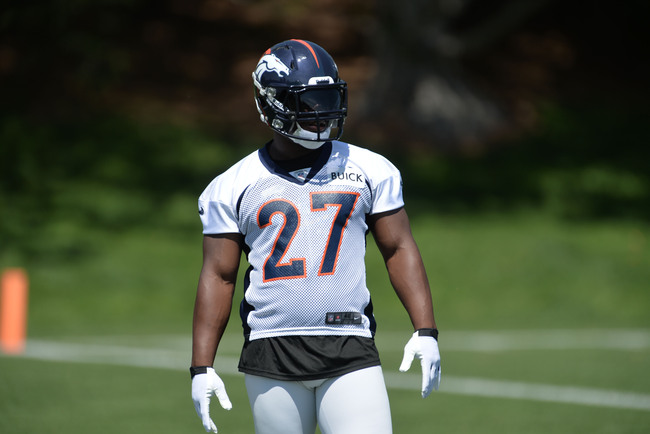 Ron Chenoy-USA TODAY Sports
Knowshon Moreno (No. 27)

Knowshon Moreno is a mysterious case. On the one hand, it would be easy to see him as the team's Week 1 starter. On the other hand, it wouldn't be surprising to see the team finally part ways with him.
But with Willis McGahee now gone, Moreno figures to stick around for at least one more season, filling the team's veteran role.
Ronnie Hillman (No. 21)

As of now, Ronnie Hillman is the write-in starter going into training camp. McGahee is gone and Moreno is still recovering from knee surgery, so that leaves Hillman as the top dog, at least temporarily.
He'll face tough competition in training camp, but as of today, the starting job is his to lose.
Montee Ball (No. 38)

Contrary to popular belief, Montee Ball is not the team's clear-cut starter after McGahee's departure. As noted above, it's Hillman's job to lose (and he probably will lose it); Ball is still young and inexperienced.
Ball may take over the job by midseason, but he has some work to do before earning a starting gig.
Jacob Hester (No. 22)

Jacob Hester is a versatile player who is really a fullback listed as a "running back" on the team's roster. If the Broncos carry a fullback this season, it will be Hester. If the team does not carry a fullback, Hester's running ability will not be enough to help him make the final roster.
Lance Ball (No. 35)

Lance Ball is on the roster bubble and may be the odd man out if the team carries three true running backs and one fullback (Moreno, Hillman, M. Ball and Hester). If Lance does not make the roster, we'll have to throw out all of the great puns we put together after the team drafted Montee in April. In the meantime, the team will continue to carry a pair of Balls (there's plenty more where that came from).
Jeremiah Johnson (No. 37)

If I am not mistaken, Jeremiah Johnson's practice squad eligibility has expired, which likely means his chances of being a Bronco in 2013 have also expired.
C.J. Anderson (No. 39)

The Broncos already have a crowded backfield, but C.J. Anderson is worth stashing on the practice squad.
Receivers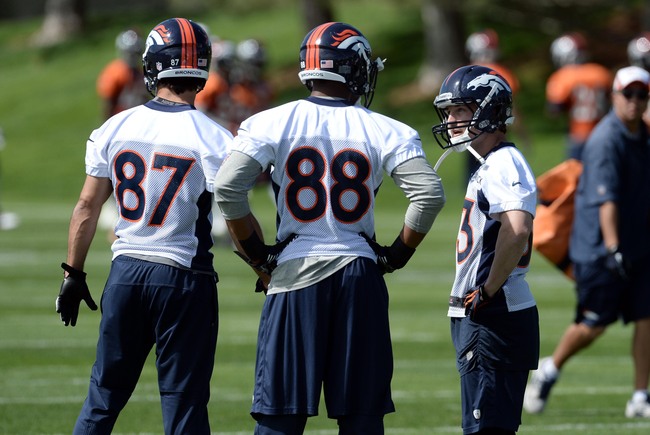 Ron Chenoy-USA TODAY Sports
Demaryius Thomas (No. 88)
Demaryius Thomas was Manning's favorite weapon in 2012 (he was targeted 141 times last season), and that will likely be the case again in 2013. There is a new toy in town, but Thomas will remain the No. 1 wide receiver.
Eric Decker (No. 87)
Close behind Thomas is Eric Decker, who was targeted 123 times in 2012. The new kid (veteran, actually) will take away some of those targets, but Decker is expected to still be highly productive as the team's No. 2 wide receiver this fall.
Wes Welker (No. 83)
And then there's the new arrival—Wes Welker himself. Fans may want to tamper expectations for the free-agent acquisition, as he will no longer be putting up numbers like he did in New England.
With that said, he's a perfect fit for Denver's offense and will provide a nice upgrade to the slot position.
Trindon Holliday (No. 11)
More than anything else, Trindon Holliday is a return specialist. But the Broncos like what he can do in the open field, and he's technically a wide receiver.
He'll make the team—and he may even spend a little time on offense—but kick returning will be his main duties.
Tavarres King (No. 15)
As a drafted rookie, Tavarres King already has a huge advantage over his fellow young receivers. If not for his status, his road to the final roster would be nearly impossible.
But even as a draftee, he'll have to work hard to secure a spot on the team.
Greg Orton (No. 89)
Greg Orton is a sleeper to watch after he spent all of last season on the team's practice squad. Signed out of the AFL by the Broncos in 2011, Orton has the potential to turn heads this summer.
Andre Caldwell, Gerell Robinson, Kemonte' Bateman, Quincy McDuffie and Lamaar Thomas (Numbers)
All five of the above receivers are long shots to make the roster, with Caldwell and Robinson the most likely long shots to make it. Anybody can surprise and make the 53-man roster, but we're not holding our breath.
Tight Ends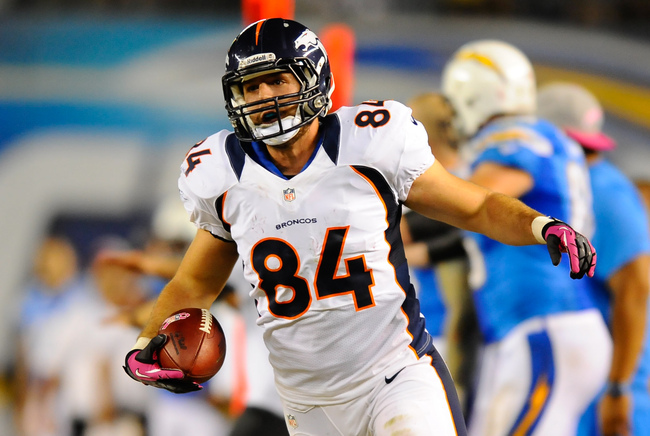 Christopher Hanewinckel-US PRESS
Jacob Tamme (No. 84)
Jacob Tamme is clearly the team's No. 1 tight end and is versatile enough to be split out as a fourth wide receiver in certain situations. He'll make the team and remain Manning's top receiving tight end.
Joel Dreessen (No. 81)
Joel Dreessen is not too far behind Tamme and will remain the team's second tight end (barring a huge breakout by Julius Thomas) this season. If he continues to perform well, the No. 2 job is his for the taking.
Julius Thomas (No. 80)
Thomas is a sleeper to watch after spending most of the past two seasons riddled with injuries. With Denver often running two-tight end sets, the team is almost guaranteed to keep at least three tight ends.
Thomas already has the inside track to land the No. 3 job. With a solid training camp, he could push Dreessen for playing time.
Virgil Green (No. 85)
Virgil Green will have to do a lot to surpass Thomas, who has already impressed Denver's coaching staff this summer. Thanks in part to his special teams contributions, Green remains a candidate to make the final roster.
Lucas Reed (No. 82)
Of Denver's five tight ends, Lucas Reed has the hardest road to the final 53. Though he is a long shot, anything is possible. He was a two-time All-American at New Mexico and has NFL blood (his brother, Brooks, plays linebacker for the Houston Texans), so we won't write him off too soon.
Offensive Tackles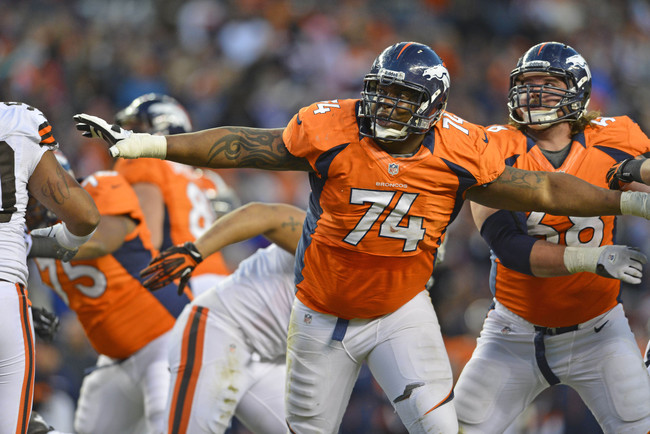 Ron Chenoy-USA TODAY Sports
Ryan Clady (No. 78)
Ryan Clady just received his big pay day from the Broncos and says he will be fully recovered from his shoulder surgery in time for the regular season. The only way he could improve on last season would be by allowing zero sacks.
That's a tall order, but if he can pull it off, he'll be guaranteed to earn his third All-Pro honor.
Orlando Franklin (No. 74)
Entering his third season with Denver, Orlando Franklin has the right tackle duties locked up. If he looked any scarier, he would probably be suspended by the NFL. His size (6'7", 320 pounds) and performance (he allowed 3.5 sacks last season) make him an extremely valuable asset to the offensive line.
Chris Clark (No. 75)
Chris Clark is a versatile lineman that has moved around the offensive line during his three years with the team. Used as an extra tackle/tight end hybrid role in three-tackle offensive sets, Clark, like Clady and Franklin, is all but guaranteed to make the team.
Paul Cornick (No. 71)
Paul Cornick joined the team's practice squad last December and will fight to earn a spot on that squad again this summer.
Manase Foketi (No. 67)
Manase Foketi joined the team as an undrafted free agent following the draft and will be competing with players like Cornick to earn a practice squad spot.
Offensive Guards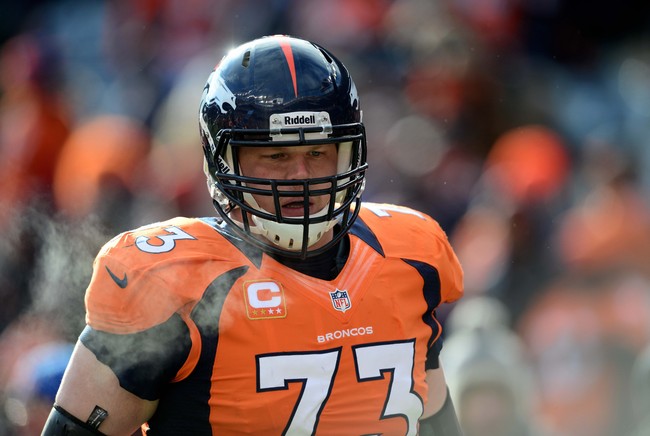 Mark J. Rebilas-USA TODAY Sports
Louis Vasquez (No. 65)
Louis Vasquez came to Denver via San Diego during free agency in arguably one of the biggest steals of the offseason, nearly half as pricy as the deal Andy Levitre signed with the Tennessee Titans. After allowing just 2.5 sacks last season, Vasquez comes to Denver presumably to take Chris Kuper's starting gig.
Zane Beadles (No. 68)
Zane Beadles will be the team's No. 2 guard after a strong third season with the club in 2012. After allowing just one sack last season, Beadles earned his first Pro Bowl selection.
He'll be seeking another selection this fall.
Chris Kuper (No. 73)
Kuper is an interesting case and may be on his way out of Denver. He is well respected across the NFL (he was voted a Pro Bowl alternate despite only starting in five games last season) but has been battling injuries and is due a base salary of $4.5 million this fall, per Spotrac.com.
It seems unlikely that the team will want to keep around a reserve player at that price tag, so Kuper may be the odd man out.
Ben Garland (No. 63)
The Broncos like Ben Garland, a lot. Enough to move him from defensive tackle (where he likely wouldn't have beaten out the competition) to offensive guard, where he'll have a fighting chance to make the team. A former Air Force defensive tackle, he joined the team as an undrafted free agent in 2010. He spent his first two years on the team's reserve/military list while fulfilling his obligations to the Air Force and spent last season on the practice squad.
This year, he'll get a chance to make the 53-man roster.
Justin Boren (No. 72)
Justin Boren has spent the past two seasons on practice squad units and will provide offensive line depth in training camp.
Centers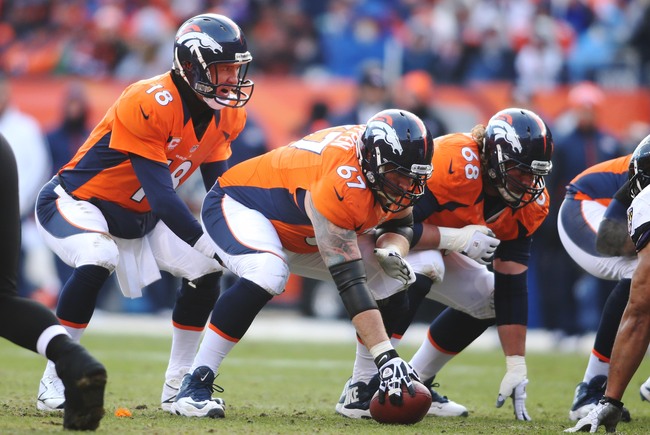 Chris Humphreys-USA TODAY Sports
J.D. Walton (No. 50)
J.D. Walton would have been the team's starter going into training camp if not for having to undergo ankle surgery in June. Walton will likely start the season on the team's PUP list, but the job is his to take take when he returns to full health.
Dan Koppen (No. 67)
In the meantime, Dan Koppen will be stepping in—again. Last season, the Broncos claimed Koppen off of waivers just weeks prior to Walton going down with an ankle injury. Koppen quickly emerged as the starter and never looked back.
Going into training camp, he will again be quarterback Peyton Manning's center.
C.J. Davis (No. 54)
C.J. Davis spent the first two years of his career with the Carolina Panthers and was active for seven games in Denver last season. While Walton is gone, Davis will likely be the primary No. 2 center.
Quentin Saulsberry (No. 60)
Quentin Saulsberry spent time with the Minnesota Vikings during training camp last summer and signed on with the Broncos in September. He'll fight for a roster spot as a versatile offensive lineman in camp.
Philip Blake (No. 64)
Listed as a guard/center, Philip Blake can be moved around and his chances of making the team are helped by the fact that he can play more than one position.
Manny Ramirez (No. 66)
Manny Ramirez, who is also listed as a guard/center, is the team's all-around backup offensive lineman. Seemingly able to play every position on the offensive line, Ramirez filled in for Kuper at guard last season and also has experience at center.
Ramirez is going to make the team, but his primary duties may not be at center.
Defensive Ends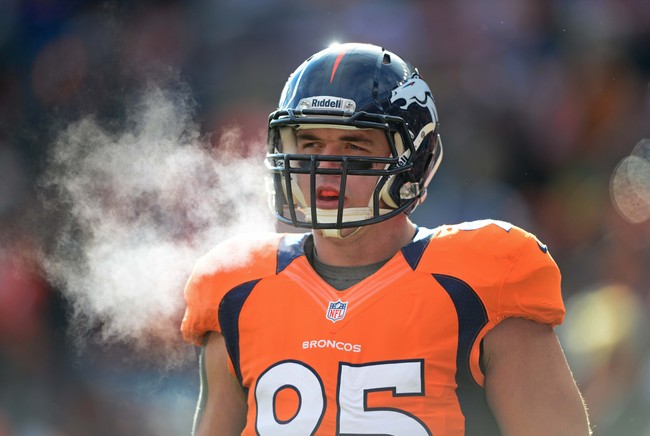 Mark J. Rebilas-USA TODAY Sports
Derek Wolfe (No. 95)
The Broncos have great, youthful depth at defensive end that starts with Derek Wolfe. Compared to Houston's J.J. Watt by MileHighReport.com's Ian Henson, Wolfe has quickly become a fan favorite in Denver (there's even a music video about him on YouTube). Coming off of a six-sack rookie season, Wolfe will be the team's top defensive end going into camp.
Robert Ayers (No. 91)
Is this Robert Ayers' year to finally break out?
Maybe not as a household name, but he'll get a chance to earn a starting gig this summer. After performing well against the run last season, Ayers is expected to continue showing improvement under defensive coordinator Jack Del Rio.
If he can show improvement as a pass-rusher, Ayers will quickly become a dominant defensive end in Denver's base 4-3 defense.
Jeremy Beal (No. 93)
Jeremy Beal is a big sleeper to watch as training camp approaches. Injuries have hurt him over the past two years, but Beal has been a camp and preseason star since joining the team as a seventh-round pick in the 2011 NFL draft.
Beal will have a chance to earn a spot on the 53-man roster.
Quanterus Smith (No. 69)
Quanterus Smith, a fifth-round pick, has enormous potential after leading the NCAA in sacks per start last season. If he is fully healthy in time for camp, he is a player who could quickly turn heads with his pass-rushing skills.
Expect him to make the team as a rotational rusher.
Malik Jackson (No. 97)
Similarly to Beal, Malik Jackson has the potential to have a big summer. Neither has the upside of Smith, but both have enough talent to make the team.
John Youboty (No. 79)
Undrafted out of Temple, John Youboty is one of the longest of long shots to make the final cut after leading the Owls with six tackles for losses last season.
Defensive Tackles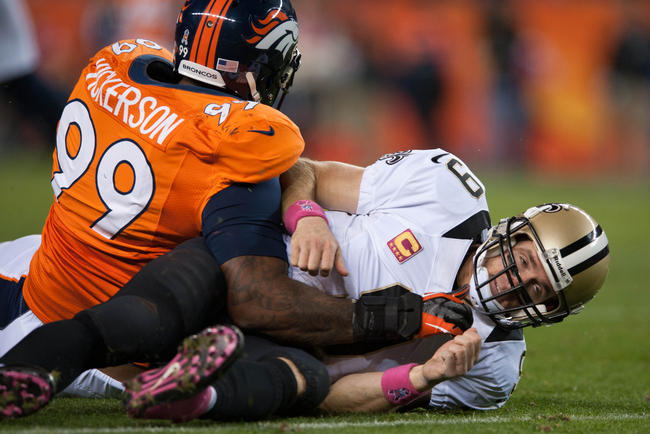 Dustin Bradford/Getty Images
Terrance Knighton (No. 94)
Terrance Knighton will be reuniting with Del Rio this fall and is primed to have a breakout year. At the very least, Knighton will be a solid spot-gap starter until the team grooms some of the younger linemen into starting roles.


Kevin Vickerson (No. 99)
At the moment, Kevin Vickerson is one of the most experienced defensive tackles in Denver's defensive scheme. After a solid 2012 campaign in which he recorded 40 tackles and two sacks, Vickerson will enter camp as one of the team's two starting tackles (expect Knighton to be the other).


Sylvester Williams (No. 92)
Sylvester Williams, the team's first pick of the 2013 draft, is the new No. 92 (replacing Elvis Dumervil) in Denver, but his production may not be high early on. Williams will not be a Week 1 starter, and he will be asked to play the run and consume blockers before being asked to rush.
As a rookie, he will get opportunities to rush the passer, but expectations may need to be tempered.
Mitch Unrein (No. 96)
Mitch Unrein was a rotational tackle last season and also spent time at fullback on occasion (he even caught a touchdown pass against the Tampa Bay Buccaneers).
Entering his third season, expect to see his playing time increase on defense. We may even see him again on offense.
Sealver Siliga (No. 98)
Last offseason, Sealver Siliga was hyped up by the media over the summer but was a big letdown during the season, playing in just one game and recording one tackle. At 6'2", 325 pounds, he has the potential to be a solid rotational lineman, but we're not holding our breath.
Romney Fuga (No. 76)
Romney Fuga is a long shot to make the team after joining the club as an undrafted free agent out of BYU in April.
True Outside Linebackers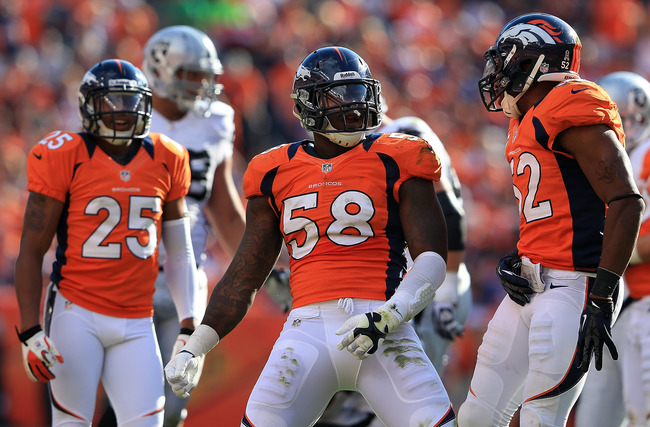 Doug Pensinger/Getty Images
Von Miller (No. 58)
Coming off of his second consecutive Pro Bowl season, it will be hard for Von Miller to improve any more than he did in 2012. A force against both the run and the pass, one of the only feats Miller is still to accomplish is notching 20 sacks in one season.
Perhaps this will be his year to pull it off.
Wesley Woodyard (No. 52)
Wesley Woodyard, although not as athletic as Miller, was equally productive in 2012, recording 117 tackles and multiple sacks and interceptions. He is currently seeking a contract extension, but whether he gets one or not, he'll have no problem securing his "Will" linebacker gig again after taking the job from D.J. Williams last fall.
Shaun Phillips (No. 90)
Shaun Phillips will spend time at defensive end as a pass-rusher, but first and foremost, he will be Miller's backup at the "Sam" position. An outside linebacker for years in San Diego's 3-4 look, Phillips has given the Broncos trouble in recent seasons and will now be asked to do the same against fellow AFC West rivals this fall.
Expect Phillips to earn a rotational role this summer.


Danny Trevathan (No. 59)
Danny Trevathan is likely to make the team, which may result in all of Denver's outside linebackers making the final roster cut. As a rookie, Trevathan was a rotational "Will" linebacker, playing in all 16 games and recording 33 tackles.
Watch for his playing time and production to increase in his second year.
Remaining Linebackers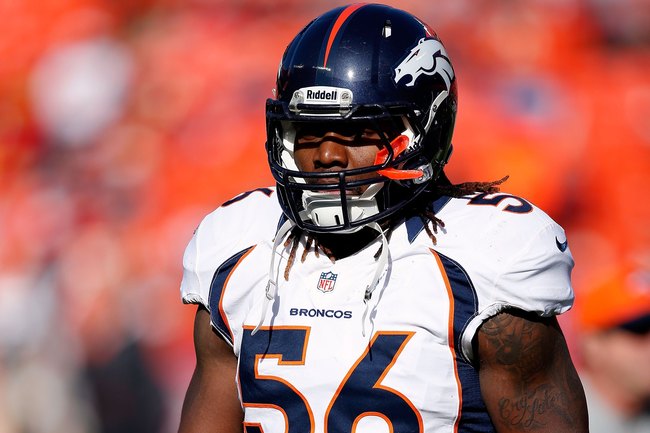 Jamie Squire/Getty Images
Nate Irving (No. 56)
Going into camp, the starting middle linebacker gig is Nate Irving's to lose. And while the Broncos do not often employ middle linebackers in their defense, Irving should see increased playing time in what could be his first season as a full-time starter.
Stewart Bradley (No. 55)
Stewart Bradley joined the team in free agency and his expected to compete for the MLB job, but his chances of beating out Irving appear to be slim to none.


Joe Mays (No. 51)
Joe Mays is actually one of the most experienced players at his position, but after spotty play, his spot on the roster may be in jeopardy. His is due a base salary of $4 million in 2013 after starting in just four games and recording 20 tackles last season.
At this point, it would be a surprise if Mays made the final cut.
Steven Johnson (No. 53)
A dark horse in the competition for the MLB gig is Steven Johnson, who joined the team as an undrafted rookie a year ago. It will be hard for Johnson to beat out Irving and Bradley, but his chances of making the final roster are high after he appeared in 11 games as a rookie.
Lerentee McCray (No. 47), Uona Kaveinga (No. 48) and Damien Holmes (No. 49)
All three of the linebackers listed above joined the club as undrafted free agents in April and will complete for special teams spots in camp.
Cornerbacks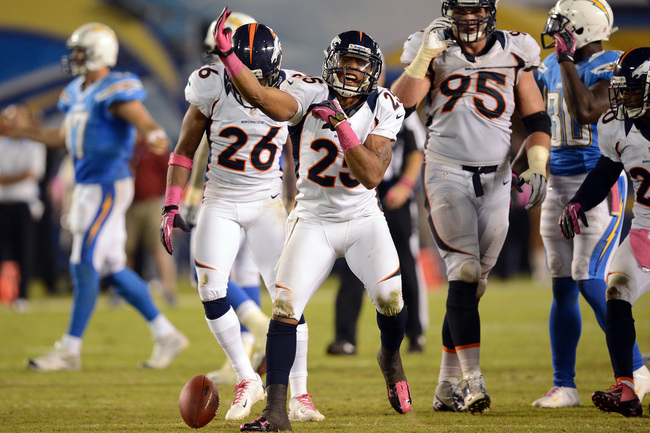 Harry How/Getty Images
Champ Bailey (No. 24)
The Broncos are loaded with talent and depth at cornerback, and it starts with Champ Bailey. Bailey may be slightly affected by the new thigh and knee pad rules (he hasn't worn them in recent seasons), but so will every other skill player across the NFL.
And while he may no longer be the team's most talented corner, he's still easily the No. 1 cornerback on the team.
Dominique Rodgers-Cromartie (No. 45)
DRC is the sixth-highest paid player on the roster. If he lives up to his salary, Denver's secondary will be deadly with Bailey and DRC on the outsides and Harris playing the slot.
Judging from early reviews on DRC, he's well on his way to fully earning his salary this fall.
Chris Harris Jr. (No. 25)

Chris Harris Jr. has emerged as the best cornerback in Denver (don't take my word for it, just ask Matt Miller) but will no longer have to play outside with DRC now in town. It's no stretch to call Harris the best slot cornerback in the NFL today.
Kayvon Webster (No. 36)

Kayvon Webster may see time at safety, but as of now, the team has him listed as a corner. The team's third-round draft pick in April, Webster has flown under the radar going into training camp.
With that being the case, it will be easy for him to impress fans quickly this summer.
Omar Bolden (No. 31)
Omar Bolden was just drafted by the team in the fourth round of last year's draft, so it's very unlikely that he is in any danger of not making the team. With that said, he will be in a fierce competition with Tony Carter to win the fifth cornerback spot.
Tony Carter (No. 32)

Speaking of Carter, he will have an uphill battle to make the team this summer. It will be hard to beat out Bolden, and while the team likes him, the team may not carry six cornerbacks.
Carter is not on the same level as the top four cornerbacks on the team, but he has enough talent to be given a sporting chance.
Aaron Hester (No. 40) and Mario Butler (No. 29)

Both Aaron Hester (a cousin of Devin Hester) and Mario Butler are first-year players who will have a tough time making the final roster this summer. Anything can happen, but Denver's secondary is already crowded.
Safeties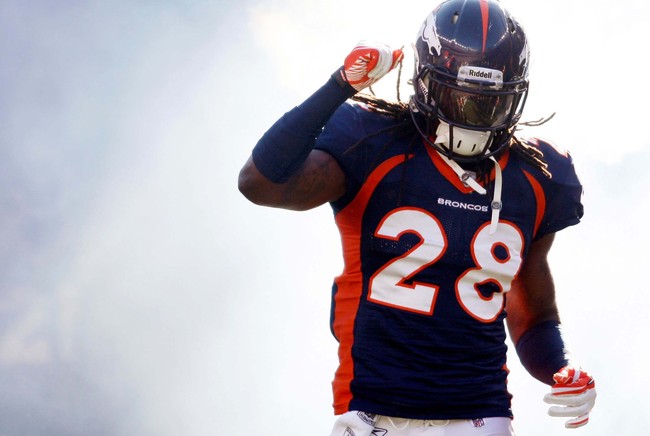 Chris Humphreys-USA TODAY Sports
Rahim Moore (No. 20)
Rahim Moore showed great improvement last season and is one of the team's most talented safeties. Going into camp, the free safety position is his to lose.
Quinton Carter (No. 28)
If Moore is the free safety, Quinton Carter has a good chance of being the strong safety. Carter has been battling injuries but could win back a starting job with a strong training camp performance.
David Bruton (No. 30)
David Bruton is the team's special teams ace and will provide nice depth in the secondary. If minicamp was any indication of what the team is planning in the secondary, Bruton will have an increased role this season.
Quentin Jammer (No. 34)
Quentin Jammer is listed as a "defensive back" by the team and may see time as a cornerback in nickel and dime formations this season. His primary duties will likely be at safety, however, where he is expected to have a rotational role in sub-packages.
Mike Adams (No. 20)
Mike Adams is on the roster bubble and may be the odd man out if the team only carries four safeties.
Duke Ihenacho (No. 33) and Ross Rasner (No. 41)
Both Duke Ihenacho and Ross Rasner will complete to earn practice squad spots.
Specialists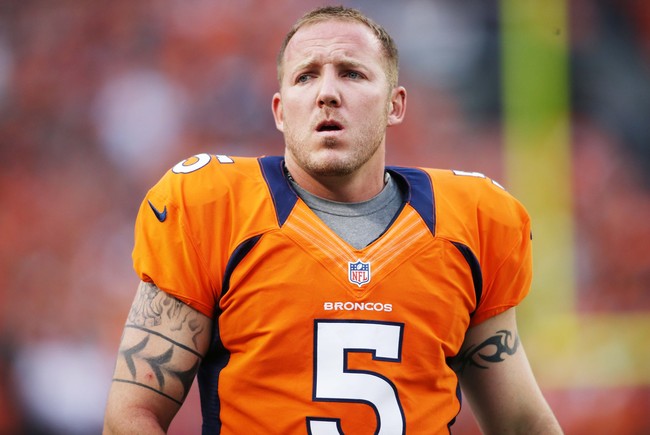 Chris Humphreys-USA TODAY Sports
Matt Prater (No. 5)
Matt Prater has been and will continue to be the team's place-kicker for quite some time. If he can improve his accuracy from 40 to 50 yards, he has the leg to become one of the league's top kickers.
Britton Colquitt (No. 4)
Britton Colquitt is closing in on a Pro Bowl season. If he keeps booting punts like he did last season, he will soon be recognized across the NFL.
Ryan Doerr (No. 9)
Ryan Doerr signed with the team as an undrafted free agent in April and will provide some competition for Colquitt in training camp. His chances of making the team are slim, but he will have accomplished a lot if he gets to punt in the preseason, giving him film to show potential future suitors.
Aaron Brewer (No. 46)
Aaron Brewer is entering his second season as the only long snapper on the roster. He was not mentioned often as a rookie, and for a long snapper, that's a good thing—those at his position are often only noticed when they make a mistake.
Brewer's snaps have been clean, and his chances of making the team are close to 100 percent, barring an injury.
Jon Heath can be found on Twitter, @JHSMDEN.
Keep Reading

Denver Broncos: Like this team?