Chicago Bears: 5 Players Facing Make-or-Break Training Camps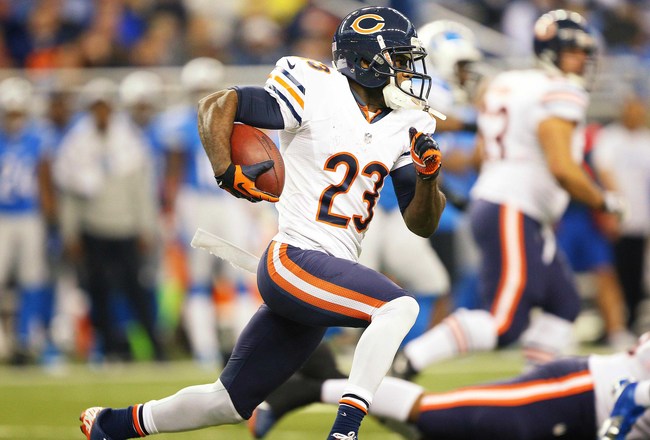 Mike Carter-USA TODAY Sports
The Chicago Bears open their training camp in less than one week on July 25. Although camp will offer many under-the-radar players the opportunity to make a name for themselves, it will also put the spotlight on those players that will be having a make-or-break camp.
Changes to the coaching staff will eliminate the bias and benefit of the doubt that some players have gotten in the past. This will likely make the majority of positions up for grabs.
The organization has been quick this offseason to not re-sign an aging Brian Urlacher and to trade Gabe Carimi, who was a first-round pick back in 2011. While it does not mean that all of those on this list are as good as gone, they may wind up fighting to retain their position heading into the 2013 season.
Here are five Chicago Bears facing make-or-break training camps:
Devin Hester, Return Man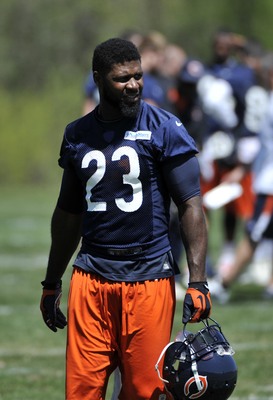 David Banks-USA TODAY Sports
For years, the previous Bears coaching staff had tried to convince fans that one of the greatest return men in the NFL could be a No. 1 wide receiver.

The new coaching staff did not wait long to put that notion to rest and are planning on keeping Devin Hester solely as a kick/punt returner heading into the 2013 season.
While the move back to being solely a return man makes sense, he is set to make over $1.857 million in base salary with a projected cap hit of over $2.9 million. Given his production of late, that may just be too much money.
In 2012 he averaged just 8.28 yards per punt return, down from his career average of 12.88 yards per return. With Hester only doing returns during training camp, it will be difficult to gauge his effectiveness, considering the team does not do live tackling during return drills.
If Phil Emery believes that Hester's cap hit can be better utilized somewhere else in 2013, Hester may need to have a strong showing in training camp and throughout the preseason.
Brandon Hardin, Safety
Bradley Leeb-USA TODAY Sports
Drafted in the third round of the 2012 draft, safety Brandon Hardin was placed on injured reserve before the start of the season, forcing him to miss all of last season.
Some viewed Hardin as a reach pick in the 2012 draft considering he missed all of his senior season at Oregon State, but Phil Emery was intrigued by his athleticism.
He played some cornerback at Oregon State and showed great speed and explosiveness for a player of his size. But considering he has not played a meaningful snap of football in over two years, there will be a concern about him being rusty.
Despite being a third-round pick, the team is set with its starters at safety with Chris Conte and Major Wright. Hardin will be faced the difficult challenge of trying to beat out returning safeties Craig Steltz and Anthony Walters as well as newly signed veterans Tom Zbikowski and Tom Nelson.
As of now, Steltz likely has a lock as one of the backups, leaving Hardin to battle it out with Walters, Zbikowski and Nelson for one final backup position. If he is able to show he has learned this defense and still displays the athleticism that made him a third-round pick, he will have a shot at sticking around.
But considering all the Bears added this offseason, it may be more difficult for him than many think.
Eric Weems, Wide Receiver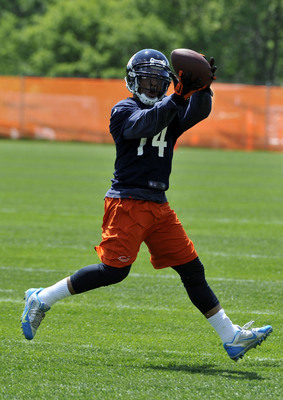 David Banks-USA TODAY Sports
An addition to the team in 2012, former Pro Bowl kick returner Eric Weems had little effect for the team last season. While he played well on special teams, because of Devin Hester he had limited opportunities (one punt return, 13 kick returns).
Weems is set to make $865,000 this season with a total cap hit of $1.41 million according to Sportrac. Considering that the Bears feel set with their top three receivers (Marshall, Jeffery, Bennett) there will be plenty of younger players (Joe Anderson, Marquess Wilson, Brittan Golden) that could fill Weems' role for less money.
He will need to not only prove his worth as a return man and specialist, but also prove he can have an effect on the offense if needed.
Adam Podlesh, Punter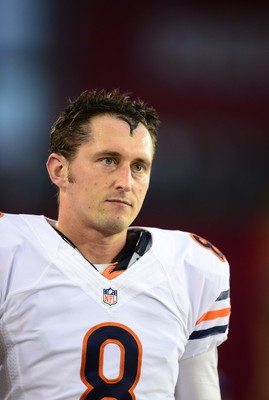 Mark J. Rebilas-USA TODAY Sports
After a solid 2011 season, punter Adam Podlesh struggled at times in 2012, and the team even went as far as working out punters late in the season. They ultimately stuck with Podlesh to finish out the season.
The team signed undrafted free agent Tress Way this offseason. Special teams coordinator Joe DeCamillis thinks he has a chance to unseat Podlesh, telling the Chicago Tribune, "I view him as a competitor. He has some positive things. He has a chance."
Way had 22 of 53 punts land inside the 20-yard line last year at Oklahoma, and his gross average was 44.2 yards per punt.
Podlesh is scheduled to make $1.3 million this season, but a strong showing from Way in training camp could have the Bears cutting Podlesh and freeing up more cap space.
Harvey Unga, Running Back/Fullback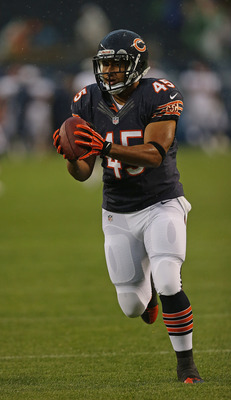 Jonathan Daniel/Getty Images
A member of the Bears since being drafted in the seventh round of the 2010 supplemental draft, Harvey Unga has spent the majority of his career bouncing around from the team's practice squad to being out of a job.
The 6'0", 237-pound Unga has spent the last three training camps with the team but has only been active on the 53-man roster once, for the final game of the 2012 season.
The release of Evan Rodriguez gave new life to Unga. He has typically spent the majority of training camp working as a fullback. The team did bring in veteran fullback Tony Fiammetta, but considering the similarities between the two, this may be the first training camp that Unga could have a legitimate shot at making the roster.
Given all of the opportunities he has gotten in the past, 2013 will be a make-or-break training camp for Unga.
Keep Reading

Chicago Bears: Like this team?