Money in the Bank needs no introduction or explanation.
Sure, the winner of each ladder match is pretty much assured to be a world champion in the near future. At the very least, it becomes clear the company has immense confidence in whoever is standing atop those ladders in the end.
But the intrigue in this pay-per-view goes beyond just that.
How would you grade this PPV?
The two ladder matches are incredibly compelling—six or seven of the company's most enthralling superstars battling it out in what is usually a 20 to 30-minute match chock full of impossibly high spots and death-defying aerial maneuvers.
Ladder matches are always entertaining. Money in the Bank ladder matches are like ladder matches on amphetamines.
And that's only part of the equation.
Five title matches (two of which will have the added hook of "will someone cash in?") and Rob Van Dam's return only add to the titillating pay-per-view from the Wells Fargo Center in Philadelphia.
Let's take a look at how the amazing action unraveled.
Quick Results
Tag Team Championship: Seth Rollins and Roman Reigns (c) defeat The Usos
What a match to kickoff Money In The Bank. @WWEUsos are hungry and it showed. All stops pulled out tonight

— Tyson Kidd (@KiddWWE) July 14, 2013
Damien Sandow wins World Heavyweight Championship Money in the Bank Match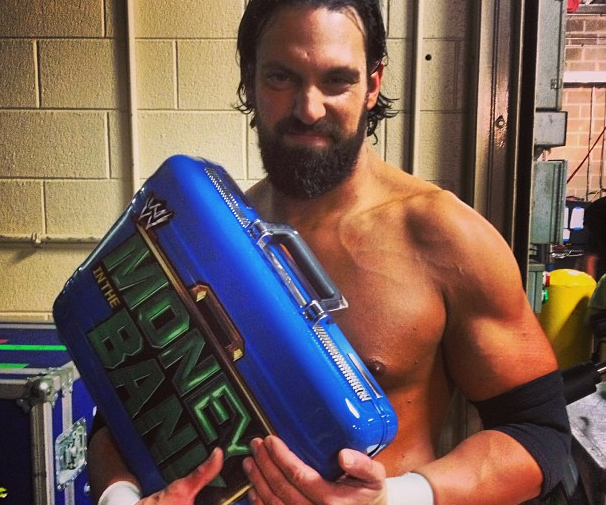 Intercontinental Championship: Curtis Axel (c) defeats The Miz
Divas Championship: A.J. Lee (c) defeats Kaitlyn
'Oh SNAP' Kaitlyn taps! Things are about to HEaT UP IN THE DIVAS DIVISION! @WWEAJLee retains the Divas Championship at #MITB

— Miss Foxy (@AliciaFoxy) July 15, 2013
Ryback defeats Chris Jericho
What a battle between @Ryback22 and @IAmJericho #MITB #WWE pic.twitter.com/PgcBgY6u1l

— Brooklyn Brawler (@brawlerreal) July 15, 2013
World Heavyweight Championship: Alberto Del Rio (c) defeats Dolph Ziggler via DQ when A.J. Lee interferes
WWE Championship: John Cena (c) defeats Mark Henry
Randy Orton wins WWE Championship Money in the Bank Match
Randy Orton Wins an Instant Classic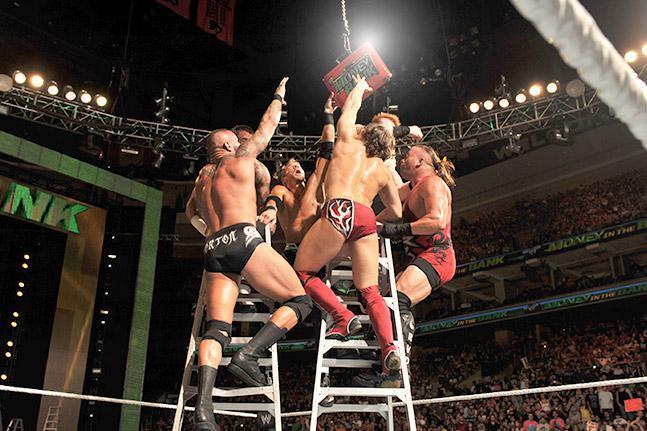 Where to start with this thriller?
Might as well begin with Randy Orton, the man who ended the night atop the ladder with the WWE Championship contract in his hands.
I think you're going to see The Viper cash in sooner rather than later. If you remember, he was interviewed a couple of weeks ago saying that he would do so immediately if he won, and I wouldn't be surprised if he did it on Raw tomorrow night.
If not, will he feud with Rob Van Dam or Cena? There are lots of questions and intrigue going forward, which speaks to how well the company handled this match and pay-per-view.
As for the rest of the battle, I'll let legends Mick Foley and Jim Ross sum it up:
Excellent, innovative, intense main event. I just hope no one was seriously hurt. Those #MITB matches are downright nasty on the human body.

— Mick Foley (@realmickfoley) July 15, 2013
@RandyOrton wins a star studded, Slobber Knocker of a #MITB Ladder Match! Lots of ice will be needed in trainer's room. Great effort, men.

— Jim Ross (@JRsBBQ) July 15, 2013
It truly was a brutal fight, and hopefully no one suffered any lasting injuries.
Sheamus took a couple of nasty bumps, RVD suffered a cut, Punk suffered a cut when he was betrayed by Paul Heyman (more storyline intrigue going forward), and Orton looked like he hurt his knee early in the match.
July 15, 2013
Those injuries, of course, came as a result of some tremendous spots, including one by RVD that made the person behind WWE Universe's Twitter account go a little crazy:
FIVE STAR FROG SPLASH FROM THE TOP OF THE LADDER #OMG #RVD jkafakajfoaeroqn !!!! !! #MITB

— WWE Universe (@WWEUniverse) July 15, 2013
Sheamus also went through (yes, through) a ladder and Bryan had an unbelievably hot run, and that was just a small part of the exciting moments.
It's a match like this that makes you truly respect professional wrestlers, and it's a match that won't be forgotten for a long time.
The End of Dolph Ziggler and A.J. Lee?
Dolph ziggler reacts to his #mitb loss to Alberto Del Rio. http://t.co/WeZDeP4yF4

— WWE (@WWE) July 15, 2013
We've seen this coming for a while, but Ziggler and A.J. Lee are all but done after Sunday night's developments.
The Showoff was entrenched in a fantastic battle with Alberto Del Rio until A.J. stepped in and laid out the champion with her Divas belt, forcing the referee to ring the bell.
Michelle Beadle summed it up perfectly from Ziggler's perspective:
Chicks be ruining everything. #MitB

— Michelle Beadle (@MichelleDBeadle) July 15, 2013
WNBC 4's Scott Stanford echoed those sentiments:
I had a girlfriend ruin my shot at a bowling title once! Stay strong @HEELZiggler .. i know how it feels!

— Scott Stanford (@scottstanford1) July 15, 2013
Many fans probably won't be happy with the finish, but it was necessary from a storyline point of view and it was done in the right way. Ziggler should be the one who eventually dumps Lee, and this fuels that potential development.
After another tremendous match, it will be interesting to see where everyone involved in this feud goes moving forward.