Projected Atlanta Falcons' Final 53-Man Roster, Training Camp Edition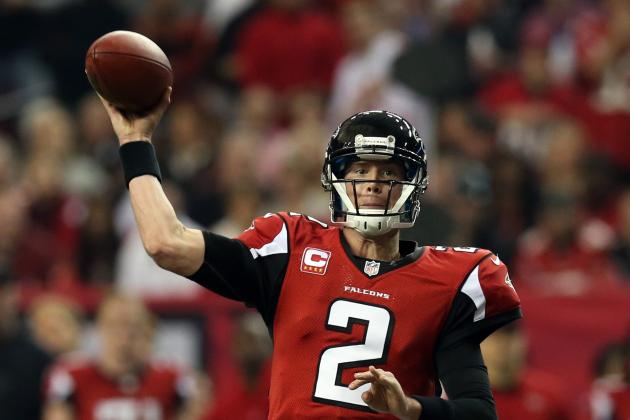 Matthew Emmons-USA TODAY Sports
Who will join Matt Ryan on the 2013 Atlanta Falcons?
This season, the Atlanta Falcons are looking to repeat as NFC South Champions and potentially earn the No. 1 seed in the playoffs again. The ability to get to the Super Bowl is goal No. 1 for the Falcons right now.
And because of that, the 53-man roster won't have any loyalty in it's selections. It will all be about who the team feels will best help prepare them for another Super Bowl run.
There will be a ton of competition on this year's Falcons roster. However, these are the most likely 53 men that will be on the Falcons roster when they kick off the 2013 season.
Begin Slideshow

»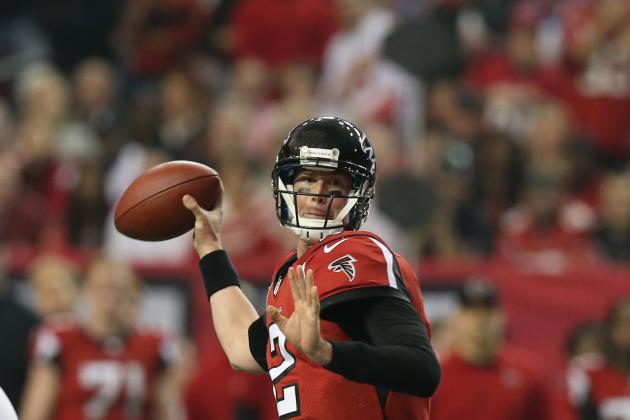 Matthew Emmons-USA TODAY Sports

(3): Matt Ryan, Dominique Davis and Sean Renfree
Analysis
Matt Ryan is an excellent NFL starting quarterback, and his role with the Falcons won't even come close to being touched. The questions about Ryan are more about the volume of passing yards and touchdowns he will throw for this season.
Dominique Davis is competing for the backup role in Atlanta, and he should at least win a roster spot. Davis was Ryan's backup at Boston College before transferring to East Carolina, so this will feel like deja vu to the second-year quarterback.
Sean Renfree should beat out Seth Doege for the final roster spot, as he is just a more talented and more intelligent quarterback.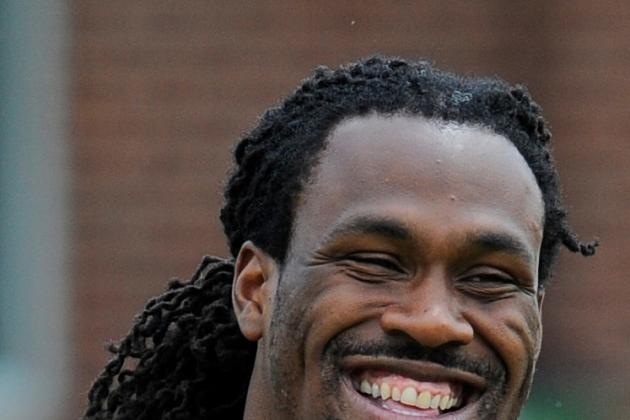 Dale Zanine-USA TODAY Sports

(4): Steven Jackson, Jacquizz Rodgers, Jason Snelling, Ronnie Wingo
Analysis
Steven Jackson is going to provide the element that the Falcons have been missing on offense—a legitimate dual-threat starting running back.
Jacquizz Rodgers will be a change of pace running back for the Falcons this year. He should also be one of the return specialists again.
Jason Snelling is a third-string back who will see some playing time, some carries and get some catches. He'll play both as a shotgun running back and a fullback as well.
Ronnie Wingo is an upgrade over Antone Smith, as he can do everything Smith does but is bigger, stronger and can also play on offense.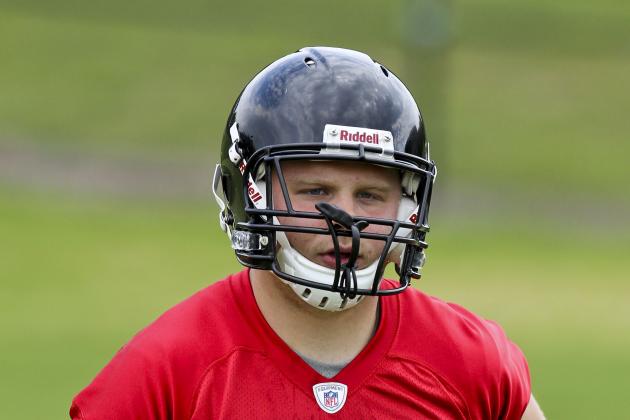 Daniel Shirey/Getty Images

(1): Bradie Ewing
Analysis
Bradie Ewing was an excellent H-back and fullback in college. He should be the only fullback on the roster in 2013, as both Wingo and Snelling can provide value as backups. Ewing is also a talented special teams player who will make an impact there as well.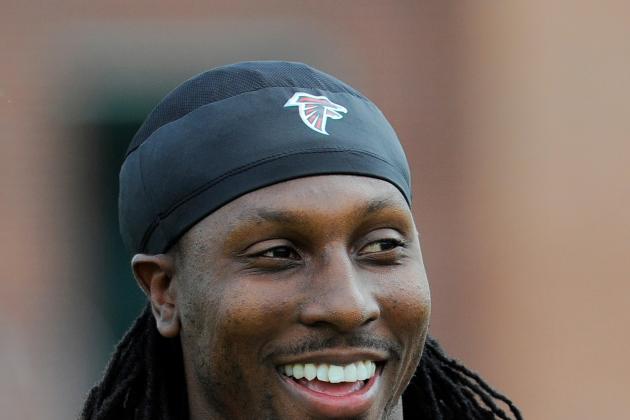 Dale Zanine-USA TODAY Sports

(5): Roddy White, Julio Jones, Harry Douglas, Drew Davis, Tim Toone
Analysis
Roddy White has been the Falcons No. 1 receiver since 2007. His consecutive years streak of 80-plus catches, 1150-plus yards, and six-plus touchdowns currently stands at six.
Julio Jones has the potential to be the best wide receiver in the NFL. This season, he will be starting again and has a guaranteed roster spot.
Harry Douglas has been the Falcons true slot receiver for the past five years. He will continue his role again this year.
Drew Davis is a prototypical slot-style receiver. Earning the fourth receiver role for the third time in three years, Davis has proven his worth on special teams and could eventually overtake Douglas.
Tim Toone should win the No. 5 receiver job based on his return ability and deep threat ability. He can take one to the house at any point as a returner and blow the top off of a defense at receiver.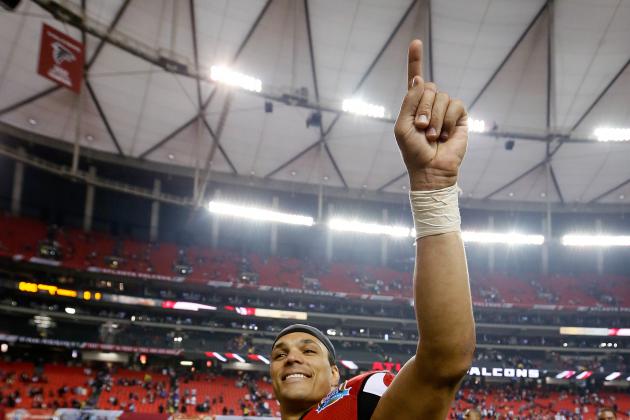 Kevin C. Cox/Getty Images

(3): Tony Gonzalez, Chase Coffman, Levine Toilolo
Analysis
Tony Gonzalez is still the greatest tight end of all time and will be in Canton by the time 2020 rolls around. He's guaranteed a starting role and will be a huge part of the offensive gameplan.
Chase Coffman and Levine Toilolo should win the final two spots at tight end. Their respective contributions will come as part of a rotation, as they are very much on an equal talent level. Toilolo may be a better blocker, but the combination of a 6'6" Coffman, a 6'8" Toilolo and a 6'5" Gonzalez on the goalline will be almost unstoppable.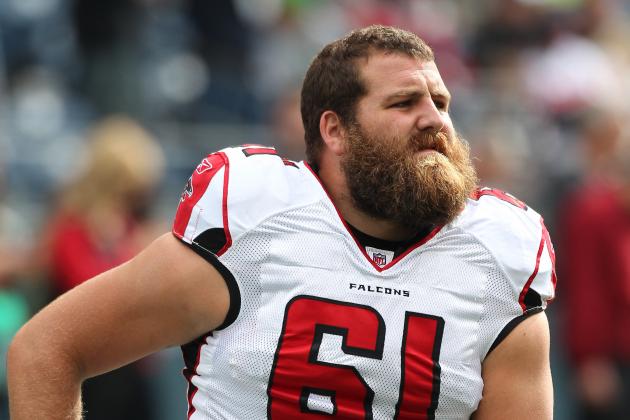 Otto Greule Jr/Getty Images

(9): Sam Baker, Justin Blalock, Peter Konz, Mike Johnson, Lamar Holmes, Garrett Reynolds, Joe Hawley, Jacques McClendon, Ryan Schraeder
Analysis
Sam Baker and Justin Blalock will go into their sixth year together as a left tackle and left guard pairing. They are the peanut butter and jelly of the left side of the line.
Peter Konz should win the job as the starting center. He was a huge talent at Wisconsin, and the second-year player has the ability to be the Falcons' starter at a high level for the next decade.
Mike Johnson winning a starting job is about two years too late. He should win the right guard job if he loses the right tackle job to Holmes.
Lamar Holmes should easily win the right tackle job. He's a much better athlete than Johnson is, and his technique should be much improved from last year.
Garrett Reynolds, Joe Hawley and Jacques McClendon can all be solid backups at multiple spots along the offensive line. Reynolds is more of a guard and tackle, while Hawley and McClendon can both play guard and center.
Ryan Schraeder is a left tackle backup, through and through. He's an above-average athlete, but his real prowess comes from a technical standpoint.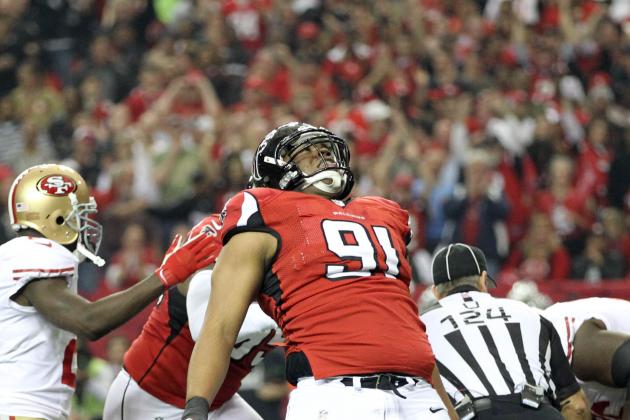 Daniel Shirey-USA TODAY Sports

(4): Jonathan Babineaux, Corey Peters, Peria Jerry, Travian Robertson
Analysis
Jonathan Babineaux can play both the 5-technique defensive end and 3-technique defensive tackle. With more defensive ends on the roster this year, the Falcons won't have to use him at end as much.
Corey Peters can play the 1-technique nose tackle and 3-technique under tackle. He should break out this season, as he is fully healthy and going into his fourth year as a pro.
Peria Jerry is going into what will likely be his last season as a Falcon. Should Atlanta sign Richard Seymour, you can just replace Jerry with him on this list.
Travian Robertson may have been a 2012 seventh-round pick, but he's going to be the best young defensive tackle the Falcons have competing for the final spot on the roster.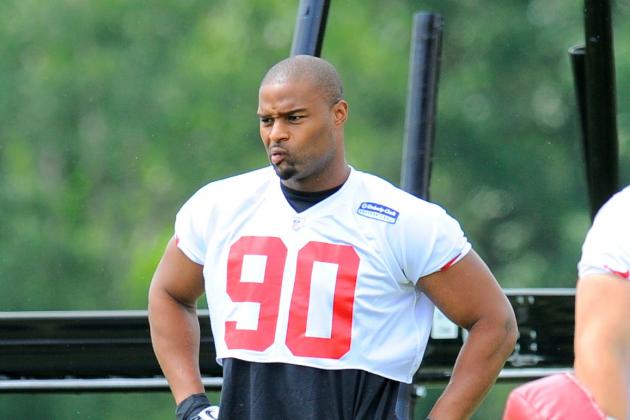 Dale Zanine-USA TODAY Sports

(6): Osi Umenyiora, Kroy Biermann, Malliciah Goodman, Jonathan Massaquoi, Stansly Maponga, Cliff Matthews
Analysis
Osi Umenyiora is a pure weak side pass-rusher who will provide a veteran presence. He should be able to lead the Falcons in sacks this season, unless someone else steps up.
Kroy Biermann is a key cog for the Mike Nolan defensive scheme, as he can play both linebacker and end. The amoeba-style schemes almost completely depend on his versatility.
Malliciah Goodman is a bull-rush specialist that the Falcons have needed for a while. He can play in a Justin Tuck-style role and be the de facto starter for the team.
Jonathan Massaquoi should be a primary rotational end while still playing a lot on special teams. The athletic end/linebacker will be able to provide the Falcons a special rotational pass-rusher.
Stansly Maponga deserves a chance to come in on special teams. However, this will likely be a spot used like Massaquoi was in 2012—inactive almost every game while still being on the 53-man roster.
Cliff Matthews will be so good at both defensive tackle and defensive end that Atlanta will be keeping six defensive ends on the roster.
Otto Greule Jr/Getty Images

(6): Sean Weatherspoon, Stephen Nicholas, Akeem Dent, Pat Schiller, Brian Banks, Paul Worrilow
Analysis
Sean Weatherspoon is the Falcons best linebacker and will be a starter. He should end up as the primary linebacker in all packages again this year.
Akeem Dent is a great run stuffer. However, he will have to improve his coverage ability to earn more playing time. He should easily earn the starting middle linebacker role again this season.
Stephen Nicholas is nearing the end of his career as a starter. He doesn't have the speed to keep up with the big name tight ends anymore but is still a good run defender.
Paul Worrilow could be that tight end stopper that the Falcons have needed. He's got the size and speed to cover guys like Vernon Davis, Jimmy Graham, Greg Olsen and Zach Miller.
Pat Schiller and Brian Banks earn these spots based on special teams prowess and the ability to play against the run and short passes. Schiller and Banks are also mature, hard working types that every team loves on special teams.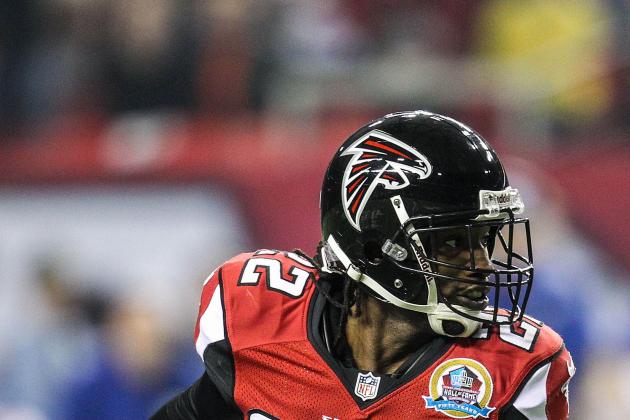 USA TODAY Sports

(5): Asante Samuel, Desmond Trufant, Robert McClain, Robert Alford, Dominique Franks
Analysis
Asante Samuel is a potential future Hall of Fame player. His playmaking abilities and coverage abilities make him the best corner the Falcons have right now. He is the veteran who will lead this corps as the No. 1 guy.

Desmond Trufant is an excellent pure coverage safety. While he will never be an interception master, he's definitely going to be someone who can take a No. 2 receiver out of the game completely.
Robert McClain is arguably the best nickel corner in the league. He can cover almost anyone in the slot and has the ability to be a great backup on both sides of the field.
Robert Alford can play any of the three main spots. He also gives the Falcons the ability to start running dime packages without any sort of drop-off from before.
Dominique Franks is a good reserve when it comes to a fifth corner and safety. However, his return ability isn't good enough to keep the job as a punt returner.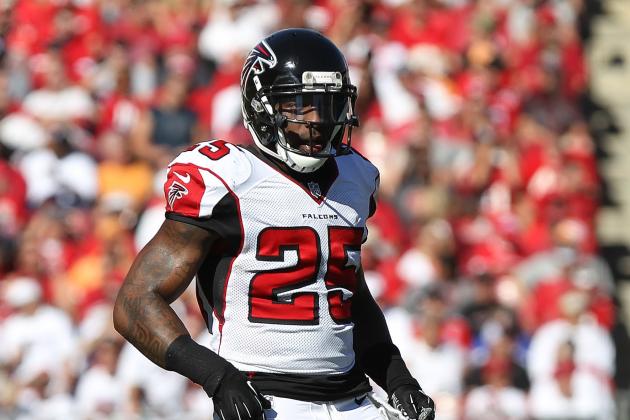 Kim Klement-USA TODAY Sports

(4): Thomas DeCoud, William Moore, Charles Mitchell, Kemal Ishmael
Analysis
Thomas DeCoud is a true free safety who can make plays on the ball while also defending the run effectively.
William Moore is a playmaker who also hits so hard that he earned the nickname "C4" in college. The Falcons loved his abilities enough to give him a big contract this offseason.
Charles Mitchell should win this role based on a combination of special teams prowess and the ability to back up both DeCoud and Moore.
Kemal Ishmael is the best coverage safety of the remaining players. He's good on special teams and is as sure of a tackler as they come.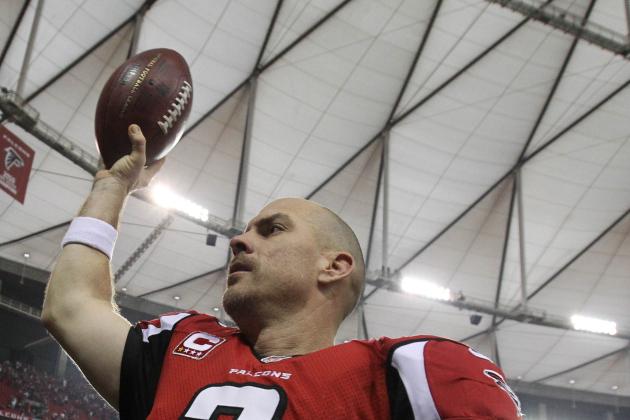 Daniel Shirey-USA TODAY Sports

(3): Matt Bryant, Matt Bosher, Josh Harris
Analysis
Matt Bryant is a veteran with ice water in his veins. He's a huge reason why the Falcons won as many games as they did in 2012.
Matt Bosher is a very solid punter who has improved his average from his rookie year to his second year. If he can continue to improve upon his 47.5 yard per punt average, then he should easily stick around.
Josh Harris doesn't even have any competition. Plus, he's a long snapper. Once you find a good one, you just stick with him.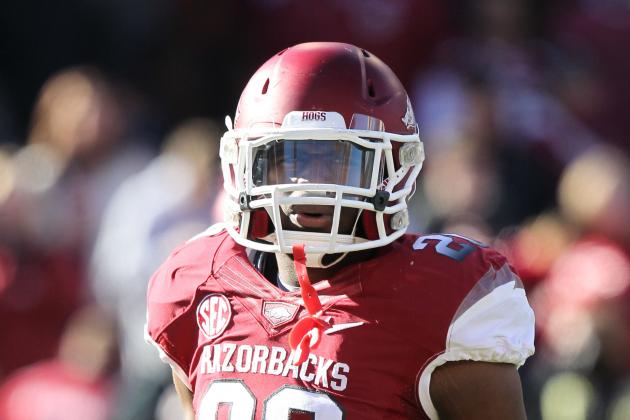 Nelson Chenault-USA TODAY Sports

RB Ronnie Wingo
Wingo is a unique player because he can provide talented play at both running back and receiver. He beats Antone Smith because he's about equal on special teams as the four-year veteran.
WR Tim Toone
Toone had earned a roster spot last season. He earned it primarily as the punt returner. Had he not gotten an injury, the Falcons would have easily kept him on the roster all year.
DE Cliff Matthews
Matthews has endeared himself to the coaching staff for two seasons already. His ability to play both inside and outside is just another piece of the puzzle.
LB Paul Worrilow
Worrilow is a linebacker who can cover or play the run equally as well. His leadership abilities and ability to play all three spots earns him the final linebacker spot.
CB/S Dominique Franks
Despite being a mediocre return specialist and defensive back, his versatility makes him worthy of the final roster spot.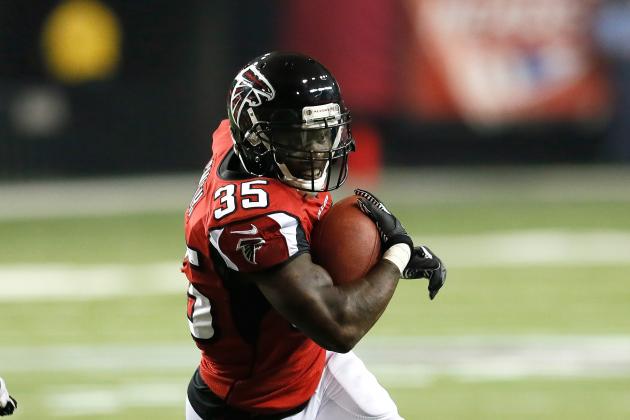 Kevin C. Cox/Getty Images

RB Antone Smith
Antone Smith is a pure special teams player. And unfortunately for him, the Falcons need talent that can do more than just play special teams.
WR Kevin Cone
Kevin Cone has yet to provide anything past special teams. Because of that, he won't be making the roster in 2013.
OG Phillipkeith Manley
With all of the depth on the offensive line, someone who people are expecting to make the roster will have to get cut. And that guy will be Manley this season.
LB Robert James
James is a special teams player who may have some value as a reserve linebacker. However, he's spent too much time trying to show value as a linebacker to even be worth the spot anymore.
S Shann Schillinger
While Schillinger is a good special teams player, he just doesn't have the ability to play safety and make the roster as someone who can be relied upon at this position. Sadly, special teams isn't enough to win a roster spot on a potentially championship-caliber team.
All stats used are either from Pro Football Focus's Premium Stats, ESPN, CFBStats or the NFL. All contract information is courtesy Spotrac and Rotoworld. All recruiting rankings come from 247Sports.com.
Scott Carasik is a Featured Columnist for Bleacher Report. He covers the Atlanta Falcons, NFL and NFL Draft. He also runs DraftFalcons.com.