Bubble Watch for New York Jets' Training Camp
Tom Szczerbowski/Getty Images

After compiling a 14-18 record over the last two seasons and missing the postseason on both occasions, the New York Jets are in a rebuilding mode.
The Jets waved goodbye to eleven of the team's 22 2012 starters this offseason, including all-world cornerback Darrelle Revis.
With little to no chance of being playoff contenders this season, the franchise is looking for young players who can make an impact for years to come.
With that said, making an NFL roster, even a roster as unbalanced as the Jets, is an incredibly tough thing to do for any young player.
Here are six players who are on the bubble of making the final 53-man roster in September.
Begin Slideshow

»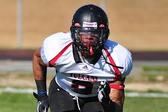 Experience: Rookie
Depth Chart Position: Fourth-string free safety
Analysis: Miles was projected as a possible mid-round pick in this offseason's draft, but he surprisingly fell to the undrafted ranks, probably due to his legal troubles in college.
Miles recorded an impressive 146 tackles and nine interceptions in his final two years at California University of Pennsylvania. The 22-year-old possesses good strength and solid speed, and he is capable of making an impact against both the pass and the run.
However, Miles can struggle with open-field tackling, and he can sometimes get lost in pass coverage.
Unless he can showcase improvement in these areas during training camp, Miles could be on the outside looking in come September.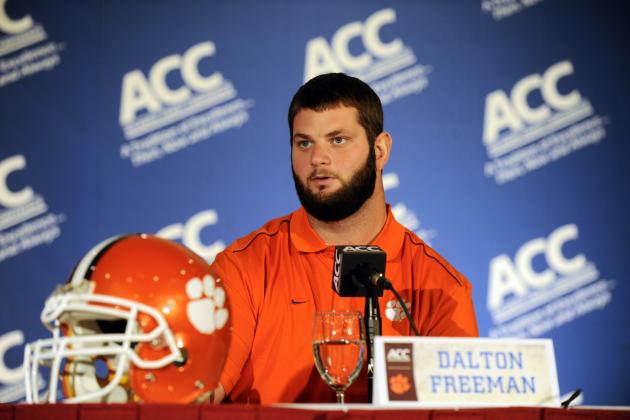 Sam Sharpe-USA TODAY Sports

Experience: Rookie
Depth Chart Position: Third-string center
Analysis: Freeman could be a surprise addition to the final roster come September as the primary backup to Nick Mangold.
While Caleb Schlauderaff has served in that role in the past, Schlauderaff would be better utilized as a backup guard.
Freeman needs to add bulk to his frame and improve his blocking technique, he has good athleticism for the position.
Freeman was also very successful during his four-year career at Clemson. He tied the school record with 49 starts, and ranked fourth all-time in game played with 53.
Don't be surprised if you see Freeman on the sidelines come September.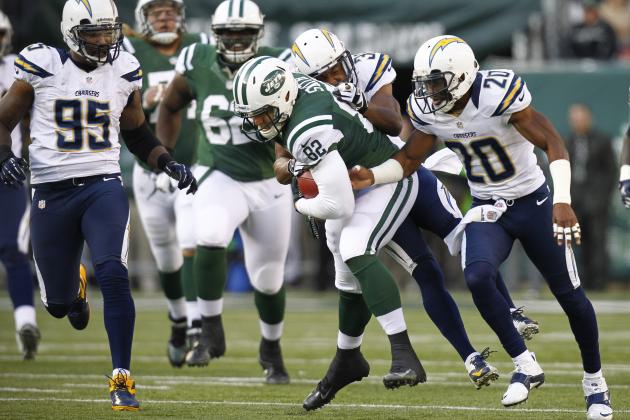 Jeff Zelevansky/Getty Images

Experience: Two years
Depth Chart Position: Fourth-string tight end
Analysis: With a superb combination of size and strength, Smith has immense potential. Unfortunately, Smith is incredibly raw, as he didn't begin playing football until a couple of years ago.
The former rugby player needs to improve upon his blocking technique and route running in order to make the final roster.
With Jeff Cumberland and Kellen Winslow locks to make the final roster, and with Konrad Reuland likely to make it as a blocking tight end, Smith needs a solid training camp.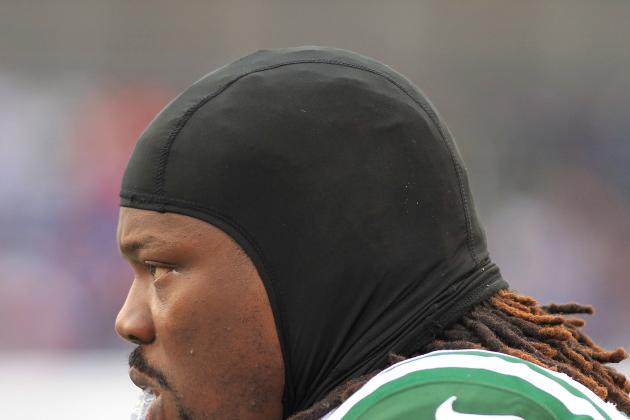 USA TODAY Sports

Experience: Two years
Depth Chart Position: Second-string nose tackle
Analysis: Damon "Snacks" Harrison has become somewhat of a cult icon among Jets fans, especially after his interception of Mark Sanchez during minicamp.
Harrison is a mountain of a man, as he stands at an unworldly 6'4'', 350 pounds. The William Penn product's unbelievable size allows him to shut down runners at the point of attack.
However, Harrison isn't much of a pass-rusher, and his freakish size limits his mobility and athleticism.
New York has veteran Antonio Garay and former third-round pick Kenrick Ellis at defensive tackle, so Harrison will need to show that his strength in run-stopping outweighs his weaknesses in other areas.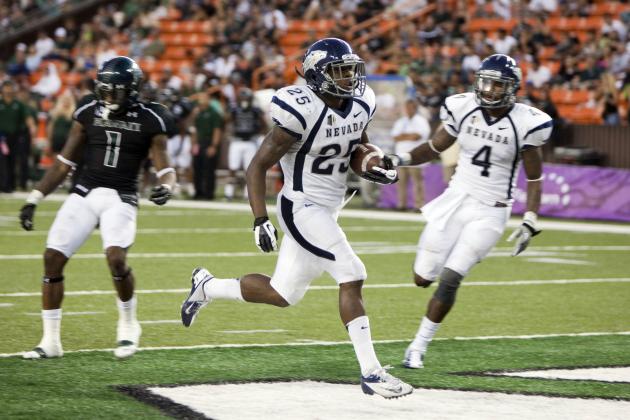 MARCO GARCIA-USA TODAY Sports

Experience: Rookie
Depth Chart Position: Fifth-string right cornerback
Analysis: Edwards is one of the Jets' most talented undrafted free-agent signings. Unfortunately for him, he plays one of New York's most stacked positions—cornerback.
The Jets have Pro Bowler Antonio Cromartie and first-round pick Dee Milliner as their starting duo, and veterans Ellis Lankster, Kyle Wilson, and Isaiah Trufant are also locks to make the roster as nickel corners
New York is probably only going to hold onto six cornerbacks. Therefore, Edwards will have to beat out veteran Aaron Berry, and fellow undrafted free agents Darrin Wells, Royce Adams, and Donnie Fletcher for the final depth chart position.
However, Edwards versatility and athleticism could make him the favorite in that roster battle.
The Hawaii product possesses blazing speed and solid coverage skills, and he can also contribute on special teams.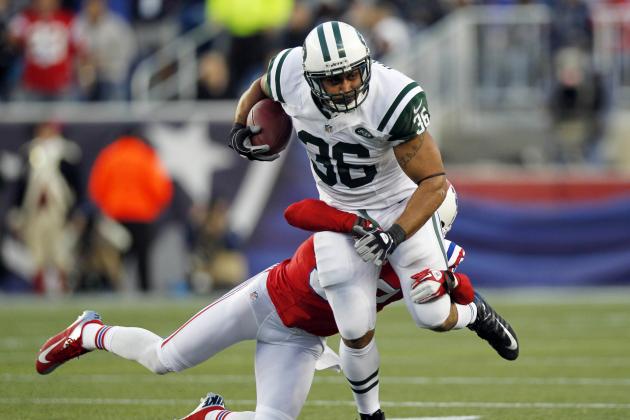 Greg M. Cooper-USA TODAY Sports

Experience: Five years
Depth Chart Position: First-string fullback
Analysis: Hilliard may be atop of the depth chart at fullback right now, but he dosen't deserve to be. The 28-year-old struggled in all facets of the game last year in his first season with the Jets.
Hilliard consistently struggled in run-blocking and pass protection, and he was a non-factor in the passing game.
With rookie Tommy Bohanon now in the picture, Hilliard needs a very impressive training camp in order to keep an NFL job.