Burning Questions for Cincinnati Bengals Training Camp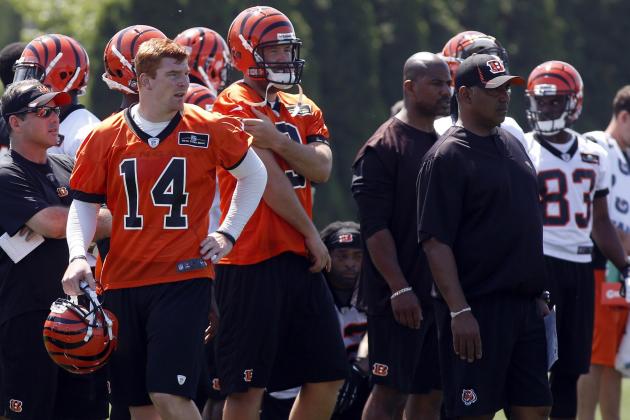 David Kohl-USA TODAY Sports

The Cincinnati Bengals saw their fair share of highs and lows during the 2012 season. Certain issues within the team have seemingly been resolved; however, others still remain.
The Bengals 2013 training camp, which will be held in the national spotlight courtesy of HBO's Hard Knocks, should provide answers to these burning questions.
From the additions of new offensive weapons to veterans of the team that need to take major steps forward this season, all will be on display during training camp.
It will be rather interesting to see how the Bengals coaching staff handles the pressure of building a team that will look to claim a third consecutive playoff berth for the first time in franchise history.
If things go well throughout training camp, we could all bear witness to history in the making. However, if these questions remain unanswered, it could lead to the upheaval of this Bengals franchise.
Begin Slideshow

»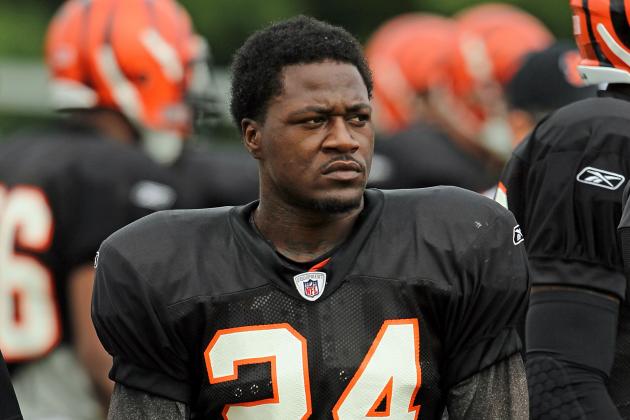 Andy Lyons/Getty Images

Adam Jones was arrested for assault in early June due to allegedly slapping a woman during an exchange of words at a local Cincinnati bar.
He was then arraigned for the misdemeanor charge and was subsequently released from jail after turning himself in one day prior.
Do not expect to see any kind of suspension for Jones unless a vast amount of incriminating evidence shows up against him. He was only charged with a misdemeanor, and this is something that should be settled fairly easily.
Roger Goodell has not insinuated that he has any intent to suspend Jones for any amount of time. For now, Jones is expected to be a full participant at training camp and the ongoing starter at the slot cornerback position for the defensive secondary.
However, until this entire ordeal is completely behind him, it is still a question of whether or not Jones' checkered past will come back to haunt him.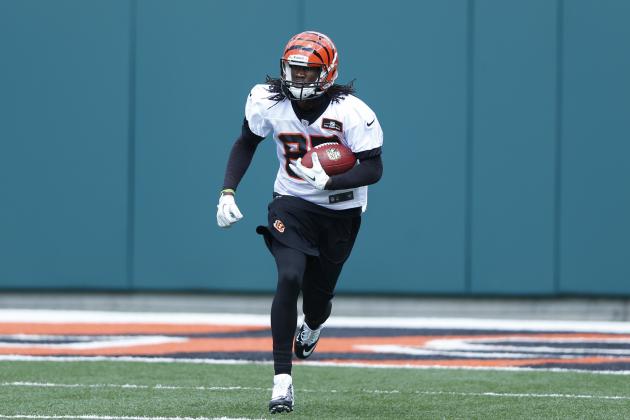 Joe Robbins/Getty Images

One of the biggest questions entering training camp this year had to deal with figuring out which wide receivers would ultimately make the final 53-man roster.
Obviously, certain players such as A.J. Green, Mohamed Sanu, Marvin Jones and Andrew Hawkins are already locked into roster spots.
However, they only comprise four of a total six spots that should be available at the wide receiver position. The remaining two roster spots will be an intense battle between several very talented players.
Brandon Tate could hang on to one spot due to his experience at the position as well as his abilities as a return specialist.
Rookie Cobi Hamilton has been immensely impressive throughout rookie minicamp and OTAs, thus far. He is making a very strong bid at one of the final spots.
Ryan Whalen continues to be one of the most reliable receivers on the team, using his great hands and precise route-running ability to make a bid for a position.
Dane Sanzenbacher comes in from Chicago as another great option at slot receiver.
Undrafted rookies Tyrone Goard and Roy Roundtree also should factor into the mix if they can impress the coaching staff over the course of training camp.
This will absolutely be one of the bigger stories as we head into August.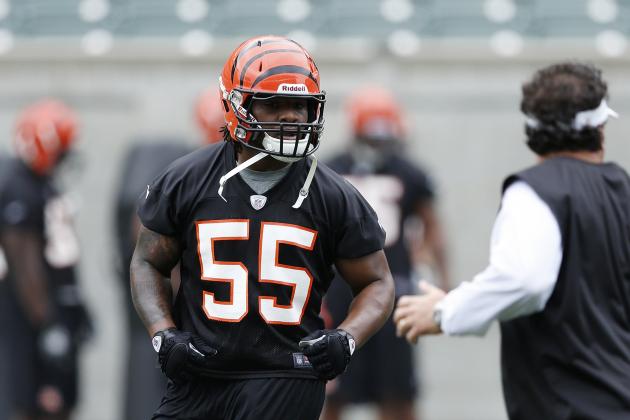 Joe Robbins/Getty Images

As it stands right now, the Bengals seemingly have their starters at the linebacker position in place for the 2013 season.
Or do they?
James Harrison seems to be solidified on the strong side right now. That (most likely) will not change.
However, Vontaze Burfict is still slated as the starting weak-side linebacker, with Rey Maualuga returning to the middle. There are many fans and pundits who believe that could end up changing by the time the regular season comes around.
Burfict is the most talented linebacker on the Bengals roster. He will be starting all 16 games for the team in 2013. However, his is best suited for the middle due to his particular skill set.
Maualuga has struggled over the past couple of seasons since his move to the middle.
It may be time for the Bengals to slide Burfict over to the middle and allow Emmanuel Lamur, a very talented and athletic weak-side linebacker, to take Burfict's place as a starter. This would force Maualuga to the bench to back up the Sam and Mike positions.
Head coach Marvin Lewis has put his trust in Maualuga and it is his intention to keep him in the middle as a starter. However, this could change depending on the performances of these players throughout training camp and the preseason.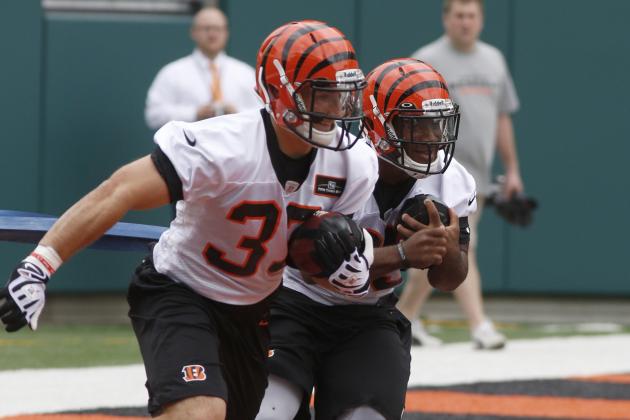 David Kohl-USA TODAY Sports

The running back position—like the wide receiver position—will be one of the most hard-fought roster battles during training camp.
The Bengals have a plethora of talent at the running back position and will have a difficult time figuring out which backs they are keeping on the final 53-man roster.
If the Bengals keep four running backs—assuming they decide not to keep a fullback on the roster—they will still be faced with a tough decision.
BenJarvus Green-Ellis and rookie Giovani Bernard will be the two running backs who will already have their roster spots secured.
After those two players, the depth is still there, but the speculation on who will make the roster becomes murky.
Cedric Peerman could be a likely candidate due to his great contributions on special teams. However, that same case could be made for the much younger Dan Herron.
Rookie Rex Burkhead also provides more physicality to the backfield and could make the final roster if he proves he can pull his weight on special teams.
Bernard Scott also remains under contract. He could be another explosive option in the backfield, but he cannot seem to overcome his injury issues.
This is another positional battle that will surely come down to the wire.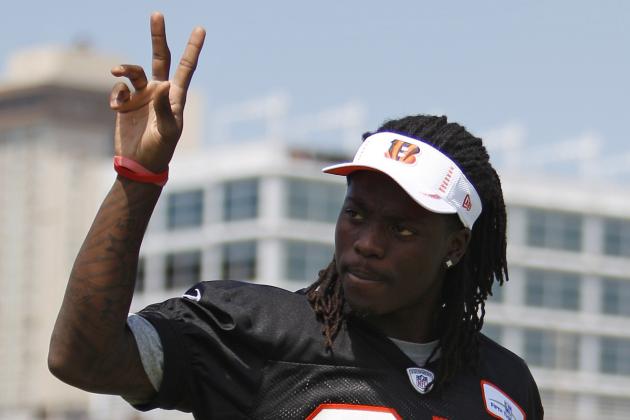 Frank Victores-USA TODAY Sports

The cornerback position comes with its own intriguing battle. Second-year player and former first-round selection Dre Kirkpatrick is now healthy and looking to compete with veteran Terence Newman for a starting role opposite the incumbent, Leon Hall.
Kirkpatrick saw very little action on the defensive side of the ball last year due to ongoing injuries. He saw most of his playing time on special teams.
Although when Kirkpatrick did see rare playing time at cornerback during the second half of the season, he did remind everyone why he was selected in the first round—he was rather impressive during some action last season in Week 11 against the Kansas City Chiefs.
As it stands right now, Newman is still scheduled to start opposite Hall in the defensive secondary. Newman had a fantastic season in 2012, ranking 19th overall of 113 eligible cornerbacks by Pro Football Focus (subscription required).
Over the offseason, Kirkpatrick told Bengals.com that he is ready to start: "I'm going to start. That's my goal. That what I believe and that's what I stand behind."
This will make things very interesting during training camp.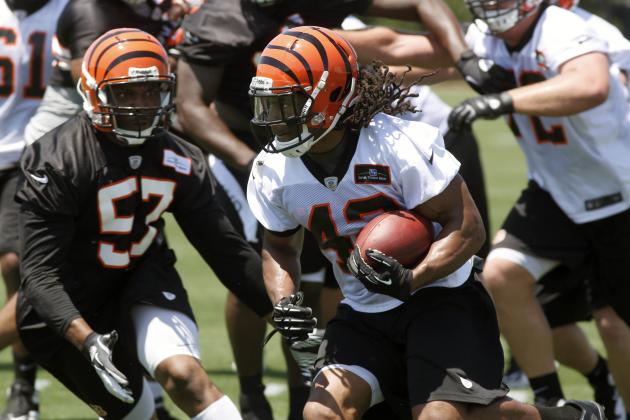 David Kohl-USA TODAY Sports

With so many different components being added to the Bengals offense over the offseason, it becomes difficult to tell how the team will function on that side of the ball in 2013.
Adding Tyler Eifert via the draft to pair with the already deep corps of tight ends was a huge move. The Bengals are not capable of running the trendy-yet-successful two-tight end set.
The acquisition of Bernard at running back also gives the Bengals a fierce two-headed monster in the backfield along with Green-Ellis. Bernard will see time as a change-of-pace back for Green-Ellis, but the two of them could also find themselves on the field at the same time in numerous packages.
Finally, Green is not the lone standout receiver on the team. Sanu is not healthy and Jones has a year of experience under his belt. The possibility of the Bengals running a shotgun spread formation now becomes interesting due to the depth at wide receiver.
Aside from taking all of these positional upgrades into account, the offense could see more time utilizing the no-huddle depending on the development of quarterback Andy Dalton.
All of these things are possible, and we should get a good taste of what is to come over the course of training camp this year.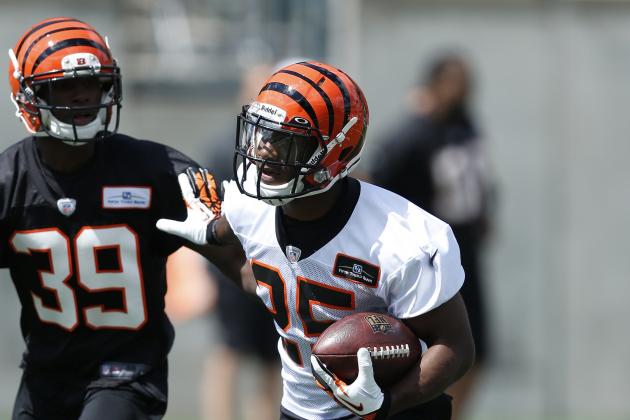 Joe Robbins/Getty Images

Onterio McCalebb enters training camp as a dark horse of sorts. He has a smaller frame, which is a large reason why the Bengals decided to move him from running back to cornerback—to increase his longevity in the NFL.
McCalebb is best known for his 40-yard dash time at the 2013 NFL Scouting Combine. For a while, his unofficial time had him besting Chris Johnson, the current Tennessee Titans running back who holds the fastest time in combine history.
At this point, McCalebb still has a ways to go while he learns the cornerback position. He would not be a candidate to make the team at that position alone.
Luckily for McCalebb, he happens to be a very dangerous kick returner.
If he can produce at as high a level as a return specialist, McCalebb will give the Bengals staff a very difficult decision to make—will they keep him or Tate as the primary return specialist?
Watch for McCalebb to get significant reps with the kick return unit over the course of training camp. He just may turn some heads.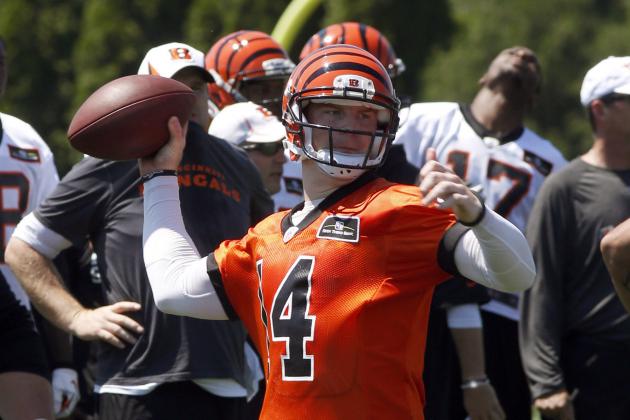 David Kohl-USA TODAY Sports

Much of the blame pertaining to the struggles of the Bengals offense last season was put solely on the shoulders of Dalton.
This is not fair whatsoever to the third-year quarterback.
Looking at what Dalton has done over his first two seasons as a Bengal is quite remarkable. Dalton has thrown for 47 touchdowns with limited weapons—aside from Green—over his first two seasons. The only two quarterbacks to throw for more in their first two years are Peyton Manning and Dan Marino.
It appears that Dalton is in good company.
Much of the blame has been placed on Dalton due to his insufficient performances during the Bengals' playoff appearances over the past two seasons. However, there is one thing that could be the cause of Dalton's struggles: the offensive game plan.
The Bengals offense had a bit of an identity crisis over the 2012 season as they continued to rock back and forth between a run-first and pass-first offensive system.
Now, with new weapons in place, if the offensive game plan allows a balanced system, Dalton will be given the opportunity to flourish.
During training camp, Dalton's leadership on the offensive side of the ball will be heavily scrutinized. We will be able to get a feel very quickly if Dalton is capable of rising to the occasion.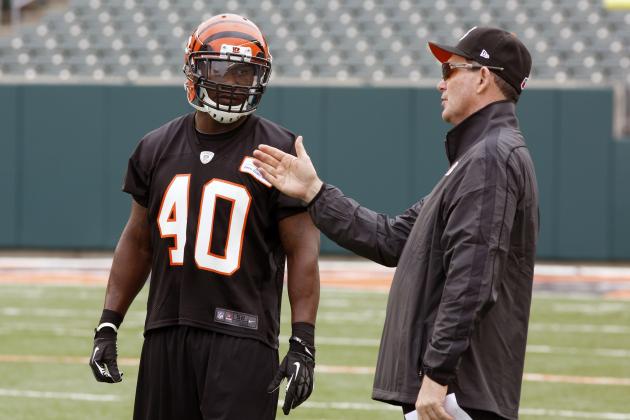 David Kohl-USA TODAY Sports

Reggie Nelson is one of the most dominant—and underrated—safeties in the NFL. He is an ace in coverage, a sure tackler and can support against the run as well. In fact, he was ranked seventh overall out of an eligible 88 safeties from 2012 by Pro Football Focus (subscription required).
The question lies opposite Nelson at the strong safety position.
Rookie third-round selection Shawn Williams is slated to start opposite Nelson, a daunting task. Williams is known for his solid tackling ability and his aggressiveness in the box against the run. He has also been known to be a great leader during his days at Georgia. However, his lack of coverage ability remains a concern.
Williams' progression throughout training camp will be one of the most intently watched stories as the days go on. Free safety is the weakest position on the defense—and possibly the entire team—for Cincinnati.
If Williams can take the necessary steps to become a solid contributor over the course of training camp and the preseason, the Bengals defense could finally patch a hole that they have been dealing with for years.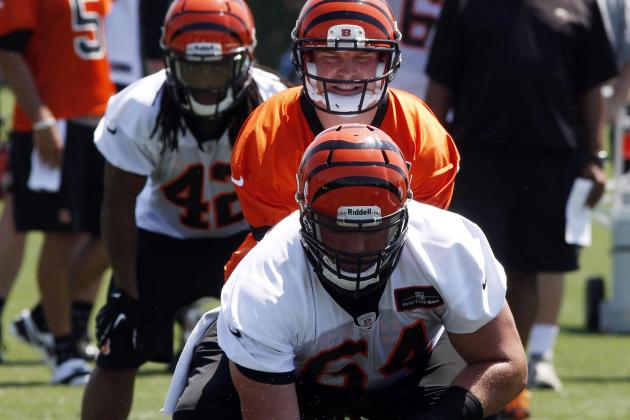 David Kohl-USA TODAY Sports

The center position is not talked about with any kind of frequency in Bengals circles. This is rather surprising because it is the only weak position on the offensive line.
Three centers started for Cincinnati in 2012—Kyle Cook, Trevor Robinson and Jeff Faine. All three were given negative grades by Pro Football Focus (subscription required).
Faine was a last-second plug-in at the position (although he is no longer with the team), Cook was coming off of a major injury during his late-season playing time and Robinson was an undrafted rookie who was learning a new system.
Excuses could be made for all three players; however, the fact of the matter is that one of them must step up and play tremendously better in 2013.
Along with Cook and Robinson comes rookie seventh-round selection T.J. Johnson. He was a workout wonder, which allowed his draft stock to rise just enough to become draftable; he is still a long shot to make the team.
It will boil down to Cook and Robinson. Whichever player can stay healthy and prove that he has improved since his poor 2012 performance will start this coming season.
Right now, it is too early to tell who will be snapping the ball to Dalton this season. Like all of these other questions, it will be answered throughout training camp.