Projected Detroit Lions Final 53-Man Roster, Training Camp Edition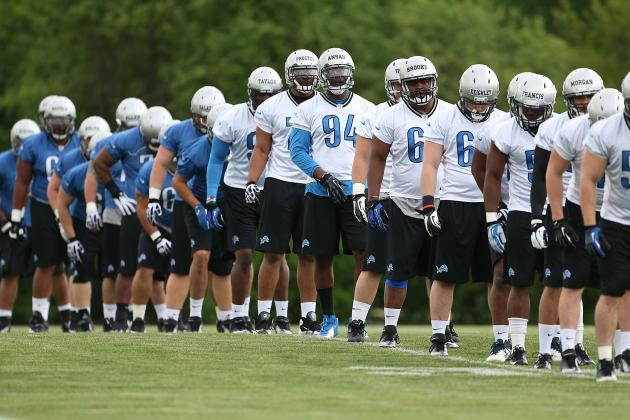 Leon Halip/Getty Images

There are two purposes for training camp: to prepare players for the regular season, and to figure out which ones are going to get that far.
This is the time of year when we try to find rationales for how everybody on the 90-man training camp roster could theoretically make the final 53-man regular-season roster.
Obviously, they won't, though. Some players will get cut, and some will still be Detroit Lions in October and beyond. Some of them are obvious, and others less so.
For example, Matthew Stafford probably has a better shot at making the 53-man roster than, say, Alex Elkins. But who makes the roster between Kellen Moore and Thaddeus Lewis? Theo Riddick and Steven Miller? Dylan Gandy, Rodney Austin and Bill Nagy?
Those answers aren't so clear, are they? So why don't you read on and find out?
Note: Players are listed in alphabetical order of their last names. In other words, do not read this as a depth chart.
Begin Slideshow

»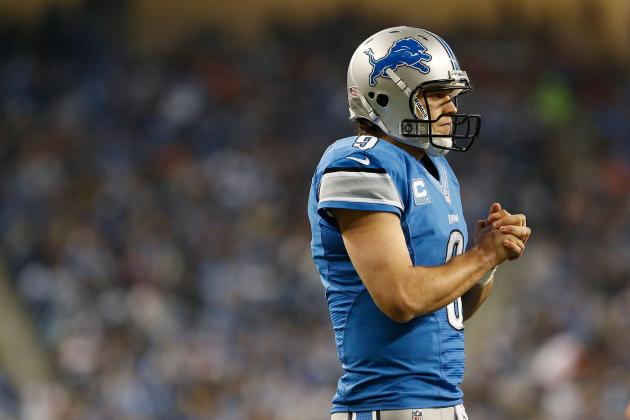 Gregory Shamus/Getty Images

(3): Shaun Hill, Kellen Moore, Matthew Stafford
Stafford and Hill are entrenched at the top two quarterbacks in Detroit, and in that order.
Moore is the question mark here. Thaddeus Lewis should pose a stiff challenge, but both struggle in the same areas—arm strength and deep ball accuracy. Lewis has more NFL experience, but Moore has more experience in the Lions' system.
This is as close as it gets to a 50-50 matchup, so I'm giving the tentative nod to the incumbent.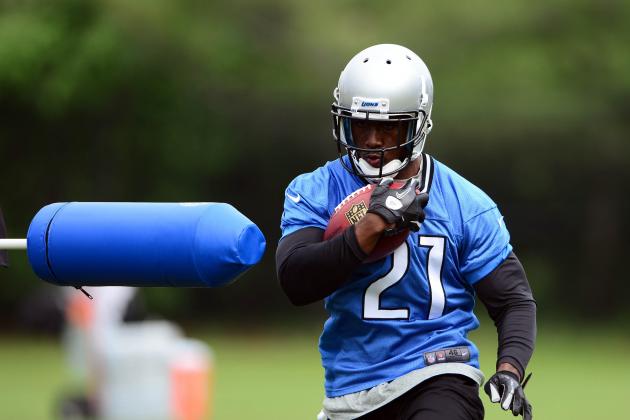 USA TODAY Sports

(4): Joique Bell, Reggie Bush, Mikel Leshoure, Theo Riddick
The question for Bush, Bell and Leshoure isn't whether they'll make the roster, it's how their touches will be split. Bell's new role in the offense is especially intriguing.
But that's a question for another day. That fourth running back spot will be tightly contested. So much so that there may even be a fifth one, at the expense of a wide receiver spot.
It could go to Steven Miller of Appalachian State, who has the build of Stefan Logan and will be gunning for his old job.
It could go to special teams coverage ace Montell Owens.
I'm giving the nod to Riddick, though, because he represents the only reasonable insurance for a potential injury to Bush. The Lions have seen what their offense looks like without a speed back, and they'd rather not go through it again.
Besides, there's no reason Riddick can't also play special teams.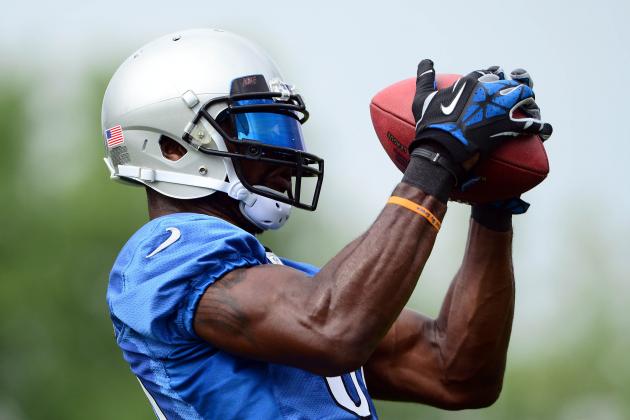 USA TODAY Sports

(6): Ryan Broyles, Nate Burleson, Kris Durham, Patrick Edwards, Corey Fuller, Calvin Johnson
Broyles, Burleson and Johnson are no-brainers here, as they will carry the bulk of the Lions' workload at wideout.
Durham is a player who flashed some ability last season, and he has potential to grow into a bigger role during training camp.
Edwards was great last year as an undrafted rookie and should be even better now. Even Burleson likes him, according to Tim Twentyman of DetroitLions.com.
Fuller is the player I'm least sure about here. He will need to show special teams ability (perhaps as a return man) to stick around, otherwise he'll likely slip to the practice squad in favor of someone with those skills—perhaps former Appalachian State running back Steven Miller.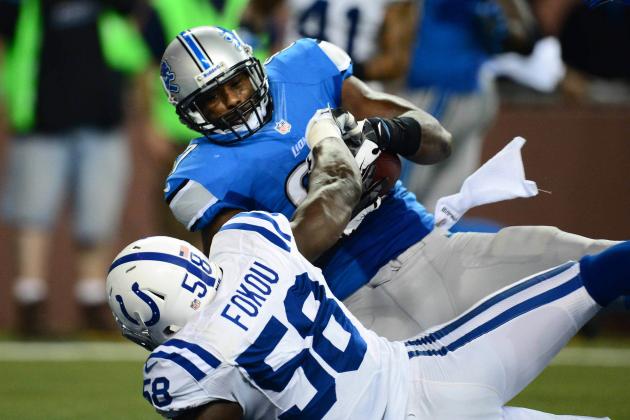 Andrew Weber-USA TODAY Sports

(3): Brandon Pettigrew, Tony Scheffler, Michael Williams
Pettigrew and Scheffler are near-locks here, having been Detroit's top two tight ends unchallenged for several years now. Both are coming off down years, but they are also headed to free-agent years, so they'll get a chance to perform.
Williams will be in a tight battle with undrafted free agent Joseph Fauria of UCLA, but ultimately, Fauria's skill set is more like Scheffler's, who is still with the team.
Williams is like Will Heller, who is no longer with the team. Williams wins based on team need, but the Lions should hope to stash Fauria away in case they need him to replace Scheffler next season.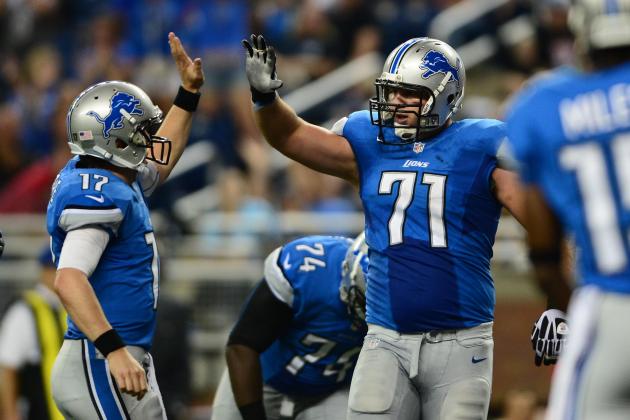 Andrew Weber-USA TODAY Sports

(4): Jason Fox, Corey Hilliard, Riley Reiff, LaAdrian Waddle
Reiff is running almost unopposed to start at left tackle—the role he was specifically drafted for in 2012—so he'll be on the roster for sure.
Fox and Hilliard are in a dogfight for the starting right tackle position, but the loser of that battle will most certainly be retained for depth.
Waddle is a big-bodied undrafted free agent out of Texas Tech who started 38 consecutive games at left tackle in the Red Raiders' pass-happy offense. There's a good chance the Lions take an extra tackle on the roster, and Waddle is the one with the most long-term potential.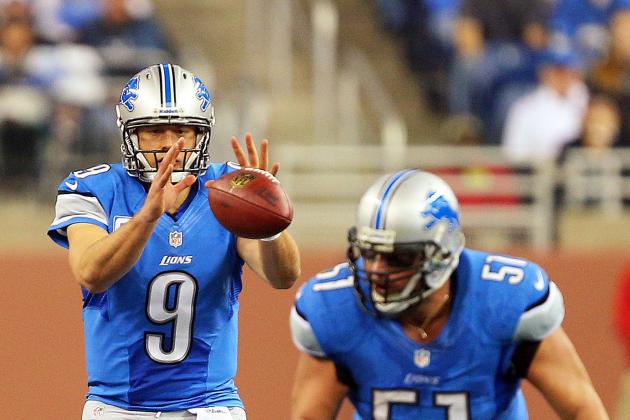 Mike Carter-USA TODAY Sports

(4): Rodney Austin, Dominic Raiola, Rob Sims, Larry Warford
Call this one a hunch.
Raiola, Warford and Sims are no-brainers. All are expected to start, although Warford still has to work his way into his starting role—and this might be Raiola's final season.
Austin is the one sure to raise some eyebrows. He has performed far better than your run-of-the-mill undrafted free agent and continues to improve, providing an exemplary model of work ethic in the process.
Bill Nagy is in play for this spot, but he is still having trouble getting healthy.
Dylan Gandy is probably considered the favorite, and he has something Austin doesn't: experience as the Lions' backup center.
Still, I'm going to bet on Austin for his upside, rapid improvement over past year and the fact that Gandy can't stick around the team forever.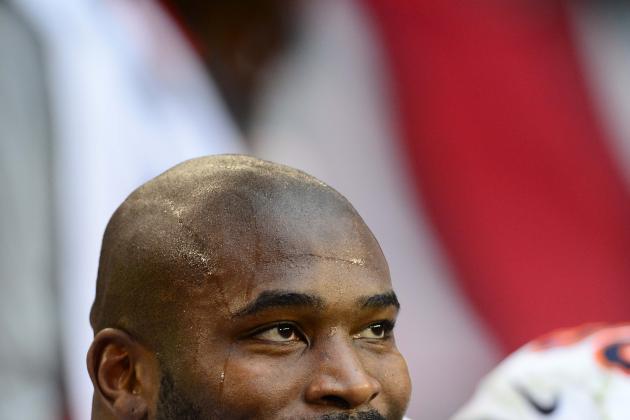 Mark J. Rebilas-USA TODAY Sports

(4): Nick Fairley, Israel Idonije, C.J. Mosley, Ndamukong Suh
Suh and Fairley should be, if you believe the hype, utterly dominant this season. In no way are they concerned about their roster spots.
Mosley was brought in to provide quality depth, which has pretty much been his calling over his entire career, so he's another no-brainer.
Idonije is typically listed as a defensive end, so let me explain.
I have long said that the Lions had a serious depth problem at defensive tackle, and that the answer would most likely sit outside the roster. Idonije was actually a hybrid defensive tackle/defensive end in Chicago, cycling from one position to another throughout his career there.
He should fill a similar role in Detroit, filling in at tackle when needed and playing his other snaps at defensive end. Listing him as the Lions' fourth defensive tackle allows the team to get more creative with who it keeps at the actual defensive end position. That's the beauty of versatility.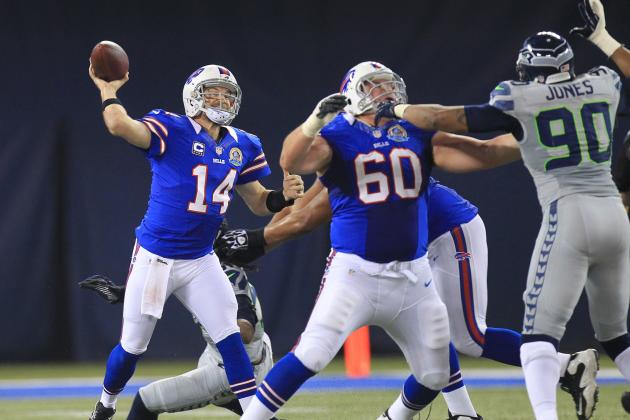 USA TODAY Sports

(5): Ziggy Ansah, Jason Jones, Ronnell Lewis, Devin Taylor, Willie Young
For every "lock" to make the roster here, there is another player completely in flux.
Ansah and Jones? Locks, projected starters. No roster intrigue whatsoever.
Taylor? Most likely will make the roster on account of potential and fourth-round draft status alone. Added bonus if he's actually productive immediately.
Lewis and Young is where things get interesting.
Lewis is a valuable special teams player, but he has done next-to-nothing as a defensive end. This season's influx of talent at defensive end could have Lewis looking for work in just his second season.
Young has showed flashes of both great and poor play, and now it's hard to say which one is real. Most likely, he'll get this season to prove himself, but there are certainly no guarantees. Luckily, his stiffest competition is Braylon Broughton and Spencer Nealy.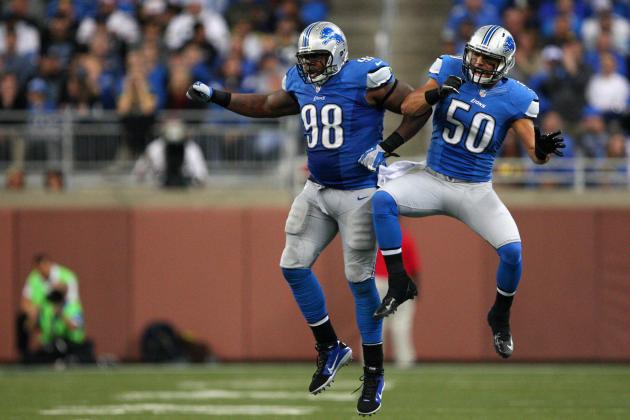 USA TODAY Sports

(6): Cory Greenwood, DeAndre Levy, Travis Lewis, Ashlee Palmer, Stephen Tulloch, Tahir Whitehead
Levy and Tulloch are entrenched as starters, so there's no question there (although Levy is not nearly as secure in his starting role as Tulloch).
Palmer, Lewis and Whitehead are battling for the "Sam" linebacker position vacated by Justin Durant, and while only one will win, the others are in no danger of missing the roster.
That most likely leaves a bunch of players fighting over one spot. That spot will probably go to the best special teams player.
That player is Cory Greenwood, who played three years on special teams with the Kansas City Chiefs.
Carmen Messina was great in the 2012 preseason, but the linebacker position quietly has amassed a lot of potential candidates, and Messina clearly wasn't interesting enough to keep as a special teamer last season.
Brandon Hepburn is a good type of player for special teams, but unlike Greenwood, he's unproven.
More importantly, Messina and Hepburn both are still eligible for the practice squad, which is where the Lions should endeavor to keep them if they can. Both are talented, just not incredibly useful right now.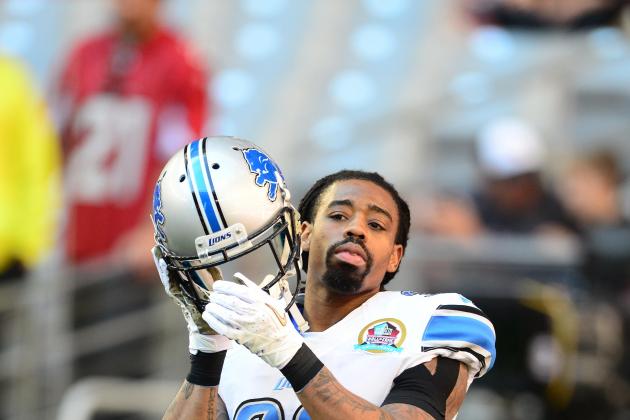 Mark J. Rebilas-USA TODAY Sports

(6): Ron Bartell, Bill Bentley, Jonte Green, Chris Greenwood, Chris Houston, Darius Slay
This one is mostly easy. The Lions are keeping their four recent draft picks (Bentley, Green, Greenwood and Slay) and their top cornerback (Houston).
With Bartell, it gets a little more complicated. This is a player who wasn't talented enough to stick with the Raiders.
Still, if there's one thing the Lions could use at cornerback, it's a veteran presence for all the youngsters. Replacing Bartell with another rookie won't do that. So, begrudgingly, Bartell gets a roster spot.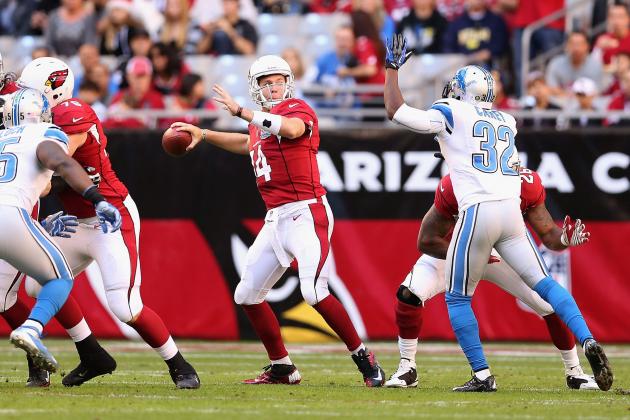 Christian Petersen/Getty Images

(5): Don Carey, Louis Delmas, Chris Hope, Glover Quin, John Wendling
Delmas and Quin are expected to not only be the Lions' starting safety tandem, but a very good one to boot. This, of course, is reliant on Delmas making a return to health.
If he doesn't, Carey looks poised to start, and he looks like he'll do a good job of it.
After those three, things get a bit messy. Wendling is an elite-tier special teamer, but how long can a team keep a career special teamer around?
Hope just recently signed with the Lions, and realistically, he could flame out in training camp in much the same way Sean Jones did last year. But I have him penciled in on the roster, getting a slight edge over former third-round pick Amari Spievey due to Hope's experience and Spievey's lack of progression.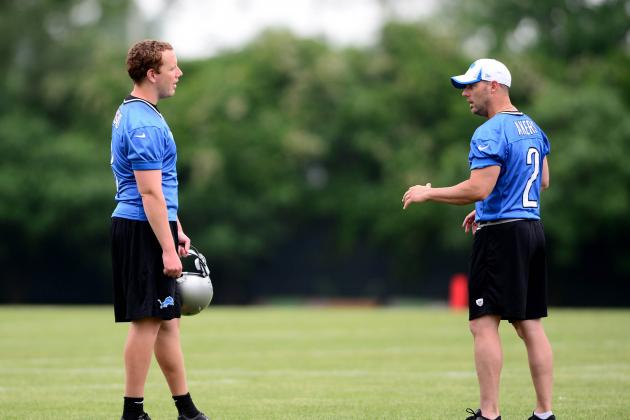 USA TODAY Sports

K: Havard Rugland
P: Sam Martin
LS: Don Muhlbach
Two of these are easy. Martin's on the team because he was drafted in the fifth round, and Muhlbach makes it because there is no other reliable long snapper on the team, and even if there was, Muhlbach is a Pro Bowler—one of the best at his craft.
Now, what about that place-kicker position? You read correctly, I am now officially predicting "Kickalicious" over a six-time All-Pro kicker. Maybe I'm crazy.
All I know is that Akers is still resting and rehabbing an injury, and in the meantime, Rugland is booming kicks to wherever he is asked. Going by the current trend (which admittedly may or may not continue), Rugland won't just have a chance to win the Lions' starting job at place-kicker, he will win.
Or maybe I'm crazy.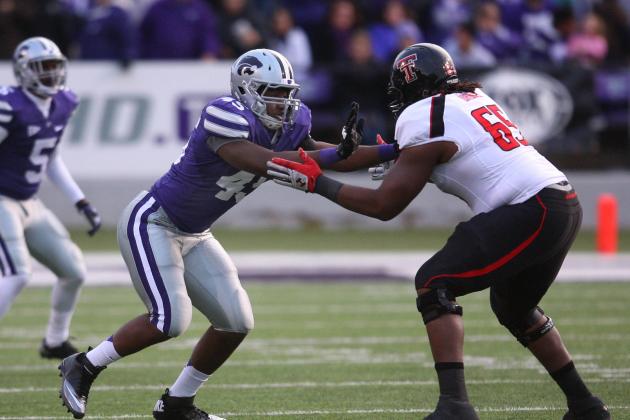 Scott Sewell-USA TODAY Sports

LaAdrian Waddle, OT
Partially a beneficiary of Detroit's need for depth, Waddle makes it on the roster because his body contains starter-quality upside.
Kellen Moore, QB
Moore will either just beat out, or just lose out to Thaddeus Lewis for the third quarterback spot. Neither player has the skill to win this by a landslide.
Corey Fuller, WR
Unless he shows either return skill or receiving skill beyond his years, I'm still not fully convinced Fuller makes the roster. He would at least provide the Lions with a potential downfield threat in their sea of slot receivers.
Cory Greenwood, LB
Any time a player makes the roster almost exclusively because of special teams, it's always tentative. There are plenty of good special teamers who are also good in another phase of the game. Greenwood making the roster depends on the Lions not finding one of those types of characters.
K: Havard Rugland
If the Lions really sign a man nicknamed "Kickalicious" over six-time All-Pro David Akers, you can bet it'll be one of the toughest, most difficult decisions they make all camp. If it doesn't pan out, they will make fools of themselves.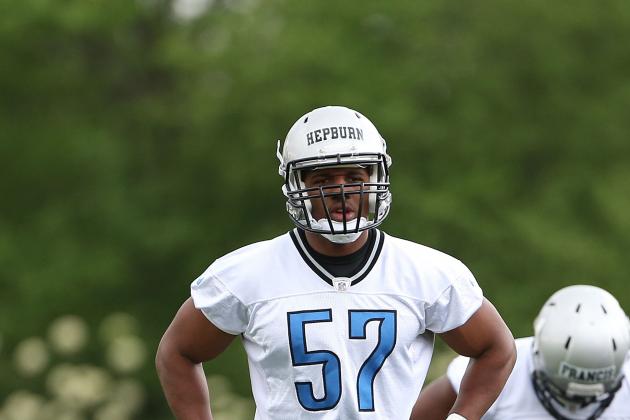 Leon Halip/Getty Images

Brandon Hepburn, LB
The only one of the Lions' 2013 draft selections I pegged to miss the roster, Hepburn still has a chance if he turns out to be an ace special teamer.
David Akers, K
Again, if Akers doesn't win the starting job, it will be a huge upset, and likely a down-to-the-wire decision. I'm calling it that way anyhow.
Joseph Fauria, TE
Fauria appears to have all the talent he needs, he's just on a team that doesn't need that talent, yet. If the Lions put Fauria on the practice squad, there should be serious concern about another team signing him onto their active roster, especially if he performs well in camp.
Amari Spievey, S
It has been a difficult road for Spievey, but the signing of Glover Quin, the emergence of Don Carey and finally the signing of Chris Hope are a trio of things that probably signal the end for him. If Spievey comes back in camp with a vengeance, he can probably still save his job.
Thaddeus Lewis, QB
If he picks up the offense fast enough to compete with Moore on equal footing, he has a shot at being Detroit's third quarterback. The two of them are extremely similar, so it will be interesting to see how they each perform, and what the difference ultimately will be.