Ranking 10 Greatest Rivalries in Golf History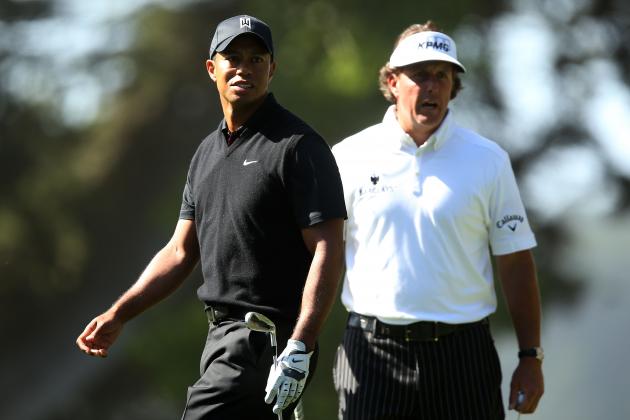 Ezra Shaw/Getty Images
Is Tiger vs. Phil the greatest rivalry in golf?
As fans, we thrive on the rivalry that naturally occurs in sports.
We live for it, seek it out and relish every chance to witness our personal favorite player or team go against their most intense rival.
Such rivalries naturally exist in golf where players match up against each other, the course, governing bodies and even themselves.
Golf's classic and ongoing battles have shaped the sport, increased television viewership and sent tournament purses skyrocketing.
These rivalries turn every Sunday into our own personal match play.
There are so many of these legendary rivalries, but here are 10 that will never be forgotten.
Begin Slideshow

»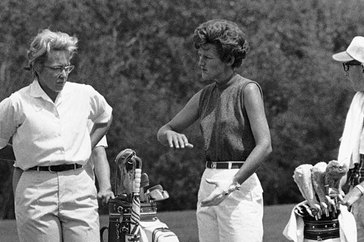 Photo Courtesy of Position.com
If Mickey Wright and Kathy Whitworth were playing today, they would turn the LPGA into one of TV's most watched sports.
From 1958 through 1973, either Mickey Wright or Kathy Whitworth led the LPGA in victories 13 times.
By the time they finished their careers, Wright had 82 victories and 13 major wins and Whitworth had 88 victories, the most all-time.
It was golf's equivalent to Ali vs. Frazier with the masterful Whitworth squaring off against the powerful Wright.
You never knew who was going to win, but you knew you were watching two of the best at their game.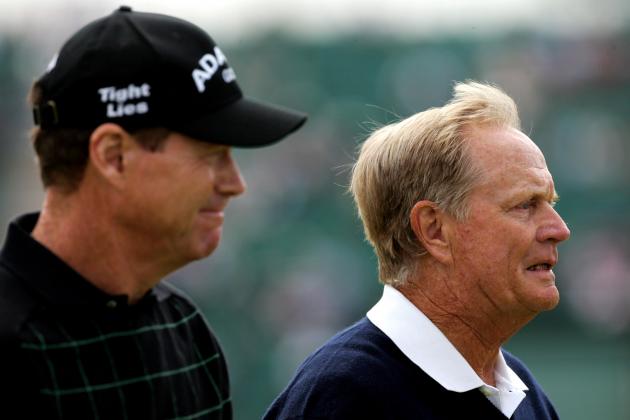 David Cannon/Getty Images

One was the fast-swinging, impatient heir apparent. The other was the undisputed king of his sport.
From 1977 through 1982, Tom Watson came as close as possible to unseating Jack Nicklaus as they battled over the title of golf's best player.
While Watson won six majors, Nicklaus was runner-up in five of them. Nicklaus also won three majors over the period.
The passion and drama of their rivalry was exemplified by the 1977 Open Championship, aptly called "The Duel in the Sun." In a back-and-fourth battle lasting the entire tournament, the two exchanged the lead numerous times before Watson won by one shot on the last hole.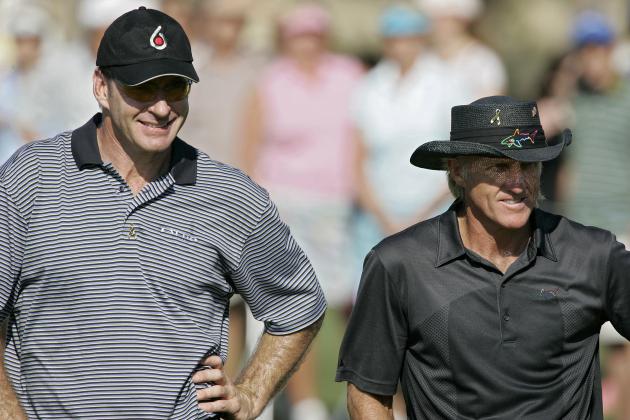 Michael Cohen/Getty Images

Those who watched it had to turn their heads in golfing horror.
There was Greg Norman sitting with a substantial six-shot lead over Nick Faldo at Augusta National in 1996. But somehow the Aussie had plummeted by Sunday afternoon, while Faldo shot an impeccable 67 and earned what would be his final major championship while Norman fell to second place.
Sandwiched between the eras dominated by Jack and Tiger, Greg Norman and Nick Faldo battled for the No. 1 spot in golf.
Over an eight year period, one of them held the title.
Handsome, athletic and competitive, the Aussie matched the Englishman at every turn. Both were always extremely watchable as they made their way down the fairway and onto the green.
Ultimately, Norman came out on top with 20 PGA Tour victories over Faldo's nine, but the Englishman dominated in majors. Faldo captured three British Opens and three Masters, while Norman won just two majors and became infamous by earning seven second-place finishes in major championships in his career.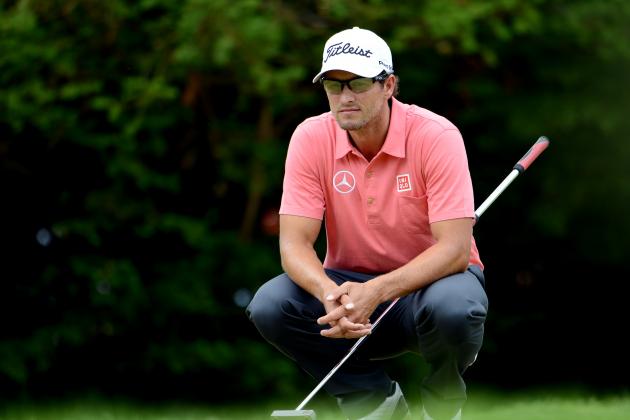 David Cannon/Getty Images

Golf's governing bodies have squared off against players (Greg Norman and his World Golf Tour vs. Tim Finchem) and golf club makers (Ping and its squared groove technology vs. the USGA), but none may be as impactful as the recent ruling against the "anchored swing."
Initiated by the USGA and backed by the PGA, the ruling doesn't ban the belly putter, but it does create a rule against placing the club against the body, or "anchoring," while putting.
Tim Clark, Adam Scott, Webb Simpson and many others have adopted the long putter technology and putting method and have said they will contest the ruling through legal channels.
The rule goes into effect in 2016, so there is plenty of time for the fight to heat up.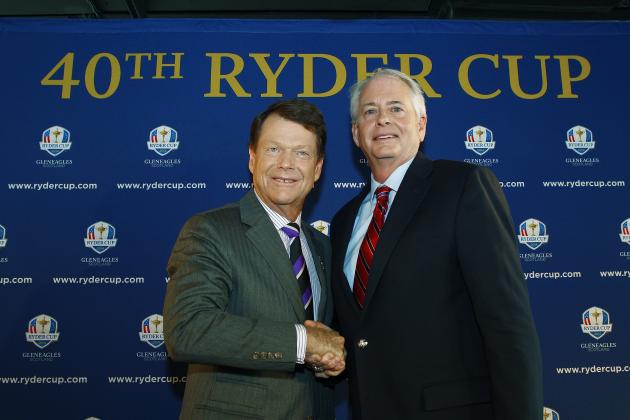 Michael Cohen/Getty Images

There is perhaps no other rivalry in all of sports that rivals the bitter and always dramatic Ryder Cup battle between the U.S. and Europe.
What started as a simple series of matches between America and Great Britain and Ireland, the biennial contest is now the most anticipated event on the calendar.
Americans held an 18-3-1 advantage in 1977 when the Cup's organizers decided to add all European players to the mix, suddenly equalizing the playing field. Seve Ballesteros and his fellow Europeans brought a fire to the fairway that had not been seen before.
In almost biblical war-like terms, the 1991 War on the Shore, the 1999 Battle at Brookline and the 2012 Miracle at Medinah signify the grandeur and intensity that has become The Ryder Cup.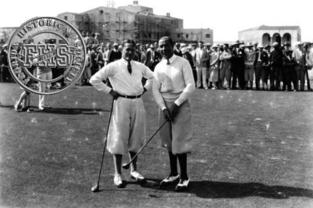 Photo Courtesy of myfloridahistory.org
Bobby Jones was the great amateur who won the Grand Slam in 1930.
Walter Hagen was the brash and pompous pro who loved to play golf for money.
They squared off in "The Match of the Century" in 1925 after Jones had already won the U.S. Open and the U.S. Amateur, both considered to be majors.
Hagen ended up besting Jones 12-11, and some think it embarrassed the amateur so much he decided not to turn pro.
The two went their separate ways, each making their mark on the sport they helped to popularize.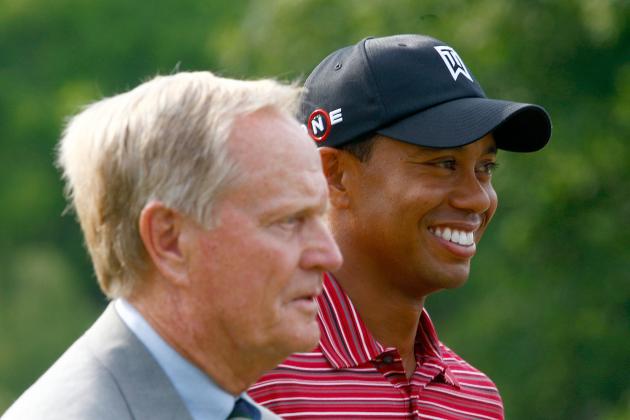 Scott Halleran/Getty Images

This, of course, is the rivalry of the ages.
Although the two are generations apart, Tiger will face off against Jack's record of 18 majors for as long as he plays or until he surpasses it. It is no secret that this record is the main reason Tiger competes.
There is no telling who would have won had they played against each other consistently. Each dominated their respective competition like no one else.
Jack finished with 73 wins and a multitude of second-place finishes in majors. Tiger has 78 wins and counting.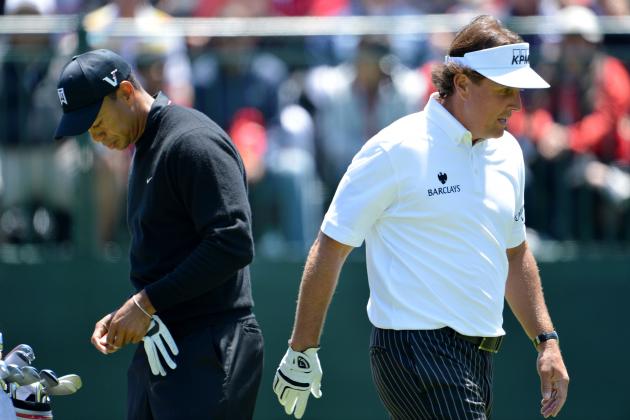 Stuart Franklin/Getty Images

For the better part of the last 17 years, there has been no better Sunday matchup than Phil and Tiger, the greatest lefty to ever play the game against perhaps the greatest player ever.
They have battled over the No. 1 spot for most of their careers, although Tiger has been on top the lion's share of the time. Tiger, of course, leads in majors, too.
But who else has the competitive drive to face down Tiger at any tournament on any day other than Phil?
Both men are great off the tee with the ability to shape a shot as needed. Phil is regarded as the best player to ever wield a wedge. Tiger may be the best closer of all time.
And that is where they truly differ. Just think of Phil's six runner-up finishes at the U.S. Open versus Tiger's three wins there.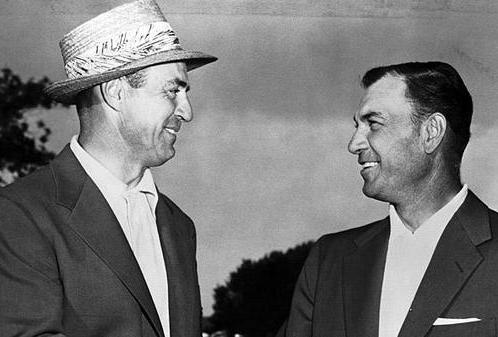 Photo Courtesy of icd.turner.com
Without question, two of the greatest golfers to actually face off over a long period of time are Sam Snead and Ben Hogan.
Hogan, often referred to as the greatest ball-striker to ever play the game, ranks fourth all time for wins on the PGA Tour with 64. However, Snead holds the career wins record over Hogan, Woods and even Nicklaus with a mind-boggling 82 PGA Tour victories.
They also brought golf into the social consciousness. It was Snead's smiling face and straw hat versus Hogan's stern veneer that made their battles that much more fascinating.
Their rivalry lasted for 20 years beginning in 1938, but it was in 1950 where they showed off their considerable golf powers with Snead winning 11 tournaments on the year, only to be bested by Hogan's 13 victories.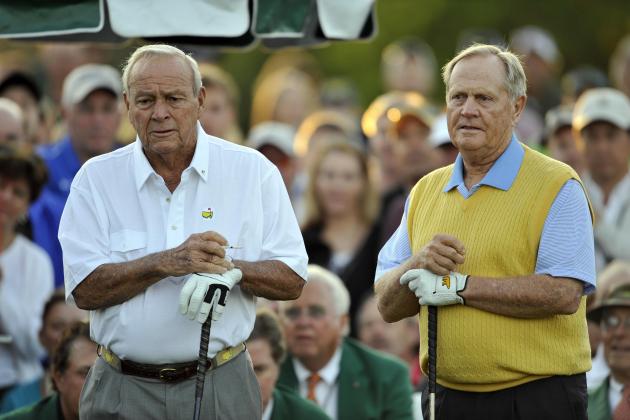 Michael Madrid-USA TODAY Sports

No amount of hyperbole can properly assess the impact of the competition between Arnie and Jack on the sport of golf and, beyond that, on all sports.
If you were at home on a Sunday afternoon, you were undoubtedly tuned to the television set watching these two golfing giants square off.
It was a match made in sports heaven. The cocky, aggressive Pennsylvania boy versus the careful and conservative country-club kid.
At that time, the Golden Bear was known as Fat Jack, while the brash, handsome Palmer had "Arnie's Army" and was a fan favorite.
They brought enormous attention to the game and together ushered in a new generation of golfers.
On the course, they were unmatched except against each other.
Palmer went on to win seven professional major championships paired with 62 PGA Tour titles, and Nicklaus etched into the record books 18 majors and 73 victories.
Between 1958 and 1980, one of the two captured a top-three finish in at least one major every year except 1969.