Rookie, Undrafted Free Agent Watch for Redskins Training Camp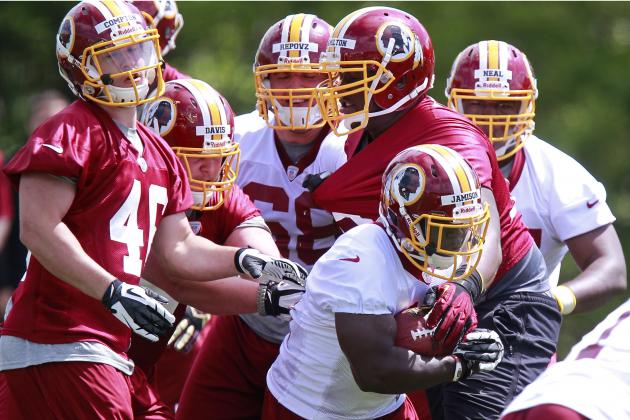 Geoff Burke-USA TODAY Sports

Despite not having a first-round pick in last April's draft, the Washington Redskins came away with a good haul of players, all of which carried good value given their draft position and filling a need.
This summer will be one of the tougher training camps of the Mike Shanahan era, as multiple positions will host tough battles throughout.
Get familiar with the Redskins' rookie class and a few undrafted free agents to keep an eye on.
Begin Slideshow

»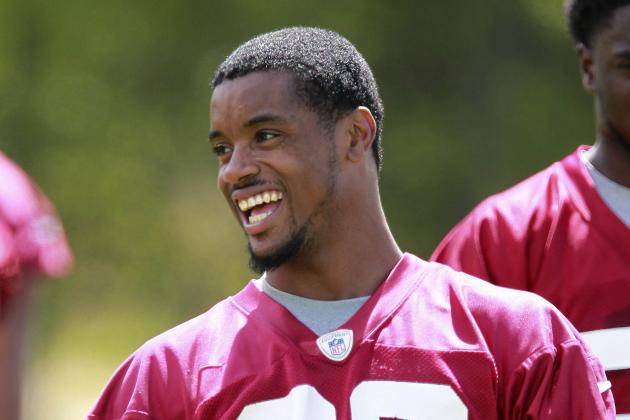 Geoff Burke-USA TODAY Sports

After leading the nation with 12 interceptions as a sophomore at North Carolina State in 2011, David Amerson's production decreased in 2012 when he recorded just five picks (although ultimately putting together a respectable stat line at year's end).
But that wasn't anything to scare off the Washington Redskins, as head coach Mike Shanahan and the front office made Amerson their top pick in last April's draft by selecting him in the second round at No. 51 overall.
Standing 6'1", 205 pounds, Amerson has all the tools to become a successful cornerback in the NFL, including imposing size for the position. He has tremendous ball skills (as demonstrated his sophomore season), he's an intelligent football player and he doesn't shy away from contact.
That said, expect a learning curve with Amerson. There's a reason his college production last season didn't come close to his sophomore year and the Redskins coaching staff will look to improve his consistency by way of technique and discipline.
Despite not being the most popular of names amongst Redskins Nation as a prospect a few months ago, we should all keep a close eye on Amerson through camp.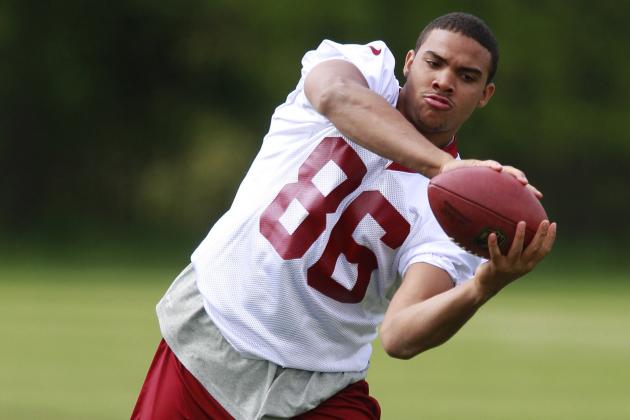 Geoff Burke-USA TODAY Sports

It seemed a majority of fans were surprised when the Redskins selected Florida tight end Jordan Reed in the third round of last April's draft.
Mike Shanahan and the Redskins were too.
"He brings a lot of things to our football team that we didn't have, that we don't have, and now we get a chance to see what he can do," Shanahan said, according to Mike Jones of the Washington Post. "We weren't necessarily looking for a tight end, but when he was there, we couldn't pass him up."
Originally coming to Florida as a dual-threat quarterback, Reed was converted to tight end and has since drawn comparisons to former New England Patriots tight end Aaron Hernandez (obviously, football skill only).
Reed is a fluid athlete and a natural pass-catcher. He can make defenders miss in the open field, he has great field vision and his speed can be deceiving.
It'll be interesting to watch Reed through camp as he continues to develop at the position. He's not a guy you're going to see play much inline, as his blocking skills are in dire need of attention. But offensive coordinator Kyle Shanahan will get creative with Reed, using him more as a Joker tight end to move and create mismatches in coverage.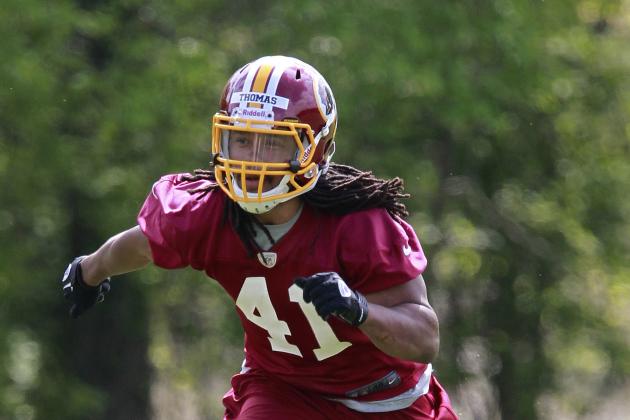 Geoff Burke-USA TODAY Sports

One of the biggest struggles for the Redskins last season (especially during the first half) was their secondary and its inability to stop the deep stuff.
In this year's draft, the Redskins helped to address the matter with two safeties -- the first coming in the fourth round by way of Phillip Thomas.
Thomas rebounded from an ugly injury in 2011 to become one of the nation's top safeties last year as a senior, registering eight interceptions (three returned for scores), 12 tackles for loss and four sacks.
Thomas was an attractive prospect for the Redskins due to his versatility. He's physical and aggressive enough to help in run support and show blitz, yet he has great ball skills and a good understanding of position to play a reliable centerfield.
When the Redskins decided to address the secondary via the draft this year, they did so with the thought of playmaking ability in mind. Guys like David Amerson in the second round, Thomas in the fourth and Bacarri Rambo in the sixth are all examples of such.
But just like any other rookie, there are knocks on Thomas' game.
Getting sucked in on play-action and appearing hesitant at times are both viewed as bad habits that can eventually be corrected by way of solid coaching.
And if Thomas takes well to it, we could see the rookie starting in the deep half.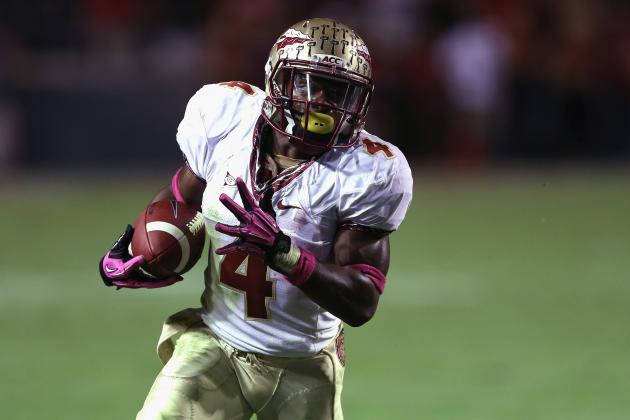 Streeter Lecka/Getty Images

Alfred Morris was nothing short of brilliant as a rookie last season, rushing for 1,613 yards and 13 touchdowns.
But 335 carries is a lot. And the Redskins offense was in need of a change-of-pace back.
Chris Thompson's college career at Florida State was riddled with injuries -- from a broken back to a torn ACL. But the Redskins liked what they saw in limited action, as Thompson provides big-play ability by way of speed, quickness, acceleration and elusiveness.
Another benefit of Thompson's game is his versatility, serving as a reliable receiver out of the backfield with the ability to turn it up field and break for huge gains.
Arguments that Thompson is an injury risk in the fifth round when other backs such as Oregon's Kenjon Barner were still available is warranted. But Shanahan mentioned that he and the Redskins gave Thompson a first- or second-round grade heading into the draft, and that he believed Thompson would've been taken there if not for the ACL tear last season (via Zac Boyer of the Fredricksburg Free Lance-Star).
Again, the Redskins landed a coveted player who brought (what they believe to be) great value, while also filling a need.
If durable, Thompson is a perfect fit in the Redskins offense, and a great complement to Alfred Morris.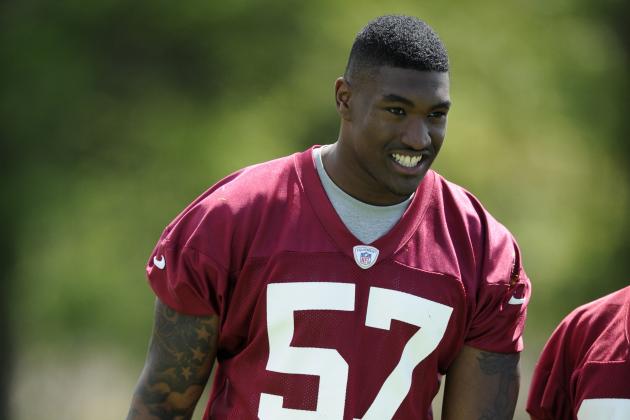 Nick Wass/Getty Images

Another value pick in the fifth round, Brandon Jenkins is an athletic edge-rusher with good measurables and solid production from his days at Florida State.
Jenkins came on strong as a true sophomore, posting 21.5 tackles for loss and 13.5 sacks.
Despite dipping numbers the following season, Jenkins was still solid with 12 tackles for loss and eight sacks.
Jenkins suffered a Lisfranc injury during the season-opener of his senior year, forcing him to miss all of last season.
It's possible the Redskins knew about a looming four-game suspension for linebacker Rob Jackson around draft time, and fellow outside linebacker Brian Orakpo is entering the final year of his contract. Taking a guy like Jenkins who has the tools to develop into an effective pass-rusher during the mid-rounds makes sense.
In this league, you can never have too many guys getting after the opposing quarterback.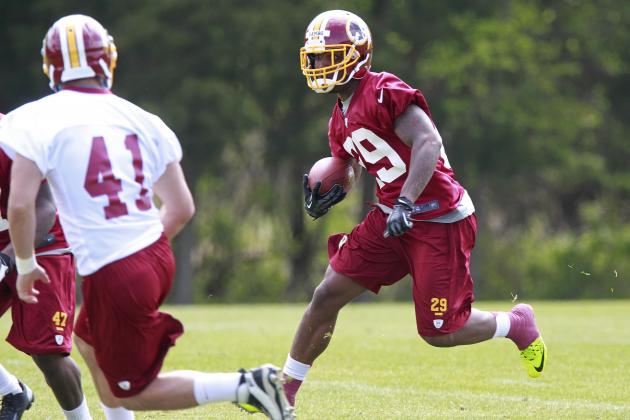 Geoff Burke-USA TODAY Sports

The steal of the Redskins' 2013 draft, Bacarri Rambo is a ball-hawking safety with a nose for turnovers.
Due to run-ins off the field and some character concerns, Rambo watched his draft stock begin to slide, ultimately landing himself in the sixth round.
But in all actuality, it's a perfect match between player and team.
As mentioned on previous slides, the Redskins were in search of defensive playmakers. David Amerson in the second round provides great ball skills and good hands at the cornerback spot, Phillip Thomas in the fourth is the nation's reigning leader in interceptions from a year ago and Rambo in the sixth provides the Redskins with another ball-hawking safety that plays his best football as a deep centerfield type.
Whether or not Rambo starts as a rookie in 2013 remains to be seen. But he has a good chance. The ball skills he demonstrated in college are already better than a majority of other safeties on the roster from a year ago.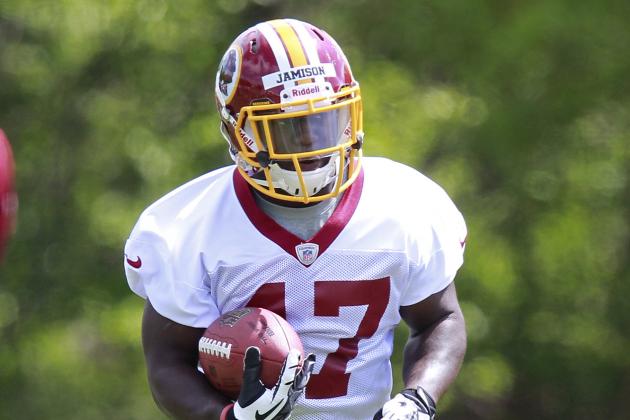 Geoff Burke-USA TODAY Sports

How's the saying go? Never discount a late-round running back at the hands of Mike Shanahan?
Or not. But I'd go as far to say so in regard to seventh-round pick Jawan Jamison.
Although Jamison doesn't blow you away with his speed, or overly impress with his size, he's solid in many areas of his game.
Between the tackles, Jamison can surprise you with his shiftiness and improvisation. Once through, his acceleration can quickly turn him into a homerun threat.
And when not carrying the ball, Jamison has growing potential as a receiver.
The majority seems to think of Jamison as a practice squad guy. But I wouldn't be so sure.
And this isn't my first endorsement.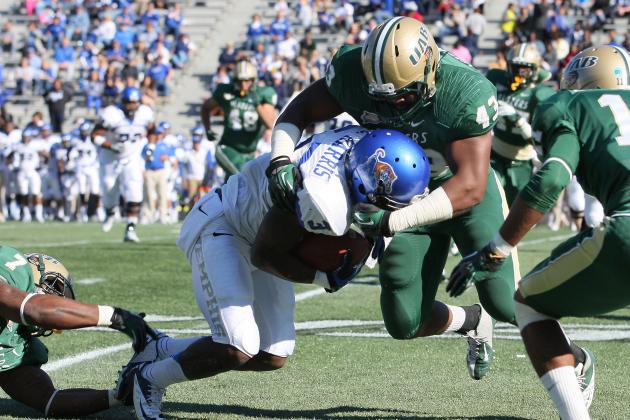 Marvin Gentry-USA TODAY Sports

Nearly 20 years ago, an undersized undrafted free agent linebacker out of John Carroll signed a contract with the St. Louis Rams.
Today, London Fletcher is a four-time Pro Bowl selection, the owner of an insane consecutive games played streak, a Super Bowl champion and current Redskins team captain.
I'm not here to say undrafted free agent Marvin Burdette is the next London Fletcher. But the young man has the skills to be a successful linebacker in the NFL, despite the odds against him of size, school and popularity.
Burdette is a solid tackler (leading the nation in tackles per game last season), an intelligent student of the game and he carries a solid work ethic.
It won't be easy for Burdette to make the final 53-man roster as a rookie, but it wouldn't be shocking. He could contribute on special teams immediately and learn the game as Fletcher finishes what's believed to be his final NFL season.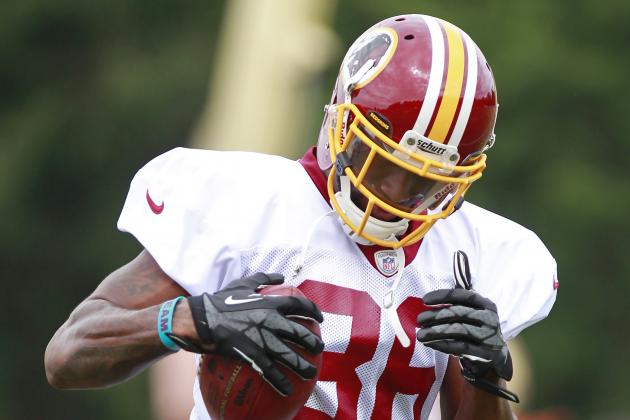 Geoff Burke-USA TODAY Sports

At this point, I'm probably better known as the president of the Lance Lewis fan club, but I wouldn't continue preaching this guy if I didn't think he deserved it.
After Pierre Garcon and Joshua Morgan, the Redskins receiving corps drops off a bit.
While Santana Moss is arguably the most reliable set of hands on the team, he's 34-years-old and in the final year of his deal. Not to mention, a healthy Garcon likely means a decrease in Moss' 41 catches from a year ago.
After that, Dezmon Briscoe, Aldrick Robinson and Leonard Hankerson each have to prove themselves and show progress in their own right.
Lewis was originally signed as an undrafted free agent out of East Carolina last summer. Injuries eventually forced the Redskins to release him prior to the preseason and Lewis landed back with the team on injured reserve.
While not the fastest receiver on the field, Lewis has good size (6'2") and solid hands. He plays the position with smarts, uses his body to create separation and possesses good concentration when the ball is en route.
Shanahan has signed veteran receivers Donte Stallworth and Devery Henderson, implying that the position is going to be a monitored test through camp. It's not crazy to think that every guy has a shot.
Why not Lance?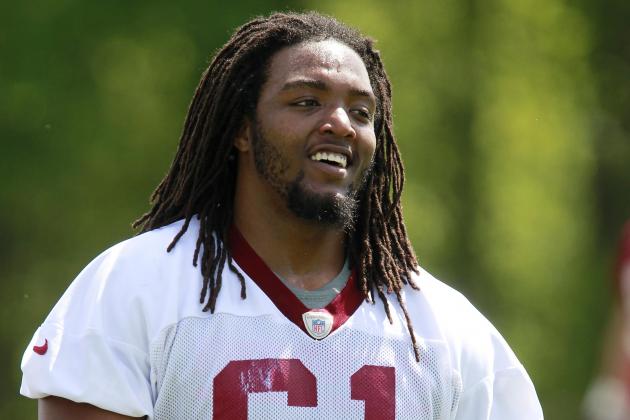 Geoff Burke-USA TODAY Sports

Based solely off potential, signing undrafted free agent Xavier Nixon following the draft could turn out to be a major move for the Redskins this offseason.
Due to his technique and inconsistency, the Florida offensive tackle went undrafted last April. But because the Redskins had some inconsistency of their own at the position—and Nixon demonstrated the athleticism necessary to succeed in Shanahan's offense—Washington came calling.
Don't expect much from Nixon this season. A safe bet would be practice squad and development. But he comes with a lot of upside that Redskins fans could see on display as early as next season.
Costing them very little to do so, the Redskins brought on an athletic project with a high upside at a position that can afford the attention.