Examining Minnesota Vikings' Offseason and Key Preseason Positional Battles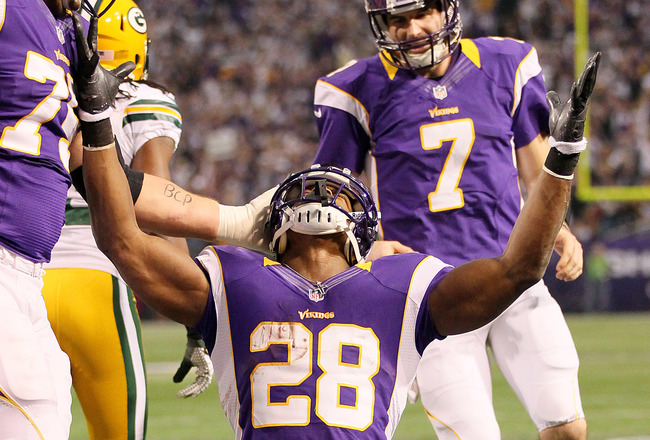 Andy King/Getty Images
The Minnesota Vikings went 10-6 and defeated the Green Bay Packers in Week 17 to earn a playoff berth last season. They drafted well. They made some smart offseason signings. They've done almost everything right.
And yet, despite all that, many are still expecting the Vikings to struggle in the stacked NFC North this season, destined to miss the playoffs behind the Packers and Chicago Bears.
Not so fast.
The Vikings have some flaws to still address before they should be considered legitimate Super Bowl contenders, granted, but there's no reason to believe Minnesota won't make the playoffs again this season. Anyone who believes otherwise didn't pay close enough attention this offseason.
Minnesota made its first big offseason decision by exercising the final-year option on head coach Leslie Frazier's contract, securing the 54-year-old through the 2013-14 season. While he hasn't done quite enough to warrant a full extension at this point, he certainly showed enough last year to earn the final year of his current deal.
Frazier hasn't had the kind of success that warrants an immediate extension, but there's something to be said for maintaining continuity at the top of the pyramid. Instead of jeopardizing the team's momentum following a successful 2012 campaign, the Vikings opted to perpetuate that environment going forward, giving Frazier a chance to prove last season wasn't an anomaly.
With Frazier at the helm for another season, there wasn't a reason for the Vikings to make additional personnel changes. As a whole, the coaching staff we saw last season is the same coaching staff that will have the reins in 2013.
But Minnesota did make some notable roster changes this offseason, starting with the release of cornerback Antoine Winfield.
Despite a solid 2012 season, the 36-year-old was slated to make $7.2 million this season with the Vikings—a hefty sum for an aging veteran whose best years are likely behind him. Winfield defected to the Seattle Seahawks in free agency, leaving a hole that needed to be addressed this offseason.
Minnesota wasted little time filling the void. With the 25th pick in the NFL draft, the Vikings selected Florida State cornerback Xavier Rhodes—a player many considered the second best cornerback behind Alabama's Dee Milliner.
Finding value like that was a trend for general manager Rick Spielman, who also drafted Florida defensive tackle Sharrif Floyd and Tennessee WR Cordarrelle Patterson.
The need for a wide receiver was evident after the Vikings opted to cut ties with wide receiver Percy Harvin this offseason. By trading him to the Seattle Seahawks, Minnesota netted an addition first-round section (as well as a seventh-rounder and a 2014 third) with which they selected Rhodes, later trading back into the first for Patterson.
But Minnesota wasn't without a contingency plan following the Harvin trade. Even before acquiring Patterson, Spielman had addressed the need.
The second-year general manager made one of the biggest signings of the offseason in inking former Packers standout Greg Jennings to a five-year contract, effectively filling that need and giving quarterback Christian Ponder a new weapon with which to work. Paired with budding star tight end Kyle Rudolph and the immense upside of Patterson, Minnesota's passing attack should be ready to take off in 2013.
It's no secret All-Pro running back Adrian Peterson was the focal point of the team's offense last season. Perhaps the greatest NFL runner of his generation, Peterson came within nine yards of Eric Dickerson's single-season rushing record, finishing the year with 2,097 yards on the heels of a devastating ACL tear a year prior.
Peterson has the talent to continue carrying the Vikings offense, but, at some point, the abuse is going to take its toll. For Minnesota to build on its 2012 success, Ponder and the rest of the team's passing attack has to step up in 2013.
We'll take a closer look at Minnesota's offseason, including free agent acquisitions and departures, the 2013 NFL draft and a few key positions to watch as the season approaches. Read on.
Keep Reading

Minnesota Vikings: Like this team?