Power Ranking the 15 Best Paint Schemes from the 2013 Sprint Cup Season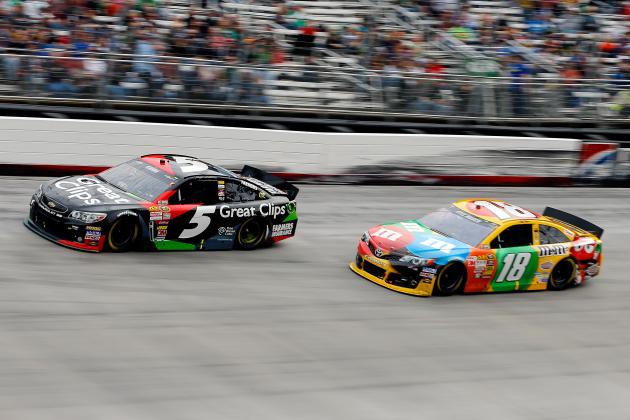 Jared Wickerham/Getty Images
Both Kasey Kahne and Kyle Busch have had winning paint schemes.
If you have ever spent any time at a race track, you know that come race day there are a plethora of sights and sounds to get lost in.
One of the most inviting sights is that of 43 race cars lined up on pit road. The colors are always spectacular, as teams spend countless hours getting their cars into pristine condition.
While every car goes onto the track looking its best, only a select few can be considered the cream of the crop.
With the 2013 season nearly half-finished, it's time to take a look at the 15 cars that have separated themselves from the pack, and come out looking head and shoulders above the rest.
Begin Slideshow

»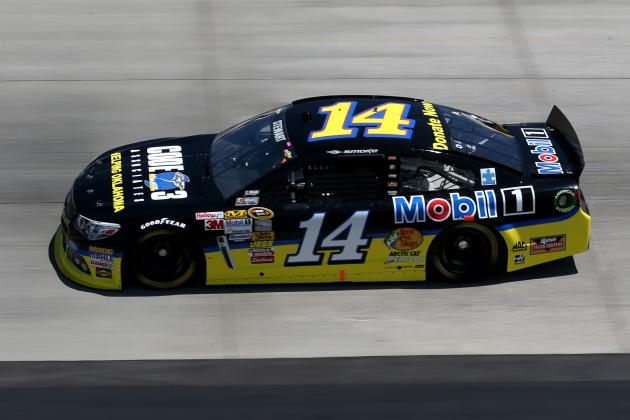 Mark Wilson/Getty Images
Tony Stewart won at Dover in this paint scheme.
Tony Stewart has only run this scheme one time in 2013, but he made the most of it.
Through the first 12 races of the season, Stewart had been no higher than 17th in the point standings. Then Stewart had his strongest run of the year at Dover.
Jimmie Johnson, starting second, jumped a late race restart ahead of leader Juan Montoya. The subsequent black flag on Johnson moved Stewart up to second. Stewart caught and passed Montoya with three laps to go.
They were the only three laps he led that day, but they were enough to get him his first, and to this point, only win of the season.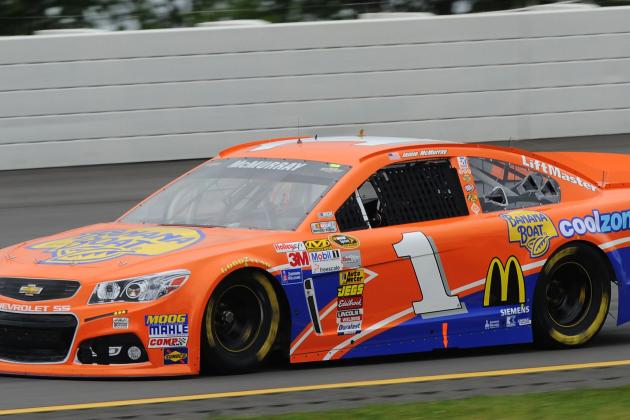 Jared C. Tilton/Getty Images
Jamie McMurray sported the Banana Boat colors for the Pocono race.
Jamie McMurray is one of many drivers who see a variety of primary sponsors on the hood of their cars throughout the course of the season. One company that has been featured was the popular sunscreen Banana Boat.
This paint scheme was run in early June at Pocono. On a day that was dominated by Jimmie Johnson, McMurray qualified this car in the 22nd position and raced it to a solid 13th-place finish.
Jared Wickerham/Getty Images
Kasey Kahne was a winner the one time this car was on the track.
Kasey Kahne has driven the Great Clips car one time thus far this season. One week after finishing second to Matt Kenseth in Las Vegas, Kahne rebounded in a big way. He notched his lone victory of the season at Bristol, piloting this paint scheme.
The win at Bristol moved Kahne into the top 10 in points for the first time in the season. He has since dropped out, but remains in one of the two wild-card spots for the Chase.
Kahne is scheduled to drive with this car twice more this season. It will be featured again in Indianapolis and in the fall at New Hampshire.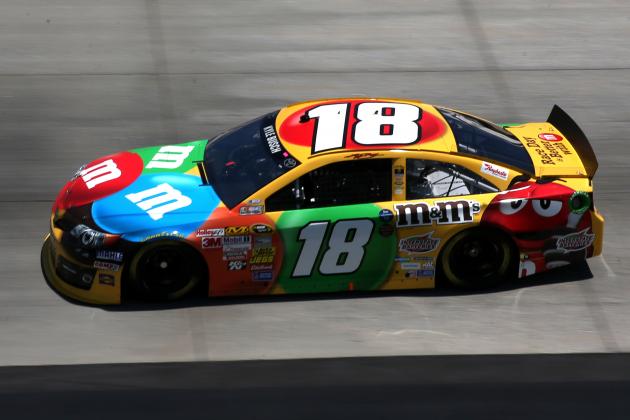 Mark Wilson/Getty Images
Kyle Busch and M&M's have been riding together in great-looking cars since 2008.
Kyle Busch and M&M's have been partners since the 2008 season. Together they have had plenty of success. Busch has scored 13 of his 26 career wins driving a car sponsored by the candy company.
Paint schemes that feature many different colors can sometimes appear too cluttered, but the M&M's car always seems to make it work.
This has been the primary paint scheme that Busch has run in 12 of this season's 16 events thus far.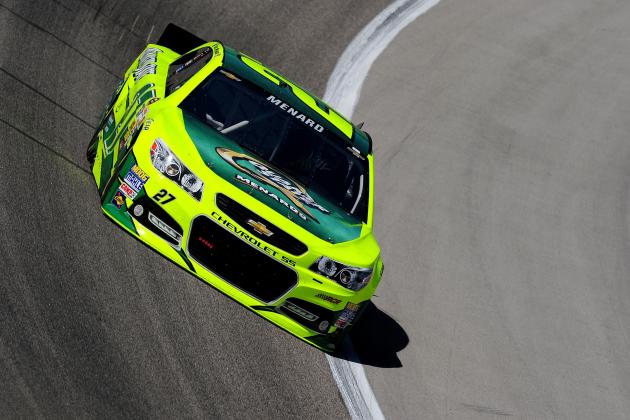 Robert Laberge/Getty Images
Paul Menard drove with Quaker State on the hood in Texas.
Paul Menard drives a car primarily sponsored by Menards, which is the chain of hardware stores owned by his family.
While the hardware chain plasters its name across the quarter panels, numerous other companies typically adorn the hood of the car. Most aesthetically pleasing this season was when Quaker State Motor Oil was featured.
This scheme was run back in April when the series raced in Fort Worth, Texas. Menard qualified this car in 19th and was able to consistently stay in the top 20 all day, finishing in the 17th position.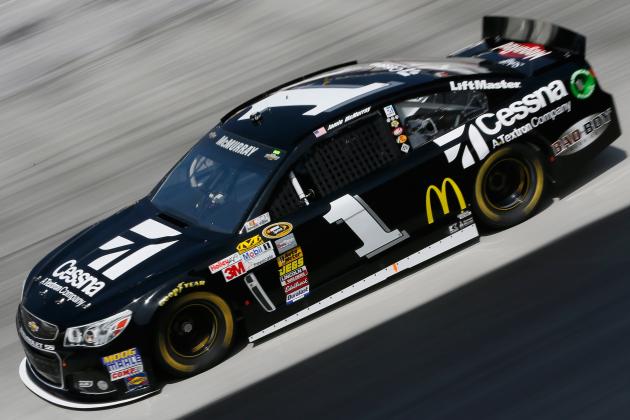 Kevin C. Cox/Getty Images

Jamie McMurray makes his second appearance on the list. This time he brings jet manufacturer Cessna along for the ride.
Some people might not be impressed with the look of this paint scheme based on its simplicity, which is in fact what makes it look so nice. As the saying goes, less is more.
Cessna is scheduled to be the primary sponsor for McMurray for 10 races this season. Thus far, it has appeared on the hood for two events.
McMurray finished 10th with this scheme at Bristol, and then won the pole for the road race at Sonoma in the scheme's only two appearances of the season.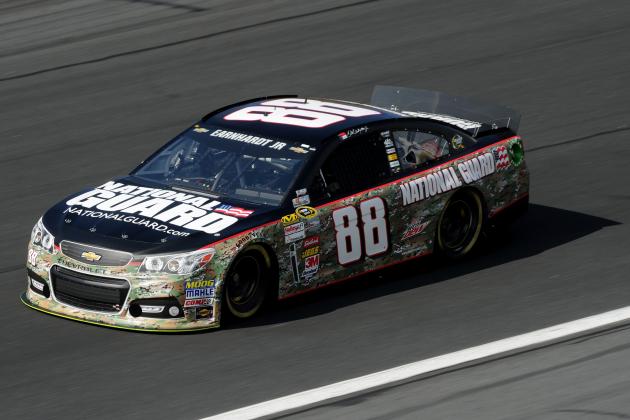 Jared C. Tilton/Getty Images
Dale Earnhardt Jr. drove a special scheme in honor of Memorial Day.
While the National Guard is primarily featured on the hood of Dale Earnhardt Jr.'s car; this special scheme ran just once. In honor of the Memorial Day holiday, this special camouflage paint scheme ran during the Coca Cola 600.
While the car was easy on the eyes, it didn't provide much luck for Earnhardt. After qualifying in 11th, Earnhardt was only able to run 256 of the 400 scheduled laps before his engine expired, relegating him to a 39th-place finish.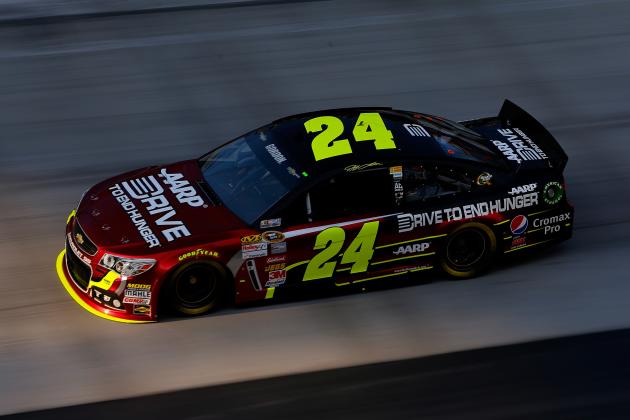 Jared Wickerham/Getty Images
Jeff Gordon is primarily sponsored by AARP Drive To End Hunger.
2013 has been a tough year for Jeff Gordon. Through 16 races he has failed to notch a victory, and currently sits just 13th in points.
After a second place run last weekend in Sonoma driving with this paint scheme, Gordon and his team appear to be headed in the right direction.
This paint scheme has been featured on Gordon's car for 10 of the 16 races this season. Three of his four top-five finishes have come with AARP tagging along for the ride.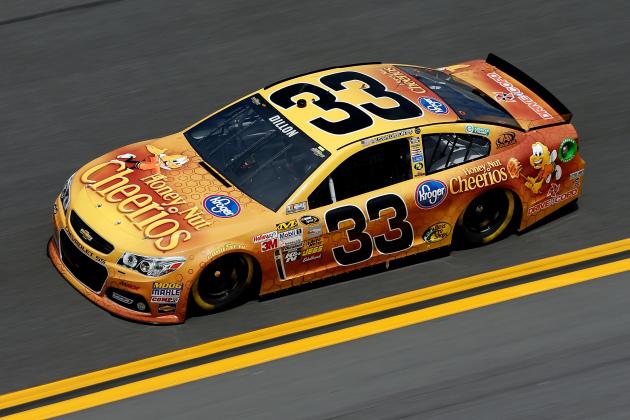 Chris Graythen/Getty Images
Austin Dillon opened the 2013 season with this paint scheme.
Austin Dillon made his third career Sprint Cup Series start at the season-opening Daytona 500.
Driving the No. 33 Honey Nut Cheerios Chevrolet, Dillon really turned some heads when he finished fourth in his 60-lap qualifying race. That earned him the eighth starting spot for the Great American Race.
Dillon ran strong all event long until a crash on Lap 136 took him out of contention. The crew made repairs, and Dillon returned to the track. He would finish the race in 31st place, 25 laps down.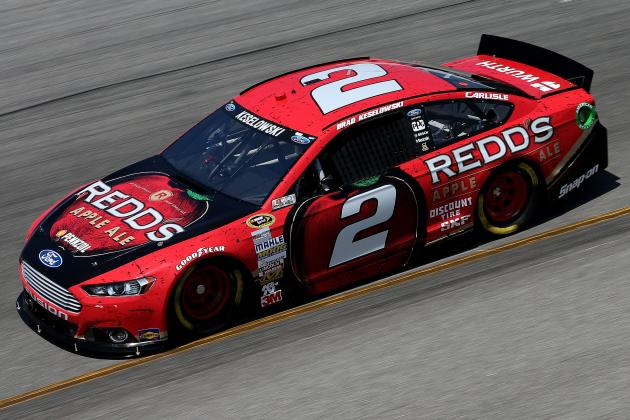 Streeter Lecka/Getty Images
Brad Keselowski displayed the Redd's Apple Ale colors in Richmond.
For the running of the Toyota Owners 400 at Richmond International Raceway this past April, Brad Keselowski sported a brand new paint scheme.
Promoting their newest beer, Miller Brewing Company replaced the traditional Miller Lite blue with the bright red of Redd's Apple Ale.
The defending series champion was only able to finish in 33rd place, eight laps down, while driving with this paint scheme. It is unclear if that was the only time this scheme will appear during the 2013 season.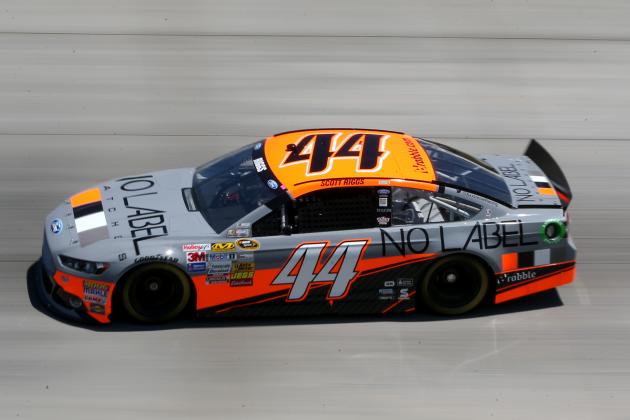 Mark Wilson/Getty Images
Scott Riggs and his Xxxtreme Motorsports team are typically one of the start-and-park teams.
Scott Riggs and the No. 44 Xxxtreme Motorsports team are a part-time team that runs on very limited funds. When they do show up to the race track and qualify for a race they are primarily a start-and-park team.
What this group may lack in money and horsepower, they make up for with a beautiful-looking race car.
With primary sponsorship from No Label Watches, Riggs has attempted to qualify for eight events, making the field in five of them. The team is entered for this weekend's race in Kentucky.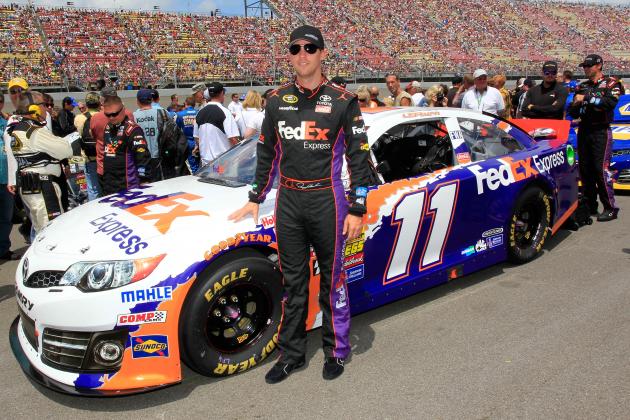 Geoff Burke/Getty Images
Denny Hamlin drove this car in Michigan as a tribute to the late Jason Leffler.
Denny Hamlin drove a special FedEx paint scheme at Michigan a few weeks back in honor of the late Jason Leffler. It was the exact scheme that Leffler had driven back in 2005 while driving the car that Hamlin now drives.
Driving the car under very sad and tough circumstances, Hamlin finished in 30th place, one lap down.
While the ideal situation would have seen Hamlin end up in victory lane, it was still a wonderful tribute, and one that Leffler must have been proud of.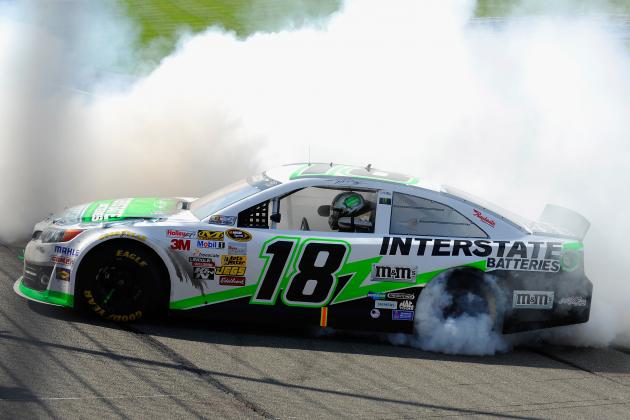 Jared C. Tilton/Getty Images
Kyle Busch has been a winner both times he has piloted this paint scheme.
While the M&M's car that Kyle Busch customarily drives is nice, it is nothing compared to when Interstate Batteries is on the hood.
They have been the primary sponsor on Busch's car a few times per year ever since Busch joined Gibbs Racing back in 2008. This season has been especially successful for the partnership.
Busch is scheduled to drive this car in five events this season, having done so twice already. He drove this car in Fontana as well as in Fort Worth. Those two races account for both of Busch's wins this season.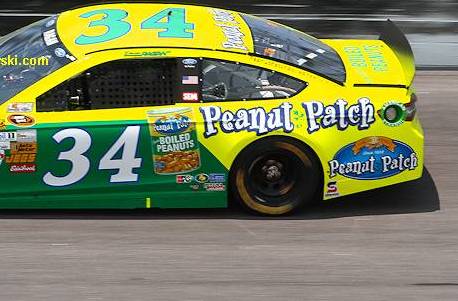 Streeter Lecka/Getty Images
David Ragan drove the Peanut Patch car in Darlington. Credit jayski.com for the picture.
For the second year in a row, Peanut Patch has signed on to sponsor David Ragan and the No. 34 Ford for a handful of races. This scheme is scheduled to run in four events this season, having done so once thus far.
One week after pulling off one of the biggest upsets in NASCAR history, when he won at Talladega, Ragan drove this car at Darlington.
Riding the momentum from the previous week wasn't enough, as Ragan had engine issues late in the race and was forced to withdraw from the event, ultimately finishing in 39th place.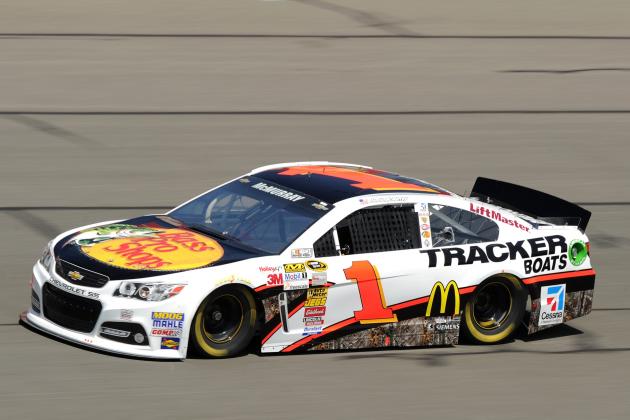 Jared C. Tilton/Getty Images
Jamie McMurray is the owner of the best paint scheme thus far in the 2013 Sprint Cup season.
The best paint scheme thus far in the 2013 season has belonged to Jamie McMurray.
Bass Pro Shops left McMurray to be one of the primary sponsors for Tony Stewart prior to the season. They did, however, agree to remain as primary sponsor for a handful of races with McMurray.
One of those races was at Fontana. Typically the Bass Pro Shops car has been orange. This time they unveiled a white paint scheme that looked fantastic.
McMurray was able to drive this paint scheme to a 19th-place finish in its only race on the track to this point.