Phillies Fall to Padres 4-3 in Extra Innings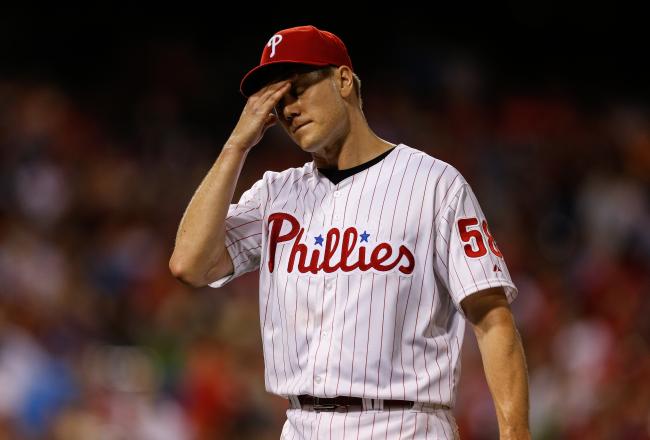 Jonathan Papelbon was charged with a blown save in the Phillies 4-3, extra innings loss to the San Diego Padres.
Brian Garfinkel/Getty Images
The Philadelphia Phillies fell to the San Diego Padres 4-3 in extra innings Monday night at Petco Park.
Justin De Fratus gave up the game winning hit to Kyle Blanks in the bottom of the 10th inning to drop the Philies to 36-41 on the season.
The Phillies had a commanding 3-0 lead entering the ninth inning, but Charlie Manuel made some questionable decisions that ultimately cost his team the lead.
Cliff Lee pitched a shutout through eight innings but was clearly gassed. Still, Manuel left him in the game for the ninth inning, and it proved costly.
Lee faced two hitters and failed to record an out before Manuel made the switch to Jonathan Papelbon.
The Phillies closer gave up a two-run single to Kyle Blanks.
Blanks would eventually make it to third base where he would score on a passed ball that tied the game and forced extra innings.
The Phillies threatened in the 10th, with Jimmy Rollins reaching third base with one out. Manuel elected to leave Michael Young in to face Brad Brach instead of pinch-hitting with Ryan Howard or Laynce Nix, and Young proceeded to strike out on three pitches. Domonic Brown would then fly out to center to end the threat.
Justin De Fratus would enter in the bottom of the 10th, and he clearly did not have it. Walking two batters and hitting another before giving up the game winning hit to Blanks.
For a Phillies team that has struggled all season, this was a crushing defeat and one that will surely have everyone in Philadelphia talking on Tuesday morning.
Charlie Manuel deserves a lot of the blame for the way this game ended. As he has done so many times before, Manuel left his starter go out for the ninth inning, despite looking tired.
And with Jonathan Papelbon struggling, the last thing he needed was to enter a game with the tying run coming to the plate. This was the perfect opportunity to get him a confidence-building save, and instead he was forced into another situation with no room for error.
Tonight's game was just a microcosm of the Phillies season so far: a great starting pitching effort wasted by the manager and his shaky bullpen.
Again, I have to lay the blame for this loss squarely on Charlie Manuel's shoulders.
Cliff Lee did not belong on the mound for the 9th inning, and he certainly did not belong in the batter's box in the 9th with a runner on second.
Padres 4 Phillies 3 - Kyle Blanks with the RBI singe down the line in left, and this ballgame is over.
Headley draws a walk, and here comes Kyle Blanks.
Blanks is wearing No. 88, not a popular number in Philadelphia.
Close call as Headley pulls one home run distance but foul down the left field line.
De Fratus does not have command of his fastball. He hit Quentin with it, and that last one was way high out of the zone.
Quentin gets plunked, and now there's runners on first and second for Chase Headley.
Chooch goes out to try and calm De Fratus down. He looks very shaky right now. Things are certainly not looking good for the Phils now.
Denorfia walks on a close pitch. I will give the home plate umpire credit, he has been very consistent tonight with a very small strike zone.
Carlos Quentin steps in now looking to do some damage and end this one.
De Fratus induces the pop-up from Forsythe. One out.
Sorry for the confusion earlier. The pinch hitter was for the pitcher's spot, not Forsythe. The whole Padres lineup looks the same at this point.
After looking like it was going to be over quickly, the game has now passed the 3-hour mark. I was hoping to be asleep by now.
Justin De Fratus is coming in to pitch the 10th for Philadelphia.
I like this move a lot. De Fratus has been a bright spot in an otherwise ugly bullpen for the Phillies. Hopefully he can get this to the 11th.
Joe Thatcher is the new pitcher, and he gets Domonic Brown to fly out to center to end the inning.
Another wasted opportunity for the Phillies. This is why the team is six games under .500.
Unless Ryan Howard is hurt worse than the Phillies are saying, he has to pinch hit in that spot for Michael Young.
Young looks lost at the plate right now, and though Howard hasn't been much better, I think you have to put him in on potential alone in that spot.
Young whiffs at three straight sliders for the second out. Pitching change coming as we will get a lefty to face Domonic Brown.
Chase Utley drives one to deep center, and Denorfia makes the catch. Rollins tags, and ends up on third after Denorfia loses the handle on the throw.
That's a huge break for the Phillies, and it's up to Michael Young to drive Rollins home with one out.
Rollins finally picks up a hit as he bloops one to left to lead off the 10th.
Now would be a good time to try and snatch second base so Utley can do some damage here.
Jimmy Rollins leads off the 10th inning against new Padres pitcher Luke Gregerson.
Alexi Amarista stands in with a runner on and two outs...and he swings at the first pitch and flies out to center.
Heading to extra innings tonight, and you have to lay the blame on Charlie Manuel for this one.
Kotsay draws the walk. We are going to get a pinch hitter for Forsythe.
Phillies 3 Padres 3 - Jonathan Papelbon blows the save on a passed ball that scoots past Carlos Ruiz.
Kotsay swung and missed, but is still ahead in the count 2-1.
Papelbon not even close with his first pitch to Kotsay.
It might be a good move to put him on here and go after Forsythe who has struggled tonight.
Very curious decision by Bud Black. Neither manager is playing to win this game.
Very surprising to see that Grandal is not bunting here. He's struggled at the plate since being called up, and a successful sacrifice puts two men in scoring position...and Grandal grounds into a double play.
That puts a runner on third with two outs and Kotsay stepping to the plate.
And Papelbon hits Guzman. Two men on, no one out and Yasmani Grandal stepping into the batter's box.
Mark Kotsay on the on-deck circle.
I'm sure Angelo Cataldi is asleep right now, but he is going to have a field day with this tomorrow morning on the WIP morning show.
Phillies 3 Padres 2 - Kyle Blanks delivers a single up the middle to plate two.
I know it's the players who matter most, but if the Phillies blow this game, 100% of the blame goes to Charlie Manuel.
This article is
What is the duplicate article?
Why is this article offensive?
Where is this article plagiarized from?
Why is this article poorly edited?

Philadelphia Phillies: Like this team?