Power Ranking the 5 Greatest Guards in Minnesota Vikings History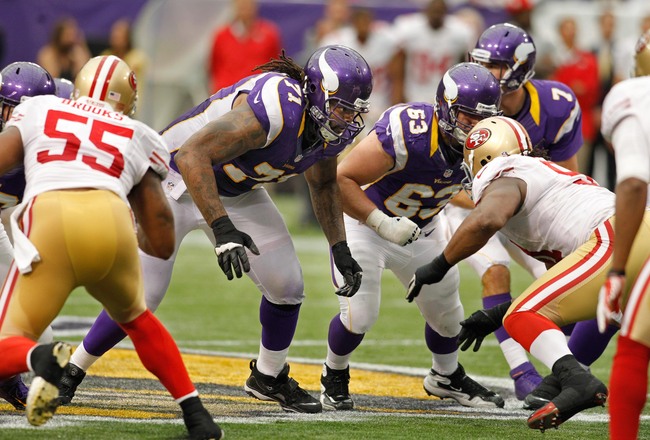 Brandon Fusco in action
Bruce Kluckhohn-USA TODAY Sports
Welcome to the latest in a series of slideshows that power rank the greatest Minnesota Vikings of all time by position. Each week, a different position will be featured. The best Vikings to ever take the field at that position will be ranked from fifth to first.
How does a guy get on the list?
It's all about being a Viking. While stats will certainly be taken into account, there will be other, more subjective, criteria as well. There's a certain feel to those classic Vikings, standing on the sideline at Met Stadium in freezing conditions with steam coming out of their face masks. Those are the quintessential Vikings to many fans.
There are certain players (Mike Morris, Scott Studwell) who would have fit perfectly in that era. Those are true Vikings. Other players (particularly Adrian Peterson) would have been fun in any era.
These lists are filled with players who simply epitomize what it means to be a Viking.
Last week, we did the defensive tackles. This week, we'll focus on the guards. Guards don't usually get as much of the limelight as their partners, the offensive tackles. However, the Vikings have had some outstanding guards in their history, including one who was arguably the greatest player ever at the position.
Click on as we power rank the top five guards in Minnesota Vikings history.
(All statistics courtesy of Pro-Football-Reference unless otherwise noted.)
Honorable Mention: Wes Hamilton
Wes Hamilton (No. 61 in the video), played for the Vikings from 1976 to 1984. He took over the starting right guard position midway through the 1977 season and started every game except one through the 1983 campaign.
Hamilton was durable, dependable and one of the better guards in the league during his tenure in Minnesota. He was named second-team All-NFC in 1981. With Hamilton on the offensive line, the Vikings passing offense ranked in the top five in the league four times between 1977 and 1983.
Hamilton, drafted out of Tulsa in the third round in 1976, is the father of current Seattle Seahawks lineman Ben Hamilton.
For his durability and his part in some exciting Vikings offenses in the late '70s and early '80s, Wes Hamilton gets an honorable mention amongst the greatest Vikings guards of all time.
5. Milt Sunde
Milt Sunde (No. 64 in the video), was a local boy. He went to the University of Minnesota and was drafted by the Vikings in the 20th round of the 1964 NFL draft.
After learning on the sidelines during his rookie year, Sunde took over as the starting left guard in 1965. He started every game until an injury sidelined him late in the 1967 season.
When Sunde returned to the field in 1968, he moved to right guard. There, next to Hall of Fame tackle Ron Yary, he teamed up to give Minnesota one of the best strong sides in the NFL. He was named to the Pro Bowl following the 1965 season and played in the Vikings' first two Super Bowl appearances.
Longtime Vikings fans will always remember Sunde roaming the backfield as he tried to protect Fran Tarkenton on yet another scramble. Sunde gets the nod over Hamilton because of his pairing with Yary and his appearance in two Super Bowls.
4. David Dixon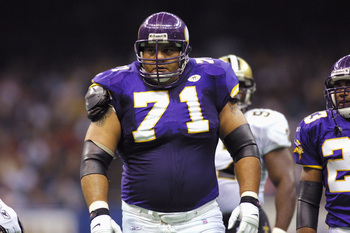 Dixon was a massive presence.
Ronald Martinez/Getty Images
David Dixon is one of the biggest men ever to don a Minnesota Vikings uniform.
Dixon was born in Papakura, New Zealand. He was 6'5" tall and weighed 343 pounds during his tenure in Minnesota. A massive force on the offensive line, Dixon was part of some of the greatest offenses in NFL history.
Dixon was originally drafted by the New England Patriots in the ninth round of the 1992 draft. Dixon never saw the field in New England and came to Minnesota in 1994. After starting a handful of games in 1995 and 1996, Dixon became the full-time starter at right guard in 1997. He went on to start 134 games for the purple.
The Vikings offense was in the NFL's top five six times in Dixon's eight seasons as a full-time starter. He paired with Randall McDaniel to give Minnesota the best starting guard tandem in the NFL.
Dixon gets past Milt Sunde for No. 4 on the list because of his durability (he only missed one game after taking over the starting spot) and for his huge presence (literally) on some of the best offenses in Vikings history.
3. Ed White
The Vikings drafted Ed White out of Cal in the second round of the 1969 draft. It was a high pick to spend on an offensive guard in those days, but White more than panned out for Minnesota.
White became a starter midway through his second season in 1970. He went on to start 94 games during his tenure in purple. He was named to the NFC Pro Bowl squad following the 1975, 1976 and 1977 seasons and was a member of all four of the Vikings' Super Bowl teams.
White was regarded as a very smart player, but he was not lacking in the strength department. In fact, White won the 1975 NFLPA Arm Wrestling Championship.
White edges out Dixon for No. 3 because of his incredible strength, his Pro Bowl record and for being on all four of the Vikings' Super Bowl teams.
2. Steve Hutchinson
Hutchinson was a standout in Seattle and Minnesota.
Dilip Vishwanat/Getty Images
Most people think of offensive guards as massive earth-moving guys who mostly get in the way of defensive linemen long enough to let the rest of the offense do its job. Most guards aren't known for their attitudes or their athletic ability.
Steve Hutchinson didn't fit that mold.
Hutchinson had a mean streak, and he was relatively svelte for an offensive lineman at 6'5" and 313 pounds. Defenders feared "Hutch" and seldom tried to take advantage of the left side of the Vikings' line. He came to the Vikings after five years in Seattle and immediately changed the tenor of the offensive line.
Hutchinson was everything you could want in a guard. He was strong and smart. He was durable, starting every game during his first four years in Minnesota. He was voted to the Pro Bowl from 2006 through 2009 (his first four years with the Vikings) and was a first-team All-Pro in 2008 and 2009.
Hutchinson is No. 2 on the list because of his sustained excellence and the different type of attitude he brought to the offensive line.
1. Randall McDaniel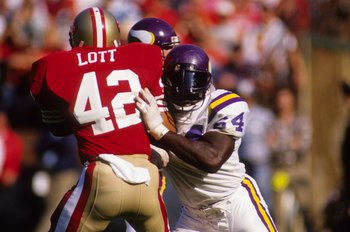 McDaniel in action.
George Rose/Getty Images
Randall McDaniel is not only the best Viking ever to play the guard position, but it's arguable that he is the best in the history of the NFL.
McDaniel, who was drafted by the Vikings in the first round of the 1988 NFL draft, was a nightmare when it came to mechanics. His stance was frequently pointed out by television commentators as an example of what not to do. He wasn't very big for an offensive lineman, weighing in at 276 pounds.
It was only after the ball was snapped that it became evident why McDaniel was one of the best guards ever to play.
McDaniel was dominant in both the running and passing games. He started 15 games for the Vikings as a rookie in 1988, and 13 in 1989. In 1989, McDaniel was named to the Pro Bowl for the first time. He went on to play in 12 straight Pro Bowl games (11 as a Viking). He was named first-team All-Pro seven times.
McDaniel was elected to the Hall of Fame in 2009.
As good as he was as a player, McDaniel is an even better person. Following his NFL career, Randall returned to Minnesota, where he now works as a teacher in the Minneapolis public school system.
Check in next week for the next power ranking of all-time Vikings.
Is someone on the list that shouldn't be there? Have a player you'd like to nominate? Speak your mind in the comments section below.
Follow me on Twitter:
Keep Reading

Minnesota Vikings: Like this team?