Power Ranking the 5 Greatest Defensive Tackles in Minnesota Vikings History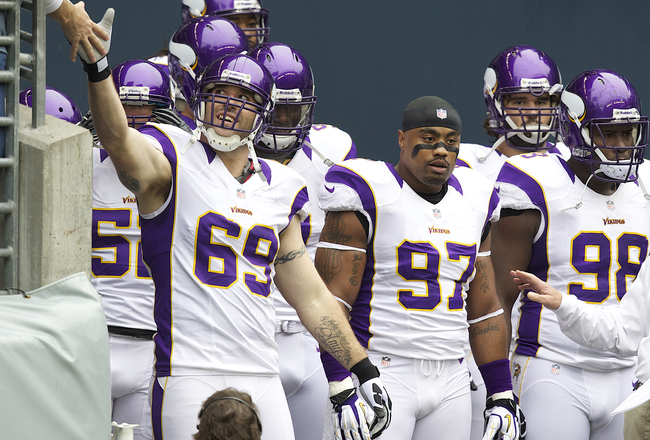 The Vikings have historically had great defensive lines
Stephen Brashear/Getty Images
Welcome to the latest in a series of slideshows that power rank the greatest Minnesota Vikings of all time by position. Each week, a different position will be featured. The best Vikings to ever take the field at that position will be ranked from fifth to first.
How does a guy get on the list?
It's all about being a Viking. While stats will certainly be taken into account, there will be other, more subjective, criteria as well. There's a certain feel to those classic Vikings, standing on the sideline at Met Stadium in freezing conditions with steam roiling out of their face masks. Those are the quintessential Vikings to many fans.
There are certain players (Mike Morris, Scott Studwell) who would have fit perfectly in that era. Those are true Vikings. Other players (particularly Adrian Peterson) would have been fun in ANY era.
These lists are filled with players who simply epitomize what it means to be a Viking.
Last week, we covered centers. This week, we'll focus on defensive tackles. While defensive ends get most of the glory on the defensive line, defensive tackles often change the game. The Vikings have a long and storied history of outstanding play from the defensive tackle spot.
From the vaunted Purple People Eaters of the 1960s and 1970s to the Williams Wall of just a few years ago, Minnesota has been home to some of the best defensive tackle play in the history of the NFL.
Click on as we power rank the top five defensive tackles in Minnesota Vikings history.
(All statistics courtesy of pro-football-reference.com unless otherwise noted.)
Honorable Mention: Pat Williams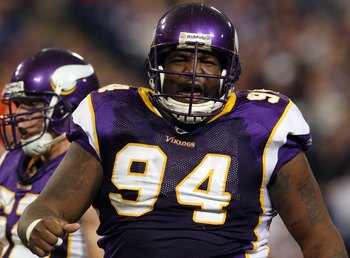 One half of the vaunted Williams Wall
Jim McIsaac/Getty Images
Many times, defensive tackles are overshadowed in the media and in the record books by their counterparts at defensive end. The three candidates for honorable mention on this list are all unsung heroes.
Henry Thomas
Henry Thomas was a Vikings mainstay from 1987-1994. Thomas, known by Minnesota fans as "Hardware Hank," was a solid run defender, and a surprisingly effective pass-rusher.
Though overshadowed by teammates Keith Millard and Chris Doleman at times, Thomas was steady and reliable throughout his Vikings career. He totaled 56 sacks in his time in Minnesota.
Doug Sutherland
Doug Sutherland stood in an even bigger set of shadows than Thomas. Sutherland, who played in Minnesota from 1971-1980, was "the new guy" on the famous Purple People Eaters defensive line. Sutherland was tasked with replacing Gary Larsen, the original member of the famous D-Line.
Like Larsen, Sutherland toiled in relative obscurity as teammates like Jim Marshall, Alan Page and Carl Eller got most of the headlines.
Pat Williams
Like the others mentioned previously, Pat Williams was sometimes overshadowed by more renowned teammates (like Kevin Williams and Jared Allen). The difference is that "Fat Pat" also made a name for himself as part of the "Williams Wall."
With Pat and Kevin Williams in the middle of the line, the Vikings defense ranked No. 1 in the NFL against the run for three straight years from 2006-2008, and finished second against the ground game in 2009. No team had accomplished that feat in more than 20 years. Williams also had a strong personality and was a fan favorite.
For his contributions to the "Williams Wall," and his legendary status with Vikings fans, Pat Williams edges out Thomas and Sutherland for honorable mention on the list of all-time greatest Minnesota defensive tackles.
5. Gary Larsen

Larsen wore No. 77

Gary Larsen might have been the most overshadowed defender in the history of the Minnesota Vikings. He made a career out of being "the other guy" on the Purple People Eaters line with Carl Eller, Jim Marshall and Alan Page.
While fans and media may have overlooked Larsen, opponents and peers didn't. Larsen was voted to the Pro Bowl in 1969 and 1970, when the Minnesota defense was No. 1 in the NFL. As usual, Larsen's spotlight was somewhat dimmed by the fact that the other three members of the defensive line were named to the Pro Bowl alongside him.
Larsen was a member of the Vikings from 1965 to 1974 and was a stalwart on some of the best defenses in NFL history. For his role in a dominant era and for his steady play, Larsen makes it to No. 5 on this list. Larsen even looks like the Minnesota logo. What else could you ask of a Viking?
4. Keith Millard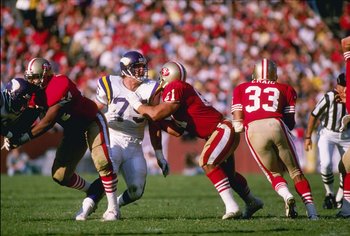 Millard vs. San Francisco
Otto Greule Jr/Getty Images
Keith Millard didn't spend too long in Minnesota, but the time he did spend was amazing. In his six years with the Vikings, Millard recorded 53 sacks and was a disruptive force in the middle.
Millard came to the Vikings in 1985, after a season with the Jacksonville Bulls of the now-defunct USFL. Millard didn't take long to make an impact. He recorded 11 sacks in his first season, even though he started just five games.
He was at his best in 1988 and 1989. In 1988, Millard was named first-team All-Pro, even though he only recorded eight sacks. In 1989, Millard was the NFL Defensive Player of the Year, after recording 18 sacks from the middle of the Vikings defense.
Millard edges out Gary Larsen for the No. 4 spot on this list for making such a huge impact over the course of his relatively short time with the team. In addition to his two first-team All-Pro selections, Millard was named second-team All-Pro three times.
3. Kevin Williams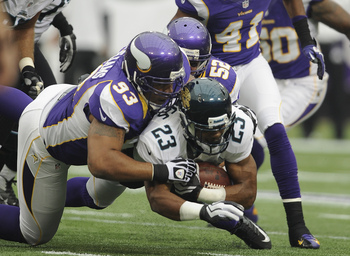 Williams is one of the best run-stoppers in the NFL
Hannah Foslien/Getty Images
Kevin Williams might be entering his last season as a Viking in 2013. The 10-year veteran has started all 156 games during his Vikings career, and has quietly established himself as one of the best defensive tackles ever to wear the purple.
While his sack numbers have declined in recent years, down from a career high of 11.5 in 2004, Williams remains a force against the run. Along with Pat Williams, Kevin helped form the Williams Wall, which allowed the Vikings to lead the NFL in run defense from 2006-2008.
Williams climbs past Millard on the list for No. 3 due to his sustained excellence. Over his 10 years with the Vikings, Williams has recorded 56.5 sacks. He's also been named first-team All-Pro five times. Williams has been selected six times for the Pro Bowl.
If his sack numbers had remained as high as during his first two seasons in Minnesota, he might have climbed even higher on the list.
2. John Randle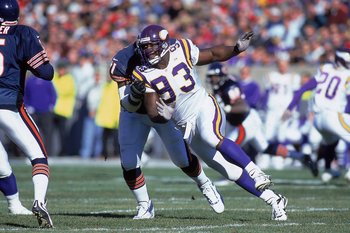 Randle was a one-man gang
Jonathan Daniel/Getty Images
John Randle is simply one of the greatest players ever to suit up for the Minnesota Vikings. Randle, elected to the Pro Football Hall of Fame in 2010, is Minnesota's official all-time sack leader with 114. (There are a few players above him on the "unofficial" list. The NFL didn't record stats as an official stat until 1992.)
Randle was a force of nature in the middle of the Vikings defense for 11 years. During that time, he was named to the Pro Bowl six times and was first-team All-Pro a half dozen times. Randle recorded 10 or more sacks in eight straight years. At the time, that was an NFL record for an interior lineman.
Randle bypasses Williams on the list for No. 2 simply on the pure force of his numbers. Both were Vikings for a similar period of time. Both have been honored by the league and their peers roughly the same number of times. However, Randle garnered roughly twice as many sacks as Williams, and thus moves past him on the list.
1. Alan Page

Page dominated for ten years

Alan Page is the best defensive tackle in the history of the Minnesota Vikings. It can be argued that Page is the best tackle in the history of the NFL.
Page changed the way the position was played prior to his arrival in the NFL in 1967. Teams couldn't block him one-on-one, and his dominance in the middle opened up opportunities for his fellow Purple People Eaters. Jim Marshall and Carl Eller wouldn't have been as successful as they were if Page wasn't creating havoc in the middle.
Page made history in 1971, when he was named the NFL's Most Valuable Player. He was the first defensive player ever to win the award. Over the course of his 12 years in Minnesota, Page was named to the Pro Bowl nine times, and was a first-team All-Pro selection six times.
Because sacks weren't an official NFL statistic until 1992, it's not clear exactly how many sacks Page collected in his career. Several unofficial lists credit him with 148.5, which would place him seventh on the all-time list.
Whether or not his sack totals are recognized by the NFL, Page dominated offensive linemen for more than a decade in Minnesota, and changed the way defense is played in the league to this day.
For changing the face of the game, and the face of a franchise, Alan Page is honored as the greatest defensive tackle ever to play for the Vikings.
Check in next week for the next power ranking of all-time Vikings.
Is someone on the list that shouldn't be there? Have a player you'd like to nominate? Speak your mind in the comments section below.
Follow me on Twitter:
Keep Reading

Minnesota Vikings: Like this team?