Indianapolis Colts: 10 Players Firmly on the Roster Bubble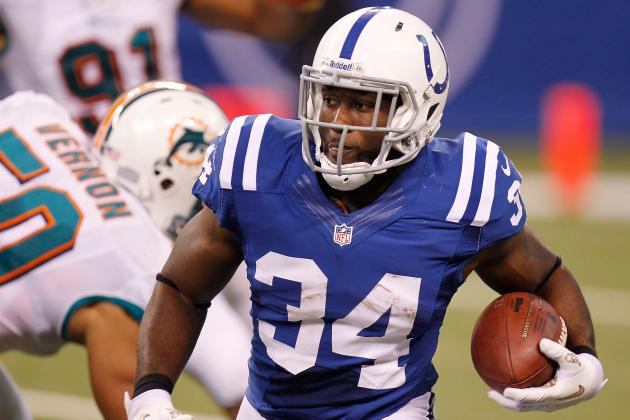 Gregory Shamus/Getty Images

In case you haven't realized by now, the most common activity for NFL team analysts during the offseason is looking at and predicting the final roster.
Although some veterans have secure places on their respective teams, most NFL players are fighting for their jobs each August, and rosters are extremely flexible.
The Colts are no exception. Due to Ryan Grigson's impressive work this offseason, the roster has been improved across the board. Because of the additions, some very capable players will be cut come late August.
Let's take a look at 10 players who are in danger of losing their spots this offseason.
All statistics are from Pro Football Focus, unless noted otherwise.
Begin Slideshow

»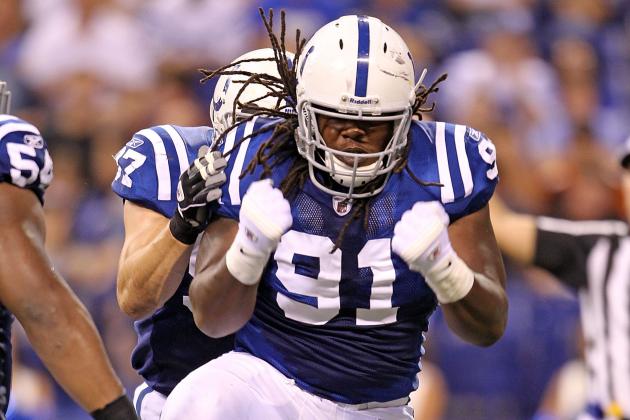 Andy Lyons/Getty Images

Ricardo Mathews was drafted by the Colts in 2010 in the seventh round of the draft. He made the roster during his rookie year, but was cut the following year and stowed on the practice squad for a few weeks. He was put onto the active roster in October and has remained there ever since.
He's been a productive player for Indianapolis as a rotational defensive lineman. Mathews finished with the second-most snaps on the defensive line last season after Cory Redding. While Drake Nevis and Fili Moala got hurt and were limited to less than 600 combined snaps, Mathews stayed healthy and consistent all season and was able to accrue over 500 snaps (subscription required).
However, despite his consistent service, Mathews is in serious danger of losing his spot on the roster this year.
Mathews is simply an average depth defensive end at best, and the Colts have added multiple defensive linemen to improve their depth this season. Indianapolis signed Ricky Jean-Francois to start at defensive end, re-signed Moala to back him up and drafted Montori Hughes in the fifth round of the NFL draft.
Add in Redding and Nevis, and the Colts already have five nearly-guaranteed defensive ends. The team only kept four defensive ends last season, and somebody is going to be disappointed come final roster cuts.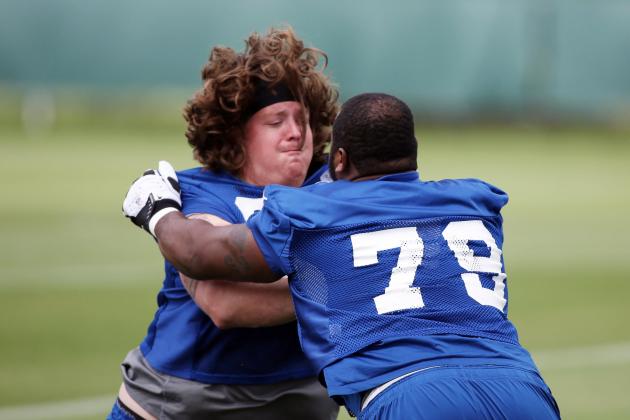 Brian Spurlock-USA TODAY Sports

The Colts drafted Justin Anderson last season in the seventh round, but injuries kept the former Georgia Bulldog from getting onto the active roster.
Anderson can play guard or tackle and provides the Colts with valuable versatility. Namely, Anderson can give the Colts depth at tackle, where the Colts have little proven talent after the two starters, Anthony Castonzo and Gosder Cherilus.
Anderson definitely has potential, and the Colts likely want to keep attempting to develop him. But the fact is that losing a season to injury will hamper his growth and also will cause questioning of his durability for the future. With Emmett Cleary, Lee Ziemba, Bradley Sowell and Ben Ijalana also looking to compete for the spot, Anderson has a lot of work to do to ensure his spot in Indianapolis.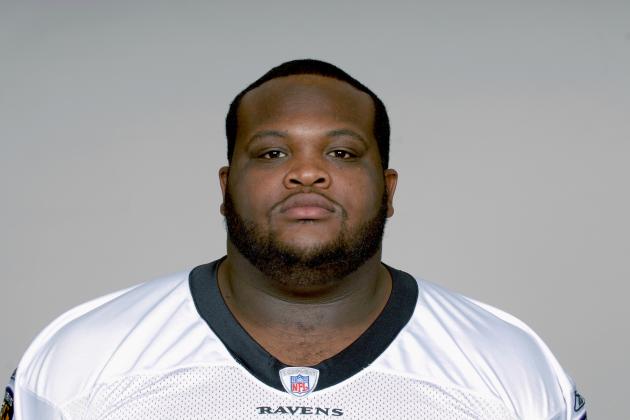 Handout/Getty Images

Brandon McKinney was one of Ryan Grigson's key offseason additions during his initial offseason last year, but didn't end up seeing the field at all in 2012.
McKinney tore his ACL in training camp last season and was placed on injured reserve. The team is optimistic that he will be healthy in time for training camp, but in the meantime, Josh Chapman and Aubrayo Franklin are taking first-team reps in OTAs.
Franklin was just signed in free agency, and the team has been very upbeat about Chapman going forward. With Jean-Francois and Hughes also able to play nose tackle, it seems that McKinney may be out of luck. The Colts only kept one nose tackle last season on their initial 53-man roster, keeping three would be excessive.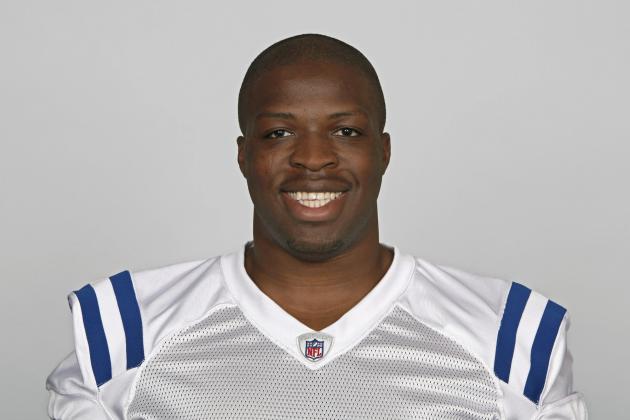 Handout/Getty Images

2011 second-round draft pick Ben Ijalana got his chance to play in an actual game during the Colts' Week 4 matchup with the Buccaneers. After Anthony Castonzo injured his ankle in the Colts' first series, Ijalana came in and played very well against rookie Michael Clayborn, holding him to just one quarterback hurry in 23 pass rush attempts.
Unfortunately, Ijalana's ACL would be torn in a freak play, ending his season. Expectations were high entering his sophomore season in 2012, but those hopes would be dashed when Ijalana tore the same ACL in a no-contact drill on his first day after being cleared by doctors.
After being put on the injured reserve last season, Ijalana has remained on the roster, as the Colts haven't completely given up on the third-year lineman just yet. With little talent at offensive tackle behind the two starters, Ijalana could represent some decent potential depth.
Unfortunately, his inability to develop due to injury over the last two years and his durability concerns will definitely count against him when it is time for final cuts. Ijalana has the highest ceiling of any of the depth tackles, but also may be the riskiest.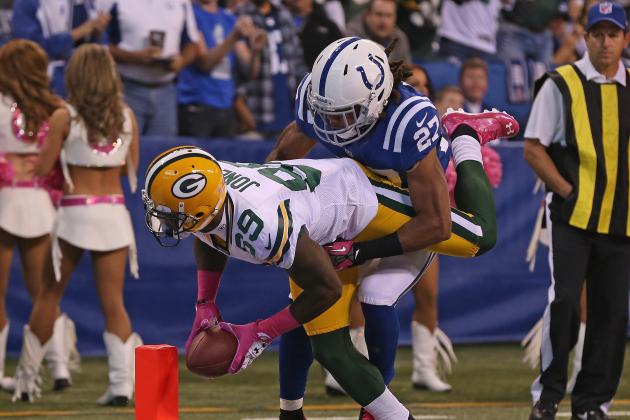 Jonathan Daniel/Getty Images

The Colts traded for Josh Gordy last summer, giving the St. Louis Rams an undisclosed 2014 draft pick in return.
Gordy took over the dime corner spot after the Colts let Justin King go last season, playing over 200 snaps in 2012 (subscription required). Gordy was decent in run support but was a complete liability in coverage. Opposing passers averaged a passer rating of 113.6 when throwing at Gordy, and the Colts knew they wanted to improve on him in the offseason.
To do this, the Colts brought in UDFAs Sheldon Price and Allen Chapman to compete for the spot. Cassius Vaughn's position as the fourth corner isn't set in stone, but he certainly has more security than Gordy. If one of the two UDFAs makes the roster, it's likely Gordy's spot that he'd be taking.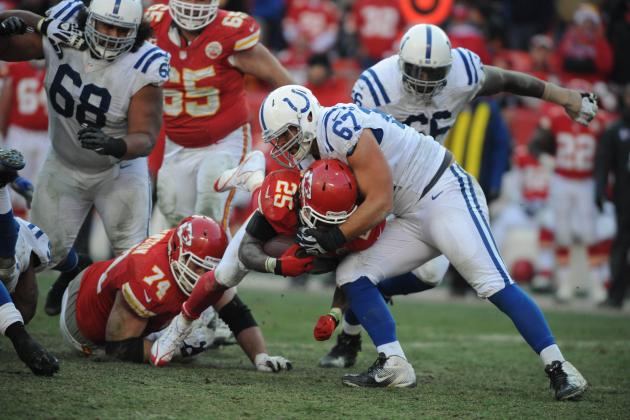 USA TODAY Sports

Like Ricardo Mathews and Brandon McKinney, Guy is simply a player who is likely going to fall victim to the Colts' excessive depth on the defensive line.
Guy played over 200 snaps for the Colts in 2012 and was a decent run-stopper. Unfortunately, he offered little as a pass-rusher, and his run stopping ability wasn't nearly stable enough to guarantee a job in 2013.
Nevis, Moala, Jean-Francois, Redding and likely Montori Hughes are lined up to be ahead of Guy on the depth chart, and Ricardo Mathews could have a step up on him as well. Keeping six defensive ends would be incredibly surprising, and keeping seven would be insane.
USA TODAY Sports

Mario Harvey signed with the Colts last January and participated in 13 games in 2012, mainly as a special teams player. Harvey was also a depth inside linebacker, but rarely made it on the field in that role in 2012.
According to beat reporter Tom James, the Colts like Harvey, but unfortunately there simply may not be room for him on the final roster.
After trading outside linebacker Jerry Hughes to Buffalo for inside linebacker Kelvin Sheppard, the Colts have a strong four-man crew of Sheppard, Jerrell Freeman, Pat Angerer and Kavell Conner at ILB. The Colts kept five ILBs on the roster last season, so one more spot could still be available, and Harvey seems to have the inside track, but it's not a guarantee by any means.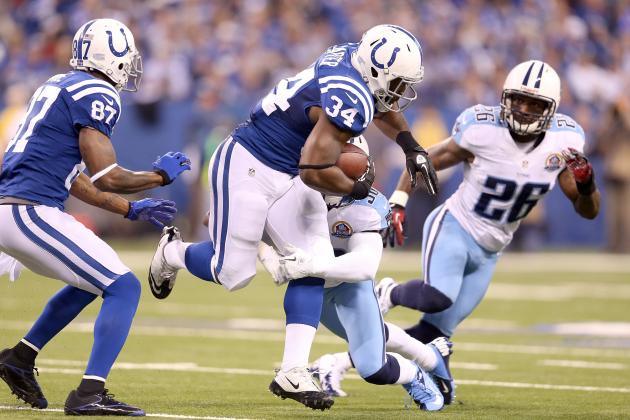 Andy Lyons/Getty Images

The Colts' 2011 draft class continues to produce roster bubble players, as running back Delone Carter is in serious jeopardy of losing his roster spot after the Colts signed Ahmad Bradshaw two weeks ago.
Carter was already going to have to battle with rookie RB Kerwynn Williams for snaps, but now his very spot on the roster will be in trouble. Bradshaw, Vick Ballard and Donald Brown should be the Colts' three-man rotation for the season, so Carter and Williams will be battling it out for what will likely be the sole other running back spot.
Williams offers kick return ability that Carter does not, but Carter is a short-yardage specialist that the Colts otherwise lack. Either making the roster wouldn't surprise me, but no matter the case, it should be clear that Carter could very well be out of a job come September.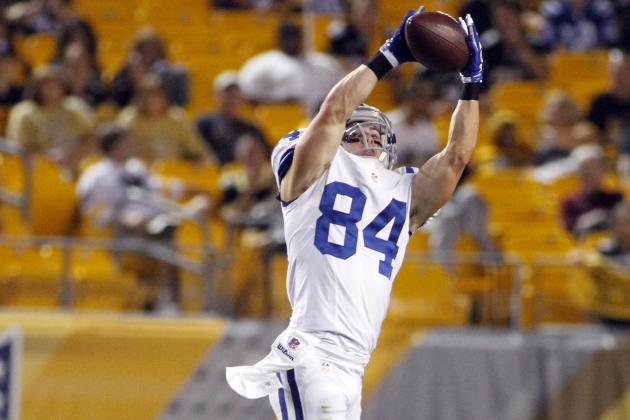 Justin K. Aller/Getty Images

Andrew Luck's former roommate Griff Whalen was signed to the roster as a UDFA last season almost solely for that reason: his relationship with the Colts' first overall pick. Whalen has talent, but not the natural athleticism that most NFL teams look for.
But Luck and Whalen's connection proved fruitful, as the two impressed in training camp and preseason. Whalen was an early dark-horse candidate to make the roster as a depth wide receiver. But Whalen was put on the injured reserve list in late August, and the possibility for a Stanford connection at wide receiver was lost for 2012.
Now, Whalen is aiding the team (along with Luck and Coby Fleener) in learning the language of Pep Hamilton's new offense and seems comfortable with his old coach at the helm. If Whalen is going to make an NFL roster, it seems that this is his best shot. Whalen has his most familiar coach and quarterback, is on a roster with little slot talent ahead of him and could slide into a fifth or sixth wide receiver role.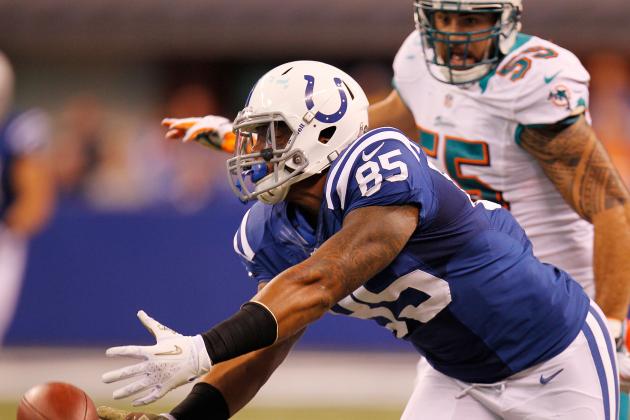 Gregory Shamus/Getty Images

The Colts' combination third tight end of Weslye Saunders and Dominique Jones will be fighting for a consistent job come August, both with each other and rookie TE Justice Cunningham.
You would think that Saunders has the inside track over Jones, after Jones was cut midway through last season and Saunders took over, but the Colts did sign Jones again in January and clearly want to see him compete for a spot.
The Colts are unlikely to keep more than three tight ends once final cuts come around, unless they choose to forgo keeping a fullback. If only three are kept, two of the Jones/Saunders/Cunningham trio will be out of a job.
Indianapolis will likely do what they can to keep 2013 Mr. Irrelevant around, whether that means a roster spot or as a part of the practice squad. The other two, however, have no such connection and very well could simply be waived and forgotten come August.