Who's Hot and Who's Not in Boxing?
Josh Hedges/Getty Images

When it comes time to draw up lists of the hottest fighters, most of the names are obvious. Lucas Matthysse is coming off a brutal TKO of world champion Lamont Peterson. The junior welterweight is one of the most enthusiastically talked about fighters in the sport.
Floyd Mayweather and Saul Alvarez will spend the summer promoting one of the biggest pay-per-view events of recent years. That's as hot as you can get in boxing.
I won't be discussing them, or other usual suspects, such as Guillermo Rigondeaux or Gennady Golovkin. This is a stock-watch list for fighters who are on the rise, but not yet at the very top of the sport.
These are fighters who have recently won big fights in an impressive manner, putting them in position for major opportunities.
Begin Slideshow

»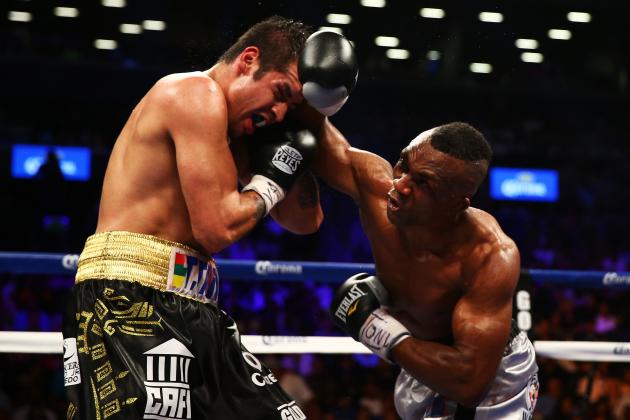 Al Bello/Getty Images

Sakio Bika represented his native Cameroon in the 2000 Olympics in Sydney, Australia. He's been a professional for over 12 years and has fought the best super middleweights of this era—Joe Calzaghe and Andre Ward.
But despite building up a solid reputation as an exciting fighter, he has never been able to rise above gate-keeper status. Heading into his fight against undefeated Marco Antonio Periban for the vacant WBC title, on the Paulie Malignaggi-Adrien Broner undercard, Bika was 0-3 in title fights.
But the fourth time was a charm. In a highly entertaining fight, Bika used effective aggression to muscle inside on the much longer Periban, roughing the younger fighter up and handing him his first professional defeat.
The truth is, Bika remains a gatekeeper at 168. The title he won was vacated by Andre Ward, who no longer deemed it worth defending. But like the old cliche goes, "one man's trash is another man's treasure."
For a veteran fighter like Bika, finally winning a world championship belt is meaningful. Moreover, it puts his name back into circulation as a potential Andre Ward opponent. Ward beat Bika by a one-sided score in 2011, but Bika gave the pound-for-pound star some of his toughest rounds as a professional.
After an exciting victory on a major Showtime card, Bika could very well earn a rematch with Ward when the star returns to action.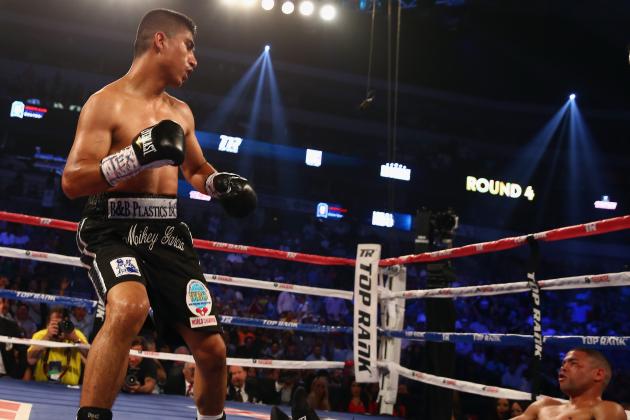 Tom Pennington/Getty Images

Juan Manuel Lopez got a little bit of a raw deal in his last fight with Mikey Garcia. When I interviewed Lopez the week before the fight, he revealed to me that continuing to make weight at 126 was tough for him and that he would have much rather had the fight at 130.
But the Garcia camp insisted on 126, so that was what Lopez accepted in the end. "He's the champ and the fighter I need to beat, so I took it at 126 to get it," Lopez explained.
But then when it came time to weigh in for the bout, it was the featherweight champion,Garcia, who came in two pounds heavy. I personally believe Garcia made an honest attempt to get to 126, and his failure cost him a six-figure payout to Lopez.
I don't think the weight situation really had much impact on what happened in the ring either. Garcia was simply a far more well-rounded boxer, and it came as no surprise to me when he brutally dispatched Lopez in four rounds.
Lopez has always been an explosive fighter with suspect defense. Now that he's nearing 30 and has suffered three rough stoppages in two years, it's pretty tough to picture him ever being a factor again.
As a fan, I would not want to see him suffer another beatdown.
I gave Adonis Stevenson little chance when he faced off with light heavyweight champion Chad Dawson earlier this month. His punching power was obvious, but the rest of his skills looked far too rough and primitive for me to believe he could get by a polished champion like Dawson.
But Stevenson demonstrated that in professional prizefighting, sometimes a monster punch is enough. He dropped Dawson with a single overhand right that ended the bout almost as soon as it had begun—1:16 into Round 1. It was among the most shocking KO's in recent years.
The win makes Stevenson the man at 175. The Haitian native now makes his home in Quebec. Montreal is among the best fight cities in the world, and the fans there will rally to an exciting puncher like Superman.
Expect to see Stevenson headlining a major card there in this fall.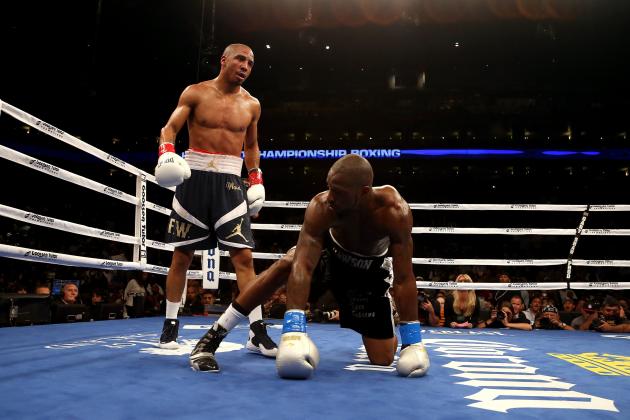 Ezra Shaw/Getty Images

I'm not completely ready to write Chad Dawson off. Since decisively beating Tomasz Adamek in 2007, he has been among the class of the light heavyweight division.
But Dawson is 30 now and coming off two straight stoppages. Against Andre Ward last year, he sustained a brutal beating over 10 rounds before going down by TKO. Against Adonis Stevenson earlier this month, he was blasted out by a single punch in the first round.
Dawson has never been wildly popular with the fans. With back-to-back stoppages, expect him to move to the back of the line in the quest for significant fights, behind younger and more exciting fighters.
For most of 2012 and the beginning of this year, the light heavyweight division seemed consigned to the sport's backburner, where it quietly simmered while most of the fan interest focused on lower weights.
But more recently, the 175-pound class has, at last, begun to boil over and call attention to itself again. I have already written about the hard-punching Adonis "Superman" Stevenson, who blasted division kingpin Chad Dawson in a single round earlier this month.
But for my money, the most exciting undefeated fighter at light heavyweight is Sergey Kovalev. The Russian native and Florida resident has the power of Stevenson, but far more solid boxing skills.
In January of this year, he blasted former world champion Gabriel Campillo in three rounds. Campillo may not be an elite fighter, but he is highly skilled, and in the past five years, he has only lost only very close, contested decisions, against top-ranked fighters.
Kovalev followed that up with another Round 3 TKO earlier this month, over Cornelius White. He is scheduled to face fellow undefeated fighter Nathan Cleverly in August.
One of the biggest stories in boxing over the past several years has been the emergence of the Cuban fighters in the professional game. The Caribbean island nation has long dominated amateur boxing on the global level.
Living under Castro's communist dictatorship, Cuban athletes have traditionally been denied the opportunity to fight as professionals, while benefiting from a far more thorough system of support than amateur athletes in other countries can even imagine.
A strong amateur background has always been viewed as a good preparation for a professional career. But a Cuban amateur background is an entirely different level of experience.
Erislandy Lara has been among the top of the Cuban crop over the past two years. His only loss came by disputed majority decision against Paul Williams in July 2011.
I thought Lara deserved to win his technical draw against Vanes Martirosyan last year, but it was an uninspired, defensive-minded performance that largely pushed him out of the conversation in the junior middleweight division, where the likes of Saul Alvarez, Austin Trout, Miguel Cotto, and sometimes even Floyd Mayweather, campaign.
His Round 10 TKO of Alfredo Angulo earlier this month should force his name back into circulation. It solidified his position as a prime candidate for any major fights at 154 pounds.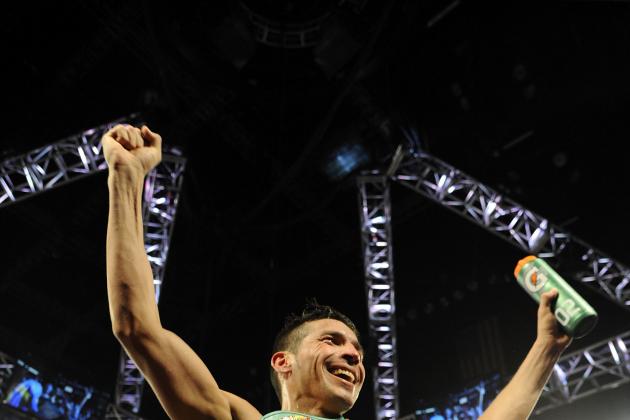 Jeff Bottari/Getty Images

So far in this century, Sergio Martinez has been among the top pound-for-pound fighters in the world. He will be elected to the Hall of Fame the first year he is eligible.
But the sad truth of the fight game is that even the very greatest fighters age and diminish in skills. And I believe that is the point Sergio Martinez has reached in his own career.
For most of his fight against Julio Cesar Chavez Jr. last September, Martinez dominated. But the younger, bigger challenger kept coming on, and in Round 12, he nearly knocked Martinez out. "Maravilla" survived the round on guts, but was injured in the bargain and had to undergo extensive surgery.
Against Martin Murray in April, Martinez looked like a shadow of himself. He was knocked down in Round 8 and was lucky to escape with a 115-113 decision on all three cards. I think 115-113 was the correct score, but I also think a ruled slip by Martinez should have been judged as a second knockdown.
If that had been the case, the cards would have read 114-113 for Murray.
It would be easy enough to dismiss that as an off-night in most cases. And for the most part, that is how the boxing media has treated it. The bout was fought in a soccer stadium, during a rain storm, so ring conditions were far from ideal for a fighter who uses movement the way Martinez does.
But in this case, I see it as a sign of a more general decline. More notable than Martinez's in-ring performance was the fact that shortly after the fight, Lou DiBella told Dan Rafael of ESPN.com that Martinez would be be out for the rest of 2013 with another surgery and more rehab time.
The next time Martinez fights, he will be 39 and will have undergone three surgeries in two years. When I think about Martinez, I can't help thinking about Roy Jones, another dazzlingly athletic fighter who went from the top of the pound-for-pound rankings to over the hill—overnight.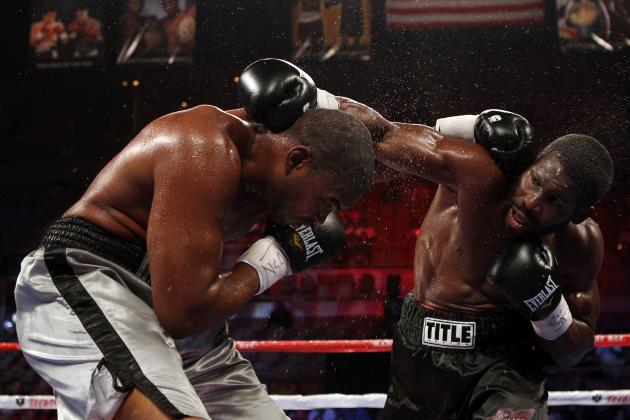 Scott Heavey/Getty Images

Earlier this month, undefeated heavyweight Bryant Jennings stopped Andrey Fedosov when the tough Russian contender was forced to quit in the corner after Round 6, with his eye swollen shut. It was, perhaps, the toughest test of Jennings' career, and it solidified my opinion that he is the top American heavyweight prospect.
The rugged and compact Fedosov applied pressure for the length of the fight, scoring well to Jennings' body. I have a hard time imagining the lean Deontay Wilder's torso standing up so well.
Jennings sports an amazing 84" reach on his 6'2" frame. That's the average wingspan of a seven-foot tall man.
Jennings' arms are thick and powerful, as well. He is essentially a 6'2" man with the arms, head and shoulders of a giant. The offensive advantages of his size are obvious, but it also provides him with an incredibly effective, oversized shield when he has his hands up in a high guard.
The closest physical likeness to Jennings that I can think of among past heavyweight champions is Sonny Liston. I'm not sure he is ready for one of the Klitschko brothers. But he's perfectly poised to be a major player in the post-Klitschko world.
The careers of undefeated heavyweight prospects are always managed carefully. But sometimes, it's possible to be too cautious and manage a prospect right into irrelevancy. This is dangerously close to happening with Russian Denis Boytsov.
Only a couple of years ago, Boytsov was viewed as a potential title contender at heavyweight. Against decent journeymen like Vinny Maddalone and Dominick Guinn, he has demonstrated solid boxing skills. With 26 of his 33 wins coming by stoppage, he's shown he has power, too.
But instead of stepping up in competition this year, so far, Boytsov has fought a couple of eight-round bouts with 11-4 Samir Kurtagic and 9-1 Oleksandr Nesterenko. These are not the kind of fights that lead to a title shot. At least, they shouldn't be.
A heavyweight title fight can be a life-changing payday, so once a fighter has built up 30 or more wins against no defeats, I can understand the impulse to mark time and wait for the call to come.
But the heavyweight scene has been heating up a lot lately. Boytsov should not be able to get to the front of any lines, so long as he is fighting much less experienced fighters in eight-round fights.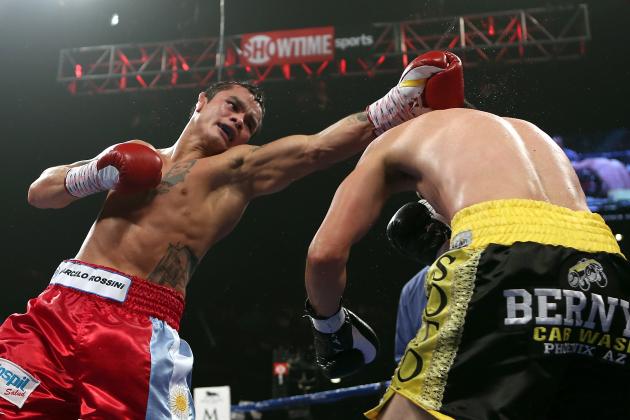 Josh Hedges/Getty Images

Marcos Maidana's exciting, action-first style has made the Argentinian brawler a fan favorite for the past few years. His 2010 war with Amir Khan was many writers' choice for Fight of the Year.
At the same time, he has been overshadowed of late by his fellow countryman, Lucas Matthysse. And standing out in the ultra-competitive welterweight division is always a challenge. When Maidana originally moved to 147 in February 2012, he suffered the worst loss of his career to Devon Alexander.
Maidana's response was to learn to become a better boxer. He headed to Oxnard, California and signed on with supertrainer Robert Garcia. The result have been obvious: better footwork and a busy jab to set up his high-octane offense.
The results in the ring have been obvious, too. Last September, he stopped tough journeyman Jesus Soto Karass in eight. Earlier this month, he handled the gritty Josesito Lopez with nearly as much ease as Canelo Alvarez did last year, winning by a Round 6 TKO.
After Adrien Broner's somewhat controversial split decision victory over light-hitting Paulie Malignaggi, Broner vowed to Jim Gray during the post-fight, televised interview that he would fight "whoever the fans vote for" in his next bout.
Expect a large percentage of fans to be clamoring for Maidana. Maidana is due for a title shot, and with his career 84 percent knockout ratio, he'd bring Broner a level of fire power the brash young welterweight champ has never seen.