8 Early Winners and Losers of the Arizona Cardinals Offseason
Christian Petersen/Getty Images
Former running back Beanie Wells makes a run to the end zone.
The Arizona Cardinals have completed minicamp and entered the so-called dead zone of the NFL year. Minicamp and organized team activities (OTAs) are in the books, and training camp is about a month away.
That said, it's time to take a look at winners and losers to this point in the offseason. Things have changed greatly since this time last year with an upheaval in the coaching ranks and roster.
Start the slideshow below and see who's been winning and losing so far.
Begin Slideshow

»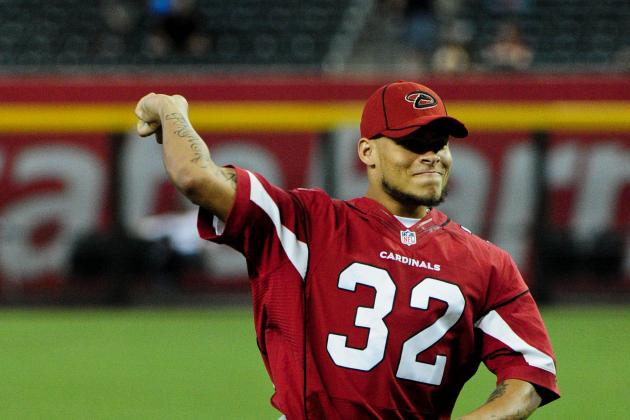 Matt Kartozian-USA TODAY Sports
Mathieu threw out the first pitch at an Arizona Diamondbacks game.
Cornerback Tyrann Mathieu is an easy winner thus far in the offseason for Arizona. He's been putting in the practice time and making plays all over the field.
Mathieu has been keeping on the straight and narrow since he was drafted in the third round in April's NFL draft. This column in the Arizona Republic shows he's embraced the opportunity given to him by the Cardinals.
It doesn't matter if it's a visit to a children's hospital or a Cardinals youth football camp, Mathieu has been making the appearances and staying involved with the team.
Everything's been positive so far, and that makes him a winner to this point.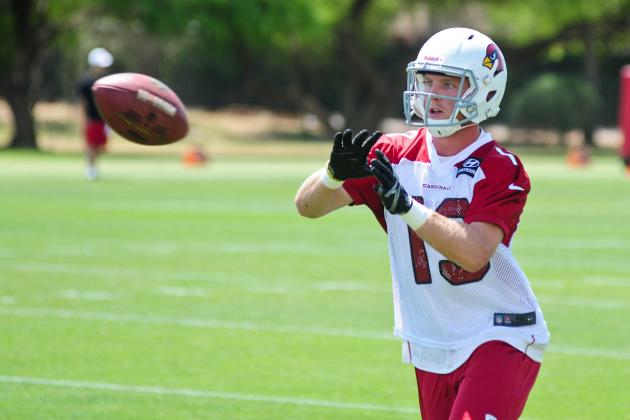 Matt Kartozian-USA TODAY Sports
Swope hasn't had much on-field time.
Wide receiver Ryan Swope was picked up in the sixth round by Arizona in the NFL draft but hasn't been able to make it to the field as much as the other rookies.
Swope is dealing with the lingering effects of multiple concussions suffered at Texas A&M last season. Pro Football Talk reported the issue, and it's greatly reduced Swope's participation in OTAs and the rookie minicamp.
Hopefully, he can recover from the issues before the start of training camp next month, so he doesn't potentially have his position on the roster jeopardized because of this issue.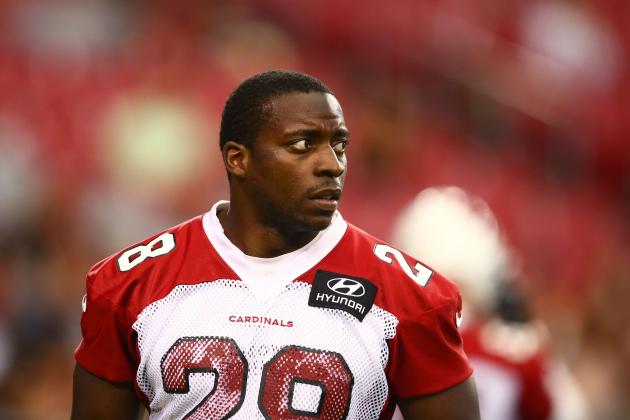 Mark J. Rebilas-USA TODAY Sports
Mendenhall takes a break during minicamp.
Running back Rashard Mendenhall has seized the early lead in the race to be the starting running back for the Cardinals come this fall.
Perhaps it's the rapport built up with head coach Bruce Arians from their time in Pittsburgh. Or it could be that Mendenhall has been excelling in pass protection and finding the running lanes, according to this report on NFL.com.
While his performance against live competition is yet to be seen, Mendenhall should help to boost a team that had its leading rusher with barely over 350 yards last season.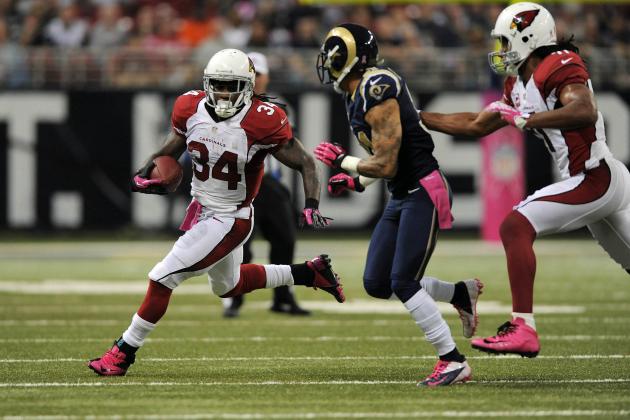 Jeff Curry-USA TODAY Sports
Williams looks for an opening against St. Louis.
With Mendenhall excelling, Williams has been relegated to the backup role for now. Rookies Andre Ellington and Stepfan Taylor will be breathing down his neck for playing time, so he's in a tough spot.
Add to that Williams' unusual remarks, as reported by Pro Football Talk, about being scared to run and being happy to be injured and his offseason is off to a poor start.
Arians' coaching philosophy is having his starting running back be likely to be on the field for three downs, so Williams needs to do what he can to scrap for as much playing time as he can get.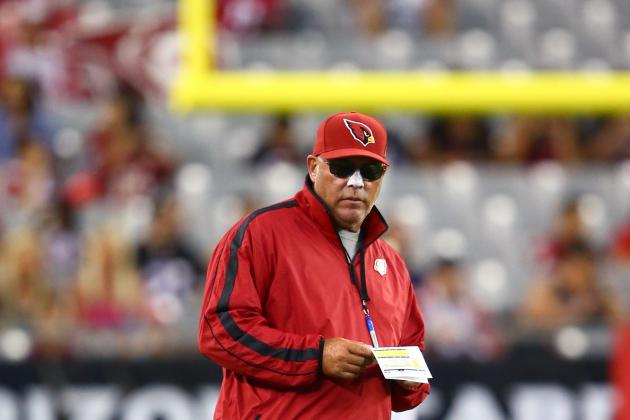 Mark J. Rebilas-USA TODAY Sports
Arians, shown at minicamp, has the buy-in of the team.
Arizona hired Bruce Arians to replace Ken Whisenhunt after Whisenhunt guided a 4-0 Arizona team to a 5-11 finish last season. Arians won Coach of the Year honors after his performance in the interim role with Indianapolis.
Arians has been able to get the team behind him, including starting quarterback Carson Palmer, as reported on NFL.com.
With this kind of harmony between coaches and players, it's a step in the right direction for the Cardinals to start the season. The only question is how much better will the team play on the field with this cohesiveness.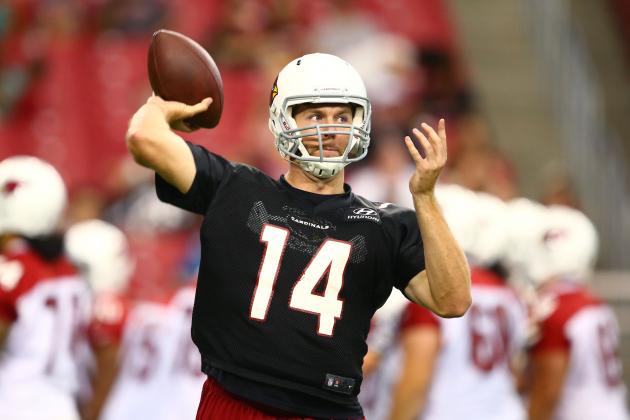 Mark J. Rebilas-USA TODAY Sports
Lindley throws a pass at minicamp.
Ryan Lindley is the only holdover from the catastrophe under center that was known as the 2012 Arizona Cardinal quarterbacks.
His season was miserable, as he threw for 752 yards with seven interceptions and no touchdowns in six appearances.
Couple that with Palmer, a former Pro Bowl quarterback, is likely to be the starting quarterback, and Lindley's value took a big hit. When Arizona signed Drew Stanton to a three-year, $8.2 million deal, it cemented Stanton's spot as the backup.
Barring injury, Lindley looks to have lost his chance to get on the field in 2013.
Mark J. Rebilas-USA TODAY Sports
Fitzgerald (left) hits the end zone against Miami.
There is little doubt Larry Fitzgerald is one of the more talented wide receivers in the league. With the way he was used in 2012, he wound up on the outside quite a bit and usually had the opponents' top cornerbacks breathing down his neck all day.
Dan Hanzus of NFL.com reported that Arians plans to move Fitzgerald all over the field this season in much of the same way that Reggie Wayne was utilized last season by Arians in Indianapolis. That versatility could help bring him back to the head of the class at his position.
Wayne finished the season 1,355 yards and five touchdowns for the Colts. Fitzgerald might be able to put up similar numbers in 2013. That would be a vast improvement from his career-worst 798 yards and four touchdowns last season.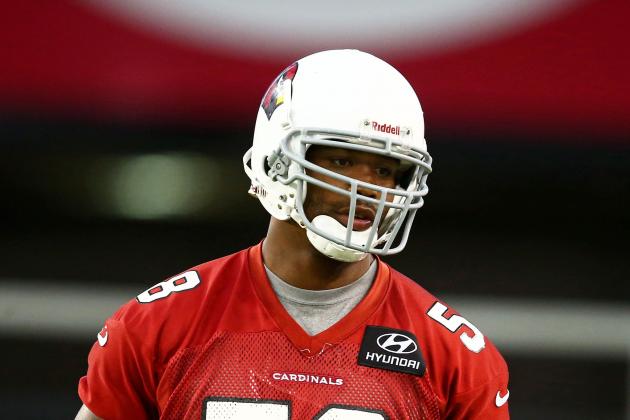 Mark J. Rebilas-USA TODAY Sports
Washington's had a chaotic offseason.
The offseason has not been kind to Pro Bowl linebacker Daryl Washington. First, he was hit with a four-game suspension for violating the league's substance abuse policy. Then he was arrested and booked on two counts of aggravated assault after an alleged domestic dispute with his ex-girlfriend in May.
These two things have led to Washington "walking a very thin line," according to Arizona Sports 620AM.
He can still participate in training camp and preseason games but will miss games against St. Louis, Detroit, New Orleans and Tampa Bay at a minimum. Additional discipline may come later, but his future with the team past this season has some doubt.