The defending NBA champion Miami Heat are on the brink of elimination against the San Antonio Spurs as Game 6 looms on Tuesday evening in the friendly confines of AmericanAirlines Arena.
Although the Heat have the luxury of possibly closing out the series at home, it's going to take a massive effort to bounce back from Game 5's 114-104 loss in which Miami's defense was a sieve.
It was nothing even close in resemblance to the rousing display the Heat had put on in the previous contest, when they locked down the Spurs in a 109-93 triumph in San Antonio. With the exception of the opener, each game has been decided by double digits in this series.
Even in the face of heavy adversity, though, Miami head coach Erik Spoelstra remains confident, per the team's official Twitter:
Spo: Our group is hardened. We've been through just about everything. We know right now what's at stake.

— Miami HEAT (@MiamiHEAT) June 18, 2013
The prior blowout results make the sixth showdown all the more difficult to predict, but there are certain keys for the Heat to prevent their foes from raising the Larry O'Brien Trophy for at least another game.
Shut Down Danny Green
At times, the Heat's perimeter defense has been spectacular, but there have simply been too many open looks for Green, who is proving to be the coldblooded Heat killer thus far.
It's a far cry from where he was a year ago, when he tweeted this after the Spurs' loss in the Western Conference Finals to the Oklahoma City Thunder:
If....only if....@DGreen_14 wuda hit a shot, mighta been a diff series...suppose to b a shooter n doesn't show up on the big stage smh

— Danny Green (@DGreen_14) June 7, 2012
It's even possible that Green—a former waived second-round pick of the Cleveland Cavaliers and later the Spurs—will win the MVP award if he has another stellar evening. Whatever Spoelstra does, he must neutralize the impact the shooting guard has been having.
Granted, no one on the Spurs was missing in Game 5, as they collectively shot 60 percent from the field. Sometimes that's just bad fortune for the team being rained on, but part of it is a lack of effort with regard to contesting shots, closing out and rotating.
Miami star Chris Bosh made a bold proclamation to TNT's David Aldridge, who didn't even address the question of how Green has found so much daylight:
Asked Chris Bosh how Danny Green has consistently found the open spots in Miami's D. Answer: "he won't be open tonight."

— David Aldridge (@daldridgetnt) June 18, 2013
The sense of urgency couldn't be higher for the Heat in South Beach. They must slow down Green's scorching shooting stretch of 25 made threes in the finals at a 65.8 percent clip.
Green may slow down by default given his miraculous performance thus far, but the Heat need to live up to Bosh's statement as much as possible.
LeBron James in Attack Mode
It's really hard to criticize a player coming off a game where he had 25 points, six rebounds, eight assists and four steals. However, such is the standard held to the four-time league MVP.
James drained just eight of his 22 shots in Game 5—largely because he wasn't able to get to the paint as effectively and wasn't as assertive in that effort as in the previous contest.
If his postseason history of scoring in elimination games is any indication, though, James probably won't leave anything to chance in that regard, per ESPN's Numbers Never Lie:
LeBron James averages 31.5 PPG all-time in elimination games, the HIGHEST in NBA history... just ahead of Michael Jordan (31.3 PPG).

— Numbers Never Lie (@ESPN_Numbers) June 18, 2013
The 28-year-old superstar better be in attack mode in chasing his second NBA championship, because pictures of The King's new Nike shoes have been leaked online, courtesy of Kix and the City.
The problem is, they're embroidered with "2-time champion" and the years 11-12 and 12-13, implying that the Heat already repeated. However, the NBA Finals are far from over, and Miami has a sizable deficit to wiggle out of.
As long as James can overcome the effective defense of Spurs big man Boris Diaw, get to the rim and convert the opportunities he has at the free-throw line, the Heat have a great chance to win.
Supporting Cast Contribution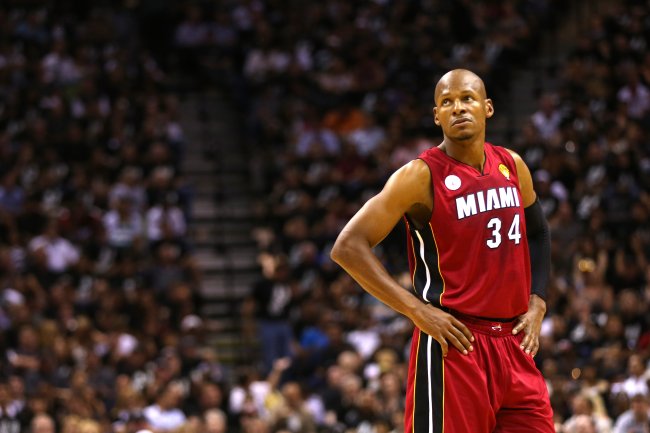 Mike Ehrmann/Getty Images
How will the NBA Finals finish?
Thankfully, the level of play from James' Big Three teammates in Bosh and Dwyane Wade has elevated significantly in the past two games. What will really give the Heat a boost is production from multiple role players.
Ray Allen poured in a ridiculous 21 points in Game 5 and 14 before that, but he's unlikely to have that extraordinary of an effort again. That means others must step up in addition to Allen.
The fact that fellow sharpshooter Mike Miller was on the court for only 25 minutes in the recent loss and took just one shot is discouraging, but perhaps the biggest red flag is point guard Mario Chalmers.
With the exception of a 19-point showing in Game 2's blowout win, Chalmers has struggled to find his rhythm offensively while getting eaten up by counterpart Tony Parker on defense for the most part.
But that hasn't shaken Chalmers' confidence, because he has said that the Heat have a plan to thwart Parker and will properly carry it out, via Shandel Richardson of the South Florida Sun Sentinel:
Mario Chalmers: "We got a specific game plan tonight (for Tony Parker) and we're going to execute it."

— Shandel Richardson (@ShandelRich) June 18, 2013
Getting off to a fast start will be key, because it's something the Heat have failed to do frequently in this series. However, sustaining early momentum will allow them to force a Game 7, and the onus is on the bench and non-superstars to provide that extra boost.