10 MMA Fights That Have to Be Made in the Second Half of 2013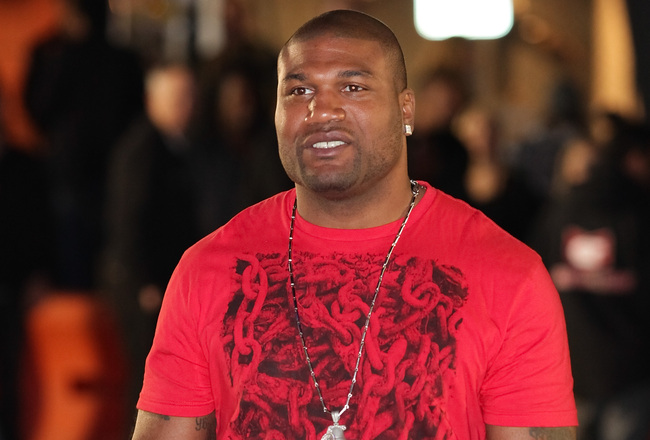 Noel Vasquez/Getty Images
Nearing the halfway mark of 2013, fans have already been treated to some killer bookings this year. Between a superfight for the featherweight title, plus grudge matches for the welterweight and light heavyweight championships, Joe Silva has been doing a solid job in terms of keeping fans happy.
MMA fans don't stay content for long, though. The mouth-watering cards that gave us so much joy have come and gone, and we crave more.
The only way to curb our appetite for pugilistic entertainment is to provide us with hard-hitting matchups between warriors who will thrill us with their penchant for violence.
Here is a look at 10 MMA fights that have to be made in the second half of 2013. By no means is this a list of dream fights. Rather, this is a realistic look at the current MMA landscape and an evaluation of some can't-miss scraps.
Rashad Evans vs. Glover Teixeira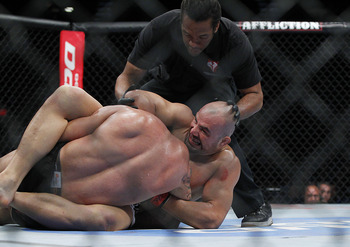 Gary A. Vasquez-USA TODAY Sports
One of the tried and true storylines in MMA history sees a grizzled veteran of an organization taking on a seemingly unbeatable newcomer. The battle of the young lion vs. the old tells fans a lot about where both fighters belong within their division, and a scrap between former UFC champion Rashad Evans and white-hot prospect Glover Teixeira is exactly that.
Rashad is only one month older than Glover, so in this case the "old lion" reference is based on "Suga's" eight-year tenure within the UFC.
Evans just rebounded from a two-fight skid by beating longtime contender Dan Henderson. Teixeira currently sits 4-0 inside the Octagon and has wins over notables Rampage Jackson and James Te Huna.
Cung Le vs. Chris Leben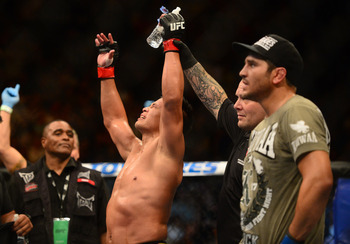 Mark J. Rebilas-USA TODAY Sports
While some of you may be wondering why I didn't look at the currently discussed matchup between Cung Le vs. Michael Bisping, don't worry. I've got plans for the Brit later in this slideshow.
Cung Le is a taekwondo wizard who could put on a clinic against most of the strikers in the middleweight division. Currently, he is coming off of wins over Rich Franklin and one-time contender Patrick Cote, which gives him tremendous upward momentum.
Keep in mind that Le is a novelty fighter who competes just to put on a show. He isn't fooling the world into thinking that a serious run for middleweight gold is in his future. That being said, there are two qualifications needed to fight Le.
Name recognition
Desire to stand and strike
Should Chris Leben defeat Andrew Craig at UFC 162, the red-haired warrior will once again be on the upside of his roller coaster career. Striking while the iron is hot, it would be smart to grab one more marquee fight for Leben before "The Crippler" too decides to call it a career.
Rampage Jackson vs. Eric Prindle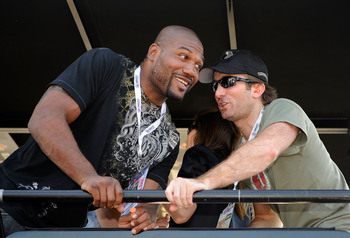 Rusty Jarrett/Getty Images
With Quinton "Rampage" Jackson competing in both Bellator Fighting Championships as well as TNA professional wrestling, I was tempted to say that a shoot fight between he and Olympian Kurt Angle was a matchup that needs to be made.
That's when I realized that Kurt Angle really has no business making his long-desired MMA debut against a former world champion.
Jackson unveiled news that he would like to compete as a heavyweight during the later stage of his career. For that reason, his options in Bellator are tremendously limited.
Eric Prindle is the winner of Bellator's Season 5 heavyweight tournament, and the former U.S. Army boxer has a propensity to score knockouts, picking up five of his seven professional wins due to strikes.
Both guys are coming off of consecutive losses and are willing to trade blows in order to put on a show for the fans. This is the type of fight that Rampage has been begging for, so it's time to put up or shut up.
Renan Barao vs. Eddie Wineland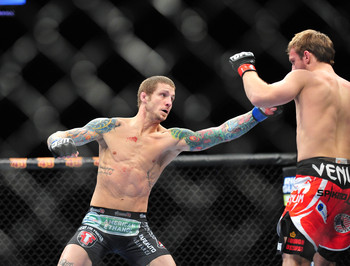 Gary A. Vasquez-USA TODAY Sports
The original main event of UFC 161 was scrapped when interim bantamweight champion Renan Barao came down with a minor injury that prevented him from training. At that time, UFC officials confirmed with MMAJunkie that challenger Eddie Wineland was not guaranteed a rebooking for the title.
That seems harsh considering that the bantamweight division is in desperate need of some legitimate title contenders not named Urijah Faber.
Rebook this fight for the good of the division as soon as Barao is ready to go again.
Fabricio Werdum vs. Daniel Cormier
Kelvin Kuo-USA TODAY Sports
Currently, Fabricio Werdum and Daniel Cormier are the No. 2 and No. 3 heavyweight contenders on the planet.
Werdum has won six of his last seven fights, including matchups against Bigfoot Silva, Fedor Emelianenko, Roy Nelson and most recently, he submitted Big Nog.
Cormier is fresh off of his UFC debut, where he grinded out a victory over Frank Mir. Like Werdum, he has also defeated Bigfoot Silva, as well as former UFC champion Josh Barnett and one-time contender Jeff Monson.
Normally, I'd suggest that Cormier should get a title shot after Cain vs. JDS III. However, his affiliation to Team AKA prevents him from ever fighting Velasquez, so putting him in a holding pattern doesn't make sense at this point.
Eddie Alvarez vs. Any UFC Fighter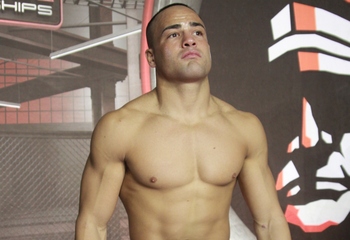 Photo: Bellator.com
Eddie Alvarez is currently locked up in a nasty legal battle with former employer Bellator Fighting Championships, and according to Bjorn Rebney, a settlement is not likely.
Long story made short, the former champion finished his contractual obligations with BFC and wants to leave for the UFC, however, some dodgy wording in the matching clause of his contract has made departure a bit of an issue.
This is truly a shame, as Alvarez is being forced to sit on the sidelines during the peak of his physical career.
Get this crap resolved and bring Eddie into the Octagon before the year is out. Killer options await him, including Gilbert Melendez, Diego Sanchez, Anthony Pettis or even an immediate title shot isn't entirely out of the question.
Rory MacDonald vs. Demian Maia/Josh Koscheck Winner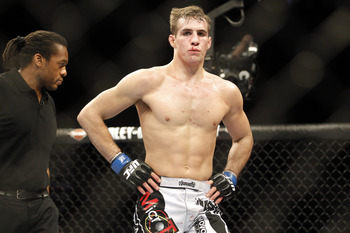 Joe Nicholson-USA TODAY Sports
If Rory MacDonald defeats Jake Ellenberger in July (and that is a BIG if), the Canadian superstar would be the top-ranked welterweight not already booked for a title fight. The only trouble is that teammate Georges St-Pierre has ruled this division with an iron fist for years.
MacDonald will not fight GSP under any uncertain terms, although he may act as a sentry who attempts to defeat threatening challengers along the way.
If GSP defeats challenger Johny Hendricks and MacDonald beats Ellenberger, the next man in line for a crack at the belt would be Demian Maia. In need of another win before competing for the belt himself, Maia would need to defeat MacDonald to snag his coveted place in the division as well as a second crack at UFC gold.
Should Maia lose his upcoming fight against one-time challenger Josh Koscheck, don't be surprised to see Kos knocking on the door of MacDonald in a desperate attempt to claw his way back into contention.
Roy Nelson vs. Mark Hunt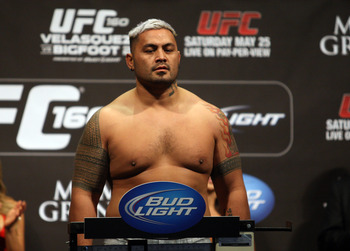 Bruce Fedyck-USA TODAY Sports
At the beginning of May, Mark Hunt and Roy Nelson were two heavyweights with a legion of supporters, a ton of momentum and even more knockout power. Unfortunately, both fighters suffered losses in their most recent matchups and are looking to recover.
Nelson is working to secure a new contract with the UFC, as his UFC 161 appearance was the last fight he had on the books. With the strained relationship between Big Country and UFC president Dana White, don't be surprised if negotiations take a few months to nail down.
With Hunt currently recovering from surgeries, it is unlikely that he will actually compete again in 2013. However, go ahead and book this fight for his return.
Rich Franklin vs. Michael Bisping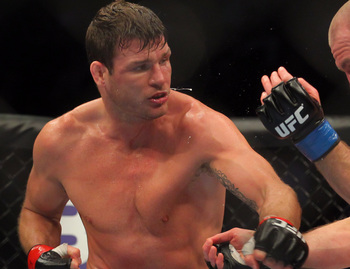 Brad Penner-USA TODAY Sports
At this point in his career, Rich Franklin has only one fight left on his UFC contract. At 38 years old, it is anyone's guess as to whether or not "Ace" will sign an extension. However, if he does only compete one more time inside the Octagon, the former middleweight champion will settle for nothing less than a big-name opponent.
In a recent poll on Bleacher Report, 32 percent of our readers selected Bisping as the best option for Franklin's final fight.
Heading into his fight with Cung Le, Franklin specifically cited Bisping as a potential opponent in his followup fight (via ESPN.co.uk). Granted, that statement was made under the assumption that "Ace" left Macau with a win, but the fact remains that he had "The Count" in his crosshairs.
Michael Bisping has previously made it clear that he wants to fight Rich Franklin too. Let's get this thing booked.
Anthony Pettis vs. Benson Henderson/TJ Grant Winner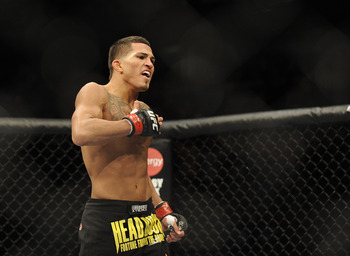 David Banks-USA TODAY Sports
An injury has forced Anthony Pettis out of a UFC 163 title shot in the featherweight division against Jose Aldo. To be honest, I am thrilled that Pettis will not be afforded the opportunity to cut in line over other 145-pound fighters who have fought hard for years in that division in hopes of getting that chance.
Pettis can still have the title shot that he was promised, but he needs to return to the lightweight division in order to get it.
Current champion Benson Henderson defends the lightweight strap against T.J. Grant in the main event of August's UFC 164 event. That allows Pettis to fight the winner before New Year's Eve and potentially strap a second Zuffa championship around his waist.
Keep Reading