Spurs vs. Heat: Biggest X-Factors That Are Swinging the 2013 NBA Finals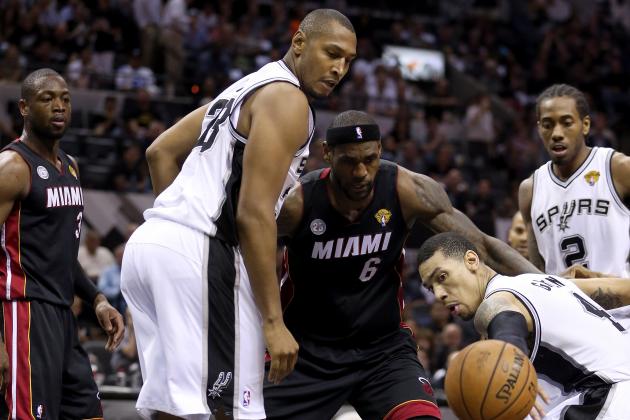 Christian Petersen/Getty Images
Boris Diaw and Danny Green have been huge for the San Antonio Spurs in this series.
Every NBA Finals, several players or factors that fans did expect to play pivotal roles take center stage.
Last year, it was the Miami Heat's Mike Miller burying the Oklahoma City Thunder in a deciding Game 5. The year before, it was Dallas Mavericks' guard J.J. Barea putting daggers through the hearts LeBron James and company in a closeout Game 6.
Unlikely heroes are almost guaranteed to rise, as are unusual circumstances that can help dictate the outcome.
Begin Slideshow

»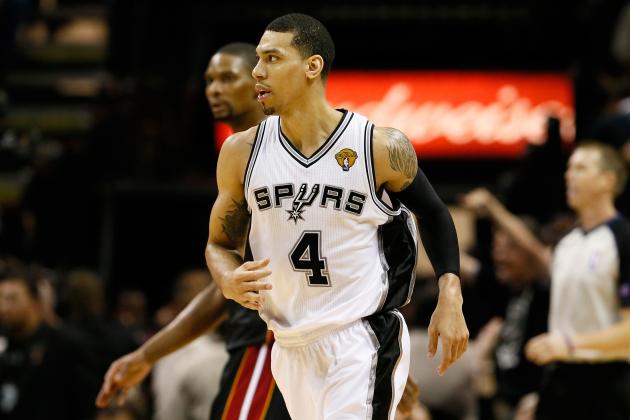 Kevin C. Cox/Getty Images

This one is clear as day.
Danny Green is putting on one of the most sensational performances in finals history. In just five games, he's already shattered Ray Allen's record for most three-pointers in a finals series, hitting 25.
What's even more impressive though? He has hit 25 of his 38 attempts, or 65.8 percent. That a higher percentage than what some players hit from the free-throw line.
Most of his triples aren't even hitting the rim, and it's not like all of these threes are just beyond the arc, either. A lot of them have been deep treys, occasionally from several feet behind the line.
The University of North Carolina product is playing defense, too, helping to limit both LeBron James and Dwyane Wade on the other end of the floor.
Green may very well end up being the finals MVP if the Spurs go on to win this thing, ahead of Tim Duncan, Tony Parker and Manu Ginobili.
Wow.
Christian Petersen/Getty Images

Mike Miller came off the pine in the first three games of the finals. In those contests, Miller averaged 9.7 points and shot 10-of-11 from three-point range.
No, that is not a misprint.
Miller was absolutely huge in Game 2, nailing all three of his attempts from deep—including a backbreaking triple to put the Heat up by 15 in the fourth quarter.
He was also a big-time contributor in Miami's Game 3 loss. Had it not been for his five treys, the Heat may have lost that one by 50. Instead, he hit three after three to keep the Heat within striking distance before they were blown out in the fourth quarter.
However, ever since Erik Spoelstra inserted Miller into the starting lineup in Game 4, things have been a bit different. Miller has not scored a single point, as he went 0-for-2 combined in Games 4 and 5.
Perhaps it's about time Spoelstra puts Miller back on the bench, because that's clearly where he's most comfortable. It's always nice to have that extra weapon in reserve.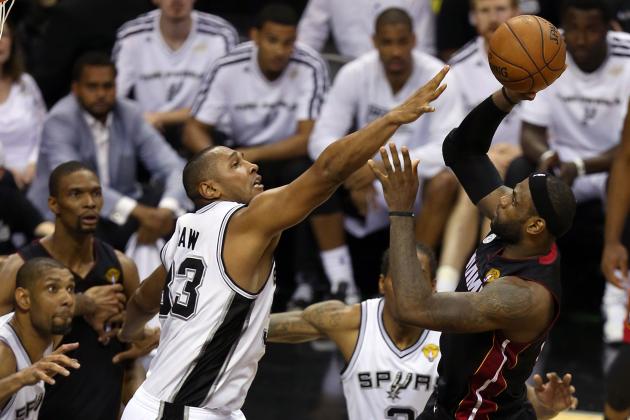 Mike Ehrmann/Getty Images

When you look at the Game 5 box score, a lot of Spurs jump out at you. Not Boris Diaw, though, and that's why box scores never tell the full story.
Diaw's statline? One point, 0-for-1 shooting, four rebounds and three assists. However, that doesn't even begin to describe the impact he had.
First of all, Diaw made some fantastic passes. That bounce pass he made from the corner to a cutting Kawhi Leonard? A thing of beauty.
That was one aspect of his game that was superb. The next? His defense on LeBron James.
When Diaw defended James on Sunday night, the MVP shot 1-of-8. When anyone else covered him? 7-of-14.
It was blatantly obvious that Diaw's size was giving LeBron issues. James is used to being able to overpower whomever may be guarding him. He can't do that with Diaw—well, not as easily, at least.
There was a moment early on in Game 5 when James was flying down the court like a freight train. Normally, he would bulldoze everything in his path on the way to an easy layup or dunk. This time, he ran into Diaw near the basket, and he was stonewalled.
From that point on, whenever Diaw was on the floor, he stuck on LeBron. James could not budge him in the post, so he resorted to taking some contested perimeter jumpers.
Gregg Popovich may have found something here with Diaw. Expect to see more of him on LeBron in Game 6.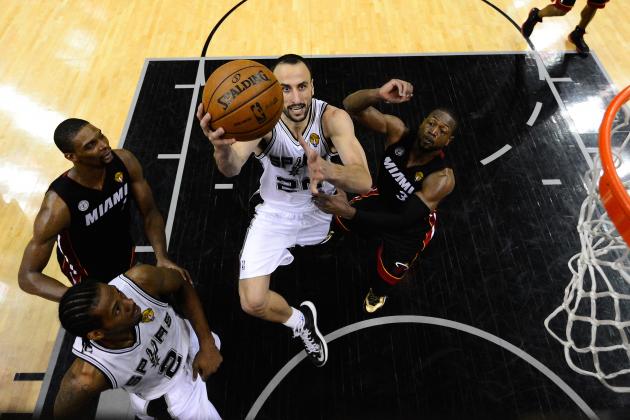 Pool/Getty Images

Many had declared Dwyane Wade and Manu Ginobili dead during this postseason, but man, have they risen from the ashes.
For Wade, it started in Game 4 when he exploded for 32 points on 14-of-25 shooting to go along with six rebounds and six steals. He was clearly the best player on the floor—hitting mid-range jumpers, finishing around the rim and throwing down dunks in transition.
He followed that up with another solid performance in Game 5, scoring 25 points off of a 10-of-22 clip. Wade also handed out 10 assists to boot.
Ginobili did his best to keep pace. After scoring only 30 points combined in Games 1 through 4, Popovich inserted Manu into the starting lineup heading into Sunday night's contest in an attempt to get him going—and get him going he did. Ginobili erupted for a season-high 24 points off 8-of-14 shooting and dished out 10 dimes.
It was vintage Manu. He slithered and snaked his way through the defense, converted around the basket, burned whomever was defending him on the perimeter and made countless pinpoint passes. The turning point of the game was when Ginobili led a 12-1 Spurs run late in the third, where he scored or assisted on every field goal San Antonio made during that stretch.
The resurgence of both Wade and Ginobili adds yet another dynamic matchup to this series.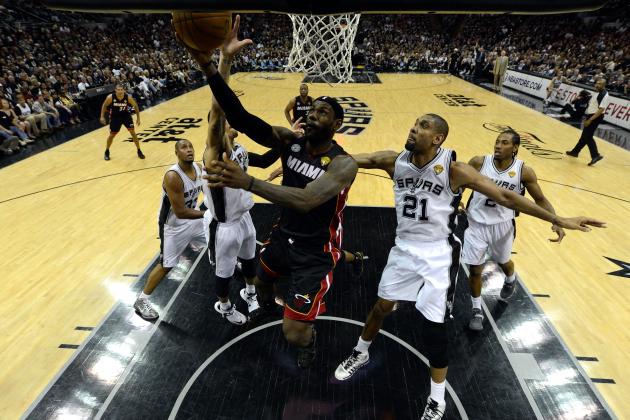 Pool/Getty Images

Do either the Spurs or the Heat understand that momentum even exists?
These two ballclubs have traded wins throughout all five games of this series, and, outside of Game 1, which was ultimately decided in the waning moments, every contest has been a blowout.
The closest thing to this is probably when San Antonio was matched up with the Detroit Pistons during the 2005 finals. The Spurs ran the Pistons out of the building in Games 1 and 2, and Detroit returned the favor in Games 3 and 4. However, Games 5 through 7 were much tighter.
Despite Dwyane Wade's assertion that Game 5 could be the best of the series, it was yet another blowout. The 10-point difference didn't really tell the whole story.
Based on how these finals have gone, you would expect the Heat to torch San Antonio in Game 6 only to see the Spurs respond in kind when Game 7 rolls around.
Can San Antonio finally break the trend and seal the deal on Tuesday night in Miami?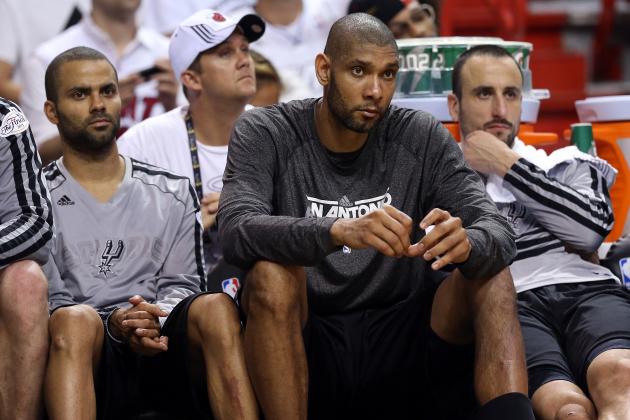 Christian Petersen/Getty Images

You can't get much more experienced than the Spurs and the Heat.
Other than the Boston Celtics, there isn't a team in this league that has the type of playoff pedigree that either of these two ballclubs have, and we're seeing that play out in this series.
Playing off the previous "no momentum" factor, perhaps the reason for that is because these teams are so disciplined that getting blown out doesn't rattle them in the slightest.
The question is, will there come a point in time where either squad will be shaken?
We'll see in Game 6.
The Spurs have been in this type of situation countless times. They know how to close teams out, regardless of the venue. All of this talk about Miami having home-court advantage is a bit overstated. If you used that argument if the Heat were fighting a younger team, like the Oklahoma City Thunder for example, then the point would be debatable.
Against the battle-tested Spurs, though?
It doesn't matter where the game is being played. This series isn't going to be decided by home court. It is going to come down to which team can execute the best down the stretch.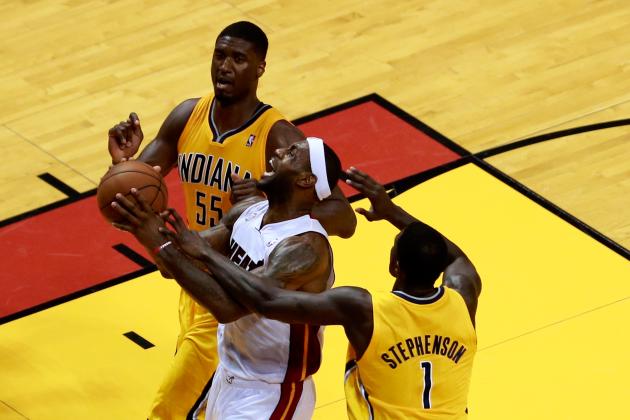 Chris Trotman/Getty Images

Given that these finals are going six games at the very least, we can now say that this is a long series.
This is where the conference finals may come into play.
Remember: The Spurs swept the Memphis Grizzlies and ended up getting nine days of rest heading into Game 1 in Miami. The Heat, on the other hand, were taken to seven games by a rough-and-tumble Indiana Pacers team that took something out of them.
Now, again, this series has been a back-and-forth affair, but in the second half of Game 5, the Heat began looking gassed. San Antonio's crisp ball movement was running them ragged, and you had to wonder if all of those minutes the Heat had played against the Pacers were starting to come back to bite them.
If the finals are to be decided by attrition late in the fourth quarter of Games 6 or 7, advantage Spurs. Say what you want about them being "old," but the fact is that right now they are fresher, and that could end up playing a pivotal role if Miami needs to hit some shots in the closing stages.