The Miami Heat and San Antonio Spurs head into Game 5 of the NBA Finals with the magnitude of the moment weighing heavily on all parties involved, but because of the particular stakes of the contest, the Spurs are the team with the most to lose.
Before getting into why San Antonio—as a team—is under the most pressure in advance of Game 5, it's worth noting how widespread the tension truly is.
And history has a lot to do with that.
In brief, Game 5 has had an overwhelmingly decisive effect in situations like this one. According to Brian Mahoney of the Associated Press (via ABC News), in the 27 previous NBA Finals that have been tied at two games apiece, the winner of Game 5 has gone on to collect the Larry O'Brien Trophy 20 times.
In other words, the stakes are high.
Heavy is the Crown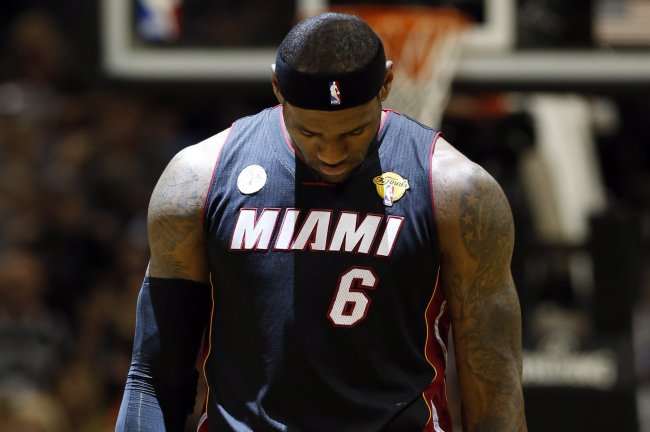 Derick E. Hingle-USA TODAY Sport
LeBron James is the best player in this series; the league's reigning MVP is the individual whose legacy will be most affected by what happens in Game 5.
Nothing about the way we evaluate James is fair. Which is why his finals averages of 20.8 points, 12.0 rebounds and 6.5 assists on 45.6 percent shooting are actually somewhat disappointing. After a historically great regular season, James has raised our expectations to a ridiculous level.
So if he can't come through in Game 5 with a performance that meets or exceeds his Game 4 effort (33 points, 11 rebounds, four assists on 15-of-25 shooting), he'll almost certainly be the target of criticism. And if the Heat go on to lose the series—which the record books say they probably would after a Game 5 failure—his place in history could take a serious hit.
James was supposed to have shaken off his high-pressure jitters last year. But if he can't carry the Heat to a Game 5 win, he'll be facing the potential of adding this failure to the finals losses he suffered in 2007 against the Spurs and in 2011 against the Mavs.
The great ones aren't supposed to lose when it counts.
Redemption Song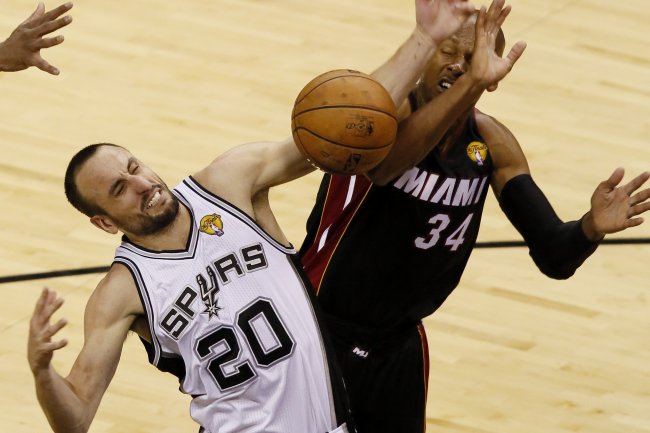 Soobum Im-USA TODAY Sports
Manu Ginobili hasn't looked right for a while now. In four finals games, he's been averaging just 7.5 points per game on 34.5 percent shooting. From long range, he's been even worse, hitting only 18.8 percent of his triple tries.

Worse than the numbers, Ginobili has looked hesitant and generally out of sorts. Running out of chances to redeem himself, Ginobili has a chance to make an impact in Game 5. If he can do that, his recent struggles will largely be forgotten.
But yet another disappointing performance could signal the death knell in his great career. From a personal standpoint, Game 5 is going to mean a lot to Manu.
Do It Again
Until Game 4 of the finals, Dwyane Wade's startling disappearing act was a major storyline. But after 32 points and a few of the athletic plays that had been missing throughout the postseason, it certainly seemed like Flash had made his triumphant return.
But what if he doesn't back up his Game 4 performance with another good one in Game 5?
Suddenly, the chorus singing the funeral dirge for Wade's career will be louder than ever.
He's stubborn, defiant and clearly pissed off about the way fans and the media have been knocking his poor play. The problem now is that Wade's work in Game 4 proved that even if his knee really is bothering him, he's capable of putting the pain aside when he has to.
If he can't muster another big effort in Game 5, he'll inevitably face the same questions he's been fielding throughout the playoffs. You can bet he'd like to avoid that.
Fear of Failure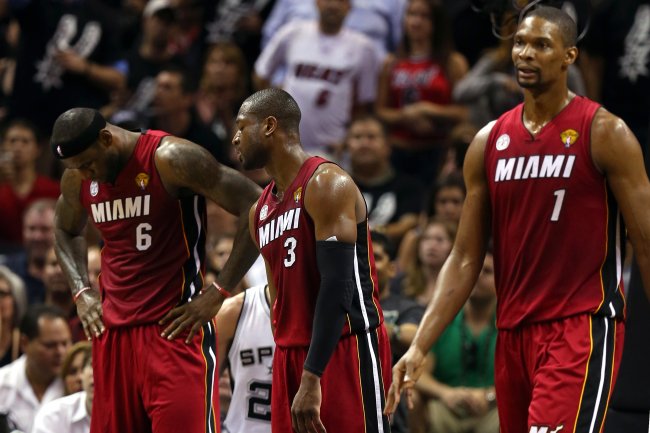 Mike Ehrmann/Getty Images
The Heat are facing the pressure of wasting a historically great season by failing to close the deal in the finals. A Game 5 loss would make winning the whole thing a hell of a lot harder (as we've discussed), so Miami must be feeling the significance of the contest in front of it.
One source of tension is the fact that Miami hasn't shown the capability to win back-to-back games since the middle of May. If the Heat continue their up-and-down streak by losing Game 5, they'll have to win two in a row to take the series.
Plus, there's a sense that it would be a massive disappointment for the Heat if they didn't take home the title this season. They've been the anointed champions since early in the season, and the 27-game winning streak only served to inflate expectations.
The same really can't be said of the Spurs, whose legacy as a great franchise is totally secure no matter what happens in this series.
San Antonio is only trying to add to its list of achievements in the pantheon of the all-time greats. But the Heat are still just trying to live up to their own self-created mythology at this point.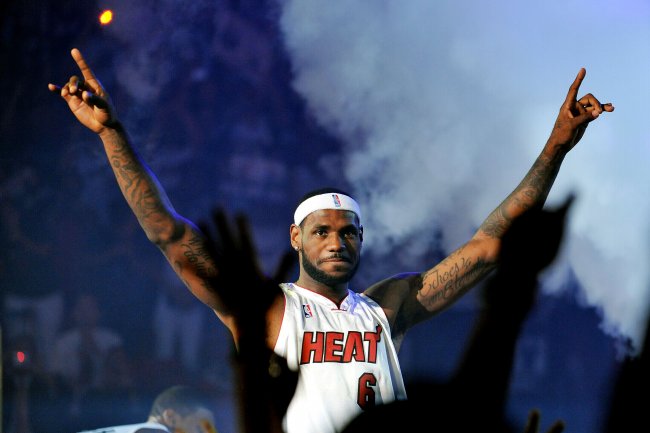 Doug Benc/Getty Images
It's also worth noting that the Heat failed the last time they were in this exact situation. Against the Mavs in 2011, Miami went into Game 5 in Dallas with a 2-2 tie. After dropping that contest, the Heat never recovered, losing Game 6 in Miami.
The fear of failure is a great motivator, but it certainly doesn't help alleviate pressure.
In Conclusion: Let's Be Practical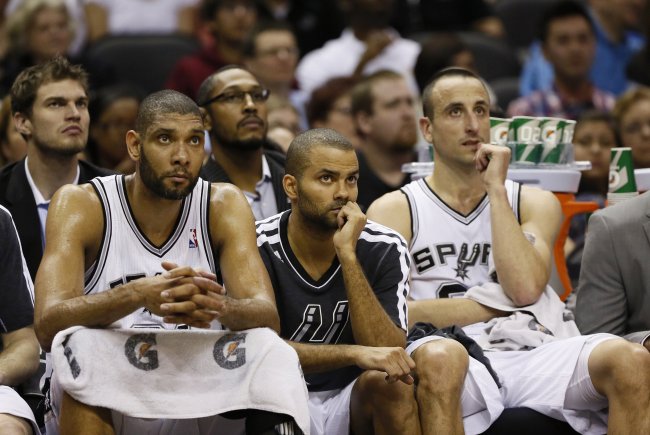 USA TODAY Sports
If we're going to take a logical approach (something that is infrequently mentioned and almost never followed in our age of message-board sports analysis), the Spurs are under more pressure than anyone in Game 5.
And the reasons are obvious.
If San Antonio falls on Sunday, it will face the prospect of having to win a pair of elimination games in Miami. Based on the Heat's recent history, they're practically impossible to beat twice in their own gym—let alone in back-to-back games.
Only the New York Knicks managed to win twice in South Beach during the regular season. Of course, that second win came at the end of the year when the Heat were coasting to the finish. Neither James nor Wade suited up, and Carmelo Anthony dropped 50 points in an inspired push for his scoring title.
Can you say asterisk?
The postseason has been no different. Even the mighty Indiana Pacers, who gave the Heat all they could handle, couldn't pull off more than one win in Miami.
The odds are stacked against the Spurs, and they know it. Tim Duncan, for one, isn't beating around the bush in regard to the crucial nature of Game 5:
Duncan: "It's a must‑win. We don't want to go back down there down a game with 2 games remaining at their house. It's a must‑win situation."

— Alex Kennedy (@AlexKennedyNBA) June 15, 2013
Tony Parker, in a fashion lending credence to the theory (OK, it's just my theory) that the Spurs actually operate with a collective "hive mind," said virtually the same thing:
Tony Parker on crucial Game 5: "It's a must‑win. It's a great opportunity for us. It's a big game. We have to win. Simple as that."

— Alex Kennedy (@AlexKennedyNBA) June 15, 2013
Look, there's pressure involved for everyone taking part in Game 5. Legacies hang in the balance for a number of players, and the Heat need to win in order to help avoid a potentially massive disappointment.
But the Spurs almost certainly can't win this series if they drop Sunday's contest. For that reason, they're the ones under the gun.