What We've Learned About Heat and Spurs Superstars in NBA Finals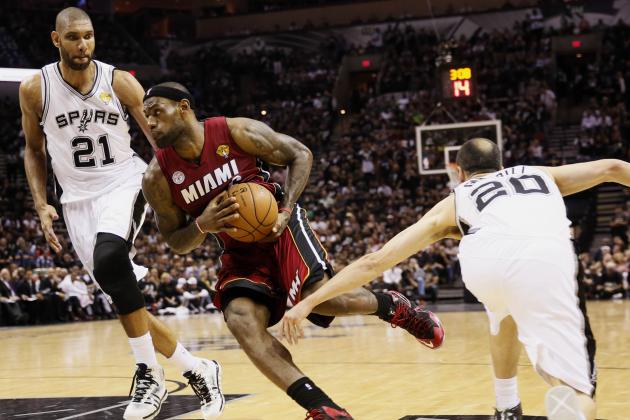 Soobum Im-USA TODAY Sports

With just two teams left to scrutinize in the NBA Finals, just about every storyline about the Miami Heat and the San Antonio Spurs has been picked apart from 100 different angles already. But there are still a few things that we've learned about each team's superstars during the league's championship round.
For example: Tony Parker is the unquestioned key to the Spurs' success, Manu Ginobili has to sort a few things out and Tim Duncan is a very forgiving fellow.
On the other side, we've learned that Dwyane Wade has found a way to compensate for his busted jumper, Chris Bosh has actually been pretty darn good and LeBron James is best when he thinks less.
These might not constitute revelations, but rest assured, the things we've gleaned from the four finals games so far will have far-reaching consequences that'll affect the balance of this terrific series.
Begin Slideshow

»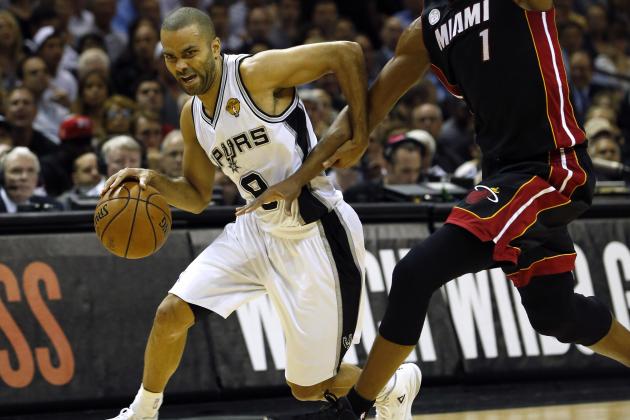 Derick E. Hingle-USA TODAY Sport

The Spurs have thrived offensively when the Heat have had to scramble after the ball as it whips around the perimeter. But the chain reaction that has led to open shots and available cutting avenues doesn't get started unless Parker, the agent of chaos, forces the Heat out of position by penetrating.
Whether he gets a high screen or simply beats his defender off the dribble, Parker's ability to get into the lane and draw help is invariably the first step in San Antonio's offensive success in the half court.
When he attacks the teeth of Miami's defense, help defenders have no choice but to sag toward him. If they don't, Parker's trademark floater is a sure bet from anywhere inside 10 feet. But when he draws that help, he starts a chain of events that almost always leads to a terrific shot for his team.
Sometimes, the results are direct, as Parker so often finds open shooters in the corners after defenders have dug down to cut off his drives. In other instances, he kicks the ball out to a teammate, who swiftly moves the rock along to the next open man as the Heat try frantically to recover in time.
Three or four passes later, the Spurs are usually getting an open, high-percentage shot.
Just look at the way the Spurs' performance dipped in the second half of Game 4 when the point guard's bothersome hamstring prevented him from making his typical forays into the lane. Parker didn't score, and the Spurs offense looked pedestrian. Miami ran away with the game.
For San Antonio to function at a high offensive level, Parker has to be healthy and aggressive. If he can't be both of those things, the Spurs are in serious trouble.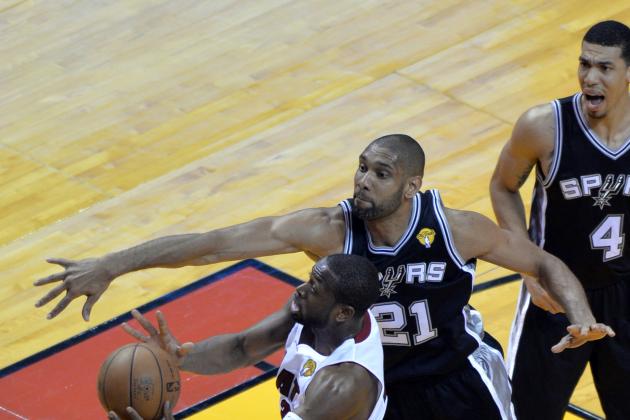 Steve Mitchell-USA TODAY Sports

Dwyane Wade has never been a knockdown shooter from beyond the arc, but in these finals, he has found a way to compensate for his inability to hit long-range shots.
Today's best offenses thrive on space, and because Wade can't pull defenders out of the paint with the threat of a three-point bomb (he hasn't attempted any in the finals), he has been dicing up the Spurs defense with well-timed cuts instead.
Wade's streaks to the hoop certainly don't strain a defense in the same way as Ray Allen's marksmanship does, but they're actually a pretty nice substitute in their own right. See, the reason someone like Allen—or any other good outside shooter, really—puts pressure on a defense is because he simply can't be ignored off the ball.
Because Wade now takes every opportunity to dart to the rim when his man's focus shifts elsewhere, he commands similar attention.
Over the next two (or three) games, watch Wade as James attacks the basket. He'll almost certainly be diving to the hoop to receive a dump-off pass if James gets stymied. And the next time you notice Wade on the weak side, observe the way he waits for his man to take one step too many toward the middle—or, God forbid, turn his head.
In Game 4, Wade came back to life after a dormant postseason swoon. He even hit a few jumpers off the dribble. That version of Wade makes the Heat virtually unbeatable, but if he comes back to earth down the stretch in this series, expect him to continue to strain defenses with intelligent off-ball movement.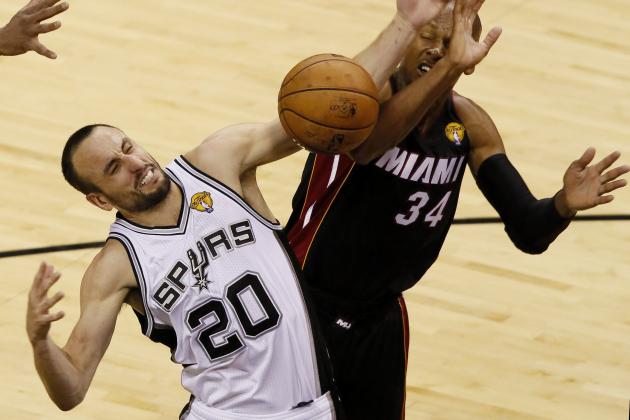 Soobum Im-USA TODAY Sports

Maybe it's age, or perhaps the hamstring injury that cost him a few games late in the regular season is lingering. Whatever the case, Ginobili simply isn't playing the way the Spurs need him to.
In four games during the finals, San Antonio's sixth man has averaged just 7.5 points and three assists per game on 34 percent shooting from the field. And he's been useless from long distance as well, hitting only 19 percent of his triple tries.
There have been flashes along the way—a couple of soaring dunks, a nifty behind-the-head pass and some slick no-look dimes—but as far as sustained performance, Ginobili has been sorely lacking.
Fortunately, the Spurs have had some timely step-up efforts from Danny Green and Gary Neal, which is a big reason why they've earned a 2-2 split so far. Surprise outbursts from role players are great, but for San Antonio to have its best chance to dethrone the champs, Ginobili has to find a way to contribute.
And if Parker's hamstring doesn't recover in time for Game 5, primary ball-handling duties could fall to Manu. If that happens, the Spurs' fate will be in some surprisingly shaky hands.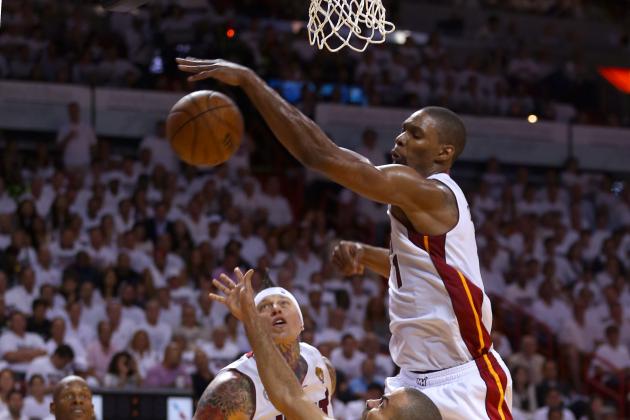 Mike Ehrmann/Getty Images

Mario Chalmers is the Heat's whipping boy. Anytime something goes wrong, James and Wade seek out the point guard to berate him.
But while 'Rio bears the brunt of the scorn from his teammates, Bosh has been suffering a heavy dose of criticism from all corners of the media.
Some of it was warranted, I suppose. He spent the last few games of the conference finals bricking jumpers and disappearing for entire quarters at a time. But it's probably time to lay off the Heat's third wheel, and it's not just because he played a brilliant statistical game in Miami's 109-93 Game 4 win. He's actually been pretty darn good throughout these finals.
With averages of 14.3 points and 9.5 rebounds, Bosh has been the third offensive option Miami has needed. Plus, he's been defending Duncan admirably, holding the big man to 41 percent shooting so far.
And beyond his individual defense, he's been a remarkably active helper, piling up 1.8 blocks per game and providing the sort of weak-side support that the Heat's frantic, rotation-heavy defense requires. As the last line of a perpetually undersized defense, his work as a rim protector is critical to the Heat's success.
Cerebral, a little quirky and occasionally overlooked, Bosh deserves credit for playing very well on the biggest stage. If we've learned anything about him, it's that he's not afraid of the moment.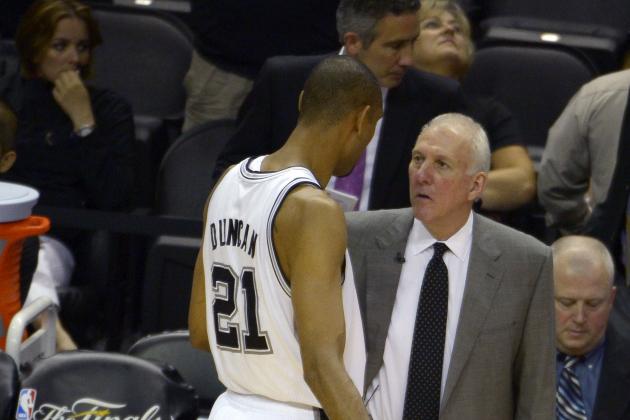 Brendan Maloney-USA TODAY Sports

With nearly two decades in the books, there's really not a lot left to learn about Duncan.
But here's something: He doesn't hold a grudge.
In Game 4, Duncan and coach Gregg Popovich got into a spat that stemmed from the cantankerous coach yelling at his veteran star as he came off the floor during a timeout. The source of Pop's fury was unclear, but Duncan definitely took issue.
He sat on the scorer's table, away from the huddle, for the duration of a later timeout.
After halftime, the pair could be seen reconciling, and it certainly appeared as though Timmy got his coach to admit that he was no longer mad. Any lip-readers who'd like to chime in on the exchange are welcome to refute my interpretation.
At any rate, Duncan, forever an unconventional superstar, swallowed his pride and squashed whatever beef he and Popovich had in the span of just a few minutes. Lesser feuds have ripped franchises apart, and Duncan should be commended for handling the situation like a grown-up.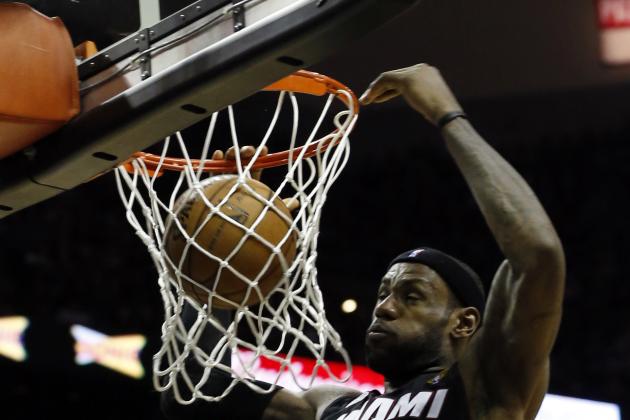 Derick E. Hingle-USA TODAY Sport

The Spurs had a lot of success in the first three games of the finals by daring James to take jumpers off the dribble. That strategy worked especially well in Game 3, when James hit just two of 14 shots outside the paint and looked remarkably hesitant in his attack.
Well, James fired away decisively in Game 4, but he didn't just limit his attempts to the kinds of shots San Antonio wanted to give him. He also barreled into the lane and worked on the block.
He was 7-of-9 from the mid-range area, and all but two of his other field-goal attempts came around the rim. So much for the Spurs shutting down the lane.
There was some sheer force of will involved, to be sure. But a lot of James' game-to-game turnaround occurred simply because he refused to let the defense dictate what kind of shots he was going to take. A great deal of his effectiveness is wrapped up in his savant-like understanding of how to create the best looks for himself and his teammates.
But sometimes, he's even more dangerous when he just says "screw it" and attacks from everywhere, regardless of what the defense is trying to get him to do.
San Antonio will make more adjustments, but instead of thinking out his counters, James should probably just put his head down and keep attacking. That approach certainly worked in Game 4.