Power Ranking the Wolverines' 2013 Schedule from Easiest to Toughest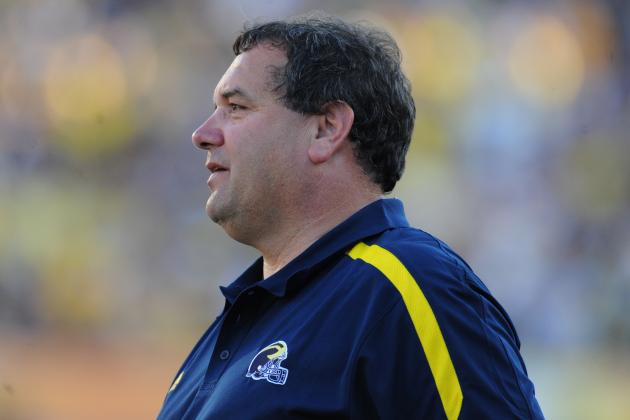 Al Messerschmidt/Getty Images

We are only in mid-June, yet it's never too early to start breaking down the schedule for this upcoming season of Michigan Wolverines football.
We have a very good feel of how all of the opponents are shaping up to be, so, barring anything unforeseen, these projections should actually be quite accurate.
Everyone has their opinions on which games are the easiest and which will be the toughest, so here's my take at it.
Begin Slideshow

»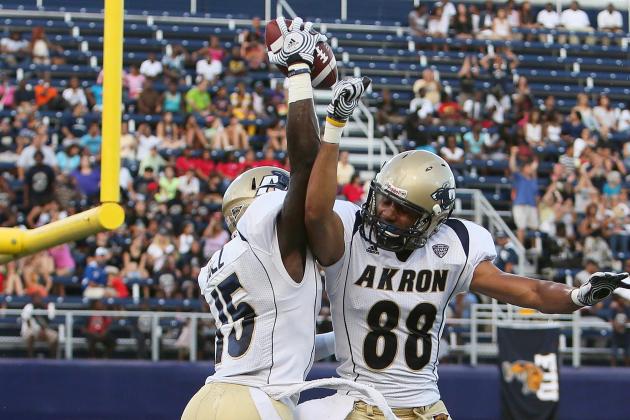 Robert Mayer-USA TODAY Sports

I figured the easiest game on the schedule was either this one or the CMU game. I went with this one just because Michigan will already have two games under its belt.
This Akron game should definitely be over by halftime. It will be the third game of the year for Michigan, so hopefully the team will be operating smoothly by this point.
I'm not officially going to predict a final score, but if I had to it would be somewhere in the 55-7 range.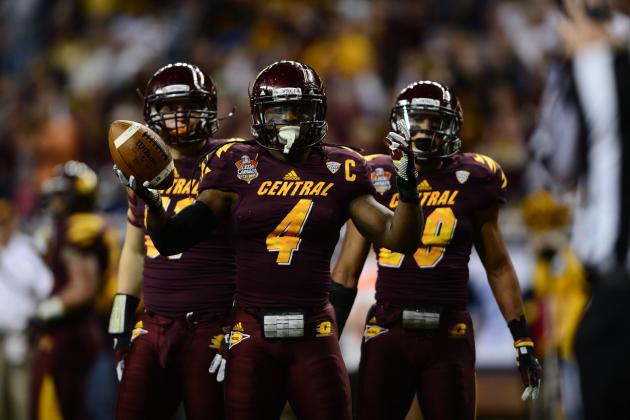 Andrew Weber-USA TODAY Sports

As mentioned in the previous slide, it's almost a tossup between this one and the Akron game as to which is Michigan's easiest.
Seeing as how this is the season opener, it may take a bit for Michigan to iron some things out.
This one should definitely still be a blowout, but probably not in the fashion that the Akron game will be.
There's a chance this CMU contest could still be a game at halftime, but if that's the case, Michigan's superiority should definitely take over pretty early in the second half.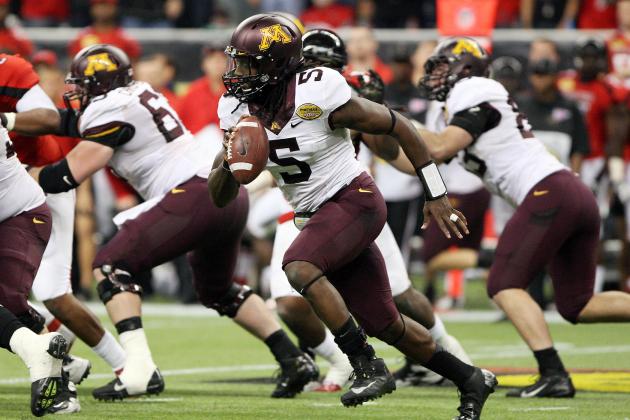 USA TODAY Sports

There are two Big Ten games on Michigan's schedule that are, far and away, easier than the rest.
Those two are the home contests with Minnesota and Indiana. I went with Minnesota as being the easier of the two, just because I think Michigan matches up better with them.
Plus, the Wolverines will be coming off of a bye week, making this one even easier.
Minnesota should have a decent team this fall and should definitely contend for a bowl game, but that won't prevent this one from being a blowout.
Even if it's not over by halftime, it definitely should be early in the second half.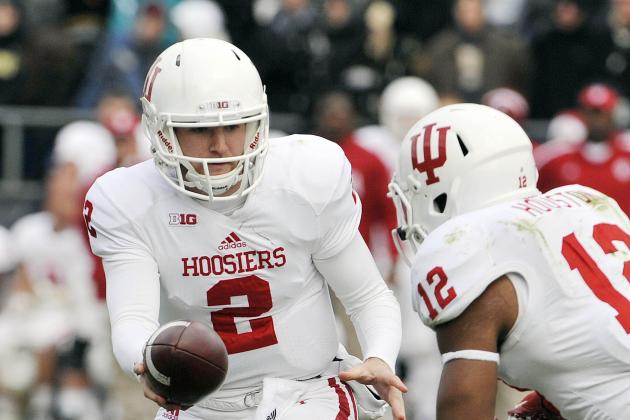 Sandra Dukes-USA TODAY Sports

This is probably Michigan's second-easiest Big Ten game; some may feel this one will be even easier than Minnesota, though, and there is absolutely nothing wrong with saying that.
I just think Indiana has more potential to keep it close with Michigan than Minnesota does.
Even though Michigan's defense should be great, Indiana's explosive offense could be able to score on almost anybody.
The return of Tre Roberson gives the Hoosiers three experienced quarterbacks to work with, to go along with a very solid receiving corps and a trio of running backs.
The defense will likely be one of the worst in the Big Ten, though, which should allow Michigan to score at will.
I do expect Indiana to contend for a bowl game this season, but this one will still probably be a blowout.
Indiana has the potential to keep it close, though.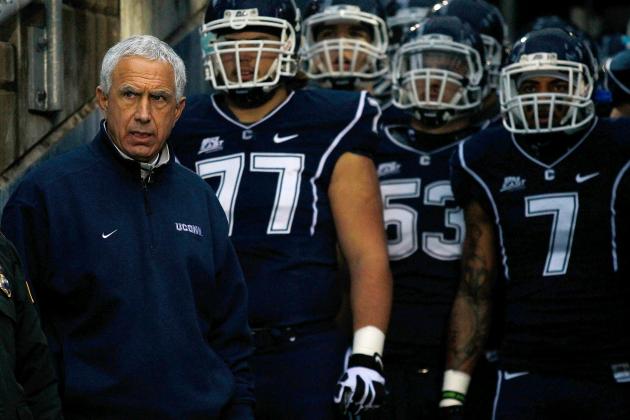 Jared Wickerham/Getty Images

This one may be a trendy upset pick by the "national experts" when it rolls around in late September. However, it's just not going to happen.
One of the biggest things that separates teams from some of these smaller conferences like UConn from some of the bigger ones is the line play.
These teams often get beat up along the line of scrimmage, making it incredibly hard for them to beat teams from bigger conferences.
That's where Michigan should have a huge advantage. Yes, this game is on the road, so the Wolverines will have to be careful, but as long as they stay focused, everything should be fine.
This one probably won't be a complete rout, but it should wind up as a comfortable 14- to 17-point win.
Mike DiNovo-USA TODAY Sports

Although a lot of people are basically just brushing this game aside, I think this will be an incredibly tough game for Michigan; in fact, I had a hard time putting it this low on the list.
Will Iowa have a very good team this fall? No, probably not. But no matter what kind of team the Hawkeyes field, it is still always hard to go into Kinnick Stadium and win.
A perfect example of this was when Michigan's 2011 team went into Iowa and lost to a very mediocre Hawkeye squad it had no business losing to.
With that in mind, I wouldn't be surprised at all if Michigan loses this one as well. It will take place in late November, so the weather will likely be brutally cold up in Iowa City.
Michigan will have to play a darned good game if it expects to win.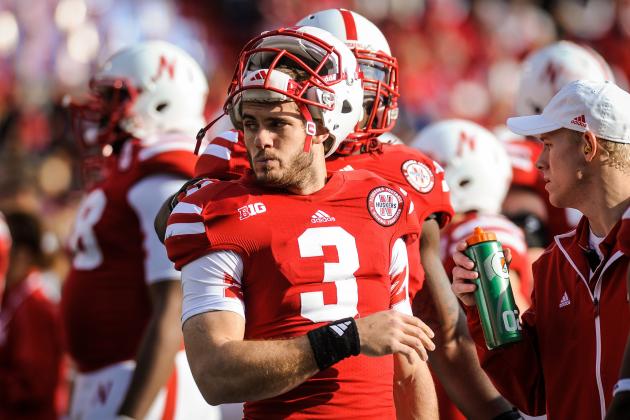 Eric Francis/Getty Images

It's probably surprising to see the Nebraska game this low on the list. However, there is simply one reason for it: This game is in Ann Arbor. Honestly, that makes all the difference in the world.
Because it's at home, there's just no way I could pick Michigan to lose the game at this point.
I do think Nebraska will finish the year with a very good record and wouldn't be surprised at all if it winds up in the Big Ten Championship.
Plus, the Huskers have arguably the best offense in the conference. The front seven is a huge concern, though, and will likely hold this team back from being an elite one.
This game should be a hard-fought battle, but again, the fact that it is at Michigan makes the Wolverines the clear favorite.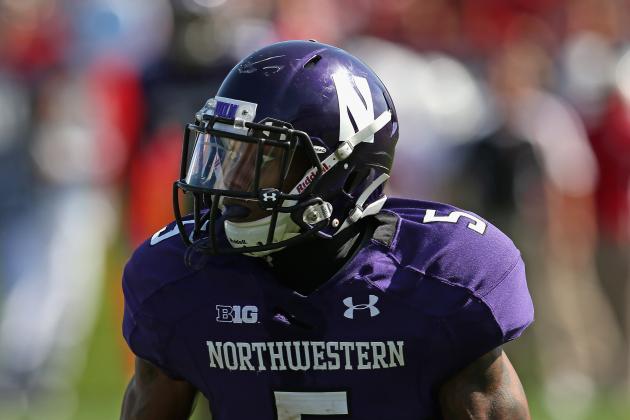 Jonathan Daniel/Getty Images

Even though some may not look at this as a true road game because of the large number of Michigan faithful that will show up at Ryan Field, it still has to be treated with extreme caution.
The game will obviously not be played in Michigan Stadium, and we all know the Wolverines have not been up to par under Brady Hoke in games outside of the Big House.
Northwestern had a darned good football team last season, and it'll have a darned good one again this year.
The offense looks like it could be deadly, and the defense has a lot of potential as well; if the pass defense improves (which it should dramatically) and the defensive line figures out its personnel, this could be a very solid unit.
However, I think a brutal schedule will prevent the Wildcats from realistically competing for the Legends Division title. In fact, by the time Michigan comes to town in mid-November, I think they'll already be out of the race.
Still, this will be a very tough game for Michigan. The Wolverines will likely be the favorites going in but will have to play incredibly well to win.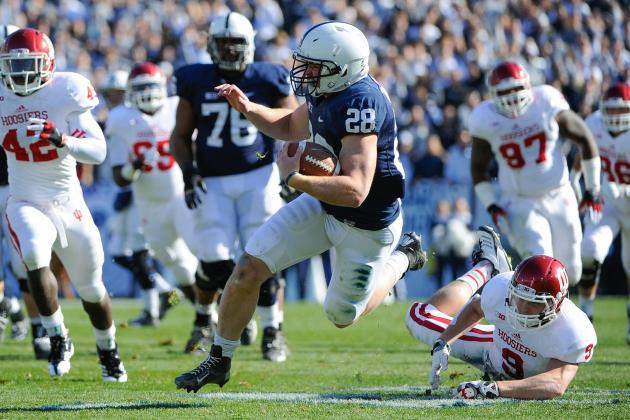 Rich Barnes-USA TODAY Sports

Some people seem to think this will be one of Michigan's easier road games; I don't think that could be further from the truth.
Plus, the fact that it is a later start (5 p.m. ET) gives Penn State an even bigger advantage.
For the most part this should be a pretty solid Nittany Lion team. If the quarterback situation winds up being at least decent, this offense could be lethal.
Even when Penn State isn't at its best, Beaver Stadium is still one of the toughest venues for opponents to go into and win.
Michigan will likely be favored going in, but just like so many of its other tough road games, it wouldn't be surprising if it lost.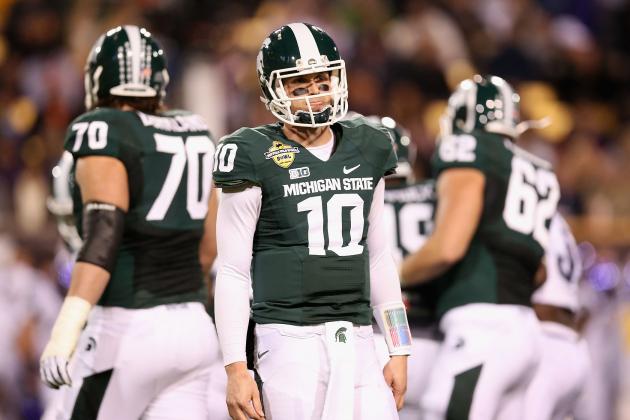 Christian Petersen/Getty Images

Even though Michigan State should definitely take a step back from last year, this will still be one of Michigan's toughest games.
MSU's record will probably be better than last season's 7-6 mark, but a pretty easy schedule is the main reason why.
One of the biggest factors off the field that could play into the outcome of this game is the fact that Michigan has a bye the week before it.
That obviously pays dividends, as the majority of coaches have incredible records coming out of their bye week.
That's why I give Michigan the edge in this game, but just barely.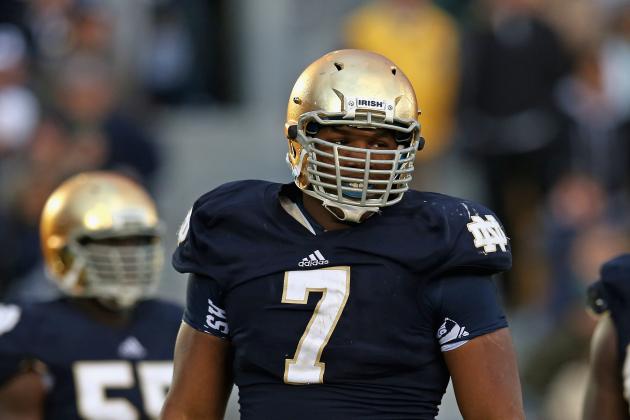 Jonathan Daniel/Getty Images

This game is getting an incredible amount of hype already because of Notre Dame's cancellation of the series and Brady Hoke's comments as a result of it.
I can't imagine how hyped this is going to be when the time gets even closer, especially with it being a night game.
It'd be a safe bet to predict that College GameDay will be there, just as it was for the previous meeting between these two in Ann Arbor.
The fact that it is the second game of the season does scare me, though. It has seemingly taken Hoke's teams a few weeks to iron some things out the past two years, so don't be surprised if Michigan's offense struggles mightily.
Notre Dame's defense carried it to the national championship game last year, and it's not expected to take much of a step back. Michigan's young and inexperienced offensive line going up against Notre Dame's front seven will probably be the biggest key.
I'd be very surprised if this game doesn't come down to the wire. There's no way it can live up to the 2011 version, though...is there?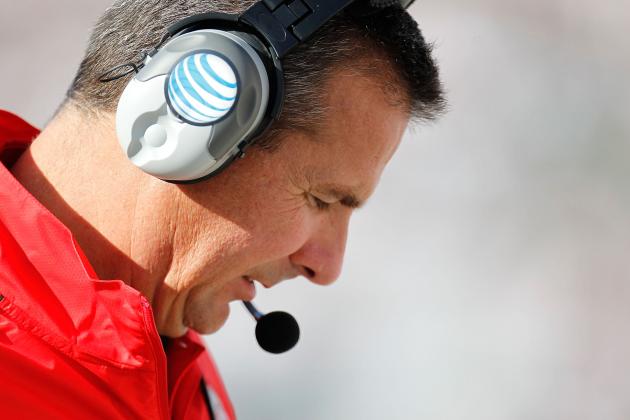 Gregory Shamus/Getty Images

Well, here it is, folks: The Game. The greatest rivalry in all of sports.
How fitting would it be if Ohio State came into this game undefeated and Michigan ruined its chances at a national title? Well, that may just wind up being the case.
Or we may see the same scenario a week later, in which the Bucks may need to win the Big Ten Championship in order to play for a national title.
Either way, a Michigan victory in one of those two games will be ruining something very special for the Bucks, and that's always a good thing.
This is, by far, the toughest game on Ohio State's entire schedule, and it is also the toughest game on Michigan's schedule. And that's just the way it should be.