Washington Redskins: 10 Players with the Most to Prove This Season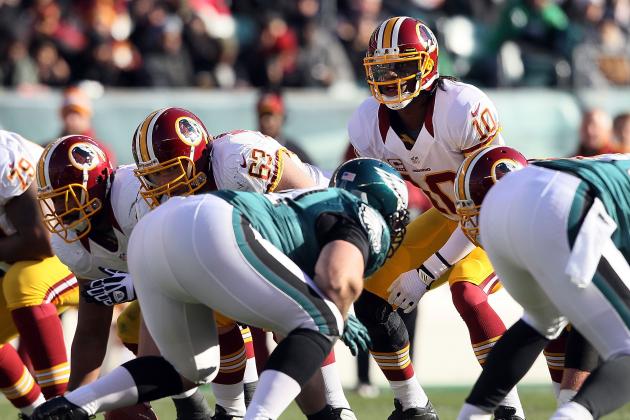 Alex Trautwig/Getty Images

After finishing the 2012 season with the NFC East division title, the Redskins do not have as many questions as they once had.
With a 10-6 record, the Redskins no longer seem to be the bottom feeders of their division, as talent has risen in Ashburn, Virginia.
While there has been a solid foundation built amongst the roster, there are numerous players out there who have a lot to prove.
These specific football players not only have to show the Redskins coaches and front office that they can get the job done, but they are also the long-term answer for their designated role.
Begin Slideshow

»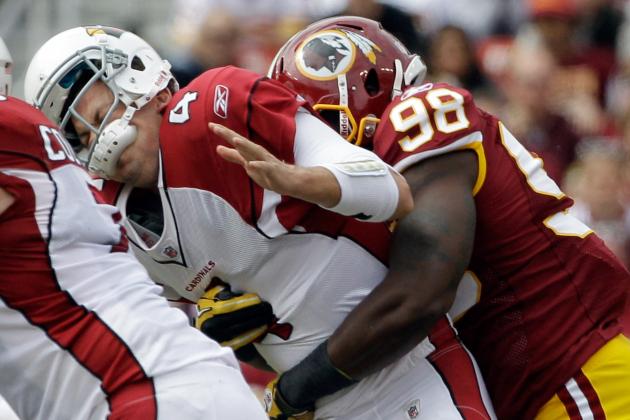 Rob Carr/Getty Images

Brian Orakpo's sack numbers starting from his rookie season back in 2009: 11, 8.5, 9 and 1. Should the former Texas Longhorn be completely judged on his sack total? Absolutely not, but it goes without saying that his overall production could and should be better.
This is a contract year for Orakpo, and the Redskins are left in a precarious situation. Do they re-sign the talented, yet oft-injured linebacker? Do they play the season out and see how it turns out?
Going into his fifth season, Orakpo needs to play up to his potential. Ten-plus sacks, continued disruption against the run and staying healthy are requirements if he wants to remain a Redskin.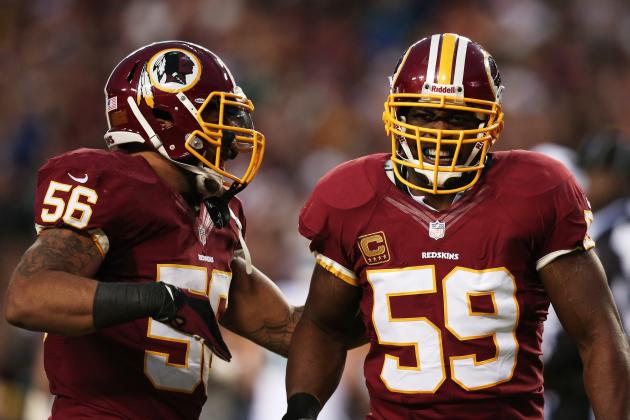 Win McNamee/Getty Images

After completing his first full season as a starting inside linebacker, Perry Riley will soon need to prove that he's more than just a middle-of-the-road starter.
Whether we like it or not, London Fletcher's tenure in Washington will be coming to a close (predictably after this season). Therefore, Riley has to show the Redskins' front office that he's capable of taking that next step.
The starting inside linebacker is the quarterback of the defense, in which leadership on and off the field is commonly seen. Does Riley have that intangible characteristic, intuitiveness and intelligence? He has another year to develop all of that.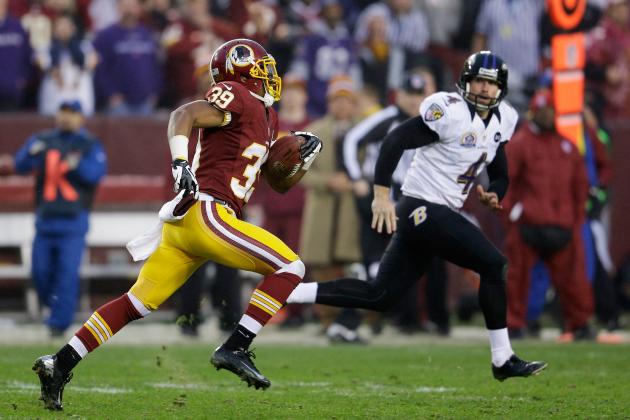 Rob Carr/Getty Images

Crawford had a typical rookie season. He had some ups: his punt return against the Ravens and interception against the Cowboys. He also had some downs: getting torched by Andrew Hawkins of the Bengals.
With all of that said, Crawford has stood out to Redskins coaches so far through OTAs. Despite three defensive backs being selected in April's draft, the former SMU product remains confident.

In addition to that, it should be Crawford's job to lose as the team's primary punt returner. Thankfully, the Brandon Banks era has come to an end in DC, and Crawford's simplistic one-cut-and-run style was impressive last season.
For Richard Crawford to see significant playing time on defense this season, he will need to be productive covering the slot receiver.
Without a natural inside cornerback (DeAngelo Hall is there out of necessity, and David Amerson is best suited for the outside), Crawford will have plenty of opportunities come training camp and preseason to prove that.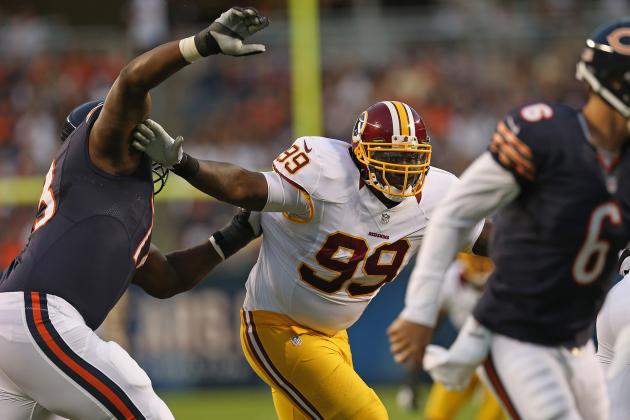 Jonathan Daniel/Getty Images

With Adam Carriker set to return from injury, the Redskins now have three starting quality defensive ends on the roster (Stephen Bowen being the other).
While being thrown into the starting lineup, Jarvis Jenkins steadily improved throughout the season. Now that the defense has a surplus of defensive ends, it will be interesting to see how it will play out.
Either way, the veteran Carriker will be entering his final year, and Jenkins could be considered the long-term answer.
Two years ago, it was Jenkins who was the talk of training camp, but an ACL injury in the preseason ended his rookie campaign.
Putting that into consideration gives the former Clemson product the benefit of the doubt. Now, a full season under his wing and more familiarity with the defense means we should expect significant improvement.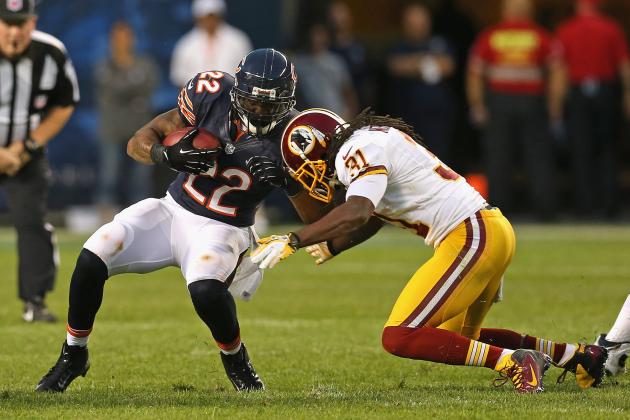 Jonathan Daniel/Getty Images

This might be the former Pro Bowler's last chance to prove he's a starting safety in the NFL.
Despite suspensions, injuries and releases, defensive coordinator Jim Haslett and Mike Shanahan see more from Meriweather.
Even with the selections of Phillip Thomas and Bacarri Rambo, Meriweather should be the first one up when it comes to being the starting strong safety.
It sounds like a broken record, but Meriweather needs to show the Redskins that he can stay healthy. If so, that gives the Redskins youngsters the ability to develop at a safer pace.
Rob Carr/Getty Images

I could probably write a book on this. Robert Griffin has already proved so much: his athleticism, leadership, accuracy, etc.
On the other hand, there are two major concerns. Will he be the same player when he comes back from his knee injury? Will he learn to dial it back at times to prolong his career?
Whether Griffin likes it or not, he's not just the face of the franchise, he's also already an ambassador to the league.
By all accounts, Griffin is simply too talented not to succeed as the Redskins starting quarterback, but at the same time, stranger things have happened in a sport that can be considered evil at times.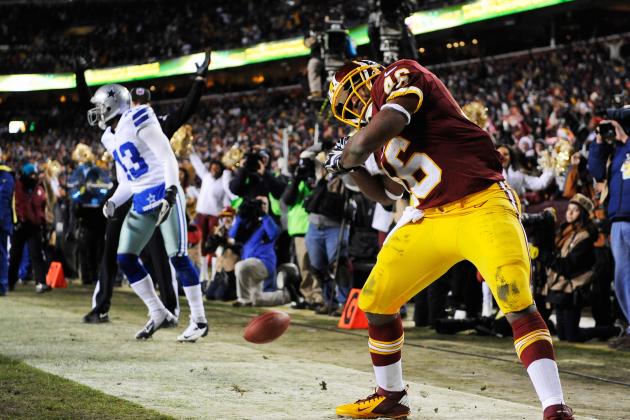 Patrick McDermott/Getty Images

Add Alfred Morris to the list of running backs that have succeeded under Mike Shanahan.
With the deceptiveness of Kyle Shanahan's offense, Morris was virtually and quietly unstoppable in his rookie season.
Morris needs to show that he's not just another product of the Shanahans.
The book is officially out on the Redskins offense; now opposing defenses will have enough film on how to attack Alfred Morris and company.
It's up to him and his offensive line to prove this wasn't a fluke.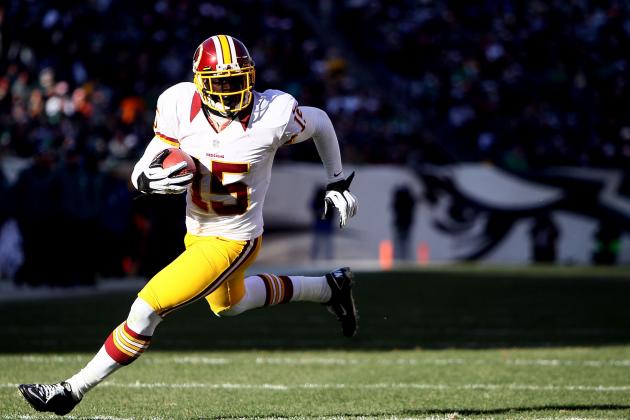 Alex Trautwig/Getty Images

There's nothing wrong with Josh Morgan. He's a solid player. He's a great blocker, has reliable hands and essentially does all of the "little things" that you like to see in a complementary receiver.
With that being said, the Redskins will need more than just 48 receptions and two touchdowns out of their other starting wide receiver.
Again, I will give Morgan the benefit of the doubt because he was adjusting to a new offense and coming off of knee surgery.
The DC native will need to improve in his route versatility and show that he's more than just a role player.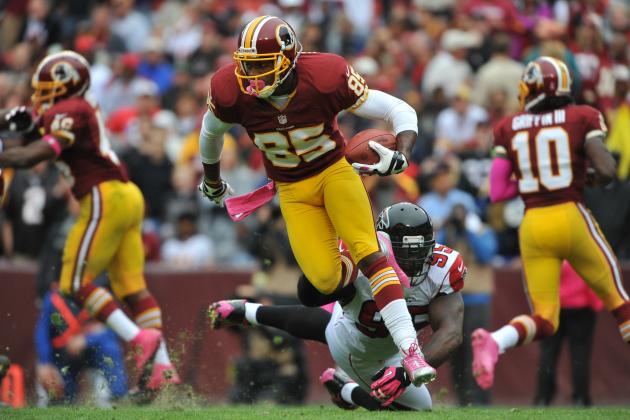 Larry French/Getty Images

Leonard Hankerson confuses me. I've seen stretches where he looks like the Redskins' starting wide receiver of the future and then I watch him drop inexcusable passes at times.
Entering his third season as a Redskin, Hankerson's role in Washington remains a question mark. Pierre Garcon is the clear No. 1 receiver on the depth chart. Santana Moss' role is primarily played in the slot. Josh Morgan was last year's starter, and Aldrick Robinson has yet to carve out a significant role.
Even with that taken into consideration, Hankerson has the opportunity to earn himself as much as playing time as he can manage.
He's a natural possession-type receiver who could be the perfect complement to Garcon if he plays to his potential.
It's the consistency that Hankerson will need to prove if he wants to stay in the NFL.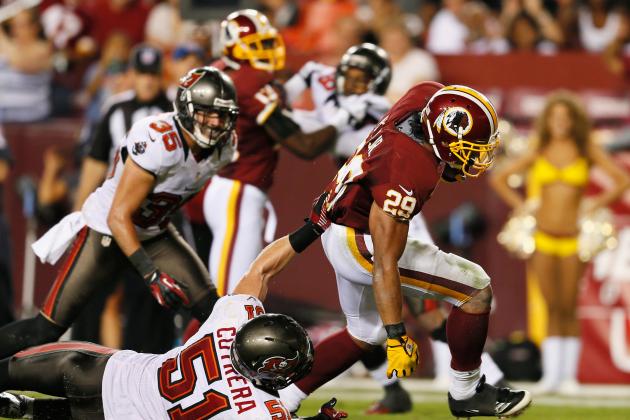 Rob Carr/Getty Images

Alfred Morris rushed for 1,600 yards in his rookie season and Helu still might be the most talented running back on the roster.
When healthy, Helu showed flashes of speed, elusiveness and skills as a pass receiver.
On the other hand, it's now a crowded backfield. Morris is the starter, Evan Royster proved that he can succeed, and they also drafted two other backs in April.
Similar to many other Redskins, Helu needs to prove that he can stay healthy. If he does, than he will be seeing the field.