Philadelphia Phillies: 5 Players Who Are Proving the Doubters Wrong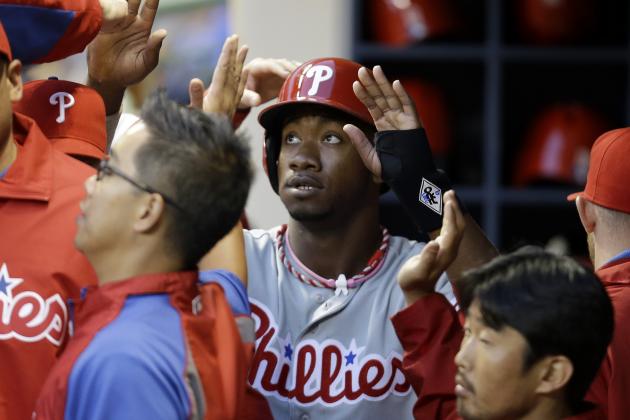 Mike McGinnis/Getty Images

For the critics who said that the Philadelphia Phillies would be an average to below-average team in 2013 before the season...well, you were right.
The good news? The Phillies climbed above .500 on Thursday. The bad news? It's not Thursday anymore, and the Phillies went from a five-game winning streak to a three-game slump and now sit at 31-33.
In terms of trade deadline implications, they could either buy or sell at this point, though with a few more losses without wins to boot, the latter becomes more likely. But I'll save that point for later.
However, a select few players on the Phillies have lived up to their standards or, more importantly, defied the standards which the public placed upon them. Here's a list of five players who have surpassed the threshold of what was expected of them in 2013.
Begin Slideshow

»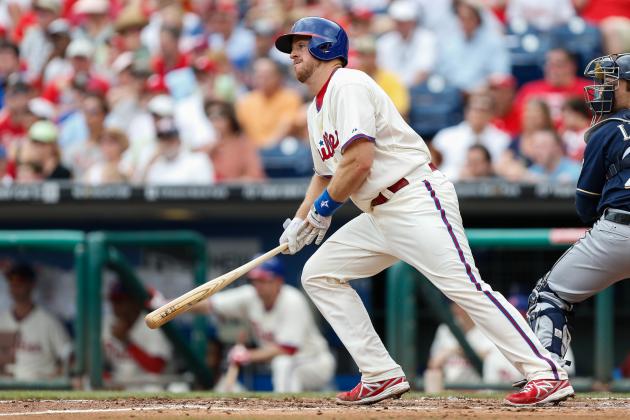 Brian Garfinkel/Getty Images

Until he tore his meniscus over the weekend, Erik Kratz was putting together a fine 2013 season. Now, he'll have to get surgery, and per CSNPhilly.com, is out indefinitely.
Kratz had received some flak earlier this season for his game-calling, as Roy Hallday seemed to indicate that his catcher was to blame for a Justin Upton home run. Phillies manager Charlie Manuel put it to rest later, but it got the rumor mill started, and with a horrendous April, Kratz wasn't exactly solidifying his case, either.
However, May turned the corner and Kratz did as well. Last month, Kratz batted .286 with a .975 OPS and four home runs. He also mashed two home runs in June before suffering his injury running past first base.
Consistent hitting had been an issue for Kratz. While the power was there, an ability to hit for average wasn't always present. But Kratz certainly did his part filling in for Carlos Ruiz, and he'll be missed as the Phillies' backup catcher for as long as he's on the shelf.
Here's to a speedy recovery.
Mike McGinnis/Getty Images

Michael Stutes had the misfortune of coming back from a serious shoulder surgery and having little time to polish up his repertoire. As a result, he began the season in the minors after a spring training that left a lot to be desired.
Since his promotion to the majors last month, though, Stutes has filled in admirably. He's served as the Phillies' long reliever in instances where the starters haven't been able to last five or so innings, and he's been rather successful in his new role.
In eight games in 2013, Stutes has registered a 1.80 ERA with a 1.10 WHIP and six strikeouts in 10 innings. Not bad.
When Phillippe Aumont was demoted in favor of Stutes, a positive change was needed in the bullpen. Fortunately both for Stutes and the Phillies, he's been that guy. And for now, it looks as though the guy who might not pitch as well as his rookie season and after such an injury may prove the doubters wrong.
Way to go, Stutes.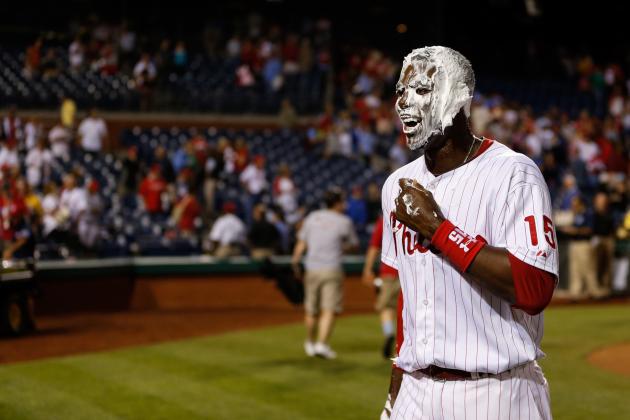 Brian Garfinkel/Getty Images

Don't come crying to me if the above photo prevents you from sleeping tonight. You brought it upon yourself by reading this slideshow.
To say that John Mayberry Jr. has been some standout star would be lying. But he's been tolerable, and as of late, a reason for the Phillies' successes.
Fortunately, Mayberry has been hovering around the .270-.280 range for most of the season. And with more playing time in light of Charlie Manuel opting to sit Ben Revere, Mayberry has made the most of it, culminating in a game-tying home run and walk-off grand slam in extras on June 4.
Thus far in June, Mayberry's still not slowing down. He's hitting .348 with a 1.043 OPS, two home runs and six RBI. Also with two doubles to his name, Mayberry has turned it on at the right time.
If he continues along this path, maybe Mayberry isn't destined for release like many thought he would be following his slow start. But as is always the case with baseball, anything can happen.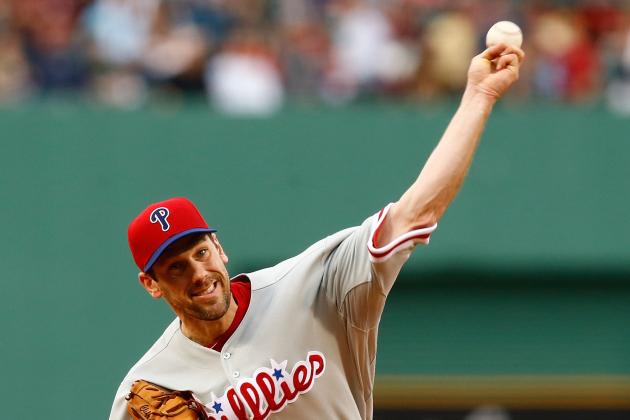 Jared Wickerham/Getty Images

After going 6-9 in 2012, naysayers had a field day with "once-ace" Cliff Lee. He didn't get his first win of the season until July and his record at season's end had many believing that the former Cy Young winner's best days were behind him.
To them, I say "get with the times." No longer do win-loss records fully indicate a pitcher's performance. We have ERA and WHIP for that, not to mention more advanced stats like FIP, xFIP, and SIERA.
For some odd reason or other, Lee was expected to exceed his lack of success from last year by only a little bit. Whether or not it was just an algorithm, ESPN's fantasy baseball system projected Lee only to obtain 11 wins on the season. Good one.
In 2013, Lee is 7-2 with a 2.55 ERA, 83 strikeouts, and a 1.01 WHIP in 95.1 innings. He's clearly the best starter on the Phillies, and that's on a team with a still-consistent Kyle Kendrick and a surprisingly good Jonathan Pettibone and Tyler Cloyd.
Naysayers, beware. Lee's back with a vengeance. And if he's not an All-Star, chances are it's a huge snub.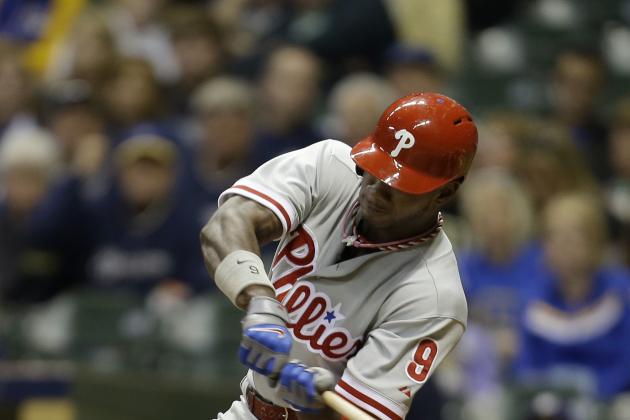 Mike McGinnis/Getty Images

If you didn't see this one coming, you're living under a rock.
At the beginning of the 2013 season, expectations were low for Domonic Brown as they had been for a few years now. Despite hitting coaches Steve Henderson and Wally Joyner tinkering with Brown's swinging mechanics, fans and Phillies brass alike took a "I'll see it when I believe it" approach.
Boy, are they ever seeing it. After an unexciting April, Brown turned on the burners in the month of May, batting .303 on the month with a .991 OPS with 12 home runs, 25 RBI and six steals. He became the first Phillie since Ryan Howard to homer 12 times in one month, and that came in 2006 during The Big Piece's MVP season.
Consequently, Brown won two consecutive NL Player of the Week honors to end the month, along with the NL Player of the Month Award for the month of May.
June has been no different for the Phillies' breakout star. He's batting .394 with a 1.338 OPS in June, not to mention four home runs and 11 RBI. And with three steals already to match his May total, Brown may end up having a better June than May.
It's great to see that Brown's finally found his niche and has turned into the superstar the Phillies had hoped. If he's not an All-Star, something's wrong with the world. Doubters, swallow your pride—Domonic Brown is here to stay.