Biggest Advantages Miami Heat Hold Over San Antonio Spurs in 2013 Finals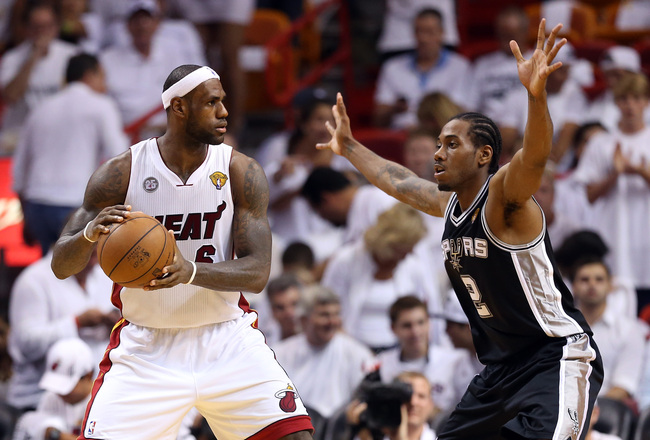 Christian Petersen/Getty Images
The Miami Heat's victory in Game 2 of the NBA Finals exposed some cracks in the San Antonio Spurs' armor.
San Antonio hung tough, but the Spurs' collapse down the stretch shined a spotlight on issues that have hindered them through the series' first two games.
According to Basketball-Reference, the Heat bested the Spurs in three of the four factors of success in Game 2, posting a superior effective field goal percentage (55.4 percent), turnover percentage (6.3 percent) and free-throw rate (.133). The one factor the Spurs dominated was offensive rebounding percentage, as they controlled that category by a staggering 12 percent.
While the Spurs hold advantages in several key departments, the Heat's explosive performance proved that when they're clicking on all cylinders, you can only hope to contain their arsenal of weapons.
Superior Ball Movement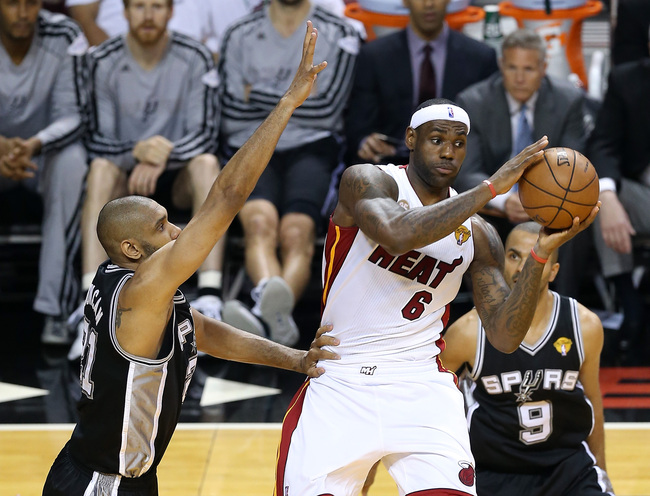 Christian Petersen/Getty Images
The Miami Heat have found ways to thrive with LeBron James working in a supporting role within the offense. That's great news for Erik Spoelstra.
While it would be unreasonable to expect James to score fewer than 20 points per game moving forward, the fact that his supporting cast stepped up in Game 2 was a step in the right direction.
How have Miami's secondary and tertiary contributors been able to get going? Pristine ball movement.
With the Spurs focusing heavily on taking James out of the offensive equation, the onus has been on the Heat's wings to step up and knock down open shots.
James has been double-teamed and swarmed by the Spurs' defense steadily, but Miami's ball rotations have offset some of Gregg Popovich's tactics.
According to Basketball-Reference, the Heat assisted on 58.8 percent of made field goals in Game 1 and a comparable 53.6 percent in Game 2.
Conversely, the Spurs assisted on 45.7 percent of their made baskets in Game 1 and a slightly better 50 percent in Game 2.
We've yet to see the Spurs offense click for a full 48 minutes, and their underwhelming ball movement for stretches has been a major reason why.
Three-Point Shooting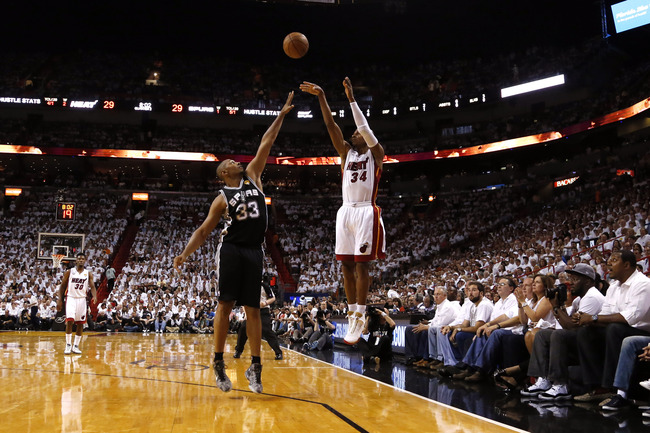 Derick E. Hingle-USA TODAY Sport
Chalk this one up as a surprise.
The Miami Heat are known for spacing the floor exceptionally well, but the San Antonio Spurs were thought to have an advantage from beyond the arc due to their supreme depth on the perimeter.
Granted, the Heat have weapons like Mario Chalmers, Ray Allen, Mike Miller and Shane Battier to employ, but a group consisting of Danny Green, Kawhi Leonard and Matt Bonner has been superior throughout the postseason.
Through two games, the Heat are shooting 40.9 percent from three while the Spurs are converting at a slightly lower clip of 39.5 percent.
Both teams have had six players connect on at least one three-pointer thus far, but it's the Spurs who find themselves living and dying by the three.
Game 2 was a perfect example. The Spurs hit on 50 percent of their threes (10-of-20), but shot 37.9 percent on two-point field goals (22-of-58).
If the Heat continue to keep pace with the Spurs' efforts from three, they'll be in good shape.
Transition Scoring
Derick E. Hingle-USA TODAY Sport
The San Antonio Spurs' transition defense has been exceptional to this point, but they continue to find themselves at a disadvantage when it comes to fast break scoring.
Miami's outburst towards the end of Game 2 has contributed to their 15-point edge in transition (22-7). And while that may have been a brief stretch, it pointed to some larger concerns the Spurs will need to address moving forward.
For the Spurs to neutralize the Heat's athleticism in the open floor, they'll need to take care of the ball and force Miami to execute in the half court.
According to NBA.com's John Schumann, a positive sign for the Heat is that they were able to score points off of rebounds and dead balls in addition to the break in Game 2.
Turnovers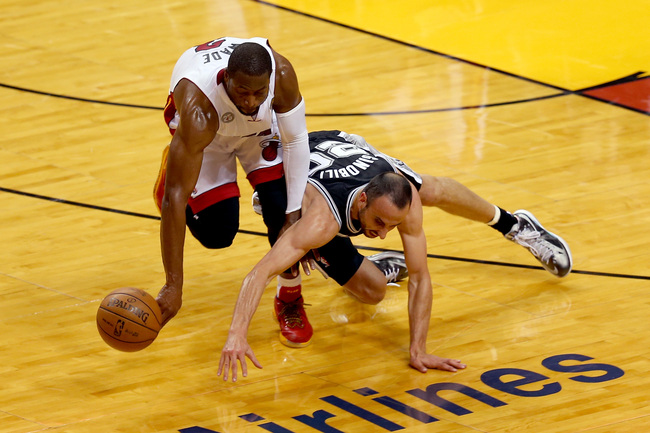 Mike Ehrmann/Getty Images
Turnovers are the lifeblood of any offense that thrives in transition.
The Spurs took exceptional care of the ball in Game 1, losing the ball over just four times. However, the Heat bested San Antonio in Game 2, forcing the Spurs into 17 total team turnovers.
Those 17 giveaways are more than the Heat have committed (15) in the first two games of the series combined.
In addition, the Heat have scored 27 points off of turnovers compared to just 17 from the Spurs.
Earlier, I touched on the Heat's elite ability to finish in transition, but Miami wouldn't be able to boast that superb quality were they not winning the ball control battle.
The LeBron James Factor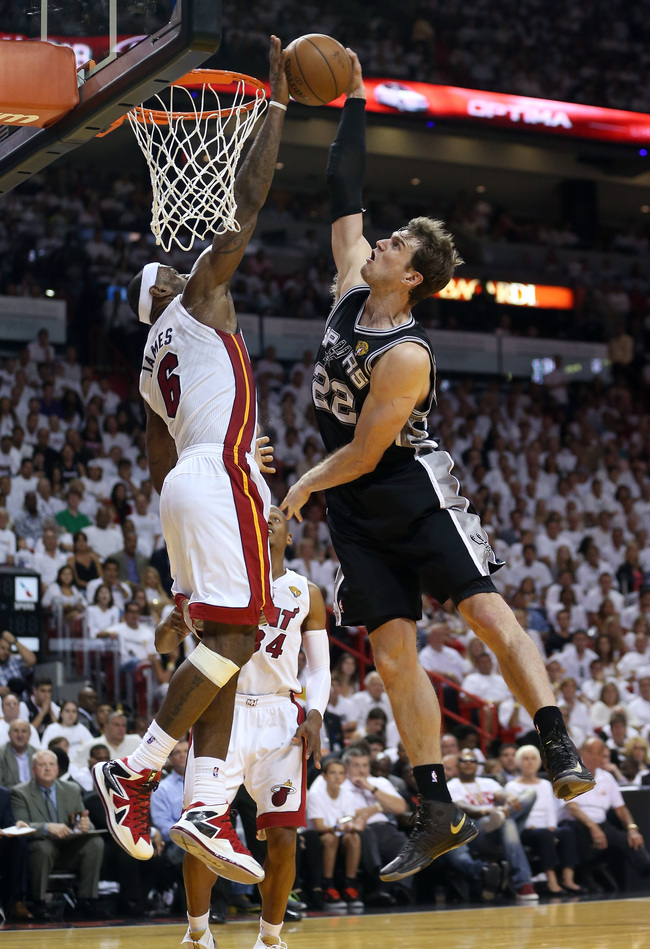 Christian Petersen/Getty Images
Simply put, the Miami Heat have LeBron James and the San Antonio Spurs don't. And even if James is being limited offensively like he was in Games 1 and 2 (35 total points), he'll find other ways to make a profound impact on the game.
Looking for evidence? James' massive rejection of Tiago Splitter emphatically capped a 30-5 Heat run over pieces of the third and fourth quarters in Game 2.
The focus will always be on James' numbers in the scoring column, but his other statistical totals have been noteworthy through two games.
Heading into Game 3, James has compiled 26 rebounds, 17 assists, three steals and three blocks. Not only that, but James has continued to show his ability to guard all five positions with equal effectiveness.
Tony Parker and Tim Duncan are a phenomenal one-two punch, but it's going to take a near-perfect effort from the Spurs' duo to topple James and the Heat.
Keep Reading

Miami Heat: Like this team?