Colorado Rockies: 4 Players Who Deserve All-Star Selections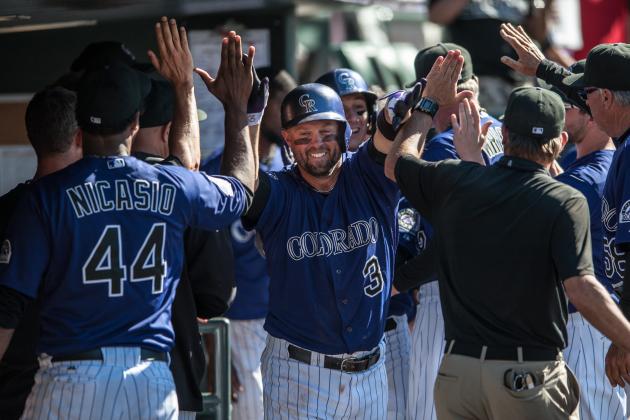 Dustin Bradford/Getty Images
Michael Cuddyer has proved his worth this season and deserves an All-Star selection.
The 2013 MLB All-Star Game is a little over a month away and the race is beginning to heat up in the National League.
For the Rockies, it's no surprise that Troy Tulowitzki is leading National League shortstops by such a large margin with 1,691,262 votes. Carlos Gonzalez is working his way up the board as well with 955,568 votes, good for seventh in the National League among outfielders.
However, with a high-powered offense that is currently sits in a three-way tie for second in runs, it's a little strange that only two Rockies appear on the leaderboard.
Here are four Rockies players who deserve a selection for the 2013 MLB All-Star Game.
Begin Slideshow

»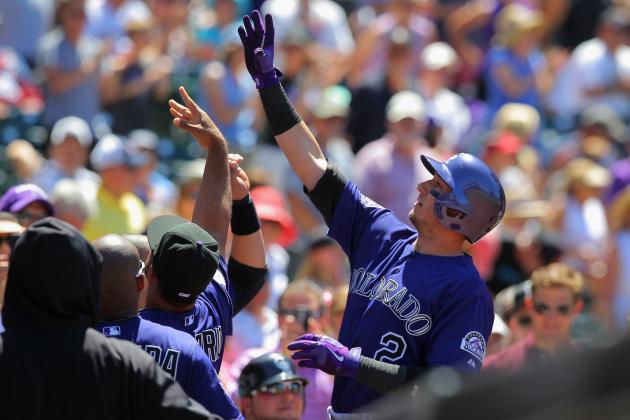 Doug Pensinger/Getty Images

Coming off an injury-plagued season, Troy Tulowitzki's 2013 campaign was expected to be a toss-up.
It's a little over two months into the season, and Tulo is exceeding expectations and posting astronomical numbers—leading MLB shortstops in runs, batting average, RBI and home runs, OBP and slugging.
The 28-year-old face of the franchise is batting a robust .351 with 16 homers and 51 RBI. The Rockies' shortstop has proved to be durable as well, playing in 58 of the Rockies' 64 total games this season, as opposed to just 47 last year.
With a struggling pitching rotation, there's little question that the Rockies would be sitting at the bottom of the NL West without the big bat of Tulowitzki. The combination of Tulo and Carlos Gonzalez is arguably the most dangerous three-four punch in baseball.
Expect Tulowitzki to stay consistent heading into July and earn the honors of starting NL shortstop.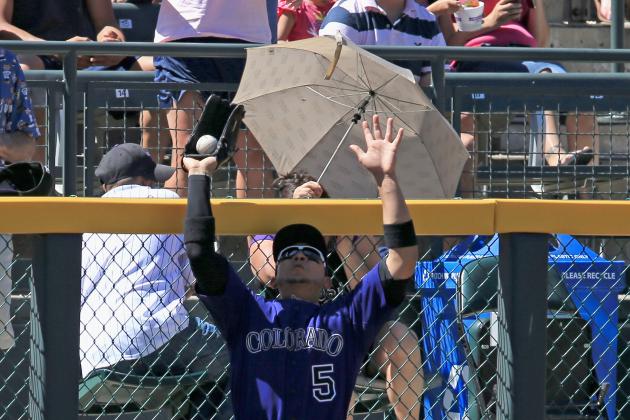 Doug Pensinger/Getty Images

Over the last four seasons, few outfielders have been as consistently productive as Carlos Gonzalez.
In 2013, the Rockies' left fielder is well on his way to another landslide All-Star selection if he can dig his way out of his current slump.
Cargo is batting .166 in his last four games and the left knee tendinitis that bothered him in spring training is becoming a problem once again, reported Troy Renck of the Denver Post. If his numbers begin to tail off as a result, his All-Star selection could be in jeopardy.
For the season, Gonzalez is batting .302 with 17 homers and 48 RBI, including an MLB-leading 51 runs. He's also off to his best career start on the base path with 12 SB.
Expect Cargo to make the All-Star game as a reserve. Even if his numbers begin to drop, the Rockies fan base should keep him afloat in the voting.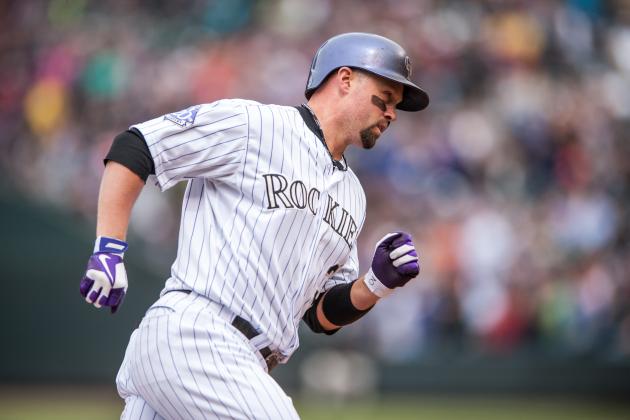 Dustin Bradford/Getty Images

It's shocking that Michael Cuddyer has yet to even crest the top 15 outfielders in NL voting.
The argument can be made that Cuddyer has proven to be just as important as Gonzalez offensively and defensively this season.
The ability to stay healthy has been the only problem with Cuddyer, who had a stint on the DL last month. After tripping over first base in Friday's game, Cuddyer is suffering from soreness and a possible oblique injury, reported Patrick Saunders of the Denver Post.
Injury aside, Cuddyer is off to the hottest start of his major league career, batting a cool .339 with 10 homers and 37 RBI. He's also played an excellent right field for the Rockies.
Expect Cuddyer to miss the All-Star game due to lack of votes, but if he continues hitting and stays healthy, he may find his way into Silver Slugger talks towards the end of the season.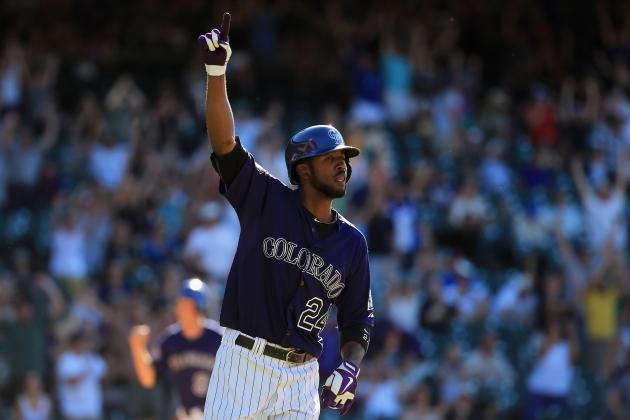 Doug Pensinger/Getty Images

As the temperature is heating up in Mile High, so has the bat of center fielder Dexter Fowler.
While he remains outside of the top 15 in outfielder voting, his statistics are worthy of an All-Star selection. Fowler has been a bad man in the month of June, hitting .412 with two homers and seven RBI.
If he continues this pace he can definitely make an argument for a utility spot on this year's NL team. His 10 home runs are just three away from a career high and he's on pace for 28 stolen bases this season.
If Fowler can keep his average above .300 by the All-Star break, he has a chance to gain some votes and sneak his way into the lineup.