UFC Rankings for Each Weight Division Following UFC on Fuel TV 10
Kelvin Kuo-USA TODAY Sports

Fabricio Werdum took one step closer to a UFC title shot at UFC on Fuel TV 10, submitting fellow top-10 heavyweight Antonio Rodrigo Nogueira.
With his win on Saturday, Werdum has now won three times since returning to the UFC roster, making him one of the top candidates to meet the winner of a likely rubber match between champion Cain Velasquez and former champion Junior dos Santos.
UFC on Fuel TV 10 also crowned the winner of TUF: Brazil 2, as replacement finalist Leonardo Santos submitted William Macario despite having lost in the semifinals of the competition. In beating Macario, Santos earned himself a guaranteed UFC contract and a chance to compete at the highest level.
With UFC on Fuel TV 10 in the books and UFC 161 ahead, let's take a look at the latest official UFC rankings.
Begin Slideshow

»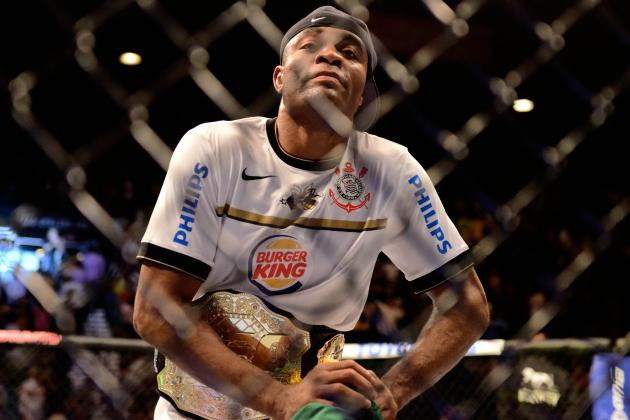 Mark J. Rebilas-USA TODAY Sports

No top pound-for-pound fighters competed at UFC on Fuel TV 10, but Fabricio Werdum could soon have a chance to join these rankings following his submission win over Antonio Rodrigo Nogueira.
Again, no top-10 pound-for-pound competitors will be featured at UFC 161, as interim bantamweight champion Renan Barao was forced off the fight card due to injury.
However, Anderson Silva will soon put his No. 1 spot in the pound-for-pound rankings on the line when he meets Chris Weidman in the UFC 162 main event in July.
Official UFC Pound-for-Pound Rankings
Anderson Silva
Jon Jones
Georges St-Pierre
Jose Aldo
Benson Henderson
Cain Velasquez
Demetrious Johnson
Renan Barao
Dominick Cruz
Frankie Edgar
UFC on Fuel TV 10 Pound-for-Pound Fights
UFC 161 Pound-for-Pound Fights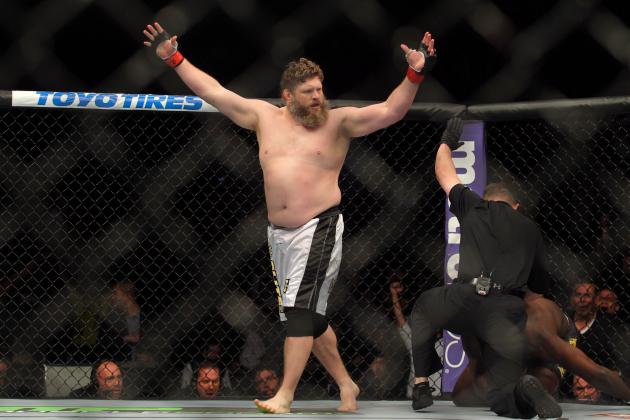 Brad Penner-USA TODAY Sports

At UFC on Fuel TV 10, Fabricio Werdum remained undefeated since his return to the UFC roster. "Vai Cavalo" patiently awaited his opportunity and locked up an armbar on Antonio Rodrigo Nogueira when the opportunity was presented.
Despite the win, Werdum did not surpass Junior dos Santos nor Daniel Cormier in the heavyweight rankings.
Still, Werdum could be next in line for a title shot behind Dos Santos, who is expected to meet Cain Velasquez later in 2013.
At UFC 161, Roy Nelson will attempt to remain a top-five heavyweight with a victory over Stipe Miocic. Nelson accepted the bout as a replacement to help bolster a fight card damaged by injuries.
Official UFC Heavyweight Rankings
Champion: Cain Velasquez
Junior dos Santos
Daniel Cormier
Fabricio Werdum
Antonio Silva
Roy Nelson
Alistair Overeem
Travis Browne (+1)
Mark Hunt (+1)
Antonio Rodrigo Nogueira (-2)
UFC on Fuel TV 10 Heavyweight Fights
No. 3 Fabricio Werdum defeated No. 10 Antonio Rodrigo Nogueira by second-round submission.
UFC 161 Heavyweight Fights
No. 5 Roy Nelson vs. Stipe Miocic
Pat Barry vs. Shawn Jordan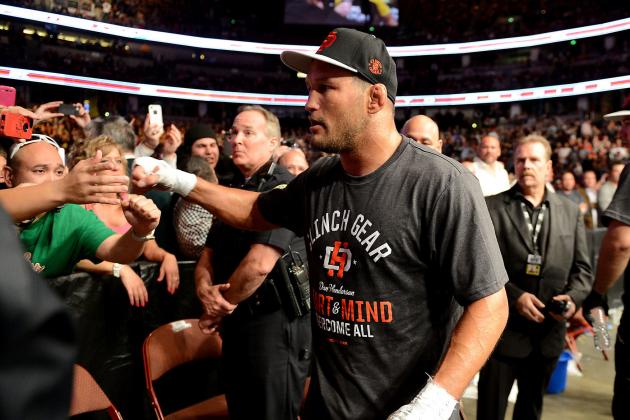 Jayne Kamin-Oncea-USA TODAY Sports

Thiago Silva picked up his first official win since August 2009 on Saturday. After failing multiple drug tests over recent years, Silva knocked out UFC newcomer Rafael Cavalcante to return to the win column at UFC on Fuel TV 10.
After such a long drought without a victory, Silva's performance in Brazil was not enough to vault him into the light heavyweight rankings. However, he may have now set himself up with an opportunity to compete against a highly ranked opponent.
Though UFC on Fuel TV 10 had no impact on the 205-pound rankings, UFC 161 is sure to cause some movement. Veterans Dan Henderson and Rashad Evans will meet in the main event, with both fighters looking to prove they are still capable of contending for a championship.
Official UFC Light Heavyweight Rankings
Champion: Jon Jones
Lyoto Machida
Alexander Gustafsson
Dan Henderson
Glover Teixeira
Antonio Rogerio Nogueira
Rashad Evans
Mauricio Rua
Phil Davis
Gegard Mousasi
Ryan Bader
UFC on Fuel TV 10 Light Heavyweight Fights
Thiago Silva defeated Rafael Cavalcante by first-round knockout.
UFC 161 Light Heavyweight Fights
No. 3 Dan Henderson vs. No. 6 Rashad Evans
Ryan Jimmo vs. Igor Pokrajac
Kyle Terada-USA TODAY Sports

In their home country of Brazil, Daniel Sarafian and Caio Magalhaes picked up big wins at UFC on Fuel TV 10. Both middleweights submitted their respective opponents, though they'll need to keep on winning in order to break into the 185-pound rankings.
With no elite middleweights competing on Saturday, the division's rankings remained unchanged. But it has to be only a matter of time until now-light heavyweight Chael Sonnen is removed from the list of top-10 middleweights.
Since no middleweight fights will be contested at UFC 161, we'll have to wait until UFC 162 to see any significant change in the 185-pound rankings. That event will see Chris Weidman challenge Anderson Silva for the middleweight championship.
Official UFC Middleweight Rankings
Champion: Anderson Silva
Chris Weidman
Vitor Belfort
Yushin Okami
Michael Bisping
Ronaldo Souza
Costa Philippou
Luke Rockhold
Mark Munoz
Chael Sonnen
Tim Boetsch
UFC on Fuel TV 10 Middleweight Fights
Daniel Sarafian defeated Eddie Mendez by first-round submission.
Caio Magalhaes defeated Karlos Vemola by second-round submission.
UFC 161 Middleweight Fights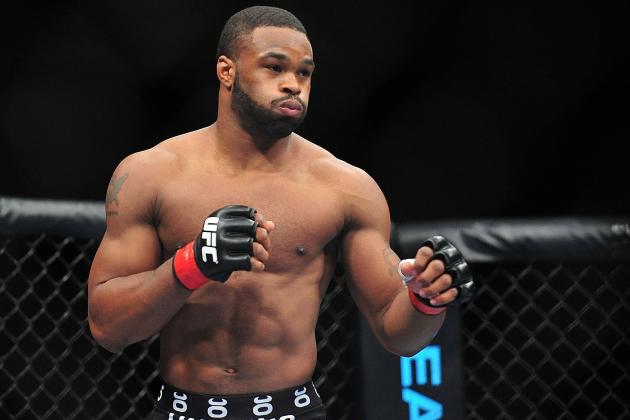 Gary A. Vasquez-USA TODAY Sports

Erick Silva was the big welterweight winner at UFC on Fuel TV 10, where he picked up a submission win over Strikeforce veteran Jason High. A welterweight winner of TUF was also crowned at the event, as Leonardo Santos came from behind to submit William Macario.
Though Silva is on the verge of being considered a serious title contender, his win over High was not enough to raise him into the top 10 of the welterweight class.
More fringe contenders will appear at UFC 161, where Tyron Woodley will try to keep his momentum going with a win over Jake Shields, who will be returning to the welterweight division following a short stay at 185 pounds.
Official UFC Welterweight Rankings
Champion: Georges St-Pierre
Johny Hendricks
Carlos Condit
Rory MacDonald
Jake Ellenberger
Demian Maia
Nick Diaz
Martin Kampmann
Tarec Saffiedine
Robbie Lawler
Josh Koscheck
UFC on Fuel TV 10 Welterweight Fights
Erick Silva defeated Jason High by first-round submission.
Ildemar Alcantara defeated Leandro Silva by unanimous decision.
Leonardo Santos defeated William Macario by second-round submission.
UFC 161 Welterweight Fights
Tyron Woodley vs. Jake Shields
Sean Pierson vs. Kenny Robertson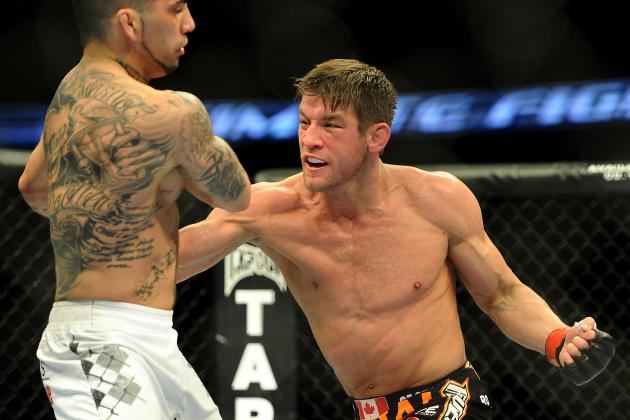 Jayne Kamin-Oncea-USA TODAY Sports

UFC on Fuel TV 10 provided a rare break in action for the loaded lightweight division.
Still, a slight adjustment was made in the 155-pound rankings. After being bumped down two spots following a loss to TJ Grant, Maynard was likely aided by some voters who were tardy for the previous version of the rankings and moved back ahead of Josh Thomson.
While UFC 161 won't see any elite lightweight competing, Sam Stout will return to the Octagon in an event that showcases two 155-pound contests.s
Official UFC Lightweight Rankings
Champion: Benson Henderson
Gilbert Melendez
Anthony Pettis
TJ Grant
Gray Maynard (+1)
Josh Thomson (-1)

Donald Cerrone

Nate Diaz

Jim Miller

Pat Healy

Rafael dos Anjos
UFC on Fuel TV 10 Lightweight Fights
UFC 161 Lightweight Fights
Sam Stout vs. James Krause
John Maguire vs. Mitch Clarke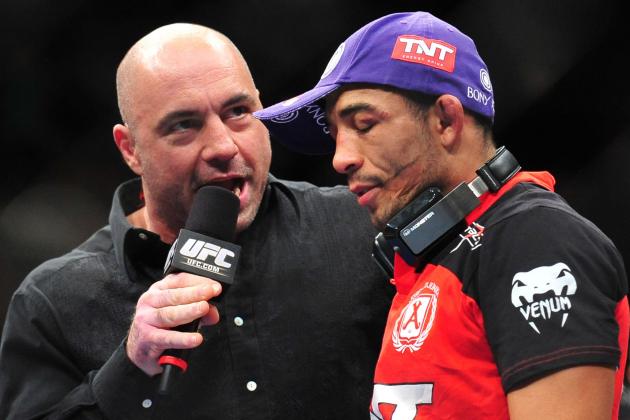 Gary A. Vasquez-USA TODAY Sports

Multiple featherweight bouts were on display at UFC on Fuel TV 10, but none of them had any impact on the 145-pound rankings.
TUF winner Rony Jason remained undefeated inside the Octagon by beating Mike Wilkinson, while TUF runner-up Godofredo Pepey was stopped in the first round by Felipe Arantes. A third featherweight participant from TUF: Brazil also appeared on Saturday, and Rodrigo Damm picked up a decision victory over Mizuto Hirota.
No 145-pound matchups will be seen at UFC 161, but Anthony Pettis' debut in the division against champion Jose Aldo is approaching.
Official UFC Featherweight Rankings
Champion: Jose Aldo
Chad Mendes
Ricardo Lamas
Frankie Edgar
Chan Sung Jung
Cub Swanson
Dennis Siver
Dustin Poirier
Clay Guida
Nik Lentz
Erik Koch
UFC on Fuel TV 10 Featherweight Fights
Rony Jason defeated Mike Wilkinson by first-round submission.
Felipe Arantes defeated Godofredo Pepey by first-round knockout.
Rodrigo Damm defeated Mizuto Hirota by split decision.
UFC 161 Featherweight Fights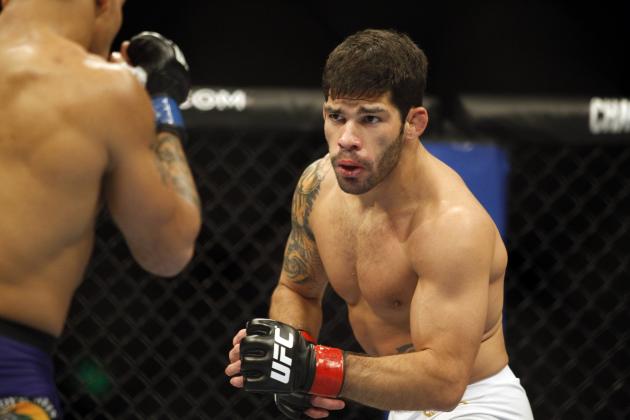 Joe Nicholson-USA TODAY Sports

At UFC on Fuel TV 10, Raphael Assuncao continued his undefeated streak since making the move to the bantamweight division. Assuncao took an unexpected step down in competition and picked up an expected victory by submitting Vaughan Lee on Saturday.
So heavily favored heading into the matchup, Assuncao's win over Lee didn't do anything for him in the rankings. However, the fight looked good on TJ Dillashaw, who holds a quicker submission win over Lee than the one Assuncao picked up.
While multiple bantamweight bouts will be featured at UFC 161, neither of them are expected to cause any shift in the 135-pound rankings.
Official UFC Bantamweight Rankings
Champion: Dominick Cruz
Renan Barao (interim champion)
Urijah Faber
Michael McDonald
Eddie Wineland
Brad Pickett
Raphael Assuncao
Scott Jorgensen
Mike Easton
TJ Dillashaw (+1)
Ivan Menjivar (-1)
UFC on Fuel TV 10 Bantamweight Fights
No. 6 Raphael Assuncao defeated Vaughan Lee by second-round submission.
UFC 161 Bantamweight Fights
Roland Delorme vs. Edwin Figueroa
Yves Jabouin vs. Dustin Pague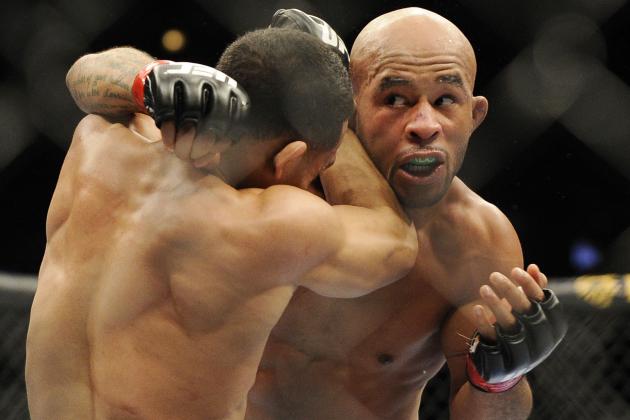 David Banks-USA TODAY Sports

There were no flyweight bouts contested at UFC on Fuel TV 10, and there won't be any on the UFC 161 fight card.
However, the UFC did make a recent addition to the flyweight division by signing Ali Bagautinov, a 27-year-old Russian with wins in his past eight bouts.
The 125-pound division will make its return on July 27, when Demetrious Johnson defends his belt against John Moraga at UFC on Fox 8.
Official UFC Flyweight Rankings
Champion: Demetrious Johnson
Joseph Benavidez
John Dodson
Ian McCall
John Moraga
Jussier Formiga
Louis Gaudinot
John Lineker
Chris Cariaso
Darren Uyenoyama
Timothy Elliott
UFC on Fuel TV 10 Flyweight Fights
UFC 161 Flyweight Fights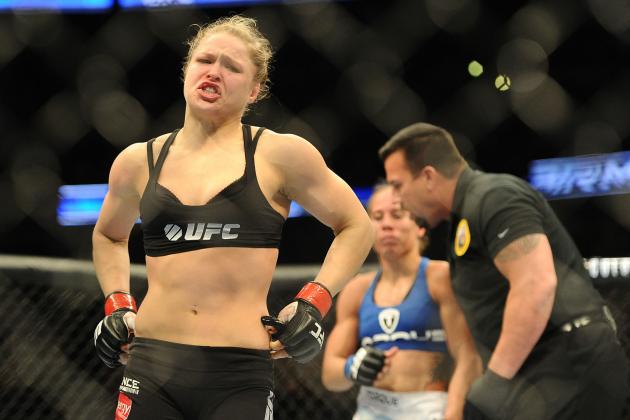 Jayne Kamin-Oncea-USA TODAY Sports

The women's bantamweight division has seen a lull in action as it slowly expands.
However, females will return to the Octagon at UFC 161, where Alexis Davis will look to validate her top-10 ranking by beating the non-ranked Rosi Sexton.
All the while, most attention toward the women's bantamweight class will be aimed at TUF 18, which will be coached by champion Ronda Rousey and former Strikeforce champion Miesha Tate. Following a Cat Zingano injury, Tate filled in as a coach on the show despite coming off a loss.
Official UFC Women's Bantamweight Rankings
Champion: Ronda Rousey
Cat Zingano
Sarah Kaufman
Miesha Tate
Sara McMann
Liz Carmouche
Alexis Davis
Amanda Nunes
Julie Kedzie
Germaine de Randamie
Sheila Gaff
UFC on Fuel TV 10 Women's Bantamweight Fights
UFC 161 Women's Bantamweight Fights
No. 6 Alexis Davis vs. Rosi Sexton